Reading Time:
9
minutes
Podcasting can be an expensive hobby, so naturally we're always looking to cut unnecessary costs. We're always getting asked for recommendations of free options for both editing and recording, so in this article we're going to evaluate GarageBand for podcasters, which is a free tool that many podcasters use for recording and editing, so you can decide if it's the right tool for you.
What is GarageBand?
GarageBand is a free, iOS exclusive Digital Audio Workstation (DAW, for short) primarily used and designed for music production. At its core, it's all about recording and editing, so it works perfectly well for podcasting too – you just have to ignore some time signatures (more on this later).
It's known in the industry as a beginner DAW, and it comes as standard with every Apple mac that is sold, which could account for its popularity.
Podcasting in GarageBand
There are plenty of DAWs tailored specifically for podcasting, many of which we've already evaluated for you in this article, but GarageBand has two main considerations which make it a top contender for certain podcasters:
It's free!
Familiarity – anyone who has edited audio in the past on an Apple device will find GarageBand very familiar, so there won't be a steep learning curve.
How to make a podcast on GarageBand
Making a podcast in GarageBand is easy, especially if you are familiar with other software and devices from Apple. GarageBand can help with editing and recording your podcast, you'll still need to use a podcast hosting company, like us, to distribute your podcast to Spotify, Amazon Music, Apple Podcasts etc. Sign up for a free Captivate trial today!
We've split this article into two parts. In the first part we explain how to record using Garageband, and in the second section we cover editing.
Is GarageBand a good audio editor and recorder for podcasting?
Using GarageBand for podcasting is fairly simple, without the bells and whistles boasted by paid alternatives like Descript, but it does the basics as well as any other DAW. It's good for podcasting as it has a very streamlined User Interface (UI) which allows for simple recording and editing of audio files.
As it's not built specifially for podcasters, there are a lot of features you'll just need to ignore as a podcaster – time signatures, bpm and digital instruments are all super useful to bedroom musicians, but not so much for podcasters.
Whilst they don't get in the way or cause problems, the trick is to not to get confused by them and try to run your vocals through one of their digital amps.
How to record a podcast in GarageBand
Recording in GarageBand is nice and simple – here's a step by step!
Step 1: Set up your station
You can only do so much in the edit, so make sure the audio you're working with is the best quality possible. Don't record facing into a wall, and try and speak in a well insulated room with lots of cushions. Check your microphone levels are good and use a pop filter. Check out our podcast recording tips article for more information about how to record a great sounding podcast.
Step 2: Select a new project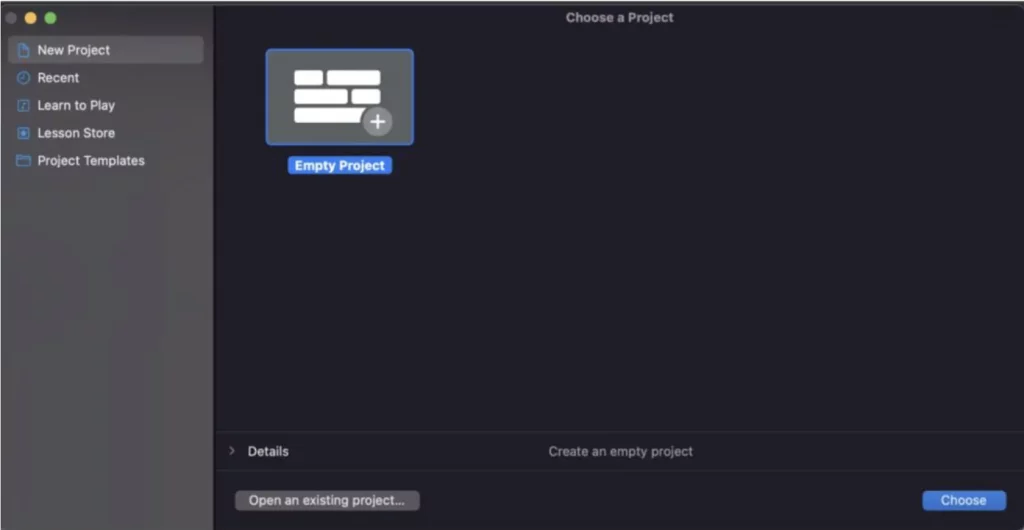 Open up the dashboard and select 'Empty Project' which is under 'New Project'.
Step 3: Select the option to record with a microphone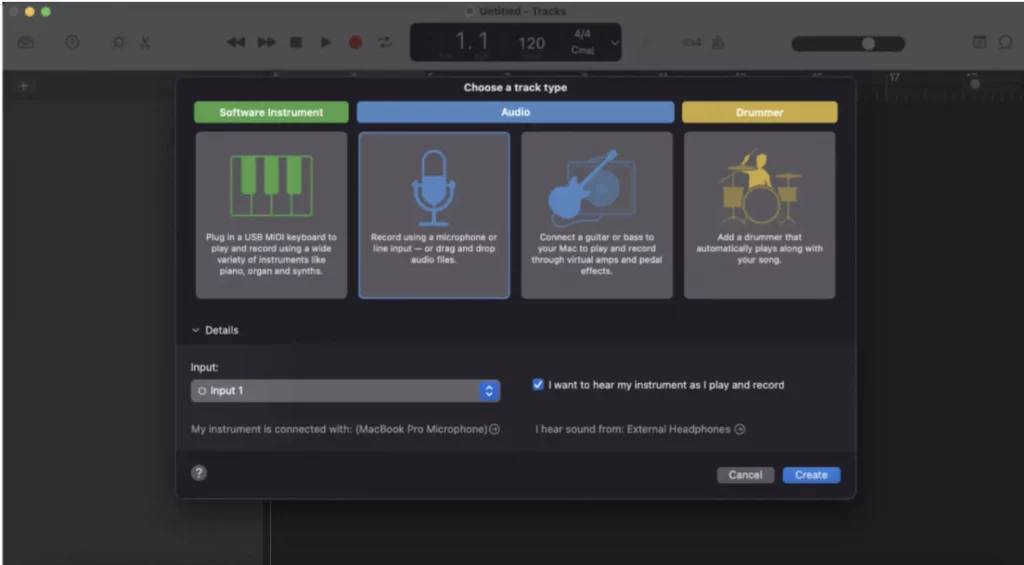 You can ignore all of the others – they're for those using GarageBand to create music.
Step 4: Make sure the metronome & count-in are turned off

This is important as you don't want a click track in the background of your audio! You can ignore the tempo, time signature and musical key – just make sure the two on the right are disabled.
Step 5: Select the correct preferences
Go to GarageBand > Preferences > Audio & Midi and make sure it's set up correctly. The output device is what you'll be listening on (headphones) and the input is your microphone. If you don't have an external microphone or interface, just use the one on your computer.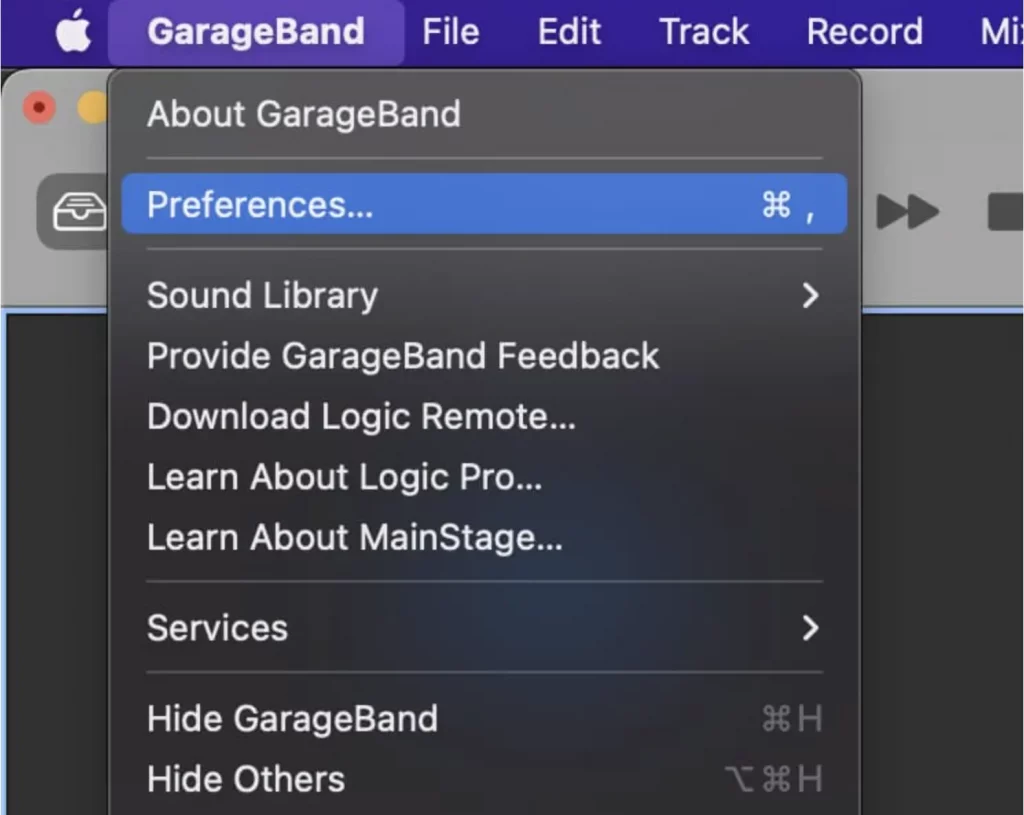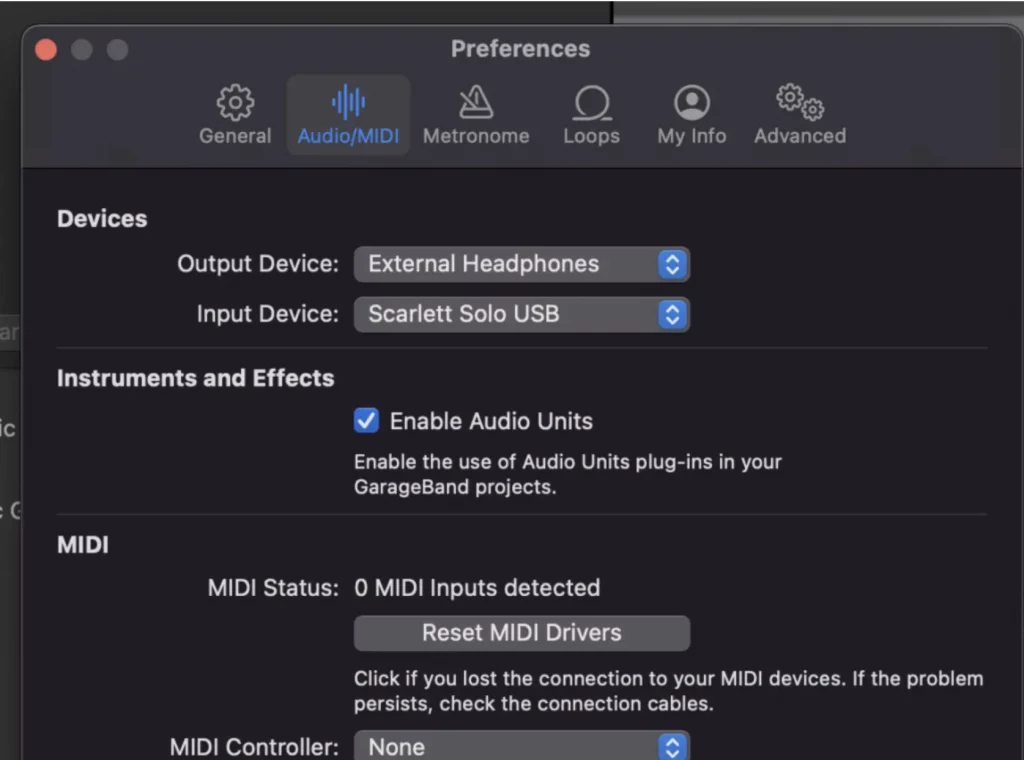 Step 6: Add new tracks with the plus sign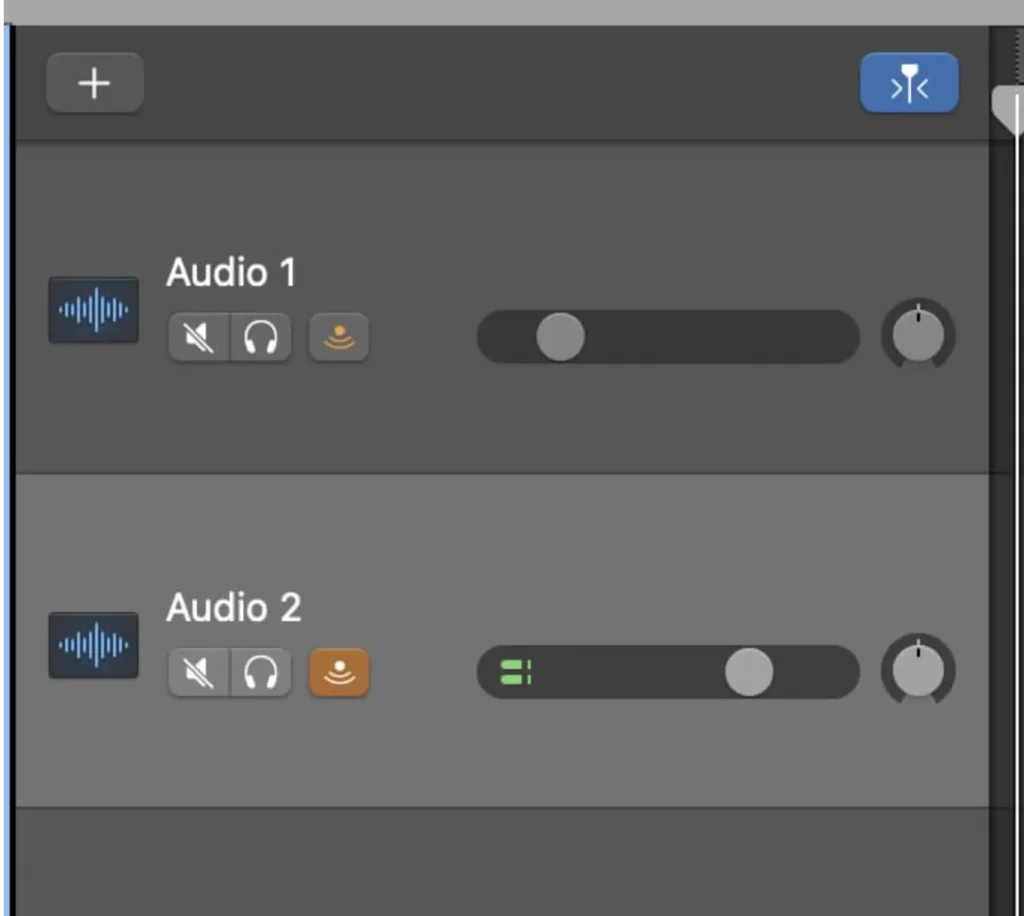 Guests, music or your other host's audio file can all live on separate tracks – though you can only record one at a time locally.
Step 7: Hit record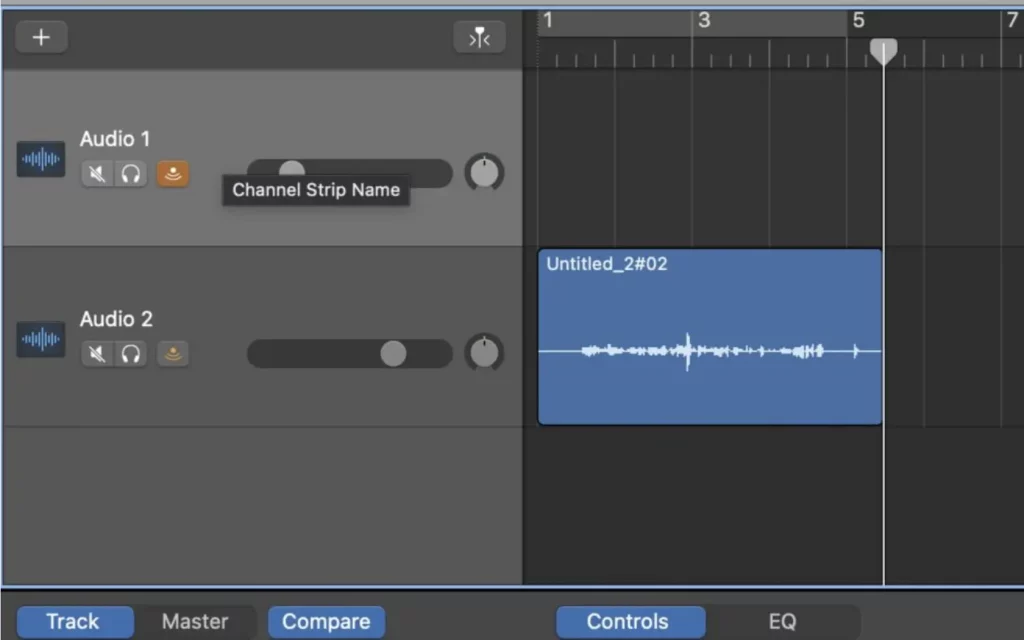 Get some audio down! Make sure to record a test and listen back before you record your hour long episode – you don't want to get to the end and realise your levels were wrong.
Step 8: Save ready for editing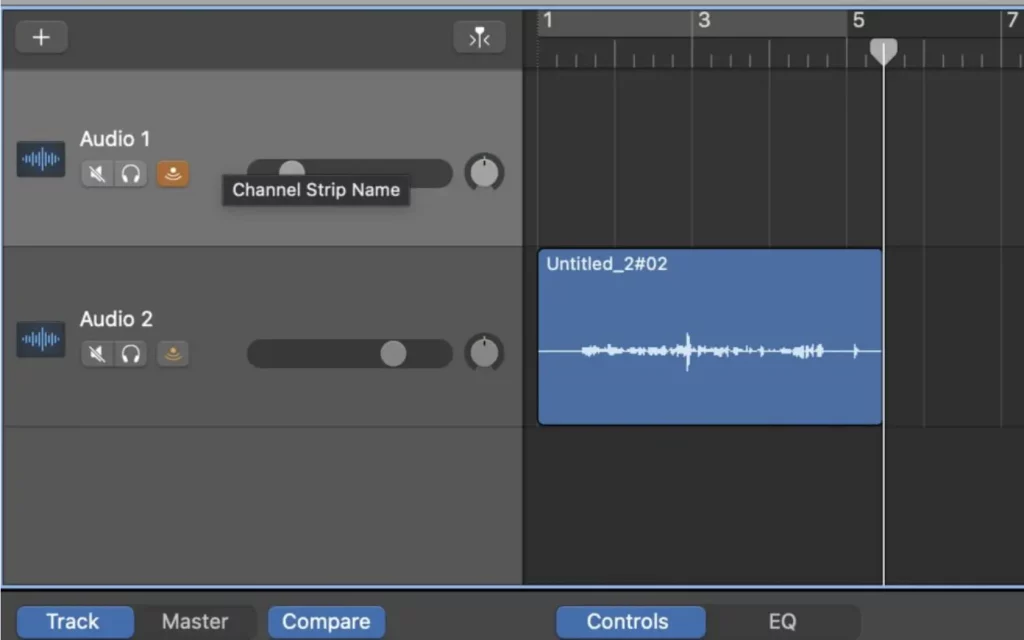 Go to File and then select Save or Save As…
Recording FAQs
What are the best podcast settings in GarageBand?
You should have your audio output set to a good pair of headphones and have Direct Monitor switched on (this means you can hear yourself in your headphones as you speak). Record a short snippet and listen back at the volume at which you would ordinarily listen to a podcast. Tweak the input level on your interface (or, if you don't have one, the volume you're speaking at or the distance you are from the microphone).
Can you record two tracks at once?
No, you can only record one input at any time. Placing different speakers or audio clips on different tracks is possible though, and it's useful for organisation and editing.
How long can you record a podcast in GarageBand, is there a time limit?
As GarageBand was designed for music, it tracks time in measures not minutes. It allows a max of 9999 measures – if you set the bpm to 40 (the minimum value), this sets your maximum recording time at 1000 minutes. This limit is per project, and you can have as many different projects as you'd like. Surely you don't have that much to talk about!
How do you record a podcast on Garageband on an iPad?
Recording using Garageband on your iPad or iPhone is broadly similar to doing it on desktop, with a few minor differences. You'll want to use an external microphone if possible – higher audio quality is always better for podcasts, so stay away from the inbuilt iPad mic.
You'll be given the choice of two modes when hitting record – "Fun" or "Studio". Studio mode gives you more control over what you're doing, so we'd suggest going for that one over fun mode.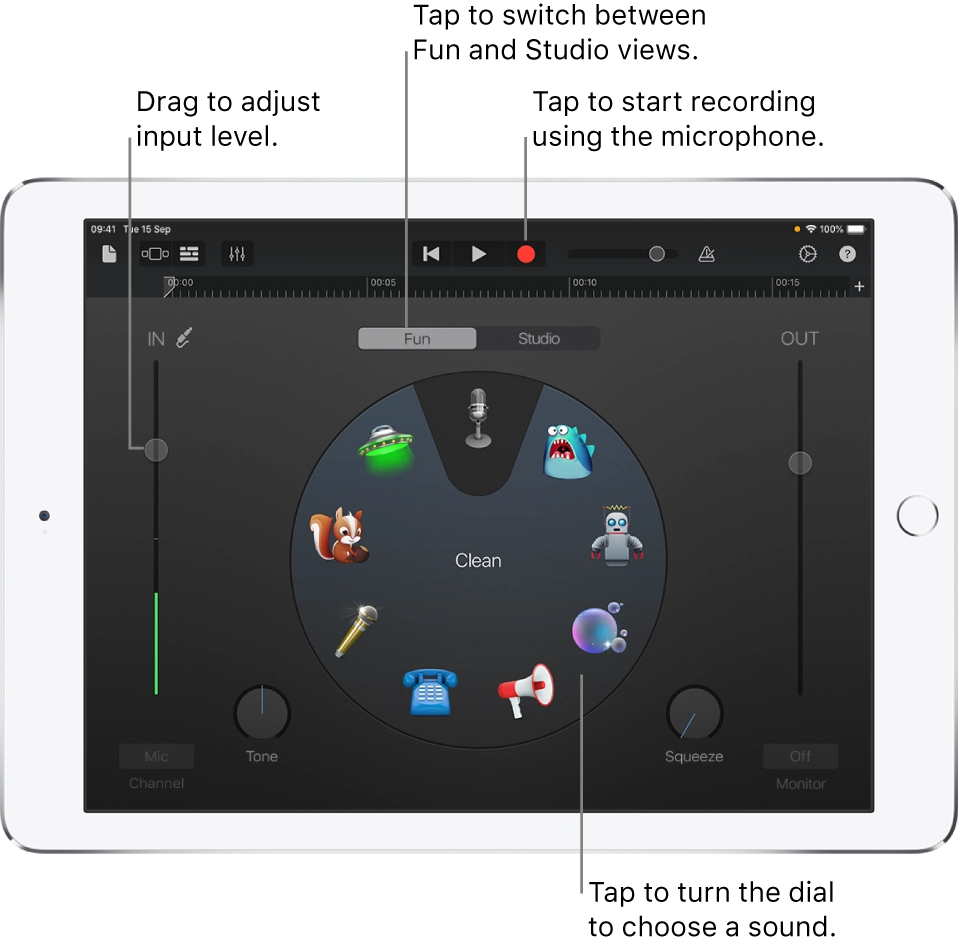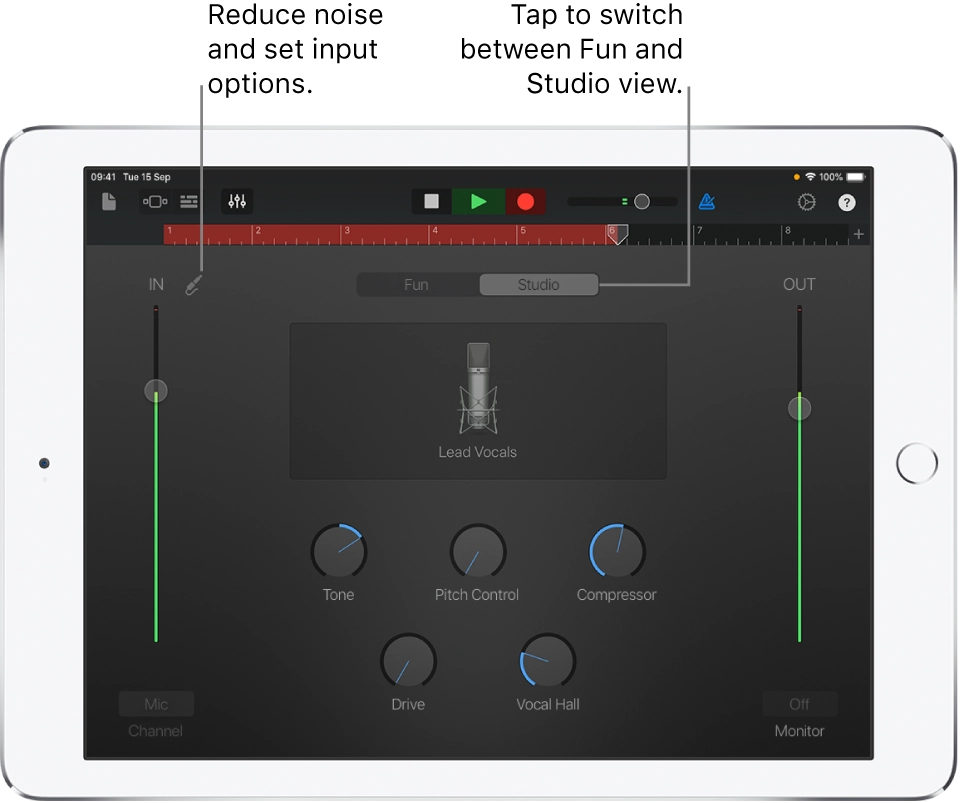 You can set your input level and tweak the settings to your liking – make sure to listen back to a test recording before you do a full hour's recording with reverb all the way up. It's worth noting that most of these settings are for musicians, so it'd be best to leave well alone.
All that's left to do now is hit 'record' at the top!
How to edit a podcast in GarageBand
GarageBand isn't as fancy as some podcast DAWs, but it still has some nice editing features to get your head around.
Step 1: Open up your audio to edit
You may be editing an audio track straight after recording, but these are the steps to open up a project… Include opening up an audio track saved within GarageBand or exporting a track (include what format it needs to be)
Step 2: Trim your audio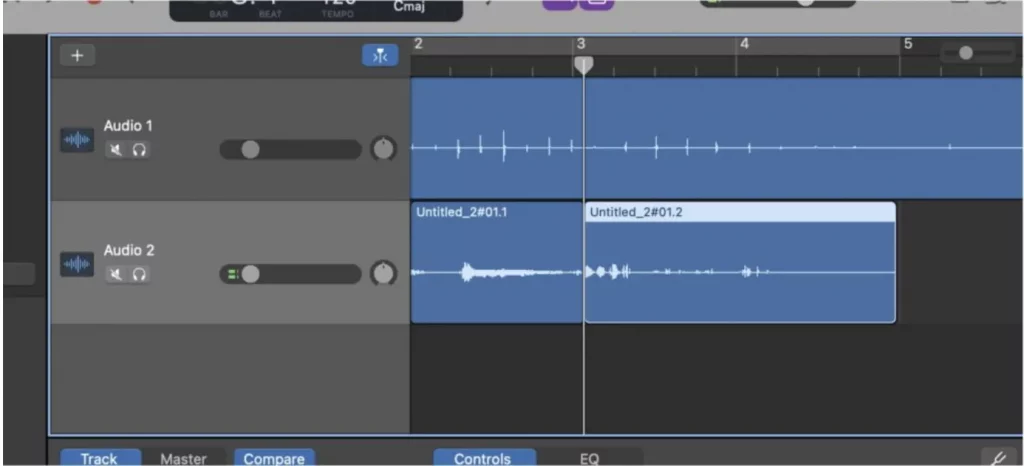 Move the selector with the mouse and then use 'Command'+'T' to slice a recorded segment into two pieces – this is useful for cutting out unwanted bits or chopping files to be used over multiple tracks.
Step 3: Listen to a track on solo mode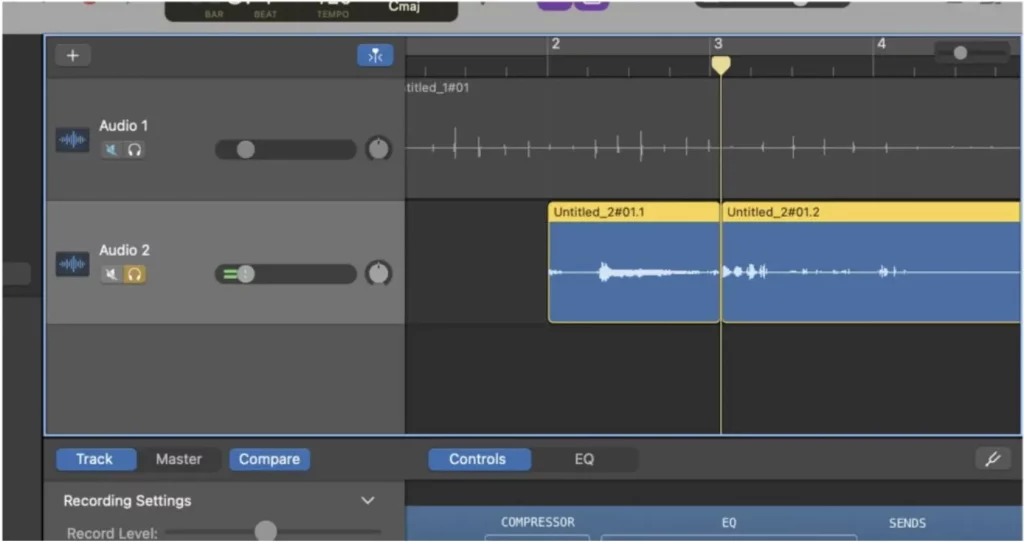 Want to listen over a track without interference from your other tracks? Click the little headphones icon to listen to a given track in isolation, giving you the ability to get nice and in depth to cut out coughs or false starts.
Step 4: Adjust the volume level of different tracks

This is super useful if someone speaks quieter or has their mic set at a lower level than you would have liked.
Step 5: Add in intro or outro music or other external files

On a new track, hit 'Control'+'Click' & then select 'Add audio file', and you'll be able to import audio files you have on your computer directly into the Garageband project.
If you're using any music at all, make sure it's fully licensed to you or copyright free – you don't want episodes removed from streaming services with copyright strikes.
Step 6: Export your finished project
GarageBand doesn't integrate directly with with any podcasting hosts, so it's just a case of exporting the finished project and then manually uploading it to your host.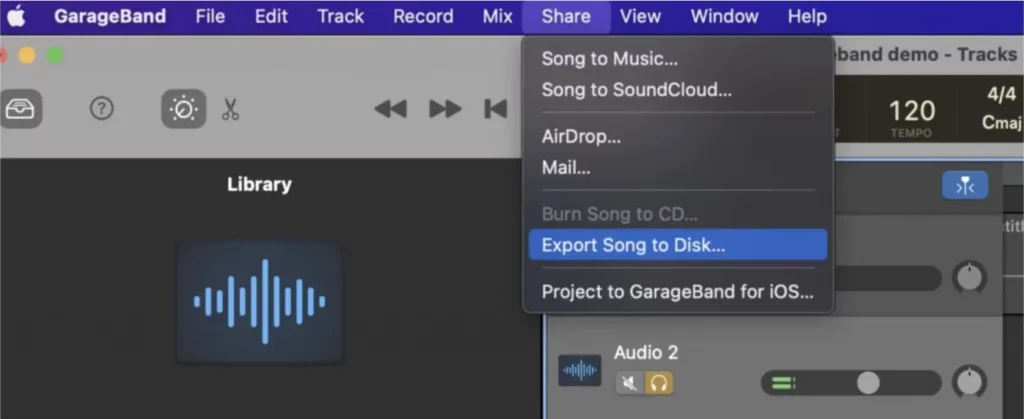 In the top menu bar, go to Share > Export Song to Disk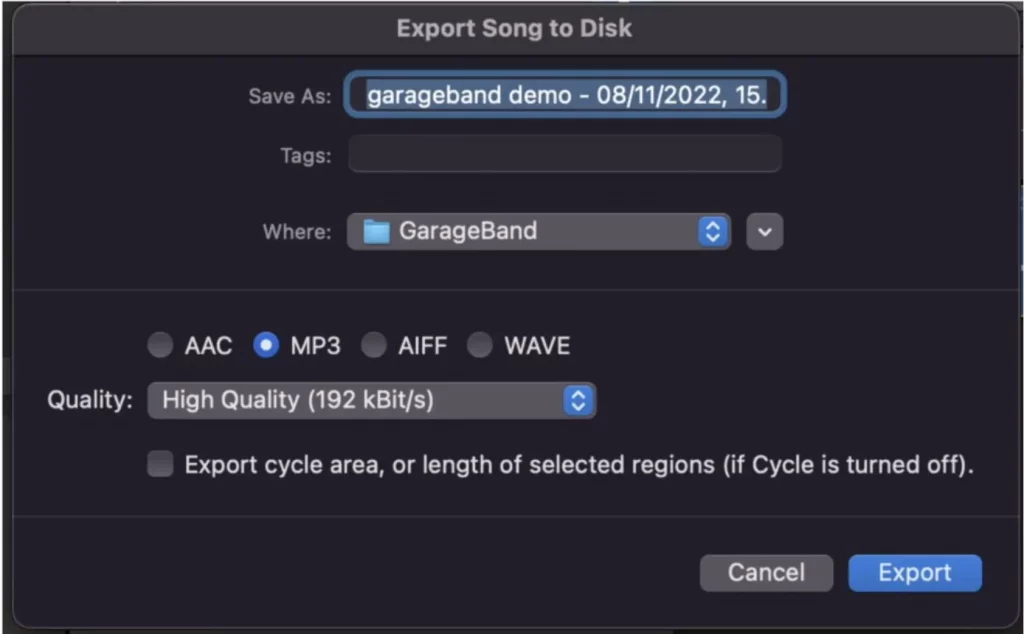 Then simply title your project, format it as an mp3 file (most hosts, including Captivate, and podcast directories require the audio file to be mp3, so this saves trouble down the line) and then hit export! It is then ready to be uploaded to your podcast host.
Editing FAQs
Can I add sound effects in GarageBand?
It's nice and easy to add any kind of media file to your GarageBand project – just use 'Control'+'Click' and select 'Add audio file'. There isn't a bank of stock sound effects, though, this is just a way to insert files already present on your computer.
Can you record two tracks at once?
No, you can only record one track at a time in GarageBand, though you can make use of their multiple tracks to make editing easier – having different speakers and sound effects on separate tracks will make your life far simpler. For example, let's say you are interviewing someone and they cough while you are speaking or their dog starts barking, if you are editing in separate tracks you can easily cut this out.
Can I bleep words in GarageBand?
While there's no dedicated tool for bleeping out words in GarageBand, an easy workaround would be to use the trimming tool (Command + T) to cut out that word and then import a sound effect such as a 'bleep', using the import method above.
If you don't have sound effects, all you need to do is search 'sound effects', 'free sound effects' etc on Google, Safari, Bing etc and you will be spoilt for choice! Just pick your favourite one, just be mindful of copyright issues, but you can get that information from the website you download your sound effect from.
Is Audacity or GarageBand better for podcasts?
Audacity and GarageBand are broadly similar, and a natural comparison for one another as they're both free and simple recording options. There's truly very little difference between them, but let's evaluate them to help you decide which one is better for you.
GarageBand is iOS exclusive, meaning you can't use it if you're an Windows user. If you are an Apple user, though, you can use their great app to record and edit your show on your iPad or even your phone. Audacity is available for both iOS and Windows, but doesn't have mobile options.
Audacity is built primarily for podcasts, so there aren't any software instruments or other music-centric features to ignore as there are with GarageBand.
Aside from that, it's just personal preference – if you're an Apple user who is familiar with how they design editing software, GarageBand is the obvious choice. If not, you'd probably be better with Audacity.
Garry's (Podcaster & Head of Design at Captivate) review of Audacity & GarageBand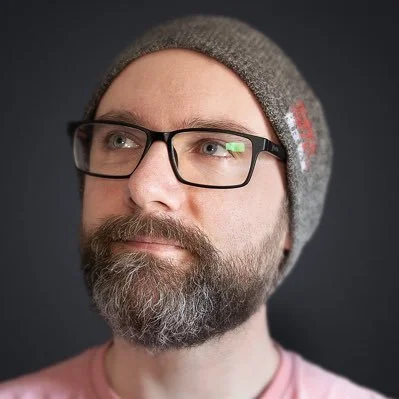 "Audacity is a very solid bit of software that's been around for a long time and is still used by many podcasters. For free software the feature set is reasonable and you can get your audio sounding decent with a fairly small learning curve. It's an attractive offering for any user due its multi-platform availability and it's a tool I recommend to newbies who's passion isn't in post-production but does want something to get their episodes out the door.
GarageBand is Apple's music studio bundled with all Mac's is a good option for Mac users who want a native MacOS bit of software. Primarily thought of a music creation tool, it's also a reasonable choice for podcasters due to its easy to use multitrack interface and mastering tools. Record your vocals, add music, backing tracks all with your own material or its library of assets along with supporting a vast array of plugins.
Overall both pieces of software offer a great starting point to a good sounding podcast episode before progressing to more in-depth DAWs."
Danny's (Podcaster & Head of Customer Experience at Captivate) review of Audacity & GarageBand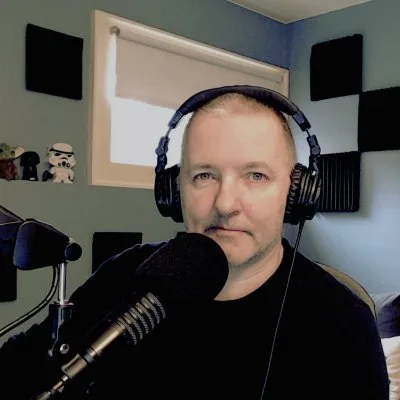 "GarageBand is an excellent and underrated DAW, especially since it's free for all Mac users. It's a pretty easy editor to start using right away, with a ton of resources online to help you use more advanced features. It also supports VST plugins, so you can add extra audio optimization and repair plugins to it. Recommended for beginners.
Audacity is another highly recommended free platform, that can have a bit of a higher learning curve than GarageBand due to its less intuitive UI and terminology. Again, though, there are lots of resources available to get you started, and it also supports multiple third-party plugins for additional editing options.
I started with Audacity when I was on PC, then moved to GarageBand when I switched to Mac, and used it for a good couple of years. But I switched to Hindenburg Pro after being recommended it for a while by a lot of podcasters and editors I follow and respect, and it's made a huge difference to my editing workflow. Auto sound levels, super clean interface, auto export at the correct LUFS levels, VST plugin support, and more make this my go-to DAW for both beginners and intermediate editors."
Pros and cons of GarageBand
Pros:
Free
Simple and easy to use
Familiar UI for Apple users
App for iPhone or iPad
Cons:
iOS exclusive
Basic feature set (but more than enough for podcasting editing/recording)
Primarily set up for music, so there's a lot of unused tools
No integration with podcast hosts
Takeaway
GarageBand is an extremely usable option for recording and editing your show if you're looking to save a bit of money or simply don't use the advanced features offered by other DAWs. It doesn't have any bells and whistles, but it makes editing your audio super simple, as well as allowing you to import files for background music or sound effects.
After you've recorded and edited your audio, Captivate can help you grow and market your show. We have a huge range of free courses in our Growth Labs, and our support team are on hand 24/7 to answer any questions you may have. Try a free 7 day trial here!