Get started here or jump to another section:
Learn how to start a podcast with our audio crash course!
Over eight 15-minute episodes, learn how to start a podcast with us in this bite-sized, need-to-know audio format. Every episode features one set milestone, so you can work towards your podcast launch with us in a tangible way, with concrete results at the end. Listen below or use this link to listen to wherever you get your podcasts.
How to Start a Podcast - 7 Day Beginner's Guide
How to Start a Podcast Guide - in 4 easy to follow phases!
Our guide is the ultimate hand holder to starting a podcast and is split up into four easy to follow phases:
Phase 1 - Designing Your Podcast
Phase 2 - Understanding Podcast Technology
Phase 3 - Build Your Podcast
Phase 4 - Launch Your Podcast
We cover everything you need to know about launching a successful podcast, we explain all the podcast jargon and each phase has related podcast episodes, if you prefer audio content. Let's get that podcast of yours launched!
Phase 1 – Designing Your Podcast
This first phase covers everything you need to know about designing your podcast, including how to decide on your podcast topic, choosing a podcast name, planning the structure of your episodes and more.
Prefer to listen to this section of How to Start A Podcast? Listen to our crash course episode:
1. Choose Your Podcast Name and Topic
The very first step in starting a podcast is knowing what you are going to talk about and what topic you are going to choose.
Yes, you need to be knowledgeable about the topic you choose, but just as important is picking something you will love talking about. Are you excited by it? Even more importantly, are you happy to build your audio brand around your chosen subject?
We guarantee that whatever topic you choose, there will be an audience and an appetite for it somewhere, no matter how niche.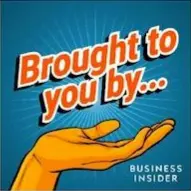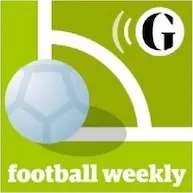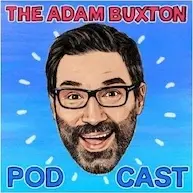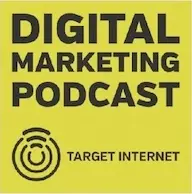 7 Tips for Choosing Your Podcast Name
Picking a name is no easy feat, and we completely get that. Here are some tactics that have worked for our podcasts, and some things to avoid:
Check for duplicates – make sure there isn't already a podcast using your name, or a close variant.
Be creative – get those creative juices flowing and come up with a creative or clever name. For example, a couple of my favourites are '99% Invisible' and 'Brought to you by…'.
Be descriptive – don't be too cute, go for the 'exactly what it says on the tin' approach. Descriptive names are immediately identifiable to target audiences and easier to find when people are searching for podcasts on a particular subject in search engines like Google. For example, 'Football Weekly' or 'The Property Podcast'.
Use your name IF people already know you – take a leaf out of 'The Adam Buxton Podcast' or 'The Dave Ramsey Show' and name your show after yourself if you already have a decent-sized following.
Don't use the word 'podcast'– Nine times out of 10, when someone is searching for a podcast, they will be searching in a podcast directory, so the results are all going to be podcasts anyway. So, if you are struggling with the length of your title and if you're using 'podcast', this word should be the first to go.
Avoid keyword stuffing – avoid overly long titles or 'keyword stuffing' (listing keyword variations) as iTunes/Apple Podcasts have started to really clamp down on this.
Consider podcast SEO – it's a huge bonus if your show is a natural Google magnet so consider a show name that feels natural to someone researching your niche and what they might type into Google to find a podcast like yours.
2. Plan and Structure Your Podcast
Now you've nailed the podcast topic and name, you need to think about the planning and structure of your podcast.
When listening to podcasts, you can definitely hear a difference between structured episodes and on-the-fly discussion episodes. Of course you will: they're different formats.
How to Choose A Format for Your Podcast
How do you decide whether to create a solo podcast, an interview podcast, co-hosted or something else entirely?
It all depends on what you want to achieve with your podcast.
If your goal is to build a community, get sponsors and eventually run a membership or subscription, choose a solo or co-hosted show. Your face and name will become your brand. You and your co-hosts will be what people tune in for, the voice they trust, and who they want to spend their listening time with.
If your goal is to build a network and eventually sell a product or service, choose an interview format. This is a quick way to build relationships and position yourself as a voice of authority in your chosen niche!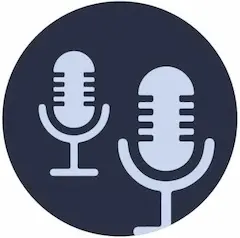 Build your network
Position yourself as an
authority or expert
Build trust in your field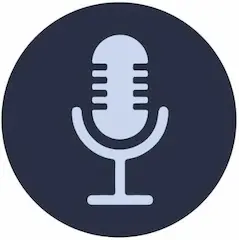 Build a community
Become the centre of
your audio brand
Sell sponsorships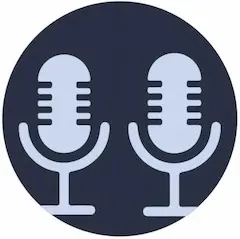 Build a community
Both become the face
and name of your brand
Recognisable dynamic
How to Plan Your Podcast Structure
What's important to consider is your listener and their experience when listening to your podcast. Is it easy to follow? Is the content engaging and accurate? Are your episodes fun to listen to? Can you use musical transitions or jingles to break up long periods of talking?
Listen to established podcasts and see how others do it, what common themes there are, and how they get their show to flow.
Then, pick a structure that you like and importantly, a structure that means you'll be able to keep producing even when you're busy and start with that.
3. Pick Your Podcast Cover Art and Music
Now you've got a topic, name and a format for your podcast, the next step is working on your artwork and music.
You'll need cover art in order to submit to the directories, so follow these specifications to get it right first time:
Minimum 1400 x 1400 pixels, maximum 3000 x 3000 pixels
Under 500kb file size
JPEG or PNG format
RGB colourspace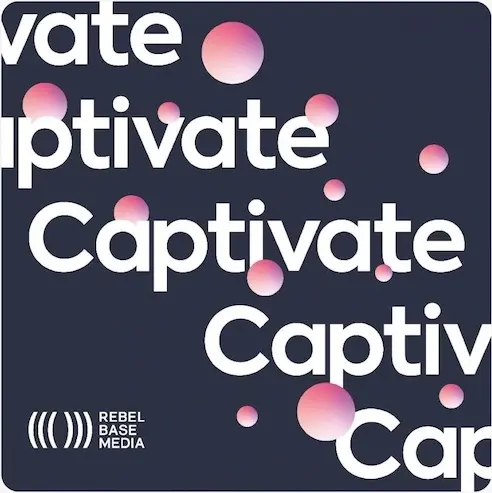 Podcast Cover Art
Apple Podcasts Specifications:
Having the right artwork for your podcast is important as a wider representation of your audio brand and how you want to be perceived by your audience and peers.
There's also the need to stand out from the crowd. When people are searching for podcasts around your topic, use your logo and artwork to draw them into your podcast. Stop them scrolling past your show and picking a competitor.
Our tips for creating eye-stopping podcast cover art
Keep it simple - Your cover art is only small, so you need it to be attractive, engaging and legible on the smallest of screens. The best way to do this is to keep it simple. Don't be tempted to add too much text or too many elements.
Make it relevant - Your cover art has to give the listener some kind of indication of what to expect from your podcast. Be clear and direct. You can do this by referencing certain themes, fonts or styles, or by using images.
Be bold - Take a look at what kind of podcasts are in your category, and what their cover art looks like. What kinds of themes can you pick up in your cover art, and how can you do better? Bold typefaces, colours and simple shapes will help you stand out from the crowd.
You can always change it - You won't be stuck with your original cover art forever, so don't obsess over making it perfect first time.
💡 The 3 Best Places to Get Podcast Cover Art
If graphics aren't your strong point, we highly recommend looking into paying someone to create this for you. Here are our recommendations:
99Designs - A fantastic way to commission bespoke design and artwork. Set a brief, choose your pricing tier and get quotes and concepts back from up to 30 different designers.
Canva – An extremely handy design tool with free templates and customisable assets for everyday marketing materials such as social media posts, podcast cover art and tons more.
Fiverr – Search out and commission bespoke design, music, tech and marketing services for your podcast.
How to Choose Music for Your Podcast
Every podcast also needs its own recognisable sound. You want people to recognise your podcast just from listening to your intro, outro or jingles - this is called audio branding.
To pick the most suitable podcast music for your show, think about who your podcast is for. Think about your listener avatar and the content of your podcast, and how you could use music to reflect and enhance it. Similarly, if your podcast is focuses on a specific hobby, community or fandom, what kinds of sounds or musical themes could you reference to make your listener feel more immersed in your show?
💡 Where to Get Royalty-Free Podcast Music
You can record your own music, find royalty-free music or pay for music to be created for you from professional musicians or services.
We recommend:
Captivate's Podsafe Music Library - A selection of royalty-free themes, intros, outros and transitions that are free for you to download and use on your podcast, no attribution required.
Music Radio Creative

-

Professional service specialising in bespoke podcast intros, outros, audio packages and even editing!

SongsForPodcasters

- Royalty-free music licensing made extremely simple. Use the step-by-step process to make sure your license is tailored to your specific use, for no-fuss podcast music in minutes!
4. Choose Your Release Schedule
Last, but by no means least, is choosing your release schedule.
This is largely going to rely on the format and quantity of content you produce, as well as who you're producing it for.
How Often Should You Publish Your Podcast?
Our podcast, The Podcast Accelerator, runs twice a week for around 10 minutes an episode. They're designed to fit into the schedule of a busy podcaster, so we know keeping them short and succinct is the best way to engage our audience.
If your podcast is a narrative format relying on longer, detailed research, it's probably best to stick to a weekly, bi-weekly or even monthly schedule. That way you can guarantee quality and consistency, which is how you'll draw in subscribers and keep them listening.
So, when you're choosing your release schedule, think first about who your podcast is for. How are you going to fit into their schedule? Are you going to publish your episodes weekly, bi-weekly or monthly?
Once you have decided on your release schedule, make sure you stick to it. Consistency is key for a successful podcast. Your listeners need to know when they can expect a new episode to be published. If they know when they can expect a new episode, they are more likely going to become regular listeners.
Phase 2 – Understanding Podcast Technology
Now you've got your name, idea and format in the bag, it's time to get your equipment together. So what kind of software do you need to start a podcast? In short, you need:
A microphone
A computer, phone or tablet
Something to record into, i.e. software
For your easy reference, we've put together a list of the products we use day in, day out at Rebel Base Media to produce our podcasts and YouTube content. They're tried, tested and thoroughly recommended by the whole team.
Prefer to listen to this section of How to Start A Podcast? Listen to our crash course episode:
1. Pick Your Podcast Microphone, Headphones and Extras
Tech, software, equipment... it can all get a bit overwhelming. When you're first starting your podcast, choose our simple, recommended set-up below to give you brilliant audio quality easily and on a budget. As you grow and develop as a podcaster, you can scale up your kit (if you want!).
Best Microphones for Beginner Podcasters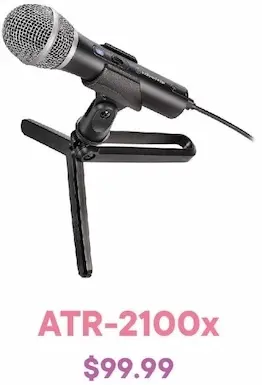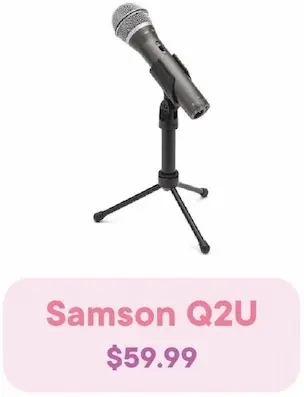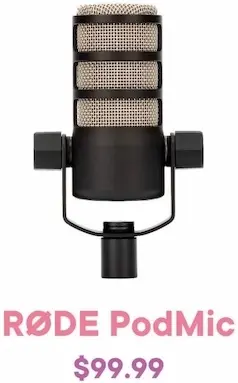 2. Recording Your Podcast
To record your podcast, you will need to install some kind of recording software. Some are free and some you will have to pay for. There are so many different options out there to choose from, but here are the ones we have tried, tested and continue to use every day.
Prefer to listen to this section of How to Start A Podcast? Listen to our crash course episode:
💡 Our Recommendations for Podcast Recording Apps and Software
Top tools for recording your podcast solo:
Audacity - Software (Mac, PC and Linux), FREE
Alitu - Software (Mac and PC), $28/month 
Zoom Podtrak P4 - Hardware, $199.99
Top tools for recording your podcast remotely:
Zoom - Software (Mac and PC), FREE
Squadcast - Software (Mac and PC), $9/month
Best Recording Options for Podcasters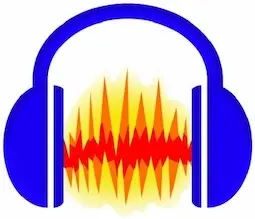 Audacity
Free multi-track
recording

Alitu
All-in-one recording,
editing + publishing

Squadcast
Remote recordings
with multiple people
After recording your podcast, it's time to edit and process your episode before publishing for all to hear. Editing isn't just about adding in your music and sponsor message. It's also about tidying up the audio so it sounds professional. Here are some pointers:
Cut out of any weird background noises, long pauses, or unnecessary uses of ums and other words and phrases such as 'like' or 'so'.
Set up presets for your episodes (like templates for your audio), which will be automatically applied each time you produce a new episode.
Again, similar to recording, there are many different editing and processing software options to choose from, suiting both beginner and advanced levels. Some offer free tools, whilst some are paid-for (and much easier because of it!)
What bitrate and file type should you use for a podcast?
File type: Export your episodes as an MP3 for maximum compatibility and optimized file size.
Bit rate: As a general rule, use 64 kbps (mono) for speech/narrative podcast. Use 128 or 192 kbps for podcasts (stereo) using music or sound effects.
Top tip: Unlike other podcast hosts, Captivate doesn't tinker with your audio quality at all. There's no limit to what you can upload, either, so feel free to experiment with what sounds best for your podcast.
💡 Our 3 Top Recommendations for Podcast Editing Software
Alitu - Software (Mac and PC), $28/month
Our top recommendation for editing. A really good tool for speeding up your workflow, with handy automations, teaser templates and a custom drag-and-drop builder for easy, intuitive production.
Audacity - Software (Mac, PC and Linux), FREE
An open-source recording and editing suite which is perfect for beginners.
Auphonic - Web service, FREE (up to 2 hours of audio a month)
We use Auphonic to process the audio for the podcasts we produce but it's worth noting that it's not really an editing tool, it's more of a tool to process your audio before you publish it.
Best Editing/Post-Production Options for Podcasters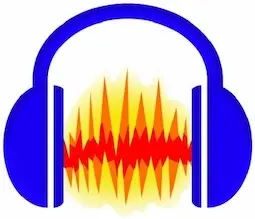 Audacity
Free multi-track
recording

Alitu
All-in-one recording,
editing + publishing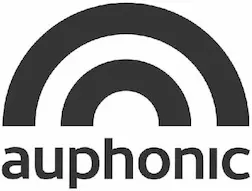 Auphonic
Free (up to 2 hours)
audio processing
Phase 3 - Build Your Podcast
So you've planned out your podcast, and you understand what equipment and technology is needed. Now it's time to put everything together and get ready for launch. Exciting times!
1. Create Your Podcast Trailer
First things first, you need to come up with a trailer for your podcast. The idea here is to give your potential listeners a low-effort, non-committal way to try your podcast before they try an episode.
Think of it like an elevator pitch. You want to be including highlights of what's to come and a reason to get excited for your first episode, within a minute or two.
Trailers are important even after you have published your first episodes. No one jumps from seeing your podcast in their feed to a full subscriber – it's much easier to win over listeners with an engaging, targeted one-minute trailer than with a full episode.
What to Include in Your Podcast Trailer
Who are you? Why should they listen to you in particular? Flaunt your expertise, your fan credentials or your pure passion for your subject!
What can they expect? When do you release new episodes, and how often? What kind of content can they expect to find in each episode?
How can they listen? Lots of people don't know what podcasts are! Give your listeners clear instructions on how to find your podcast or use your Captivate single-subscription link as a memorable place they can go to.
What does that sound like? Here's an example of a great podcast trailer:
Spark of Rebellion, A Stars Wars Show [Trailer] - Click here to listen!
2. Upload and Publish Your First Recording
So, your podcast is now ready to be published. This is where a podcast host comes into play. With Captivate, you can store unlimited podcasts and easily distribute your episodes to podcast directories, including Apple Podcasts, Spotify, Google Podcasts and Amazon.
Set up your Captivate podcast hosting account
There are many hosting platforms to choose from, but rather than going for the cheapest option, look at the benefits and features the platform offers.
Captivate is the world's only growth-oriented podcast host, and for only $19 per month you can enjoy a wealth of growth-focused features such as:
Fully responsive, customizable players with built-in call to action buttons
One-click PDF sponsor kit
Easy to share single subscription links
+ tons more growth and marketing features!
How to Create Your Podcast and Publish Your Episodes with Captivate
Armed with your artwork, podcast trailer and first episode, it's time to submit your podcast to the directories and start publishing your episodes, aka the most exciting moment for any new podcaster!
First, you need to create your podcast on Captivate. You will need to upload your general podcast information, such as your show description, artwork and categories. The whole process is fully guided, so you know you're filling everything out correctly first time. Then, it's a case of publishing your individual episodes, including individual episode show notes for the directories to display.
Captivate makes this process as quick and easy:
Click 'Publish new episode' in the top right-hand corner of the dashboard.
Upload your audio in MP3 format.
Fill in your episode title and subtitle, episode show notes, season number and episode number, plus optional SEO tags.
Hit publish or schedule it for a future date.
Boom, you've published your first podcast episode!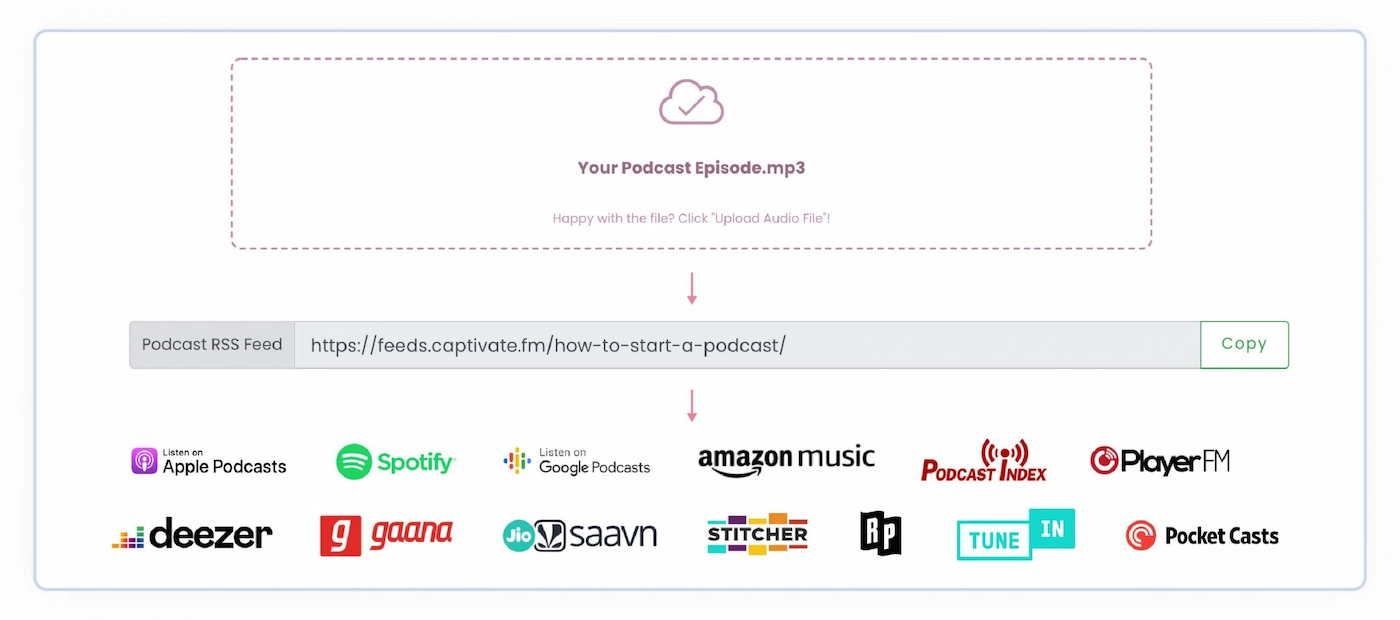 3. Get Listed in Apple, Google, Spotify etc
Get Your Podcast in Apple, Spotify & More! - Click here to listen!
Every podcast needs an RSS feed. This is how you submit your episodes to Apple Podcasts and other podcast directories, so listeners can find and download your episodes.
Captivate will generate an RSS feed for you. You can then use our Distribution page to one-click submit your feed to Apple, Spotify, Google Podcasts, Amazon Music, Gaana, Jiosaavn, TuneIn, Stitcher, RadioPublic, Podchaser and more.
You only need to submit your podcast to each directory once. As soon as your podcast is approved, listeners will be able to get every new episode each time you publish.
Pro-tip: It can take a while for your podcast to appear in certain directories – up to a week for Apple Podcasts – so if you have a specific launch date in mind, make sure to leave plenty of time for approval.
4. Setting Up Your Podcast Website
If you want to start a podcast, you've GOT to have a podcast website so that people can find you. Yes, a website acts as a central hub for promoting your podcast. But it also:
Increases the chances of your podcast being discovered (as your website will be indexed by Google)
Allows better content ownership and control over your podcast and audio brand
Offers more value and the ability to repurpose your podcast into blogs, videos or infographics
Creates an accessible and searchable archive of past episodes for listeners to find old and new episodes
Gives you the ability to create a community, drive subscriptions and newsletter sign-ups through email marketing integrations and bonus content
Make sure the front-facing aspects of your podcast, like your website and social media, are set up well before your podcast launch date. That way, you can schedule posts, test links and get content ready so it's ready to engage with when your first few listeners come across it.
💡 The 2 Best Places to Make Your Podcast Website - For Free!
When it comes to Captivate and podcast websites, you have two really powerful (and easy) options:
Captivate Sites™ – Captivate's podcast websites are the most powerful podcast websites from any hosting platform.
Create a simple website for your podcast that automatically includes your episodes, show subscription links and everything you need to launch and grow your podcast.
Choose from 3 fully responsive templates, customize your colours, header, team bios, add donation links and even an opt-in form or lead magnet to encourage sign-ups to your podcast mailing list.
Captivate Sync™ – Captivate Sync™ is a free, simple WordPress plugin that offers complete integration with your WordPress website. Get the full functionality of Captivate directly from your WordPress dashboard, as well as advanced customization and collaboration features.
Phase 4 - Launch Your Podcast!
The day has finally arrived, and everything is in place to launch your podcast! You've submitted your podcast to the directories, set up your website and your launch date is right around the corner.
Prefer to listen to this section of How To Start A Podcast? Listen to our crash course episode:
1. Planning A Successful Launch Week
With your launch date approaching, it's time to start planning and scheduling your promotional activity. Doing this now will mean you have more time when you actually launch to do the fun stuff, like shout about your achievement and engage with your first listeners!
Why We Recommend A Launch Week, Not A Launch Day
Traditional marketing campaigns don't begin and end in a day, so why should your podcast launch? In the run-up to your launch date, your goal is to bring as much attention to your new podcast as possible. You need to catch the eyes of your target listeners, build anticipation and start creating buzz around your upcoming episodes. How do you do that?
A launch week gives you time. Time to prepare, time to test, time to grab attention and time to properly engage with any replies or engagement you receive.
5 Truly Easy Ways to Promote Your New Podcast
Here are 5 things to do in the run-up to and throughout your launch week to make the biggest impact. They're all small, simple actions that will set you up for success further down the line. They won't take you all day, either.
Research and join 3-5 relevant Facebook Groups, communities, boards or servers - Start building out your network and contacts by joining relevant communities online. Get in touch with moderators and ask if it's ok to share links to your podcast, and get involved with threads and discussions.
Set up Podchaser profile and claimed your podcast - Podchaser is the IMDB of podcasting. Claim your Podchaser profile and connect it to your Captivate podcast website so listeners can easily leave and read your reviews.
Create a simple graphic to teach people how to leave a new review - Speaking of reviews, it's important to tell people exactly how to leave and write one in a way that helps you. Do this visually and as a call-to-action at the end of all your podcast episodes, within your embedded player and in your show notes.
Get in touch with 7 podcasts where you have common content/niches and ask for a trailer swap  - Reach out to figures who already have authority or an established audience. Ask if they're open to collaboration in the way of trailer swaps or guest interviews. Doing this will open your podcast out to a whole new, relevant audience (as well as giving their show a boost, too.)
Record and release a "what's coming up" teaser bonus episode - Stay on top of the buzz and excitement around your podcast launch by releasing a teaser episode. In this episode, you can shout out your first listeners, ask for feedback, thank and acknowledge those who've helped you, as well as give listeners an idea of what to expect in the coming weeks.
2. Celebrate Your Podcast Launch!
It's important after all this hard work to sit back and congratulate yourself on the biggest milestone any podcaster can achieve.
You've come a long way and worked so hard to get this far, and now your podcast is live for people all over the world to hear and download! Now, you can focus on growing your community, developing your podcasting skills and achieving your long-term goals. Remember, we're with you the whole way - read on for our advice on next steps after you've launched.
Phase 5 - After Your Launch
You have now reached the final chapter of starting a podcast ultimate guide, aptly named 'What The Heck Do I Do Now!?'
After launching your podcast, what's next? How do you keep momentum up? How do you keep track of how your podcast is performing? Let's find out!
Prefer to listen to this section of How to Start A Podcast? Listen to our crash course episode:
1. How to Stay Motivated and Keep Publishing!
Imposter syndrome is a real barrier for every podcaster, even after your show is live.
It's very easy to get a bit disillusioned once your podcast is out there and you're not seeing listeners flood in. In fact, most podcasters don't make it past 10 episodes. That's why it's so important to have the right mindset to push through and keep podcasting.
Every week, a new celebrity releases a new podcast. It's an instant hit because they already have a fanbase, resources and money to make it so. This gives a lot of indie podcasters we work with a skewed perspective of what a 'successful podcast' means. Lots of podcasters give up because they think no one is listening. 
You started your podcast because you have something interesting to say and think people would like to hear it. You're right on both counts!
Listeners consume podcasts very differently to the instant-rush hit of social media and video. Podcasting is an entirely different beast, and like any hobby, working at it is the best and most successful way to get better, attract an audience, grow a community and reap the rewards. You're not talking into the void. Your voice matters to someone, so keep going.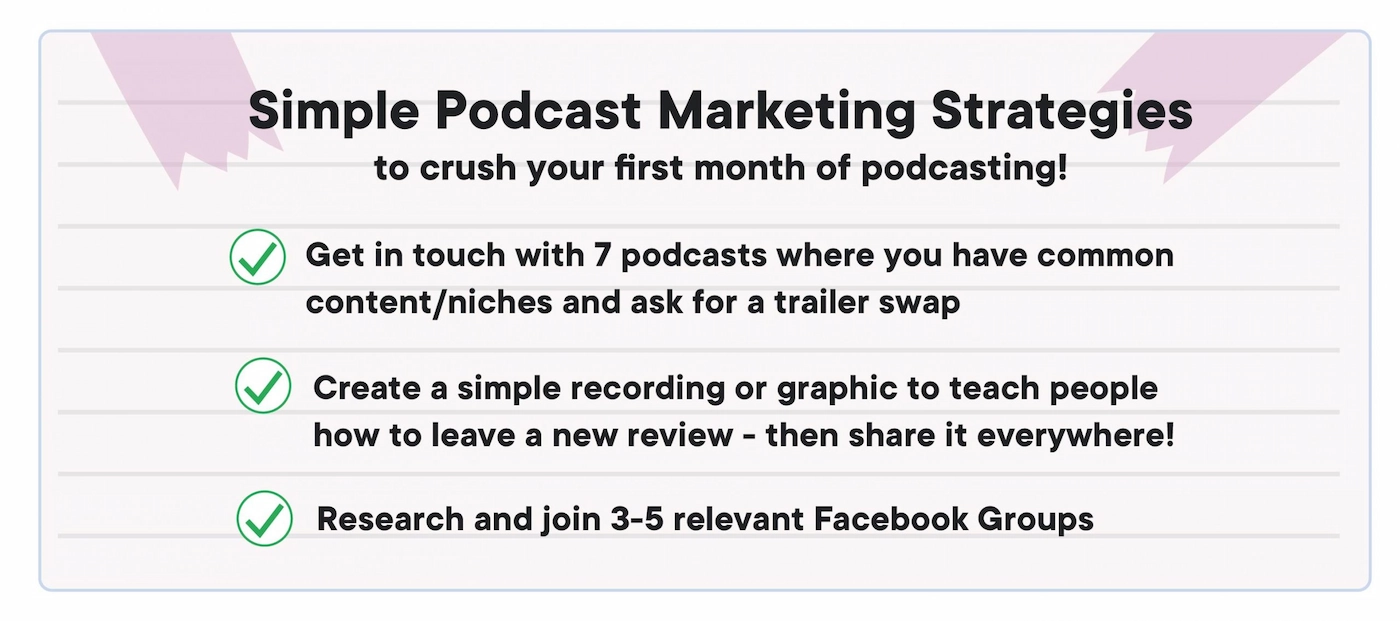 Top Tips for Your First Month of Podcasting
Don't be put off by perfectionism! Ignore that voice in your head telling you to make those final tweaks to an episode. Commit to your release schedule and be consistent with publishing. Podcasting is a real skill, and you will improve over time!
Have a clear goal in mind for your podcast. Know what you want to achieve and set goals and targets that you want to hit along the way. This will give you something to work towards - however small - which will help with motivation and improve your skills!
Try not to overthink the editing process. We're indie podcasters, not NPR – don't let slip-ups or editing mistakes get in your way of publishing an episode. We're all human and the odd 'um' and 'ah' here and there is fine.
Speaking of NPR, no one turns their mic on and turns into Ira Glass! Hosting a podcast takes practice – you won't be a natural from day one. Like anything, it takes work to develop your skill and patience to get your episodes up to a standard you're happy with. The best thing you can do in the meantime is to keep publishing!
2. Understanding Your Podcast Analytics
We talked earlier about what a successful podcast looks like. Lots of podcasters look to their podcast analytics in the early weeks expecting numbers in the hundreds.
Accuracy and consistency in your podcast analytics is crucial to gauging growth, however small it may seem. Captivate offers all podcasters IAB certified podcast analytics, giving you a highly reliable picture of who's downloading your podcast and how many times, as well as LOADS more intelligent metrics:
Unique listeners
Download averages (per day, per week, per month, per 90 days)
Listener behaviour
Downloads per episode
Geographical/demographic data
As you get more listeners, these insights will inform you on where you need to focus your marketing efforts, as well as what kind of content is and isn't working.
How Many Downloads Is Good For A Podcast?
When your podcast is very new, it's tempting to look at your analytics every day. Are your download numbers good? How can you tell if your launch has been successful?! The truth is, 'success' is massively subjective and your success won't look like anyone else's. When you've first launched, success will look like:
A handful of listeners that you can engage with closely. These listeners matter - build relationships with them, ask them to leave reviews and share your podcast in their circles.
Listens that are trending upwards, no matter how 'small' your numbers are. That might look like going from 5 downloads to 13 the next episode. It's all growth. Keep going!
3. Easy Tactics for Finding Your First 100 Listeners
Like we said earlier, a successful podcast is one that is growing. So, after you've launched, you'll get to a point where you're ready to invest time, money and resources into really growing the number of listeners you have.
Rather than getting around 50 people tuning in a month, you now want to be in the hundreds, then the thousands. How do you do this? How do you go about attracting more listeners to your podcast?
That means learning some basic marketing to understand how your listeners behave and to create marketing that will attract and engage them.
There are many different ways to do this, and it just so happens that we have an in-depth article on the subject, where we share quick wins, advice from podcasters themselves and 14 of our marketing tips.
4. Next Steps and More Helpful Podcasting Resources
We've made it to the end! Take a second to look back at what you've achieved in such a short time.
Launching a podcast isn't easy and you've DONE it! The content that you have created and will continue to create touches and affects the lives of every single person who hears it. The positive impact that you have already is something that you should be exceptionally proud of.
Your podcasting journey doesn't stop here. We're here to help with free support and resources whenever you need them. Take a look below for your next steps. Happy podcasting!
4 Free, Essential Podcasting Resources from Captivate:
Known as "That British Podcast Guy", Mark is one of the United Kingdom's original podcasting experts. He is Managing Director & co-founder of podcast hosting, analytics & monetisation platform Captivate which was acquired by Global in 2020 and is known worldwide as an insightful, thought-provoking and actionable podcast industry keynote speaker. Mark has educated on podcasting and delivered thought leadership at events including Podcast Movement, Podfest, Harvard's "Sound Education" and many more. His focus is on helping people to achieve their own podcasting goals and on improving the podcasting industry for the long-term.
Not sure if you need a podcast launch course?
Did you know that there are only FOUR things that stop people like you from launching a successful podcast?
The problem is, you don't know which of the four is affecting you, so you can't overcome it because you don't know what to ask! Until now...
Take the 45-second test to uncover, diagnose and overcome the ONE major thing that is holding you back from launching your podcast!