Reading Time:
17
minutes
Wouldn't it be awesome if you could make podcasting a full-time job, or a bit more than just a hobby? Have you ever wondered how podcasts are funded, and how people make money from podcasting?
Podcasts take a lot of time and effort. So, it's only reasonable – especially if you have been doing it for a while – to wonder how other podcasters make their money, and how to monetize your own show.
As of 2023, podcasting is big business. It's predicted that podcast ad revenue will surpass $2B in a couple of years time, and with publishing giants like Amazon, Spotify and even Facebook jumping on the podcast train, it's fair to say that podcasting will only ever get more lucrative as time goes on.
As an indie podcaster, there's never been a better time to embark on sponsorships, start a paid membership or invest in your audio brand. You probably won't reach the dizzying heights of Joe Rogan's wealth, but you definitely stand a chance at creating a self-sustaining, fully-independent income, which sounds even better, doesn't it?
Over the course of this guide, we will look into exactly how much money you can make from podcasting and how you can begin monetizing your own show and content.
We'll also give you 18 proven podcast monetization starting points, from affiliate marketing to sponsors and even merchandise, that will set you on the right path. Let's go!
18 actionable ideas for making money from podcasts
We're lucky to work with podcasters every day and with an increasing number of people choosing to host their podcast with us (many of which are making money), we have experience in this area and feel equipped enough to give advice on this subject.
But, there are many different ways to monetize and make money from a podcast. When thinking about making money opportunities, you just need to think outside the box and think of ways that you can make the most out of what you have to offer, which is listeners and loyal fans that trust what you have to say.
The place to start when it comes to monetizing your podcast is really defining your audience in your own mind and what you can offer to sponsors and advertisers because of how well you know the people who listen to your show. 
To help you out, we've started the ball rolling and have 18 actionable ideas.
These ideas will get you thinking, and we'd love to know if we have missed any stellar ideas. We may even add them in (and give you kudos of course). Let us know about your ideas in our live chat feature on the website. 
1. Captivate Memberships
With Captivate Memberships, you can offer exclusive, premium content to your listeners in return for a monthly fee. How much to charge and what to offer is entirely up to you! We've built it so that you can set up multiple tiers at different price points, allowing you to appeal to everyone: from your more casual fans who will be happy to spend a few bucks to get extra episodes, to your die hards who will happily pay $20 a month to get exclusive merch, meet up opportunities and producer credits.
It's fully integrated to make the process seamless for your fans and for you, and it's available to all Captivate podcasters – find out more about Memberships!
2. Captivate Tips
As well as monthly subscriptions, with Captivate Tips your listeners can send you one-off tips and donations. If they think you've done an especially good job and want to show their appreciation they can send you an amount of their choosing without any obligation to repeat it, making it a nice, casual way to earn a few extra $ a month.
Use it as a Call To Action at the end of your episodes: "Hey, if you loved this episode, my support link is in the show notes – please consider sending me $2 or $5, it helps me to keep bringing this to you for free. Thanks!"
3. Affiliate marketing
Affiliate marketing is where you receive a commission for referring people to a company and their products or services. You will usually earn money when someone makes a purchase.
In our most recent podcaster survey, we found that around 7% of podcasters surveyed treat affiliate marketing as the number one way that they monetize their podcast. It's hard to give an estimated figure of how much you can make from affiliate marketing, as potential earnings vary from network to network and on the agreement you have in place.
We recommend promoting products or services that you either use or are familiar with, as this will help with authenticity and protect your integrity with listeners and as a podcaster, that trust is vital – you've spent so long building it up, you can't simply pick any product to promote. 
Your listeners trust you, so if they decide to make a purchase on a product or service based on your recommendation and it turns out to be rubbish, (but you didn't know because you didn't test it), that will not only damage your reputation but your listeners may also start losing their trust in you.
How you do affiliate marketing is up to you and depends on your podcast. You could have a section dedicated to affiliate promotion or you can naturally include a mention as you deliver your usual content (the latter is my own personal preference for all host-read podcast marketing because it allows you to add so much context to your promotion).
Channels like social media or emails are other great avenues to promote affiliate links to your audience.
There are already affiliate programs for nearly every product or service, check out Amazon's program or joining a network like ShareASale.
As an example of an affiliate programme that we run and that we see podcasters using a lot, we offer a monthly recurring pay-out for each podcaster that is referred for the lifetime of that podcaster using Captivate to host their podcast.
Making affiliate marketing easy with Captivate
You can add call to action buttons to your Captivate podcast player so that listeners can take action based on what you ask them to do.
This is a great way to use the Captivate embeddable player and push people through to your website, or even ask them to take action from listening directly on Twitter, for example.
4. Sponsors and advertising
Sponsorship and advertising is the most common way people make money through their podcast – in fact, 35% of podcasters that we surveyed said that this is the number one way they make money from their podcasts. 
You have two options for finding sponsors.
Option 1: sign up to a network that can connect you with advertisers. They do all the hard work eg finding advertisers, negotiating rates, sorting out scripts, legalities etc. However, with this method you need an audience of at least 5K or 10K listeners per episode to make it worthwhile.
Of course, anyone that you work within this manner will take their cut…
Option 2: if you have a smaller audience or your topic is a niche, we recommend reaching out to companies yourself that would be a great fit with your podcast and listeners. You could do this over social media, emails or in person at networking events.
According to AdvertiseCast, the current average 30-second CPM (what you will be paid per 1k downloads of each episode (not downloads per month!) for sponsorship and advertisement is $18 (£15) and 60-second CPM is $25 (£20).
CPM-rate sponsorship isn't the only way to work with sponsors, though.
In fact,  many Captivate podcasters see huge success from their niche podcast by working with sponsors on a fixed-price agreement.
This means that rather than being paid a rate per one-thousand downloads of your episode, you can freely negotiate a fixed-price agreement per episode, month or even quarter. 
If you have a niche audience that really engages with you and values your show, this is a really strong option for you and I even published a podcast episode about whether fixed-price sponsorship is right for you or not.
Making sponsorship easy with Captivate
We have a sponsor kit creator. Our sponsor kit includes a summary of your show's performance, along with key contact details and information about who your listeners are PLUS a sweet "IAB Verified" sign thanks to Captivate's IAB certified podcast analytics.
Here are some examples of show performance data that will be of interest to potential sponsors:
Avg. downloads per episode (first 28 days)

Avg. show downloads per 7 days

Avg. show downloads per 28 days

Avg. show downloads per 90 days

Total show downloads, all-time

Unique listeners within varying periods
New vs returning listeners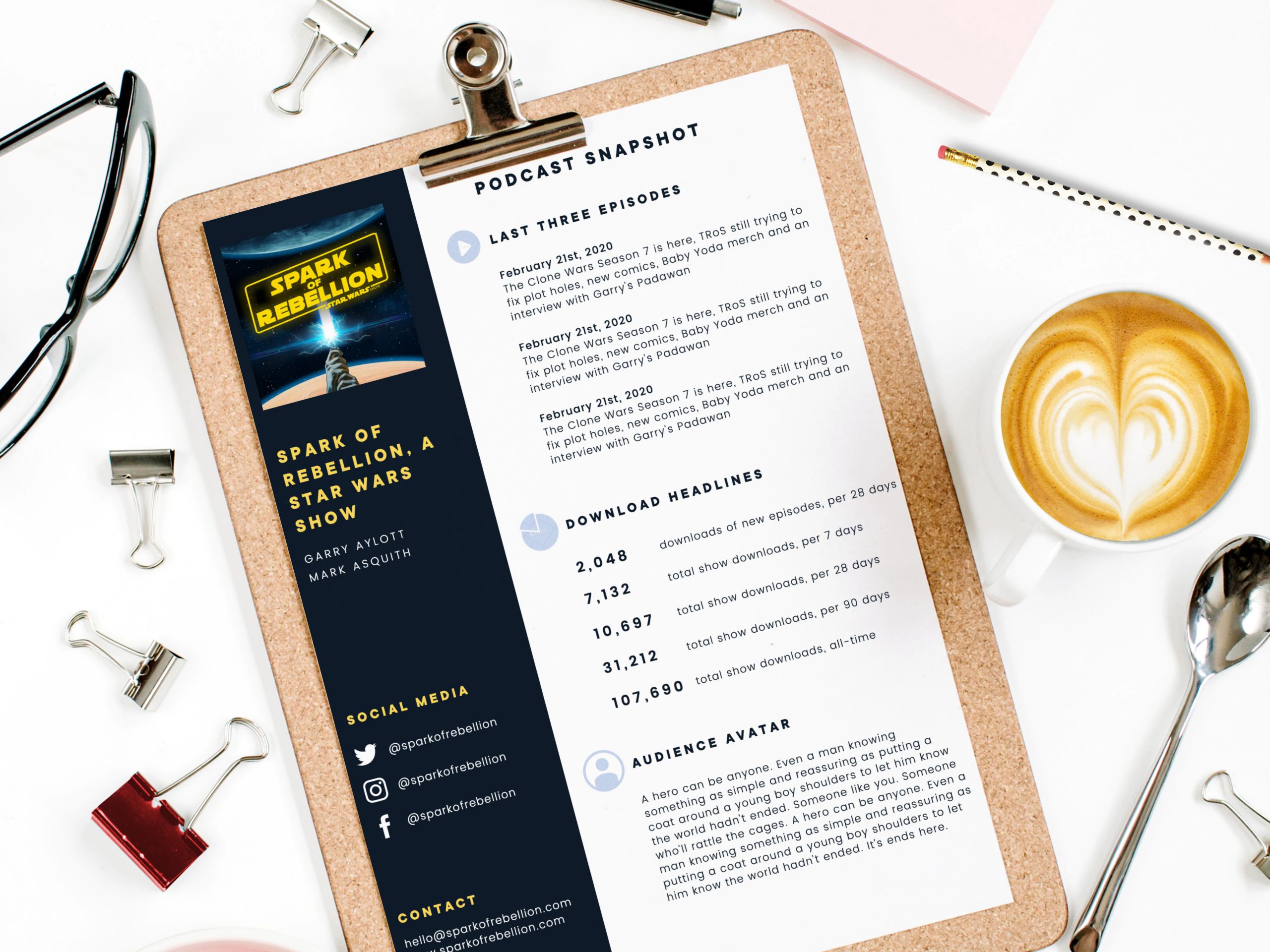 5. Choosing to go mass market
Choosing to go mass market with your podcast topic could make it easier for you to make money. Yes competition is more fierce, and you will need to make it clear why a sponsor should pick your podcast over a competitor's, but because the audience is so large, there will be more sponsor opportunities. 
Sponsors in mass marketing industries are also more likely to be able to afford substantial amounts of money on different advertising methods such as podcast sponsorship.
Also, because the market is so big you also have an opportunity to capture a smaller segment of the market. So for example, a cooking podcast would be mass market but you could decide to capture a smaller segment of this market and have a show dedicated to reviewing vegan recipes and interviewing vegan cooks.
6. Choosing to go niche
Mass market podcasts need a heck of a lot of marketing, these days.
Niche but still profitable markets (like vegan cooking or beard grooming) are often well-suited to podcasting and money-making opportunities. 
Knowing your niche and market makes it super easier to not only define and get to know your ideal audience but also makes it clearer on what types of sponsors/advertisers to target eg you're not going to approach a hair waxing company if your niche is beard grooming.
Another advantage with going niche is that you can easily decide on what your specific point of view will be. People are more likely to be drawn to podcasts with an attitude that they align with or a strong, well-owned point of view. 
Let's say your podcast is offering advice/support/guidance for first-time mums, and you personally take a point of view that stands against the ideology of being a perfect mum and what this means –  instead of giving examples of motherhood ideology, cover its 'reality', eg it is perfectly fine to have a little cry when your partner makes you decaffeinated tea instead of the caffeinated coffee you need.
There are always opportunities to grow the scope of your podcast to reach a larger audience, but starting off with a niche is the best way to build a loyal audience and following.
7. Selling your own things
There are so many things that you can sell as a podcaster to monetize your podcast. We've broken them down into the most common options – options that we see podcasters successfully using to monetize every day.
In fact, 48% of podcasters that we surveyed told us that they make their podcast revenue from things that they sell themselves!
8. Courses
A fairly simple opportunity for making money is to create online courses around the topic of your podcast. So for example, if you had a podcast about SEO, you could offer a course around keywords, link building etc.
Promote your courses through your podcast or through emails (if you have a mailing list), you could even ask for suggestions from your audience about what they would like to learn about.
Another option to promote courses is through a webinar or a how-to video. The idea here is to tease what you can offer in a 45 minute or 1-hour webinar/video and then offer the course at the end.
9. Services
Think of services that you could offer that tie in with the content on your podcast and that your listeners would be interested in. People who listen to your podcast, especially those loyal listeners, know that you are an expert on that topic, so you cut out having to "sell" them on abilities, skills experience etc.
This is one of the most popular reasons that businesses are creating podcasts right now!
10. Coaching and consulting
Similar to services, but with coaching and consulting you don't do the work for them but more offer help, support and guidance on how to do it.
You see coaches and consultants in pretty much every industry, but common industries are business, fitness and health, finance, marketing etc.
This is really easy to set up and costs you nothing – but just like affiliate marketing, you have to make sure that you deliver well and consistently because the second that you sell coaching or consulting, you forge a working relationship with one or more of your listeners – the same listeners who have spent weeks, months even years learning to trust you.
If you're going to do it, do it right!
11. Memberships, crowdfunding and donations
Another monetizing option is to ask for donations to help support you and your podcast. The most common platform for accepting donations like this is Patreon and they make it super easy for you to offer additional content or bonus content.
You could have different levels of membership too, so for £5 a month a member will get X and Y but for £10 a month its X, Y and Z.
The really fun thing with this monetization option is that you don't just have to offer content as a perk – you can offer so much more: exclusive swag, "producer" credits, access to meetups and much more – the sky's the limit with your imagination, here! The Spark of Rebellion podcast has six different types of membership levels on their Patreon account: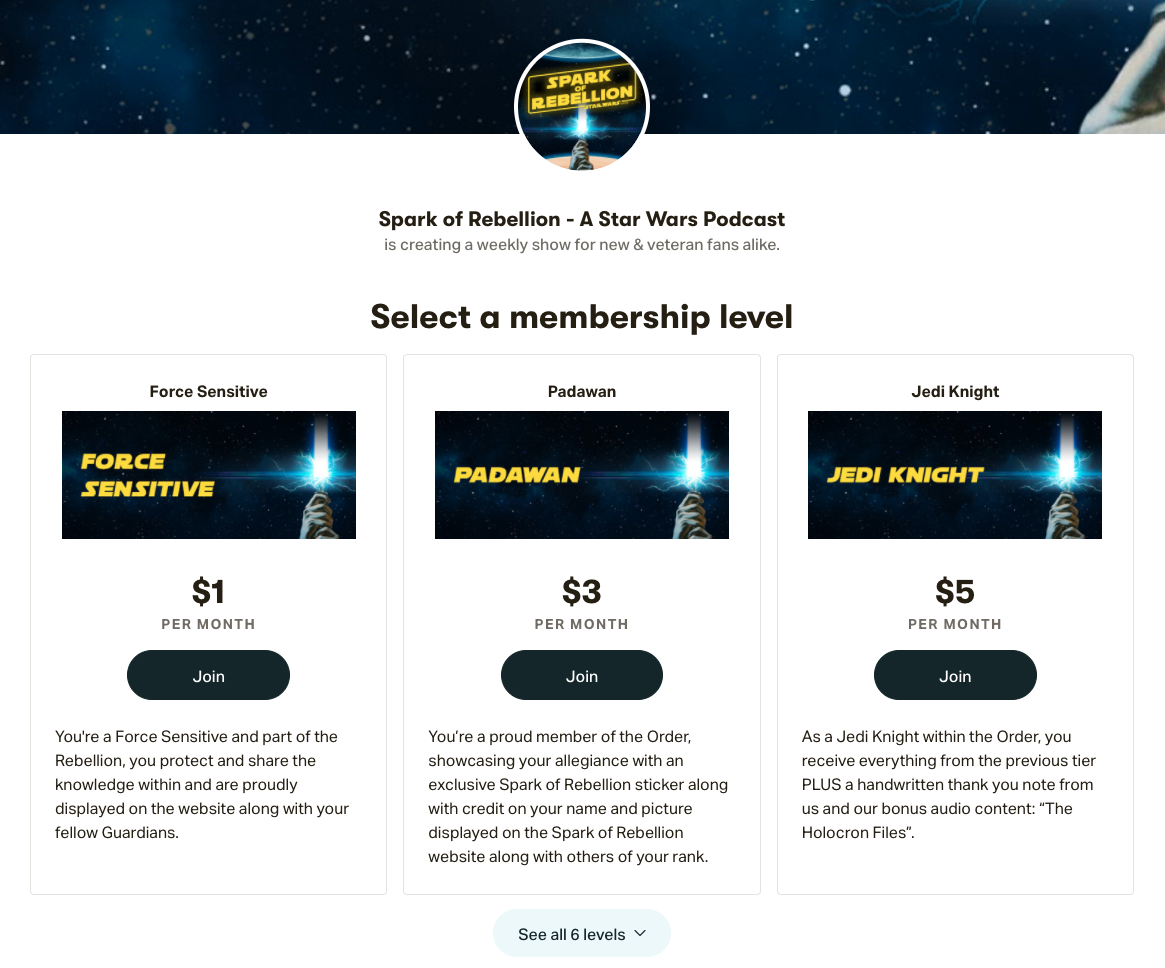 This is actually a really powerful way of monetizing your podcast even before it has launched by offering launch perks – in-fact we talk about that in our free podcast launch course, too. It's a great way to start covering your podcast costs!
12. Premium content
Following on nicely from memberships, crowdfunding and donations is the premium content option.
Very similar to the previous option, premium content is something that you can offer in your different membership levels.
Premium content is part of the "additional perks" option that we mentioned but that solely revolves around content that you can offer to your audience and it can be whatever you want it to be.
Some common examples are:
Bonus episodes

Sneak peeks

Bonus interviews

Hosts Q&A

Guests Q&A

Behind-the-scenes content

Ad-free content

Early-access content
Releasing these either via your website, a private podcast feed with your podcast host or via Patreon is nice and easy, too.
13. Featured content
Keeping up with the special content type vibe, another idea is to offer 'featured content'. 
So for a fee (which you can negotiate) a business or person could have content featured during a section of your podcast. Maybe it's an event they want to promote or their opinion about something.
Think of this as an ad-hoc sponsorship which could even lead to a longer-term commitment, too.
The fee would vary of course depending on the wide range of considerations: type of content, length, industry etc.
The beauty here is that you can approach any business that wants to be seen as an expert in its field or whose team wants to be perceived as thought leaders; maybe they want to talk about a book they have written, an event they are talking at or their expertise on a specific topic.
14. Events
Whilst live, in-person events can't happen right now due to the COVID-19pandemic this is still a great option for when things go back to normal (whenever that may be).
Events are great for many different reasons. Yes, it is an opportunity to make money, but you can also bring your fans together, surprise them even more by offering even more value and really build deep, long-lasting relationships that allow you to increase the lifetime value of a listener via the other monetization methods we talk about.
A few interesting ways you can use events are either simple, no-agenda meet-ups that bring your audience together with you, live podcast recordings or complementary events that run alongside your main content.
For example, the podcast 'My Favourite Murder' does live shows for their loyal fanbase known as the 'Murderinos'; Trivial Warfare often runs live, in-person pub quizzes
Offering live events where people can meet and see their hosts in real person helps with audience loyalty. It also opens up further options such as merchandising…
15. Merchandise
Talking of merch, merchandise and physical products are a great way to monetize your podcast. Fans love podcast swag such as t-shirts, mugs, stickers etc.
You can have an online store selling merch and then maybe even tie it into membership, eg paid members get early access to the merch before being offered to the general public, similar to how Spark of Rebellion does this in the Patreon example earlier, or you can use something like TeePublic to easily create a simple and scalable online store for your podcast.
To get people excited and wanting your merch, you can easily run giveaways/competitions, send merch to loyal fans (asking them to share their gift via social media, of course!) or if you have a special guest you can easily make sure that they receive some kind of merchandise as a gift. 
If people see others with branded merch, they will suffer from the classic FOMO (fear of missing out) and so when you say they can buy it themselves, they will!
Seriously though, if you have a loyal fan base, they will want your branded merch, so they can feel they are a part of a community and emblazon it everywhere – remember, you're creating a culture with your podcast as much as you are anything else, people want to be a part of that the more that they get to know you
16. Books
Writing a book for your podcast or using your podcast to promote your book is another great way to make money. 
If you have a loyal fan and listener base, they will be thrilled when they can consume more content from you in a different way/format.
You can also promote your book on other people's podcast (with their permission first of course).
Many podcasters have books for example 'The Book For The Year 2018: Your Definitive Guide To The World's Weirdest News' by 'No Such Thing As A Fish' and 'Doing Justice: A Prosecutor's Thoughts On Crime, Punishment, And The Rule Of Law' by 'Stay Tuned With Preet', 'Rise of the Youpreneur' by Chris Ducker and 'Content10x' by Amy Woods.
Writing a book isn't easy, and it's not a fast-track to riches, but the long-term dividends can really pay off thanks to the positioning it gives you – you can open up a world of opportunities with a book, including our next idea.
17. Public speaking
Many podcasters end up getting approached for speaking gigs in their industry or sector. If someone is hosting an event and they like what they hear on your podcast, and they know you are going to be a good fit for the event they are hosting, chances are they will reach out.
How much you get paid for speaking gigs really depends on your niche, experience and the audience and sometimes it will just be expenses that are covered. It really depends on the event itself and factors such as size, budget and time of year is worth it.
Public speaking helps your podcast listenership numbers over the long-term and having a podcast can give you opportunities to be approached for speaking. Win, win if you ask us!
Also, remember that as a podcaster you're already a great speaker – sure, you might have to practice more specifically public speaking if you want to make that a focus for you, but you can easily get started locally with this via networking events and more.
These may be freebies, but they'll get you a quick portfolio of speaking experience that you can use to build your speaking opportunities out. That's exactly what I did from 2013 onwards and since then, I've gone on to speak every year at Podcast Movement, Podfest and have even been asked to speak at Harvard and deliver a TEDx talk – and guess what, it has all helped to grow my podcast!
18. Product/service reviews
Last, but by no means least on our list is offering product or service reviews for a fee. 
Rather than doing a whole episode (we're not sure how your listeners would feel about that!), you could have a part of an episode that reviews a product or service.
For authenticity, we would recommend tying the review into the topic of your podcast, eg if you have a health and fitness podcast, you can easily do an episode about home workouts and as part of it you could review home workout equipment.
It's also really important to be transparent on the fact that you are receiving a fee for the review, or have received something to review as a gift.
And of course, make sure that you do use the products – your listeners' trust is on the line here and just like affiliate marketing, it's much better to speak from experience when reviewing a product or service.
How much money can you make from a podcast?
How much money you can make from a podcast really depends as there are different factors to take into consideration, eg the monetization method, how many listeners you have, the industry etc.
We recommend typing "podcast" into Patreon to see what podcasts in your industry are making, however, not everyone will share their revenue. 
Hack – to get around this you can see how many patrons they have and how much they charge and estimate it on them – simple maths FTW but you'd be surprised how many people don't do that!
We've been doing our own research using this technique and here are some examples:
Chapo Trap House is a political podcast and currently makes $167,769 per month from 37,460 patrons at $5 per month.

T

rue Crime Obsessed (a podcast not for the faint-hearted), don't disclose how much they make a month but we can use the hack. They have 4 different membership levels and if we took the lowest one, $5 per month and times that by the number of patrons they have, which is 33,338 we can estimate that they make $166,690 per month.

Doughboys is an audio podcast that follows two comedians as they review chain restaurants, including fast-food restaurants, fast-casual restaurants, and sit-down restaurants. Again, they don't disclose their revenue but by doing our own calculations they make around $47,535 per month. 

We can all guess what The Fantasy Footballers podcast is about. They make $39,440 from 7,888 patrons.
Give your podcast the best chance for making money…
Before actioning our podcast money-making ideas above, we would recommend making sure that your podcast has the best chance it can to make money. With over 1,000,000 active podcasts (also, via Apple's newsroom), the competition is fierce for listeners, let alone money-making opportunities.
We're not saying it can't be done, we're not being a 'Debbie Downer', you just need to be realistic and have an understanding of what you can do to give your podcast the best chance of making money.
Focus on making the best podcast of all time
Sorry, a little dramatic but we can't emphasise the importance of this enough. The better your podcast is the more people will listen and the more listeners you have, the more chance you have of making money. If you want to make money rather than just producing a podcast for a hobby (which is perfectly fine by the way), it needs to be good.
Focus on quality (both content and audio), deliver education and be entertaining. Most podcasters start with a small audience, but still, take the time to produce quality content. Think of what you are giving and try and be entertaining (otherwise people will switch off – literally and not metaphorically here).
Advertisers and sponsors will be looking out for an attractive product (your podcast of course), that also has a decent number of listeners, loyal fans AND an audience that will engage.
Here are some things to consider when putting together a quality podcast:
Make a high-quality, easy-to-follow trailer (here's how to make a podcast trailer (video) or a trailer format you can copy (audio))

Take time perfecting your structure eg intro, outro, sections, features.

Make the effort to clean up the audio and work on superior production.

Think about how you're going to record your podcast (eg

research into the best mics

).

Have a plan for building and engaging a community of loyal fans?

Spend time working on your artwork and branding so you look professional (maybe consider outsourcing this to a freelance designer).
We have plenty of free resources to learn podcasting over in our Podcast Success Academy, too.
Developing a strong USP
If you decide to go down the sponsorship route, they will want results, whether that's website traffic, product sales or sign-ups.  They also care about being able to reach a very specific, targeted demographic group rather than just large numbers of people. 
Podcast sponsorship or advertising is not just strictly about numbers, and this is where our earlier point about picking a niche comes up again. You stand a better chance of attracting sponsors/advertisers if you can show that you have 1000 dedicated monthly listeners who spend X pounds on baby clothes, toys, supplies etc a month.
At the end of the day, a sponsor is going to prefer less traffic if the audience is more relevant and converts into a paying customer of some kind, rather than loads of website traffic that has a very poor conversion rate or high bounce rate (eg they aren't sticking around and are coming straight off the website).
This just goes to show how important a niche is. Knowing your niche and audience will help in nailing a strong USP that gets the attention of those willing to spend money on podcast advertising.
FAQ about monetizing a podcast
How many listeners or downloads do you need to make money on a podcast? 
This does vary but as a general rule of thumb networks that help with sponsorship look for 3000 to 5000 listeners per episode before taking you on. If you are reaching out to sponsors yourself, you can earn decent money if you pass the 1000 mark, especially if it's a niche audience.
But, we believe that any podcaster can negotiate a fixed-price sponsorship to at least cover their podcasting costs, with any sized audience as long as that audience can be proven to engage.
How much money does Joe Rogan make per podcast?
Joe Rogan makes $75,000 (£60,000) per episode and to put that into perspective the medium household income in the UK is £29,400 for the financial year ending 2019. Shocking right?
Can you make a living off of a podcast?
Yes, you can make a living off a podcast, but you need to have a large enough audience and loyal fans to make enough monthly income in the form of sponsorships, advertising, product mentions etc.
It's not easy and you shouldn't believe that it is. Anything worth doing is worth doing right and to generate a living from your podcast, you MUST treat it like anything else that you would expect to make money: treat your podcast like a business!
Get making money from your podcast today!
After reading our blog we hope you are now armed with a pile of ideas to start making money and monetizing your podcast.
We offer a free 7-day podcast hosting trial, so you can see if Captivate is for you and kick the tyres on our features that make it easier to monetise your podcast. 
Check out the marketing section of Captivate which includes easy to share podcast single subscription links, calls to action within your podcast player and of course the one-click sponsor kit. 
With Captivate you can also create your own podcast website in seconds, manage podcast distribution to Apple, Spotify, Google & more in one place and have access to listener & download analytics that give you a real picture of how your podcast is performing – all included for one price, with no "tiering" up!
If you have a question about the topic of this blog or about podcasting in general, we live, breathe and sleep podcasting. The team also have podcasts themselves. We'd love to offer you any support, guidance or advice that you need, just get in touch.
Mark