Reading Time:
8
minutes
Monetization is a long-term goal for many serious podcasters, and it's now easier than ever to achieve with Captivate. Paid membership subscriptions and one-off tips are a tried and tested way of generating both singular and recurring revenue from your growing fanbase, and in this article we'll break down exactly how to do it and give you some best practices to make sure that you generate as much money as possible from your podcast.
What is a paid podcast subscription or podcast membership?
A paid podcast subscription is a transaction wherein a listener pays a monthly fee in exchange for something from you, usually early access content from you or exclusive content that only they get. You can offer multiple subscription tiers or plans,, offering the chance to submit questions or hear exclusive episodes on lower (cheaper) tiers all the way up to access to merch, producer credits or in-person meet ups on the more premium (more expensive) tiers.
Subscriptions are also interchangeably called "memberships", whereby listeners and fans can "subscribe to your membership".
A very useful prerequisite to monetizing your podcast in this way is knowing your audience demographic,- once you have a good handle on who you're pitching to, you can tailor your paid content, your messaging and your tiers to exactly what your audience will want and how much they'll be willing to pay.
Why podcast subscriptions are a powerful, scalable way to make money for podcasters like you
Paid podcast subscriptions (or "memberships", remember) are a way for you to make money doing the thing you love most for the people who love it most – you're working on your own terms, producing content that you know his high-quality and receiving both tips and recurring subscriptions helps to validate your content and premise which, in turn, helps your audience to grow.
You can start taking tips and selling membership subscriptions from the day you start podcasting, giving you ultimate control and opportunity!
As well as being a diverse, scalable way to make some extra money, having premium tiers gives an air of exclusivity that fosters closer relationships with your biggest supporters. It's a great idea to encourage two-way participation – ask for episode ideas and questions from your subscribers and make them feel involved in the conversation.
How to make money with Captivate Memberships and paid podcast subscriptions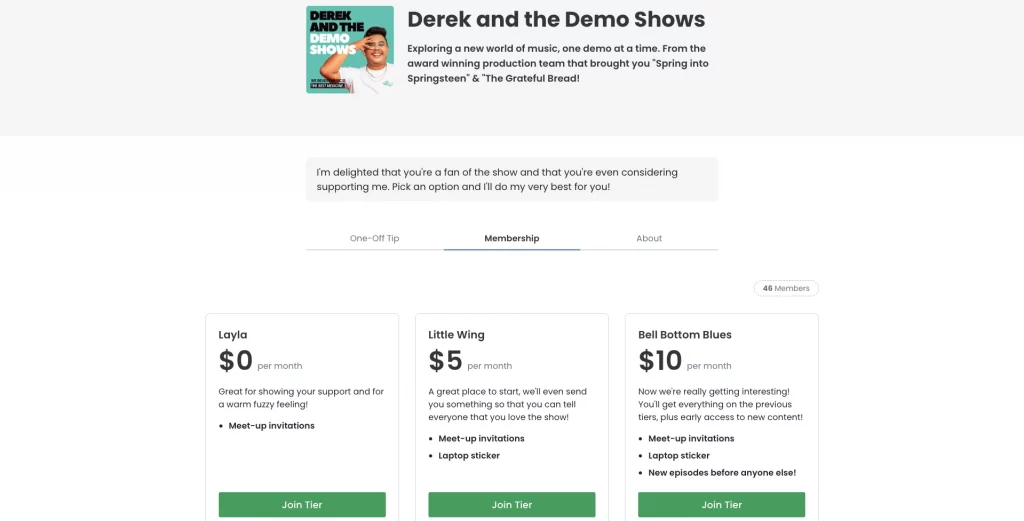 Captivate Memberships is how you make money from offering subscriptions to your listeners and loyal fans – offering extra content to your listeners in return for a monthly payment.
Everything can be managed from within your Captivate dashboard, ensuring a seamless experience for both you and your paying members. Also, with our Stripe integration within our platform, payments are seamlessly taken from your listeners and paid straight into your bank account.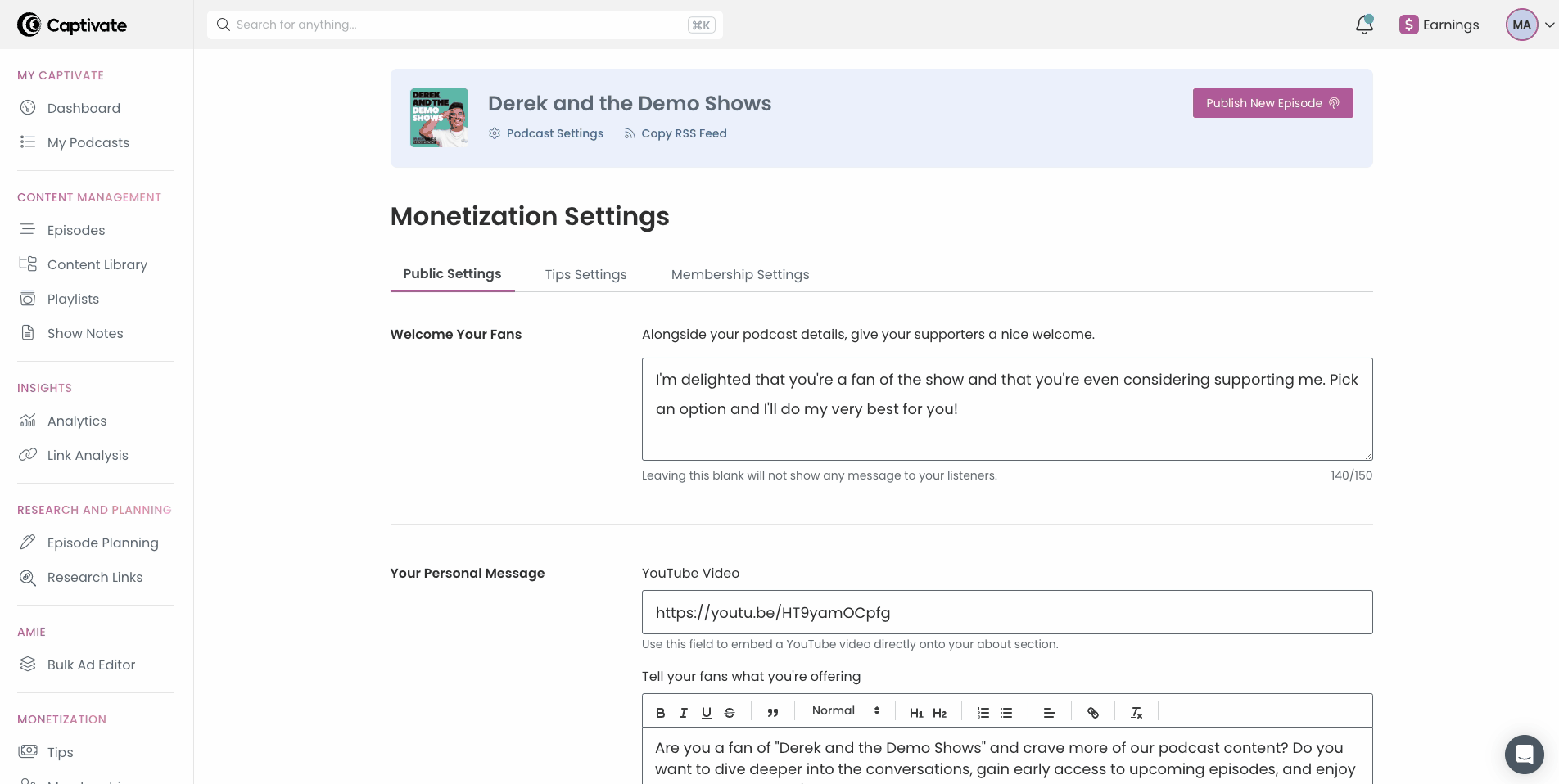 Podcast Subscription Tiers
Allow for a range of budgets when planning your tiers – you can have as many tiers as you see fit which, for example, may range from $1/month up to, say $30.
Make sure the higher tiers are worth it – some cool things to offer as you go up the tiers are:
Producer/executive producer show credits
Shoutouts in the episode
Opportunities to submit questions or episode topics
Exclusive episodes
First access to merch and live events
Member-exclusive live events
A member-only newsletter
A blooper reel
Access to new episodes before anyone else
Pre and post-roll advert slots
Links and shoutouts in show notes
Guest slots
Here's an idea of how to structure your tiers:
Starter – $1
Listener shoutout on the podcast when you first join
First to know about events
Intermediate – $3
Everything in Starter plus:
Early access to new podcast episodes
Access to premium, bonus podcast episodes
Advanced – $8
Everything in Intermediate plus:
Monthly virtual meet & greet with hosts and other members
Access to premium, bonus video interviews with guests
Vote on future podcast episode topics
You can give the different Tiers names relating to your show and set the price points to anything you like. For example, Spark of Rebellion, which is a Star Wars podcast, has tiers called Rebel Scum and Imperial Loyalist – these are fun references that make the section more personal and relatable for your fans.
Remember, though – these ideas are a jjumping-off point. The world is your oyster! You know your audience, fans and your podcast best, and don't be afraid to try new ideas out and change them if they aren't working – just be open and transparent if you are changing things, and if people have paid for something, make sure they get what they've paid for.
If you're going to change something, change it at the start of a new month and after fair warning – and replace it with a better alternative.
Are podcast subscriptions free?
Subscribing to a podcast can mean two things:
Subscribing to a podcast on a listener app such as Spotify, Apple etc, so that you can be notified when new episodes are published. This is becoming more legacy terminology as the industry moves to calling, "Listening to a podcast", to "Following a podcast".
Paying a monthly subscription fee to a podcast in order to support and receive perks such as bonus additional episodes. This is more often called a "membership" to avoid confusion.
Number One is always free – it just means following a podcast on your app of choice.
Number Two is usually paid, though you can offer a free option as well. While it could seem counterintuitive, this is a great way to get people into your ecosystem and on board with the idea of your premium content – just offer a taste of what they'll get with a full membership. You could even call this a "free trial", or "taster" tier.
It's easier to motivate someone to upgrade from one tier to another than to get someone to sign up totally from scratch – make the most of that!
How much should you charge for a membership?
You should base your pricing structure on your knowledge of your audience, but it's a good general rule to utilise the multiple tiers offered by Captivate – it'll allow you to make as much money as possible by appealing to a range of fans and budgets: from your true die-hards who want total access to everything to those just willing to pay a little for an exclusive episode.
Remember, it's always easier to test, test and test some more so start steadily!
Tips for creating podcast memberships that make money
Engage with subscribers
If someone has become a member and subscribed to any of your tiers, give them a shoutout on the podcast! It fosters a community feeling and ensures that they feel valued. It costs you nothing, and making them feel seen and appreciated will go a long way in increasing your retention levels
Have a wide range of tiers available
The more price points you have available, the more listeners you can entice to sign up as a paid member. You can catch everyone from the more casual fans who just want access to a bit more of your great content to your die hard supporters who don't want to miss out on anything you do.
Ensure real benefits for higher tiers
How are you going to motivate someone to pay $20 a month when you have a $5 option available? Make it worth their while! Offer exclusive things such as executive producer credits & first access to merch and meet ups on your most premium tiers – these are great goodies that will appeal to your biggest fans.
Communication is important
Make sure that you are reminding your members of the perks on a regular basis with updates and emails. Make sure they always feel as if they're getting value for money. If there is ever a change in what members are getting from different tiers, make sure you tell existing members and in plenty of time.
If you need to take something away from a tier, make sure you replace it with something else – you don't want any member to feel like they are getting less value than when they first started out.
Offer behind-the-scenes content
Giving members access to behind-the-scenes content works well, especially for premium tiers. Give them an opportunity to get to know the podcast hosts and other premium members.
This can easily be done by hosting virtual or in person meet and greets. You could also share behind-the-scenes recording footage or unedited clips, or invite them to watch a live stream when you're recording an episode, where they have exclusive access to a live Q+A after recording.
Offer perks that your podcast avatar will want
We always recommend podcasters spend time thinking of their podcast avatar, basically who is the ideal listener. Give them a name. What are their likes and dislikes? What are they passionate about? How much disposable income do they have? Write as much information about your ideal avatar. Once you know who your podcast avatar is, you can make sure that your tiers actually have perks that your listeners will want to pay for.
Give partners the opportunity to become a sponsor simply and with no fuss
Do listeners have a product or service that will connect with your target audience? You can use Captivate's subscription tiers to offer them the chance to run their adverts in the mid-roll, pre-roll or post-roll of your show.
Why use Captivate Memberships for your paid podcast subscriptions?
"I do something like this, but on Patreon," I hear you say. Patreon is great – they're the big fish in the premium content pond. As a podcaster, though, you want software designed by podcasters, with podcasting in mind. Captivate offers a fully integrated payment and subscription system for you entirely in house, making the process seamless and intuitive for both you and your subscribers.
Captivate also allows you to accept one-off donations (or "Tips", as we call them). You can set some suggested amounts for your fans to tip, or they can choose their own amount. That means you can reach even those fans who aren't ready for a recurring podcast subscription yet!
What are one-off tips and donations?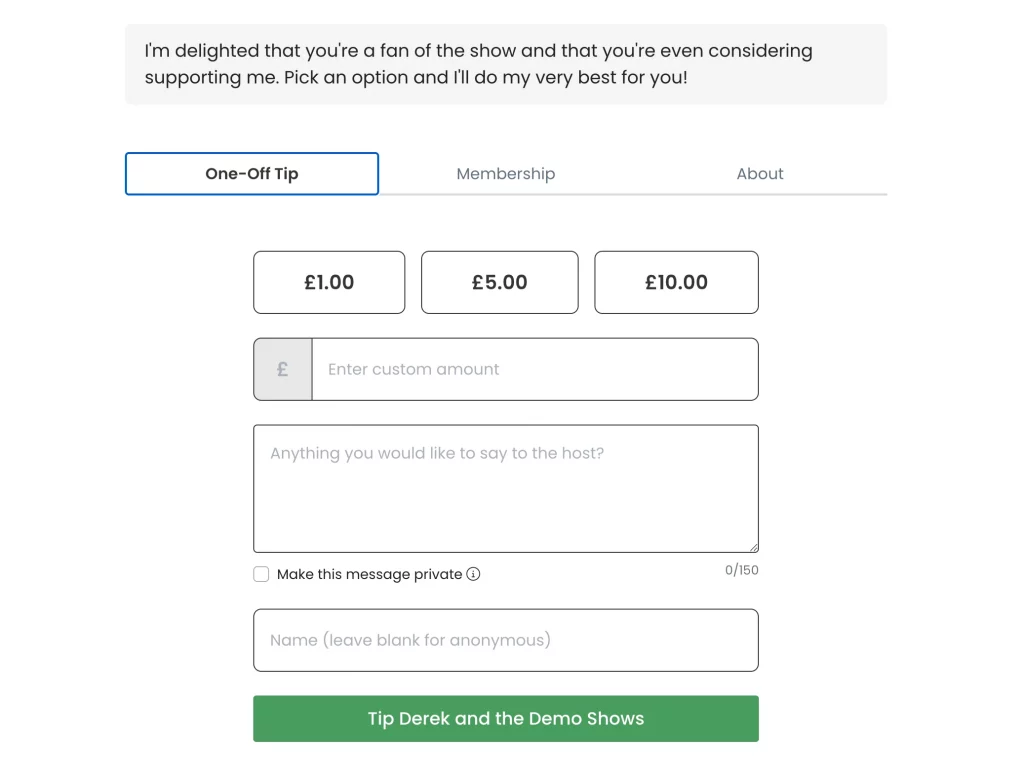 Podcasters can also monetize via one-off tips and donations. When you set up your monetization dashboard, Captivate will generate a /support link for your podcast. From here, listeners can either subscribe to one of your monthly membership plans or send you a one-off donation (called a "Tip") in Captivate.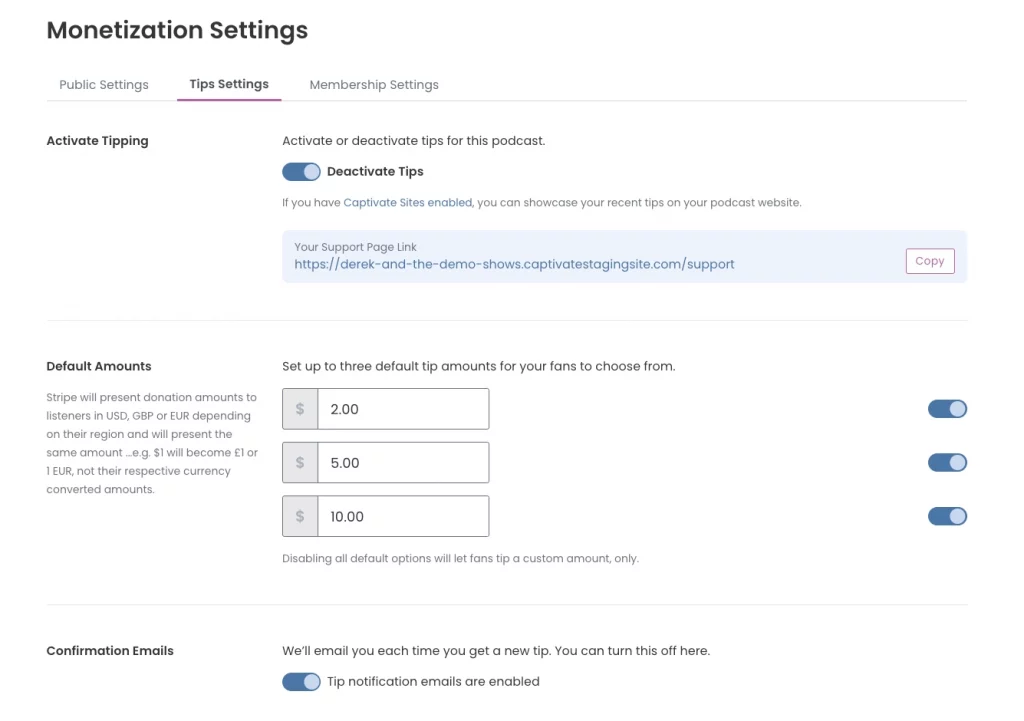 When promoting your link, emphasise that Captivate Tips have no recurring obligation – they're just a one-time payment that allows the listener to demonstrate to you how much they enjoy your work. Use friendly language which alludes to the fact that gestures and donations like this from fans allow you to keep producing the great content that they love!
Why are one-off donations another great way to make money for podcasters?
As a podcaster, you'll have listeners across the economic spectrum – introducing as many options for revenue as possible will allow you to reach more people and make more money! Here are some arguments in favour of one-off tipping:
1. Affordability
Your listeners can donate an amount of their choosing, or select from the preset options of $1, $5 or $10. The total freedom to decide how much to give ensures that no one who is interested in donating is prohibited from doing so by the price.
2. No ongoing commitment
This is pretty self explanatory – some listeners are naturally put off by the idea of a monthly price to pay. An option with no commitment widens the net revenue you can take in.
3. Attracting people to your ecosystem, ready for more
Once someone has donated, they've crossed a barrier from a casual fan into a more involved supporter. Make sure to thank these people – by name if they've provided that information. Making it clear that their tip is felt and valuable will be a big factor in repeat tipping or signing up for a Membership.
How to make money podcasting with Captivate Tips
With Captivate Tips, your listeners can give you a one-off payment of an amount of their choosing. If you've got a loyal fan base, we'd recommend asking for an affordable amount ($5 or so). It's super handy in that it doesn't come with any obligation to give again (which is not unheard of) – it's just a nice, single-time gesture from a fan who wants to show that your content means something to them.
Takeaway
If monetization is your goal, Captivate allows you a range of options to appeal to all of your listeners. Make money on a monthly basis from podcast subscribers with Captivate Memberships, using tiers ranging from free to $5, $8, $50, etc. – the prices are fully customizable and set by you. On each tier, you can choose what content is included and what perks your Members get for their money. You can also make money through one-off Tips and receive donations with no monthly commitments from listeners, meaning that when you inevitably wow someone with your great content, they can show you – with money 😉
This fully integrated Tipping, Membership and payment system makes podcasting even easier for you and even more streamlined for your listeners – you'll be making money in no time!
If you need assistance or want some advice or guidance with either Memberships or Tips, our highly-rated human support team is on hand to answer any questions you have.
Next steps
Captivate podcasters, log in to your account or check out our help articles and get to grips with these awesome features – available for all Captivate podcasters on all plans.
If you're new to Captivate, sign up for a free trial, where you have access to the full platform (nothing is restricted), including our highly-rated human support team, and see this feature for yourself!
Not yet started your podcast? Take our 45 second quiz, to identify the one blocker that is getting in your way, and we'll give you the next steps to overcome them!