Free Online Podcast Course - Plus free cribsheet
The simple, bite-sized & jargon-free modules in this course walk through everything that you need to know about podcasting, explained by real people in human terms, while also showing you how to overcome the fear of hitting record, how to find the perfect topic for your podcast, removing all of the complexity of starting your podcast and showing you how to produce a quality show without worrying about the time required.
With accountability and support from the Captivate team and other podcasters just like you, creating a growth-ready podcast on your terms and helping that show to pay for itself has never been easier!
Also included is the most comprehensive podcast launch crib sheet that you'll find anywhere online plus access to the Podcast Launch Accelerator Facebook group for accountability and live sessions as well as a complete equipment & resources guide.
On top of that, get access to our pre-built templates, recording checklists and dedicated launch processes to save time, money and frustration!
This training will take you from zero to podcast launch in a clear, supported and proven way. It is easy to understand, simple to follow and includes concepts that you won't find anywhere else. And yes, it's completely free!
How to Start A Podcast Course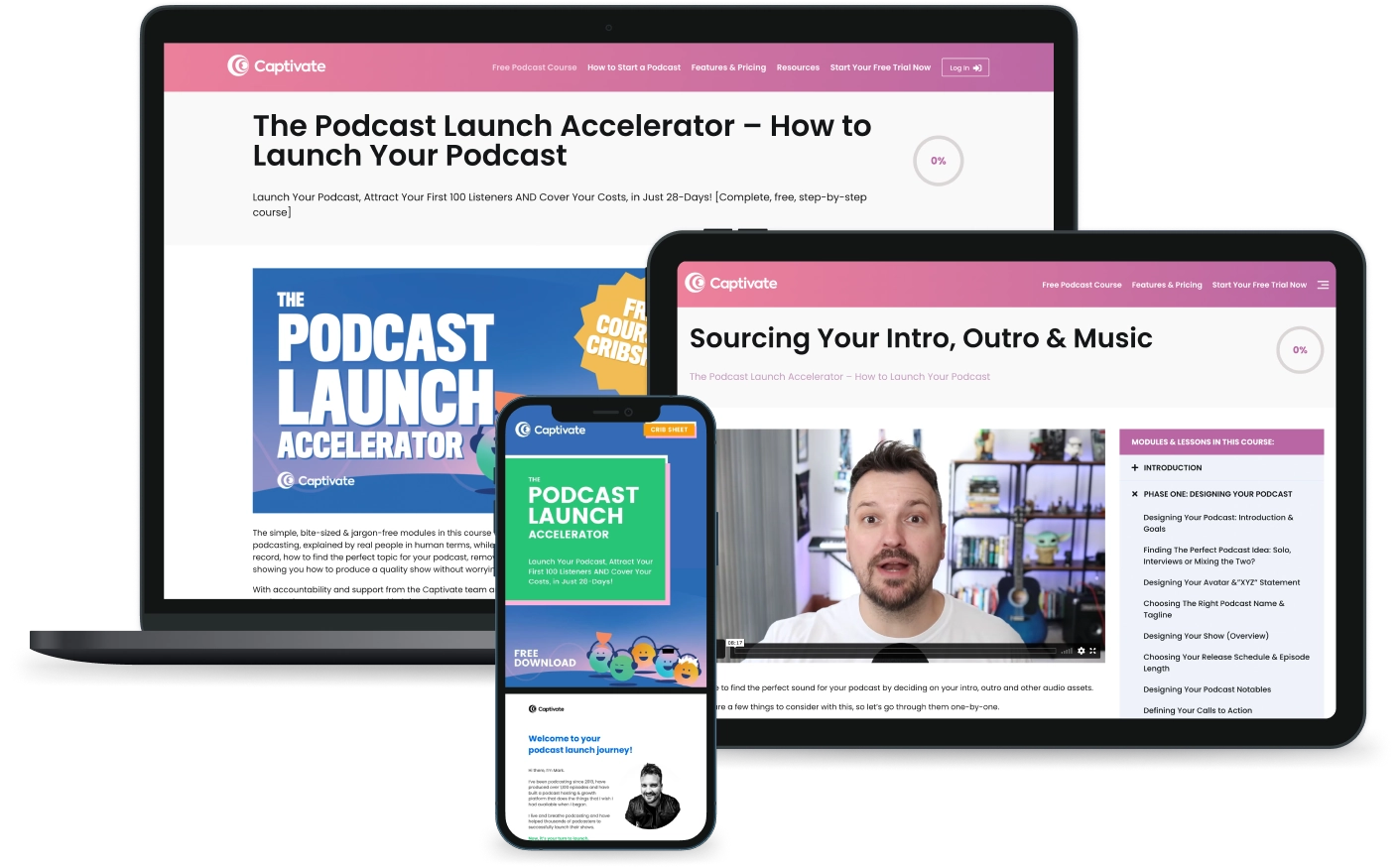 Who Is This Podcast Course For
Did you answer "yes" to any of those questions?
You already know that you could use some clear, straight-forward guidance.
You're struggling with one of these big four "podcasting stoppers"!
The Fear of
Failure Focus
Why you're struggling with imposter syndrome, worried about failing, or no one listening to how to finally press "record"!
The Content
Confusion Curse
Learn exactly what to talk about on your podcast and avoid the concern of talking about the wrong thing for your audience!
Learn quickly about the podcast technology you need, so that you never have to worry about it again (with no jargon in sight!)
The Overwhelming
Time Trap
Discover the workflow secrets that will stop you falling into the overwhelming time trap that most new podcasters fall into!
What Is The Free Crib Sheet?
Included in this how to start a podcast course is a free cribsheet
In the crib sheet you'll find: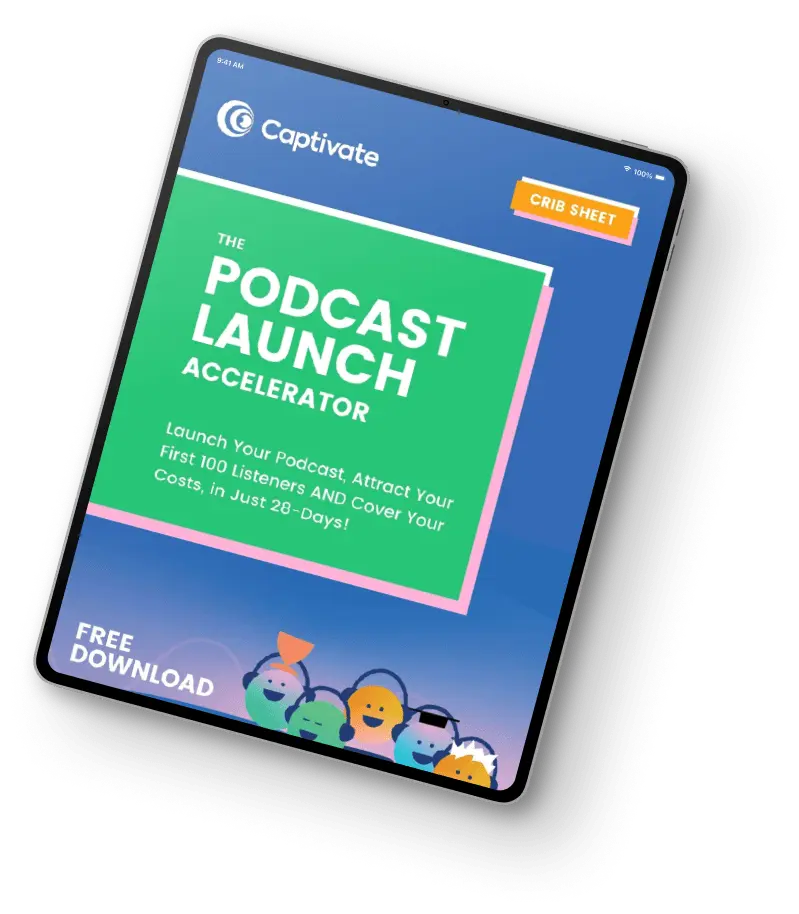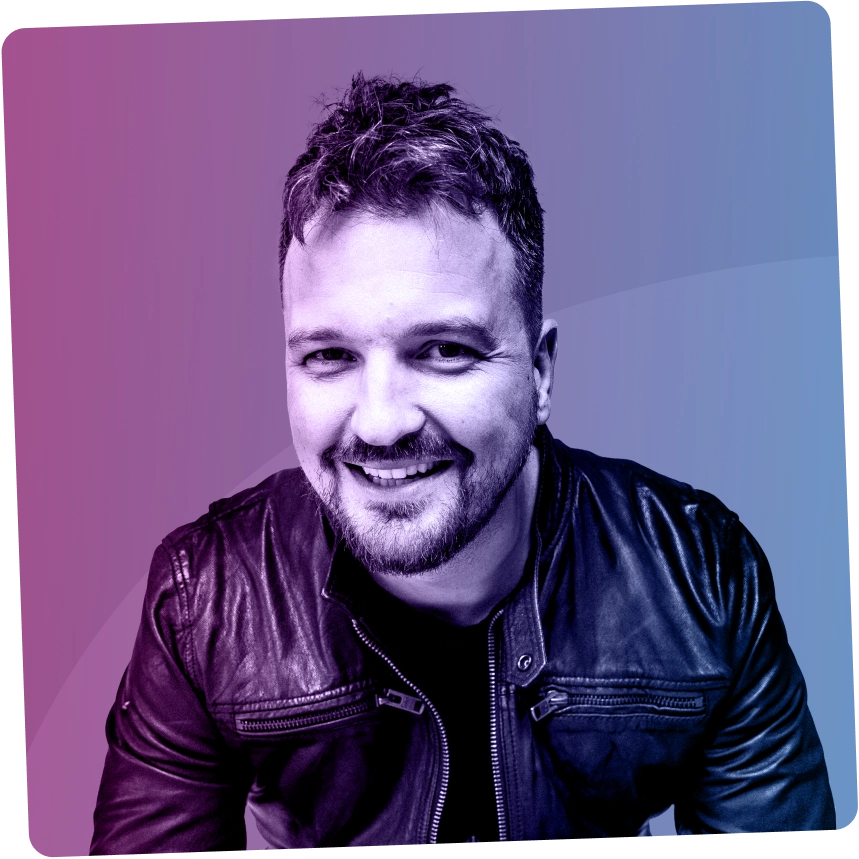 Expert Advice from Over a Decade in Podcasting
I'm Mark, a serial podcaster who works with thousands of podcasters just like you, every day, and has produced 1,300+ podcast episodes since 2013. I've been in the podcasting industry so long that people used to call me "That British Podcast Guy" and I live podcasting every single day as co-founder of podcast hosting, analytics & monetisation platform Captivate.
I have also educated on podcasting as an industry keynote speaker at flagship events including Podcast Movement, Podfest, The Podcast Show London, Harvard's "Sound Education" and many more. I'm going to share the podcast launch knowledge that no-one is teaching you and that people all over the world trust me to educate on. I run a podcast hosting company and work in podcasting every single day and I created this course because I don't want you to follow that online guru promising you results "for only $297".
Everything here is free, no catches and no cost, ever.

Not sure if you need a podcast course?
Did you know that there are only FOUR things that stop people like you from launching a successful podcast?
The problem is, you don't know which of the four is affecting you, so you can't overcome it because you don't know what to ask! Until now...
Take the 45-second test to uncover, diagnose and overcome the ONE major thing that is holding you back from launching your podcast!