Reading Time:
4
minutes
There's never been a better or more exciting time to be a podcaster than right now.
That said, it's challenging to produce and grow your own show, especially as an independent podcaster wearing all the hats. To really get somewhere, you need lightning-fast workflows, open collaboration, powerful growth tools and a hosting partner that doesn't limit your creative potential.
When we started Captivate, we did it with the goal of making the real potential of podcasting more accessible to everyone. Podcasting should be fun, flexible, uncomplicated and easy to grow into something you're really proud of, whether it's a hobby, a job or something in between. Everyone deserves the success and creative freedoms of big businesses, big names and networks.
We've been building these foundations for years now, and we're so excited to share the next phase of Captivate with you. After months of hard work and collaboration with our podcasters, Captivate 2.0 is live!
Everything about Captivate 2.0 has been designed to help you create, manage and scale your podcast in the simplest, slickest way possible. This massive new update includes a completely overhauled dashboard, simplified workflows, badass promotional tools, even more customizable elements and the groundwork for some very exciting things to come.
Captivate 2.0 is now live and rolled out to all our podcasters – log in to start using the new platform and features.
You can also try Captivate free for 7 days – we don't hold back features behind paywalls or upgrades, so you can start podcasting without limits with us today.
What's new in Captivate 2.0?
Captivate 2.0 introduces over 20 new features, improvements and performance upgrades across the entire dashboard. For complete details of all the changes, check out the changelog. Otherwise, keep reading for the juiciest, need-to-know updates!
A Completely Upgraded User Interface with New Workflow Tools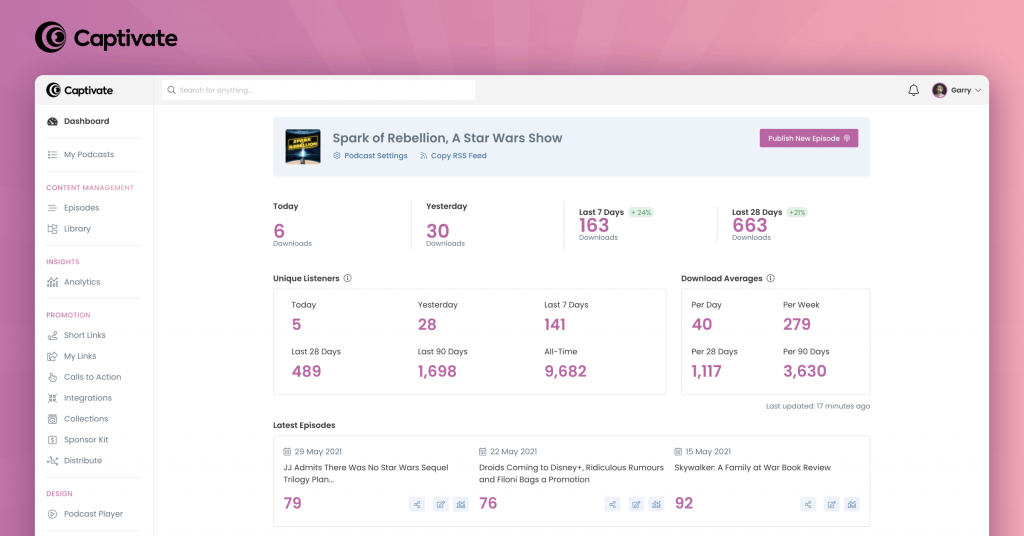 We've revisited every single part of the Captivate platform to make the entire experience even faster, easier and more useful for busy podcasters who need to keep their workflow simple and powerful.
We've made the whole platform more intuitive and removed every unnecessary click, putting the tools you need within one click of the dashboard.
There's a revamped navigation, custom filters and view settings, a new notifications centre and omni-search function, as well as a redesigned account management dashboard and mobile version, making Captivate fully accessible and easy to use wherever, whenever.
Use CMD+K for Instant, Effortless Navigation to Anywhere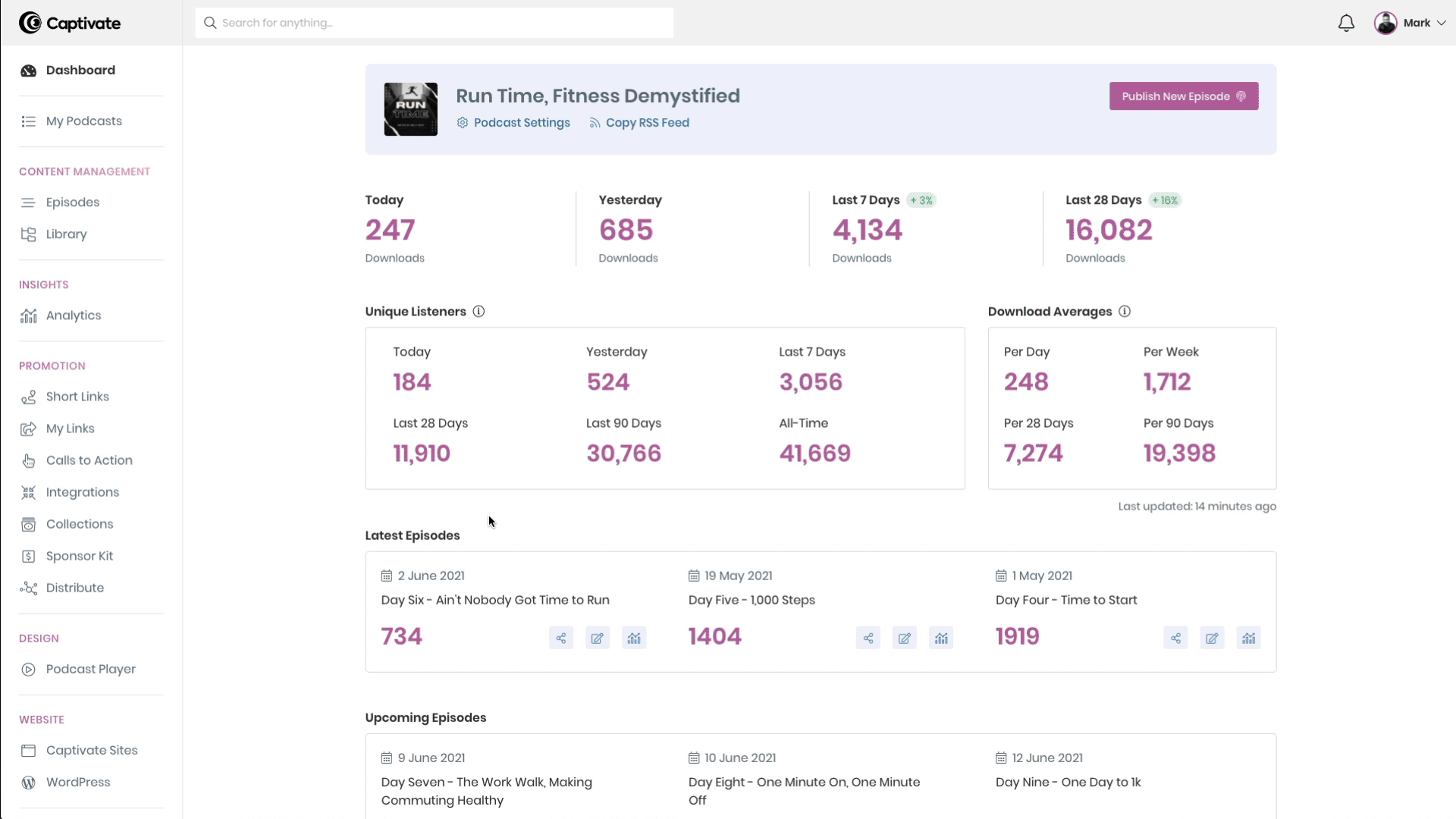 Hitting CMD+K (CTRL+K for PC) on your keyboard from anywhere within Captivate will take you to Captivate's super-mega-powerful Omni-Search. From here, search for anything and take action right away.
Whether you want to quickly jump to a tab within your show's analytics, publish a new episode, grab your API key or manage your team, you can hop right over there instantly.
Omni-Search also includes all of Captivate's help articles, tutorials or blog posts, plus team members and quick switching between shows – all cleverly prioritised to make sure that you get to where you need, quickly.
Create Custom, Trackable Short Links for Marketing, Sponsors, Affiliates and More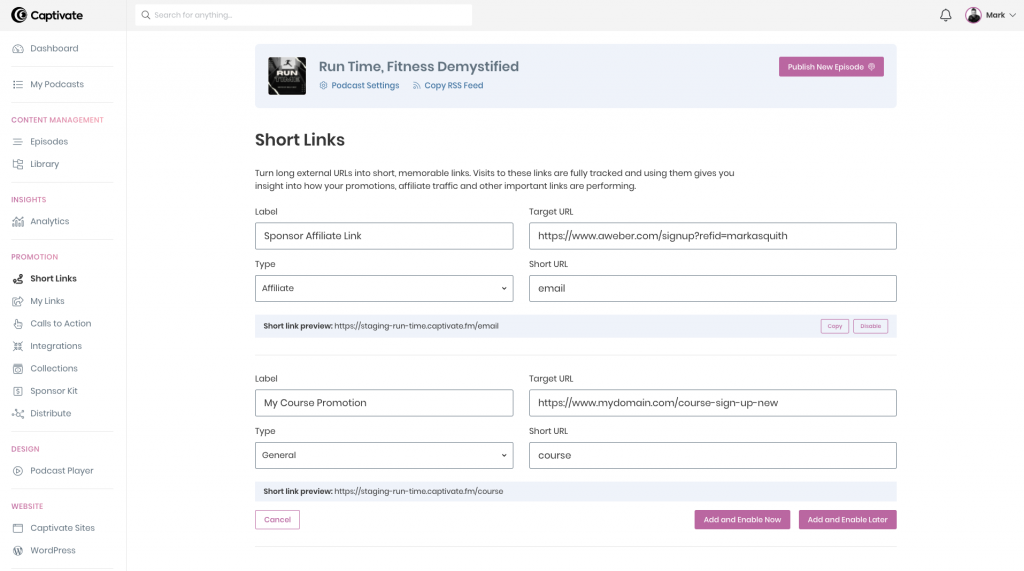 As a podcaster, you probably have a lot of links that you use regularly: for sponsorships, social media, products, marketing, affiliations and more.
Captivate's short links are a way for you to create fully custom, simple and trackable links that use either your Captivate or custom domain name for full branded impact. Think YourPodcast.com/Twitter or YourPodcast.com/SimplyFresh, all for free and with analytics capability. Magic!
Add, edit, delete and manage all your short links from one, central location. You can then enable and disable the link at your leisure and analyse the analytics for each link individually, making attribution, reporting and marketing decisions that much easier.
Get Greater Customizations with the New, Expanded My Links Area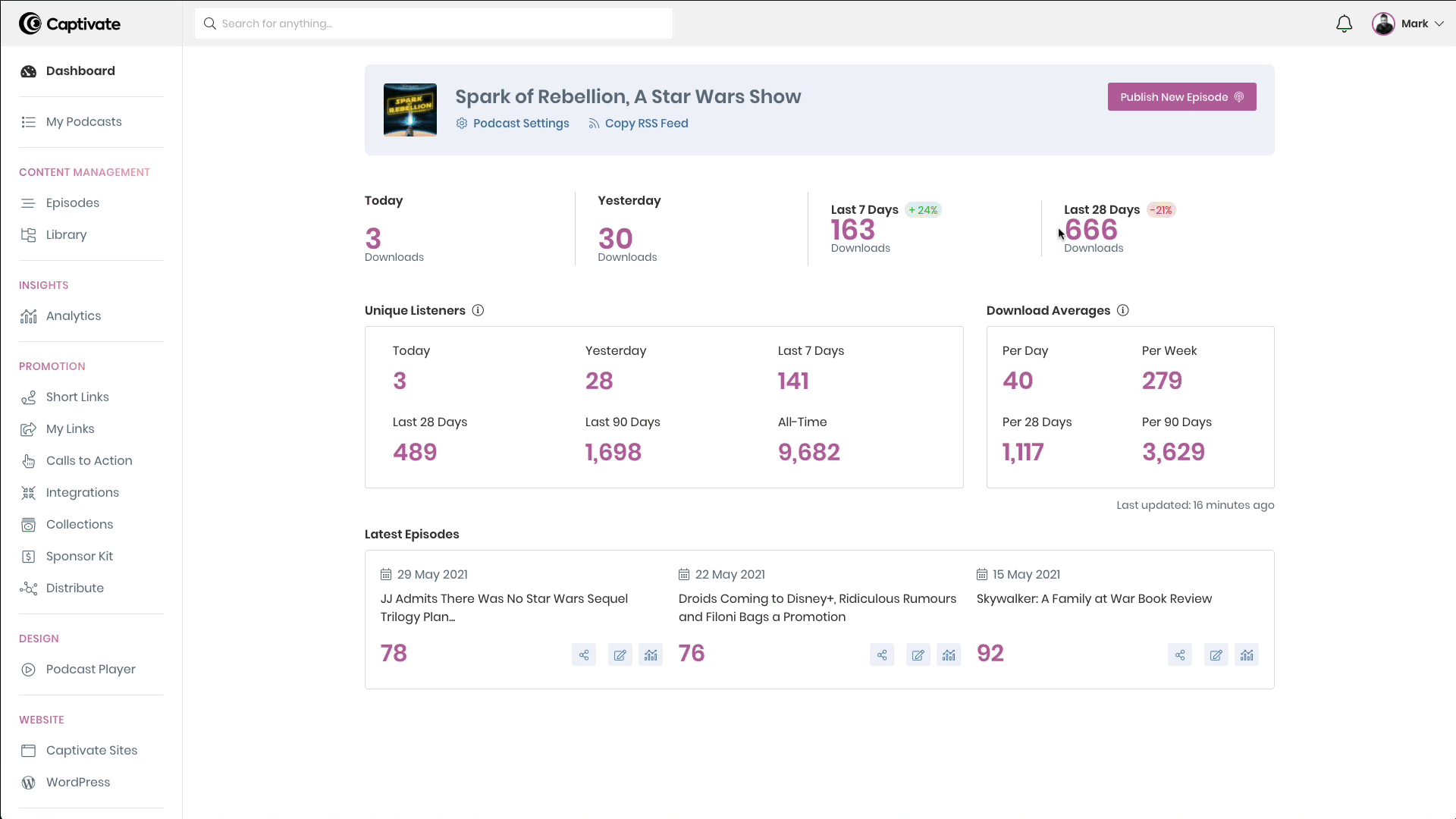 You asked, we delivered! We've introduced a new "My Links" area for you to keep track of all your links. Add and remove as many directory links as you'd like, with the option to manually add other, external directories that Captivate doesn't yet support.
These will then be available on your Single Promotional Link, Captivate Website and within the share section on the Captivate Player, giving you greater control over how and where people can listen to your podcast.
We've also added a "Monetization Links" area for your donation and Captivate affiliate links, and there's now an option to add custom social media channels, for your TikTok profile, Twitch channels and Discord servers!
Redesigned Analytics, Promotion and Distribution Experiences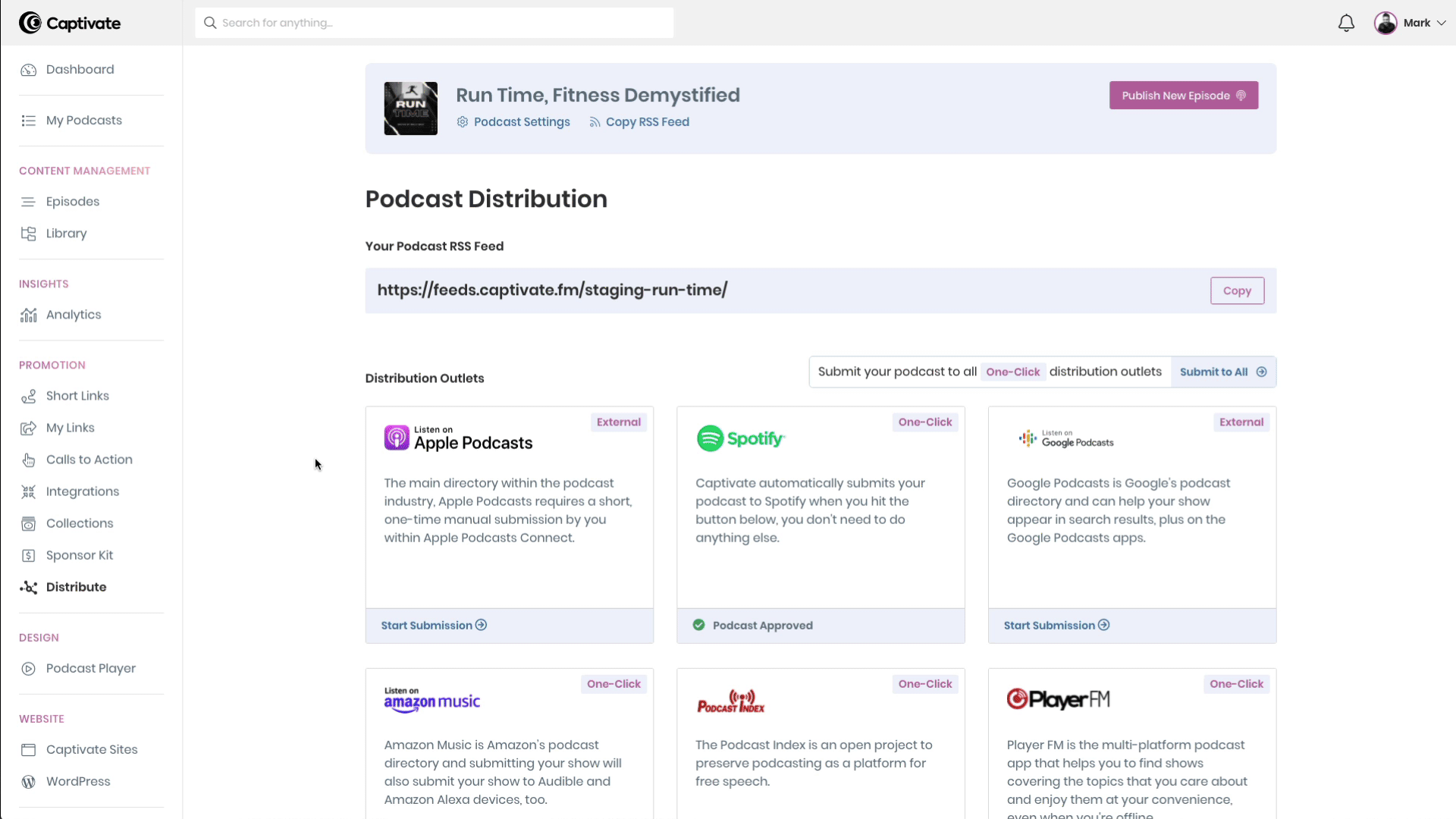 A precursor to some huge upgrades for 2021, we've redesigned and simplified some the most important areas of the dashboard.
We've redesigned the entire podcast analytics experience to give you more of the data that you need when you need it. The analytics experience is now broken down into specific areas to give you complete clarity on what you're working with and when.
Rather than burying Captivate's podcast promotional tools deep within a "Marketing" page, we've greatly simplified the toolkit by creating a brand new "Promotion" section and making sure that every promotional tool is available to you with just one click.
External and one-click directory submissions are clear and we added a "Submit to All" button for those directories that accept one-click show submissions such as Spotify, Amazon and JioSaavn.
Discover All This and More in Captivate 2.0!
Captivate 2.0 is live for all our podcasters – log in to start using the new platform and features.
Finally, I want to share my appreciation for the Captivate team for making 2.0 the intuitive, forward-thinking release it is, and for the Captivate community of podcasters, whose input and feedback have been essential.
We're hard at work already on new releases, but would love your feedback on how you're enjoying 2.0. Feel free to share your feedback on Twitter!