Reading Time:
4
minutes
For podcasters in 2021, there are a million different ways to display and promote a podcast on your website.
At Captivate, we offer free in-built podcast websites to all of our podcasters. For podcasters with their own websites, businesses, networks, agencies or WordPress geeks (shout out to our fellow geeks), there's our own, free podcast plugin for WordPress, Captivate Sync™.
If you already manage a WordPress site alongside your podcast(s), you'll know how difficult it can be to juggle different apps and hosting sites.
Captivate Sync™ brings the full functionality of the Captivate podcast hosting dashboard into WordPress, so that you can control and own the way your podcast looks online without having to rely on time-hungry manual workflows.
We've just released v2.0 of Captivate Sync™, bringing new functionality and powerful features to help creators manage and promote their podcast content using our free WordPress plugin.
In this guide, we'll talk you through the benefits of using WordPress for your podcast website, the core features of Captivate Sync™ and how to use our badass integration with Captivate.
What can Captivate Sync™ do?
Captivate Sync™ is a free WordPress plugin for podcasters. It gives you complete integration between Captivate and your WordPress podcast website. At its core, it allows you to easily embed, publish and manage your podcast(s) without ever having to leave the WordPress dashboard.
What it really does, though, is take all the tiny, manual jobs that come with publishing a podcast off your hands, giving you time back to actually podcast. It gives you full control of your show, your website and your podcast's growth, as well as the peace of mind that your brand, custom themes and settings will be respected throughout. Magic.
Take a look at our video for a full tour of Captivate Sync™ and how it integrates with Captivate!
Here's a full list of Captivate Sync™'s features and customization options:
Show and episode-level podcast management
Manage multiple podcasts and podcast episodes without leaving WordPress
Get the full functionality of Captivate dashboard inside WordPress
Publish, schedule, edit and draft podcast episodes
Add transcriptions to your episodes for greater accessibility
Use the time-saving Snippets tool to insert pre-written, pre-formatted text into your show notes
Automatically insert the fully responsive Captivate podcast player wherever you need it
Use custom page mapping to create bespoke website content that reflects your brand, business or network
Choose whether to hide or display custom links and set bespoke calls to action
Edit or disable your comments section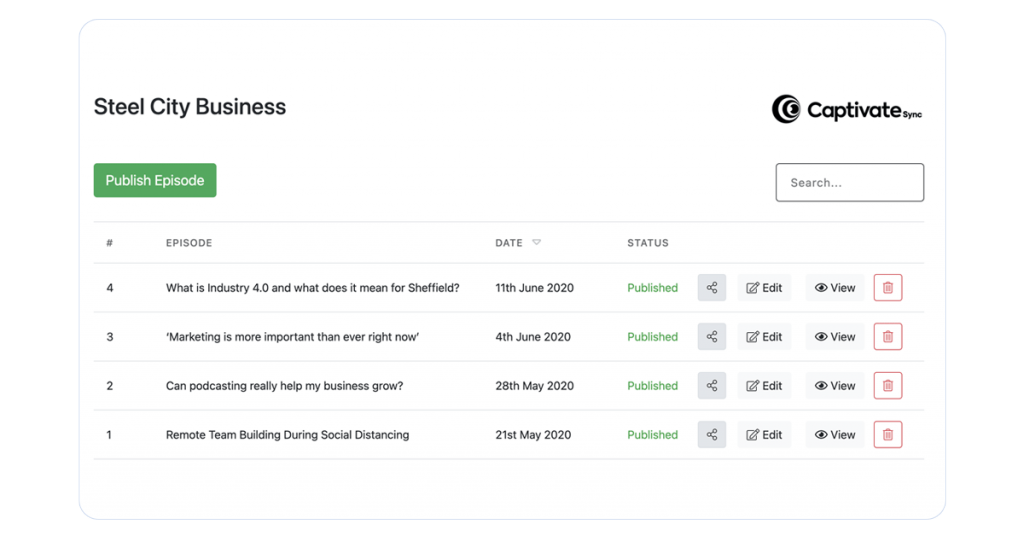 Easy enhanced customization with Shortcodes
Automatically embedding your podcast players has always been easy with Captivate Sync™, but now you have full control over how people listen to your episodes with our Shortcode builder.
Generate and use fully customizable shortcodes to display specific podcast episodes in a variety of stunning views
Use list view to display a feed-like list of episodes, or use grid view to choose either 2, 3, 4, 5, 6 column layouts to suit your website's look and feel.
Change your featured image and podcast player position to best suit your brand and theme
Add custom CSS to your shortcodes for consistent branding throughout your podcast website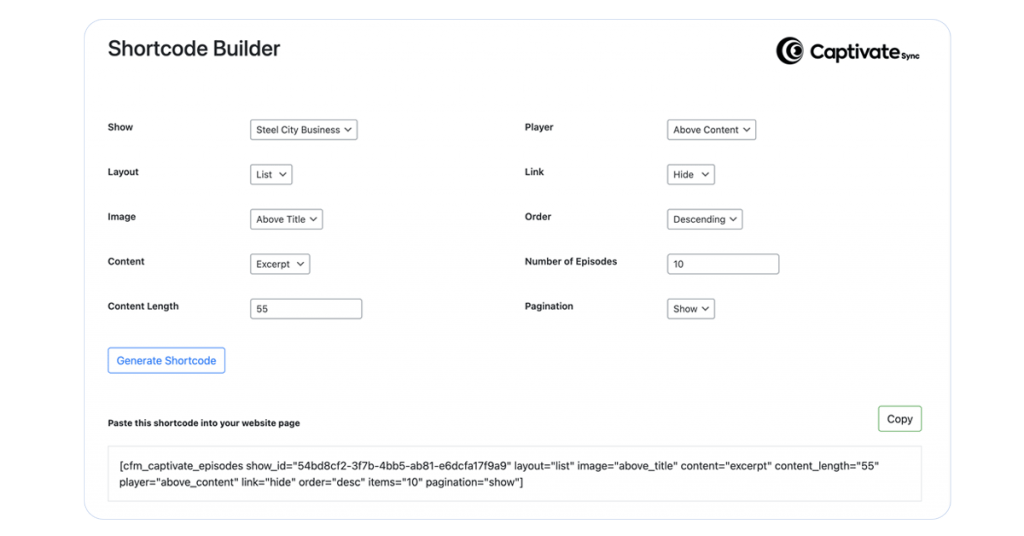 Compatible with your custom WordPress themes
Captivate Sync™ is fully compatible with Astra, DIVI, Beaver Builder and other popular builders, and will fully respect your existing widgets, custom code and theme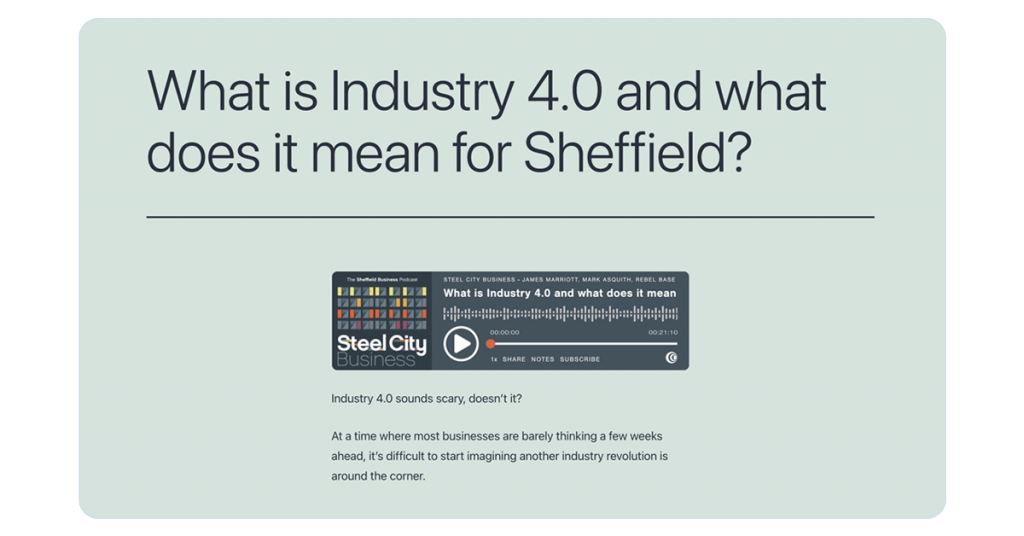 Customize your team settings
Managing multiple shows for external clients or large teams? Do it safely and securely! Admins can customize and restrict access to specific podcasts to stop certain users publishing or editing content
Set which author from the website will be set to each show automatically when an episode is synced or when publishing new ones via Sync
How to start a podcast website with WordPress: FAQs
You can pretty much do anything you want to WordPress when it comes to your podcast website. Here are some answers to some frequently asked questions so you can make the best decisions for your podcast straight off the bat.
What are the benefits to using WordPress for my podcast website?
WordPress gives you unlimited freedom over the behaviour, function and features of your podcast website. With WordPress, you can use your own themes, post types, widgets and plugins to create a fully bespoke website that is as flexible as you need it to be.
There's a bit of a learning curve, so WordPress isn't for every podcaster. With Captivate, you have a couple of really strong options that ensure you can still have an effective online presence without having to master WordPress:
Captivate Sites, our powerful, responsive and free built-in podcast websites available for every podcaster
Podcast Websites, our fully managed WordPress solution for podcasters who need help maintaining their existing WordPress site
Can I use WordPress to host my podcast?
Technically, you can use WordPress for podcast hosting. There's nothing to stop you uploading every episode to your media library, but there are far easier, more convenient and just-plain-better ways to do it. Here are some of the drawbacks to self-hosting on WordPress:
Podcast libraries can create massive bandwidth usage and file sizes pretty quickly. You could risk exceeding your limits, getting kicked off your hosting and/or getting a nice fine for doing so.

Traditional website hosts aren't equipped to deal with the heavy traffic of podcast uploads and downloads. Podcast hosts are.

You'll have to manage and submit your own RSS feed to all the major podcast directories. Captivate manages that all for you with single-click submission and easy imports if you're moving hosts.

You won't get any of the perks and marketing features you'll get with a podcast host. For example, Captivate's responsive and powerful embedded podcast players are free to use wherever you'd like, and work seamlessly with Captivate Sync™ using our integration.
So, the long and short of it is: host your podcast on Captivate and use Captivate Sync™ to integrate your everyday podcast management with your existing WordPress site. Nice and easy.
Where can I download the Captivate Sync™ podcast plugin for WordPress?
The new version of Captivate Sync™ is now available to update or install from the WordPress Plugin dashboard or directly from the Captivate dashboard.
If you need help or support with your podcast website, don't hesitate to get in touch with our support team who'll be happy to help!