Reading Time:
17
minutes
Marketing and promoting your podcast is just as important as the planning and recording of your content. You created your podcast to reach your target audience. After all the effort that goes into producing each episode, you need to make sure that your intended listeners can find and tune into your show!
There are millions of podcasts to choose from nowadays – 4 million and counting – meaning that getting eyes and ears on your show isn't as easy as it used to be.
In order to grow and maintain your audience, you need to know about how to market your podcast not just episode-to-episode, but more strategically, saving you tons of time and effort in the long run.
So, if you're unsure where to start and how to go about promoting your podcast, this guide is for you.
We'll talk you through the basic marketing approaches to help you create value, build a strong rapport with your listeners and see real results. We'll also give you quick marketing wins (that actually work) as well as 15 actionable tactics for marketing your podcast and growing listeners long term, too.
Let's go!
3 podcast marketing quick wins – that actually work!
Before we get started on the longer term marketing tactics, let's focus on things to do right now. What can you start doing today to market, promote and grow, that is easy to implement and sets you in the right direction?
Here are 3 things to start with:
1. Find where your audience hangs out on social media
Is it Facebook or Twitter, TikTok, Clubhouse or Instagram?
Once you know where they hang out, get yourself set up with an account and start sharing your own posts and latest episodes. But, don't forget to be social on social media!
Yes, post about your podcast, but perhaps more importantly, be active in conversations, share other people's posts, get involved with trending topics and follow people – heck, answer as many questions as you can that help people! During your podcast episodes, don't forget to tell people where to find and interact with you on social media, too.
2. Spruce up your podcast cover art, taking into consideration your competitors
When your podcast is listed among others on a podcast playing platform, do you stand out? Can people read the text? Is the image eye-catching? How can you improve the design of your podcast cover?
This is a vital part of the podcast marketing process that podcasters simply forget. But, think about it this way: very often, your podcast cover art is the FIRST and ONLY thing that prospective listeners see before choosing to give your podcast a whirl.
Pro-tip: Check out our cover art tutorial for all of our design do's and don'ts 
3. Remind listeners to subscribe, rate and review your podcast
Subscribers, reviews and ratings are all crucial social proof that attracts new listeners to your show. The jury's out on whether it bumps your show up the charts, but validation from listeners not directories should be the focus.
Sure, getting into New & Noteworthy is a big boost in confidence and visibility, but only for a short time. Ratings and reviews reward you with feedback, social proof and an engaged audience willing to recommend your podcast to their friends. Better still, no one can take those good reviews away from you – unlike that top spot in the charts!
Pro-tip: Learn our simple, 3-step formula for getting more podcast reviews (and how to best use them!)
How to promote your podcast: advice from actual podcasters!
We reached out to our wonderful and experienced network of Captivate podcasters and asked them for their best marketing and promotion tips. Here's what they had to say:
Helen Murray, host of Inside Tri Show
"The biggest thing so far has been thinking outside of the box, doing something completely different. This involved joining forces with another, more established podcast, for a special mini-series on body image and eating disorders in endurance sport. We made a hard-hitting trailer, which we both used in the weeks leading up to publishing day, we trailed ahead, we did Facebook Lives about it etc… The episode had over 1,000 downloads on the first day (normally it's more like 600 on Day 1).
Andrew Keller, host of re:POSTED
"When marketing our podcast, the most successful approach has been releasing consistent quality content. We put our show out every day, but even if it was once a week, our listeners know that the content is going to be there consistently and at the same time of day, every release. That has helped us maintain and grow our base. If your listeners never know if you are going to be there or not they'll stop checking. When we do cross-promoting by having guests on our show there is definitely an uptick in downloads, but consistent quality content is what we have based our model on."
Vlad Falin, founder of Costofincome.com
"Your podcast titles can make or break your episodes. If you are podcasting with a guest who is well known in the industry – make sure to promote their name. Or, you can do some simple keyword research to come up with various titles that will catch the attention of your audience and appeal to your niche. But be careful not to go overboard and write clickbait titles!"
Sean Russell, host of SoFlo Vegans Podcast
"I found that marketing my podcast using video clips on social media, exchanging promos and having guests share content on their channels works the best for increasing my listeners. I've been able to reach over 1 million downloads for my shows in the past using these strategies."
John Joines, host of The Uprooted Podcast
"What has worked best for us is constant (daily, sometimes twice daily) social media interaction, specifically on Instagram and Facebook. We have also paid to promote a few posts in the past, which really helps."
Anthony Zoccola, host of Game Jawns
"We do a fair share of social media posting, (4-7 posts per week) across multiple platforms. On our current, longest-running show, Game Jawns, we talk with a lot of game developers, visit game websites and forums, and we really try to put our podcast out there in front of people we know have interest directly related to what we cover in our shows. This leads to a broader appeal, bringing in a lot of new listeners to adopt us as a place or network to find multiple outlets for information and entertainment."
Vit Muller, host of Success Inspired Podcast
"The most successful strategy so far in increasing my listener base has been business networking. I'm a member of a large business networking group here in Australia and each week I meet with close to 50 business owners where I get to pitch my podcast. Feedback has been positive and a lot of people ask me after where they can listen in on my show and often I even pick a new interesting guest or two out of the business networking crowd."
How to market your podcast in 2023 – 18 growth tips, tactics and strategies
So, we've covered the quick wins and shared marketing advice from podcasters. Now, it's time to share our own tactics for growing your listeners, boosting your visibility and creating value for your audience.
How to choose the right marketing tactics for your podcast
All these tips and tricks are ones we use ourselves for our own shows. They might not all work for your podcast, but that's ok! Marketing is all about trying, tweaking, testing and seeing what gets the best results for your circumstances, audience and content.
Before you double-down into podcast marketing, it's important to think about your goals as a podcaster. What's your end point? Where do you want your podcast to go? What would you like to see happen in the next 6 months?
Having 2 or 3 clear ideas of what you want to achieve will help you focus your attention and identify the best marketing tactics to get you there.
Remember: Captivate is here to help you succeed with helpful, growth-oriented features like custom player call-to-actions, single subscription links, in-built Google Analytics and Facebook Pixel support, advanced analytics and loads more. Even better, no features are held back so you can start growing your podcast from day one!
1. Make sure your podcast is available everywhere
A solid distribution strategy is essential for any podcast, new or established. If your podcast isn't available on demand wherever people choose to listen, you're leaving vast swathes of your audience on the table.
Making sure your podcast is listed on all directories, apps and aggregators is also important for discoverability. With each new platform comes a new opportunity to surface your content to new listeners that didn't know it existed.
Pro-tip: Captivate has easy single-click submission to all major podcast directories, apps and aggregators, including Apple Podcasts (formerly iTunes), Spotify, Amazon, Google and Player FM.
2. Include links to your podcast anywhere and everywhere
Including links to your podcast on the web where you have a profile, such as social media or team pages, is a great way to promote your marketing efforts.
Make sure you get links on:
Social media profiles
Bios on 'meet the team' type of pages
Author bios (if you contribute to online content websites)
Presentation slides in the 'about you' section
Email signatures
Anywhere on the web, where you have a page about you and there are external links, make sure your podcast gets included!
Pro-tip: Captivate's single subscription link is a simple, single link that is easy to remember and features buttons for one-click listening in the major podcast apps. Use that as the link that you share for your podcast!
3. Set your podcast up on social media
It's a given that your podcast is on social media.
Did you know that Facebook has 2.45 billion monthly active users? Instagram has 1 billion and Twitter 330 million. Then there's TikTok, Clubhouse, LinkedIn, Pinterest…
That is a lot of potential podcast listeners! If you are not promoting your podcast on social media effectively, you really are missing a trick.
Now, be smart. Don't set yourself up on all of the social media channels out there. This will just become too hard to manage and you won't get any results at all. You get out of social media what you put into it.
Put your efforts into just a couple, rather than spreading yourself thinly on all of them.
When it comes to choosing which social media channel to set yourself up on, ask yourself: Where is my audience? What channels do my listeners use?
If you have no idea of where your audience is, there are tools out there that will help you with this research, such as SparkToro. With SparkToro, you put in a term related to your podcast and it will find out which social channels your audience are typically using. Pretty neat, right?
Pro-tip: Learn the 3 Best Ways to Grow and Market Your Podcast on Facebook
4. Repurpose your podcast for other content
Make the most out of podcast episodes you create and repurpose the content. This way you have more content to market and people have multiple ways to come across and consume your podcast.
The goal of repurposing is to surface your content to potential new listeners in ways that they may already be familiar with.
Here are some repurposing ideas:
Videos – when you are recording your podcast, set up a camera and record the session. If you don't have a fancy camera for filming, don't worry, mobile phones have pretty awesome cameras and lenses these days.

Once you have recorded the session, polish up the video and make it look professional. For example, add in your podcast logo and cut out anything unnecessary. Then just upload your video to YouTube, Instagram or Facebook.
Blogs – transcribing or just writing around each episode of your podcast and making it into a blog is another successful way to repurpose. Creating a blog from your podcast also means you have two types of content indexed by Google, meaning double the chances of people coming across you.

Now, you could transcribe your podcast manually, but who really has time for that, especially when there are tools out there that will do this for you? We've written about them, and how best to use transcripts for SEO and accessibility, in our transcription guide!
Graphics – there are loads of opportunities where you can create something visual from your podcast that you can share over social media, include on individual episode website pages and add to blogs.

Say, for example, you do a 'how to' episode where you talk people through X number of steps to achieve Y. These steps would work well in an infographic.

Another example is you use an analogy to help explain something – make that analogy visual and create a graphic people can see.
5. Traditional marketing still works!
Traditional marketing has its place, if done correctly. Traditional marketing campaigns need to be creative and grab people's attention. The aim is to avoid your campaign ending up in the bin.
Here are some traditional marketing ideas:
Direct mail – yep, we said it – think of something physical you can send out to people that will grab their attention and make them want to check out your podcast. Leaflets and flyers are fine, but the more creative you can be, the more success you'll have.

Say, for example, you host a gardening podcast, you could send out sunflower seeds and run a competition for who can grow the tallest sunflower. Think of an easy way for people to keep you updated with the progress of their sunflower, you could for example ask people to send a photo on social media and tag you in the post or use a hashtag (or even both). If your podcast is weekly, announce who is the current leader each week.
Business cards – yep, we said it AGAIN – old school business cards are still a great way to give people your contact details, especially when you have met them at a networking event. In your contact details section, include a couple of lines about your podcast and link.

You could even have a separate business card for your podcast, and when relevant give it to a person who is interested in becoming a listener. Think of an easy way to get people to listen, such as a QR code or a short-link like the one generated for your podcast for free with Captivate.
6. Use Apple Smart Banners
Do you have an iPhone? If you do, have you noticed when you open a website in Safari on an iOS device, you see businesses promoting their mobile applications with the 'Smart App Banner'?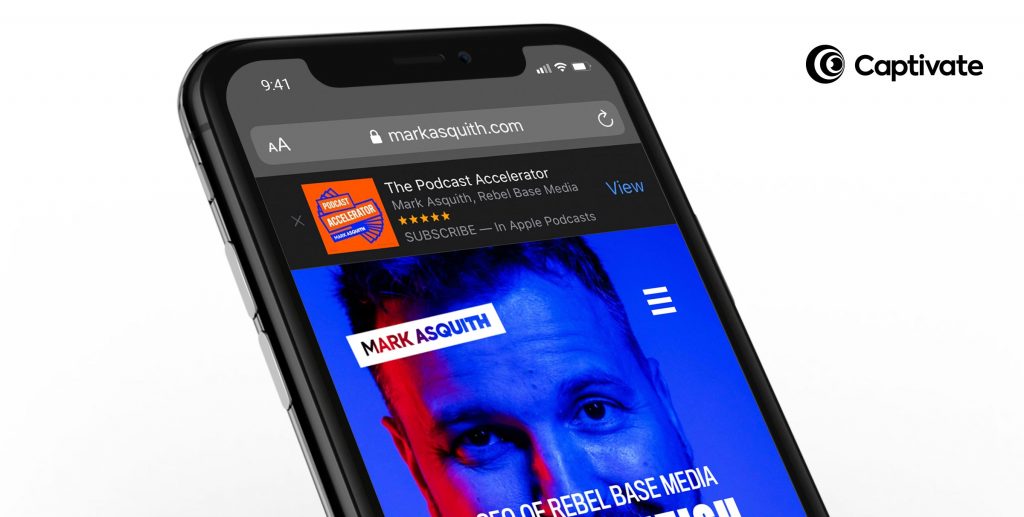 When you click the banner, you're taken directly to the App Store to download the app.
Great news – this banner can also be used to promote your podcast and get people to subscribe on iTunes.
Pro-tip: Captivate Sites automagically include Apple Smart Banners on your Captivate powered podcast website so that visitors have one-click access to your show in Apple Podcasts from their device. All Captivate accounts include this feature from day one.
How to set up an Apple Smart Banner for your podcast
If you're doing it on your own, here's how to manually install an Apple Smart Banner:
Go to Apple Podcasts and find the link for your podcast, it will be something like this: https://itunes.apple.com/us/podcast/[podcast-name]/id[string-of-numbers]

Take note of the id[string-of-numbers]

Add this meta tag to the the header element of your web page's HTML (i.e. before the closing </head> tag) <meta name="apple-itunes-app" content="app-id=[string-of-numbers]">
When someone visits your podcast website, they will be presented with the banner. When they click, they will be taken to your podcast page on the Apple Podcasts app.
7. Be a guest on other podcasts
Reach out to other podcasts, ideally where the audience is similar to yours, and ask if you can be a guest and suggest a topic.
You'll be more successful if you listen to the podcast and build a relationship with the host(s).
It's a bugbear of most podcasters when people who ask to be a guest haven't listened to previous episodes or they don't follow them on social media. Podcasters like to be wooed – and should be.
When your episode is published, ask if they would mind including a link to your podcast. Chances are they will agree, especially if you have a good relationship with them.
This is a great way of attracting new listeners because hey, if someone already knows what a podcast is, it's one less barrier to overcome.
Pro-tip: Read our guide to Finding Podcast Guests: 3 Simple Secrets to a Scalable Podcast Guest Strategy
8. Look into guest speaking opportunities
Guest speaking is another excellent way to promote your podcast to a new audience. Similar to above, you need to find events that are related to your podcast and are looking for speakers.
Many events will have a page on their website where you can apply to speak and the application process is usually pretty quick and easy.
Once you have been selected as a speaker, and you're working on your talk and presentation slides, don't be afraid to bring up the podcast. Mention that you host a podcast about X and, when relevant, include links to specific episodes if people want to delve into a particular subject more.
Rather than going for the hard sell, it's always best to treat these events as marketing opportunities for your brand rather than ways to get listeners on board directly. Find the balance and always have your Captivate.fm single subscription link to hand!
Pro-tip: Learn how to prepare for podcast guests and create a quality interview that will grow your listeners and network!
9. Invite special guests with a decent following
Create a wishlist of guests you want as guests on your podcast who have a decent following themselves.
Find them on social media, connect with them and start building a relationship. Reply to their posts, share their content and then when it feels right, ask them to be a guest on your podcast.
If you have a good relationship with them, they will be more inclined to agree. Then, once the episode is live, make it super easy for them to share their episode with their audience. For example, make a graphic or video teaser that they can post on their social channels.
Keep the relationship going after the episode is live and has been shared, as you want them to share other episodes of your podcast.
Pro-tip: Don't be boring! Podcasts are a form of PR for most guests these days, so talking about the same thing that everyone else talks to that guest about is NOT going to get your show shared. Get creative!
10. Use paid advertising channels
If you have the budget, invest in your podcast and run paid advertising campaigns. The great thing with paid advertising campaigns is you can be specific with the audience you want to target.
Here are some paid advertising channels to look into:
Social advertising such as Facebook, LinkedIn, Twitter etc
Google AdWords (PPC)
Sponsor ads on other, relevant podcasts
Banner ads on Listen Notes, Overcast or Player FM – Listen Notes is basically Google for podcasts. Both Player FM and Overcast are listening apps that allow you to advertise
11. Get involved with events
If you have the budget, look into events that you know your audience will be at and see what advertising opportunities there are, such as exhibiting and sponsorship packages.
Let's say you have a marketing podcast – which industry events are happening that would make sense for you to be at where attendees would be interested in your podcast?
We're huge fans of really embedding into a niche that we're passionate about. It's one of the fastest ways to grow anything and this is no different for your podcast!
12. Use your podcast trailer as a teaser
Trailers are one of the BEST ways to market your podcast and pitch it to new listeners. People listen to trailers to help them decide if a podcast is for them or not. People will listen to trailers or teaser clips before committing to a full episode.
Teasers work extremely well as people get a swift, direct introduction to your podcast and learn exactly they can expect from your episodes.
Think about movie trailers. How many times have you watched a movie because you saw an epic trailer? It's exactly the same principle. We've made our foolproof podcast trailer format available to download for free!
13. Promote your podcast more than once
Don't just promote an episode on the day it goes live. Give people more than one opportunity to come across it.
Here's an example promotion schedule to use for your podcast:
Before it goes live (share sound bites and teasers)
On the day it goes live
A week after it goes live
Two weeks after it goes live
And so on…
Putting together a promotion schedule ensures you are promoting your podcast as much as you can AND getting as much from each episode as you can.
On that note, think of ways you can reshare old episodes that bring value to your subscribers. For example, sharing a countdown of your most popular episodes, polling listeners for their top 3 episodes or a throwback to relevant episodes on national holidays.
15. Promote your podcast using email marketing
After social media and word of mouth recommendation, email marketing is one of the best marketing mediums for fostering relationships with your podcast listeners. By building a mailing list for your podcast, you'll be able to reach your listeners and subscribers with tailored messages to keep them engaged with what you have to say.
As a podcaster, you already have an engaged and willing audience that you can drive into your email list. An opt-in or sign up form gives your listeners an easy way sign up to your email list via your podcast website.
Just activate your opt-in form via your Captivate podcast website, then start sharing the link to your form or website during a podcast episode or over social media as part of your main call to action.
Once a listener has opted in, you'll be able to send them newsletters, new episode updates and subscribers-only exclusive content, helping to build listener loyalty and grow your podcasting brand.
Pro-tip: Learn more about Captivate's FREE opt-in form and lead magnet support and start promoting your podcast with email marketing!
16. Promote your podcast with Pinterest
Pinterest has on average 320 million users, so it might just be one of the most interesting (and underrated) platforms out there.
So how does it work?
Users upload images (or 'pins') which are then attached to boards relating to specific topics. Each pin is linked to a URL and tagged with keywords.
The opportunities for podcasters presented by Pinterest will blow your mind. Compared to the slow crawl to the first page of Google, Pinterest is a search engine that can generate you a good amount of interest and web traffic when done right.
Here's a good, simple strategy for getting started with Pinterest:
A good place to start with Pinterest is looking for long-tail keywords that relate to your podcast. This is because, like YouTube and Google, Pinterest is a really powerful search engine. It wants to hook users up with the most relevant content to answer their question. In this respect, it's a helpful tool to drive discovery of your podcast by your ideal audience.
Type topics and terms relating to your show into the Pinterest search bar and you'll find ones that people have actively searched for. You can optimize a few different areas of your Pinterest account, including:
Your 'about' section
Board titles and descriptions
Pin titles and descriptions
The benefit of using Pinterest for your podcast is sending direct traffic to your podcast website or Single Subscription Link. You could also drive clicks through to a lead magnet, landing page, guide or blog that highlights your top podcast episodes, so when people click on your pin and land on your website, you can immediately hook them with free or exclusive content!
17. Use LinkedIn to grow your podcast audience
If your podcast is more geared towards professionals, a specific industry or B2B audiences, LinkedIn is a really good option for expanding your reach, network and making your podcast more visible in relevant circles.
As well as tons of non-paid options, LinkedIn has a robust paid ads platform to help you get your message to a wider audience. That said, LinkedIn's ads are notoriously pricey and won't be worth it for a lot of indie podcasters. Here are a couple of tips that will help you grow without splashing out on campaigns:
Use hashtags – It might seem like an obvious thing to do, but there's actually a lot of ways you can use hashtags on LinkedIn. Like on Twitter, YouTube and Facebook, hashtags can help you to add context to your posts, provoke conversations and allow you to reach a wider network of people.
Within LinkedIn, you can search and follow relevant hashtags created by others, as well as browse through its hashtag library. LinkedIn will also suggest hashtags for you based on the content of your post! This is another great source of intel – are there any popular, related hashtags that you could adopt for your podcast? Is there a gap you could fill?
Be present on the platform – Like a lot of social media platforms, your success relies on you actually being there to engage, interact and post. LinkedIn's no different. In fact, as a platform built around business networking, professional recommendations and PR, LinkedIn is the perfect forum for self-promotion.
If you're hosting a podcast with someone else or featuring a guest, make sure to tag that person on LinkedIn and ask them to share your message or even create their own. This will help you piggyback off their network and increase your show's visibility!
18. Collaborate with other podcasters to do content swaps
Collaborate with other podcasters that share a similar audience to you and ask if they would like to do a content or feed swap with you.
A content or feed swap is basically where you offer to post an episode from their podcast on your podcast and they do vice versa. So the idea here is that you are opening up your audience to one another.
It's a win, win situation. You both get to share great content with your audiences, but it's also an authentic way to market and promote your podcast to other potential listeners who would be interested in your content and show.
You may have the following worries:
Isn't this like someone tuning in to watch their favorite basketball team kick some butt, but instead, when they switch on their TV they get an ice hockey game?
What if your audience ends up listening to their podcast instead of yours?
These are all very understandable worries, however:
To stop your listeners from being confused, you need to make sure the episode feels like your episode eg the same music, intro, outro etc. You also need to give context to the episode eg before the episode plays record yourself giving context such as "we have a special episode for you, we are big fans of X podcast, and we wanted to share this amazing episode where they spoke about X…"
Please don't let this worry get in the way of a really good promotion opportunity for your own podcast. There's a reason why people are already fans of your podcast maybe it's the topics you cover, the guests you have, the chemistry between the hosts, the different segments you have, etc. If you have prioritized creating awesome content and have a loyal community of listeners who feel valued, the likelihood of them stopping listening to your podcast is very low.
Content swaps also give you additional content that you can use as a backup eg you're short of an episode one week, you want to reduce the break you take between seasons, you want to give people a bonus, additional episode etc, all of which will have a positive impact on your downloads/listens.
Launch, grow and market your podcast with Captivate
Captivate's marketing tools include your own podcast website, easy-to-share podcast single subscription links, embeddable calls to action and, of course, the one-click sponsor kit – all from day one with zero extra charges.
Get a risk-free 7-day free trial to start growing your podcast audience now, with Captivate!
You should now be full to the brim with marketing ideas, pumped and raring to go with promoting your podcast and episodes. And, if you have any marketing tips we haven't listed here, tell us about them!
If you have a question about this blog or about podcasting in general, we live, breathe and sleep podcasting. We are podcasters ourselves. We'd love to offer you any support or guidance you need to launch, grow and market your podcast – so don't hesitate to reach out to us.