Reading Time:
8
minutes
The second you record your podcast and release it to the world, you become something to someone. And, just like anything accessible online, you need to make your podcast easy for people to find and engage with. This is where a podcast website comes in.
Your podcast website isn't just a place to put your episodes. As the central 'home' of your podcast, it's a hub for your written content, merchandise, bonus content and anything else you want listeners to engage with. So how can you make sure your podcast website is effective in growing your audience, brand or business?
Good news: with all the options available today, you don't have to be a coding genius to create a beautiful, functional podcast website, even with zero budget. Better still, there are tons of ways to turn your site into a marketing powerhouse without pouring all your time and effort into it.
In this guide, we pick our top 3 options for building your own custom podcast website. We also list 5 must-have features that will turn your website into an essential marketing tool for growing your podcast.
3 Options for Creating Your Podcast Website (Free + Paid)
Before you get started building your podcast website, there are a few things you'll need:
Reserve a custom domain name. Use GoDaddy or 123reg to find and purchase a unique domain name for your podcast website. Domains are usually inexpensive and need to be renewed each year.

Secure podcast hosting. If you haven't already, sign up to Captivate to get unlimited podcast hosting. We don't recommend hosting audio files yourself, as it can seriously hamper your site speed.
Secure web hosting. Some services like Captivate Sites™, Squarespace and Wix come with web hosting built-in. If you're planning on building a WordPress website, you'll need to factor in hosting costs. We recommend SiteGround, or, for a fully managed, hands-off approach, try Podcast Websites.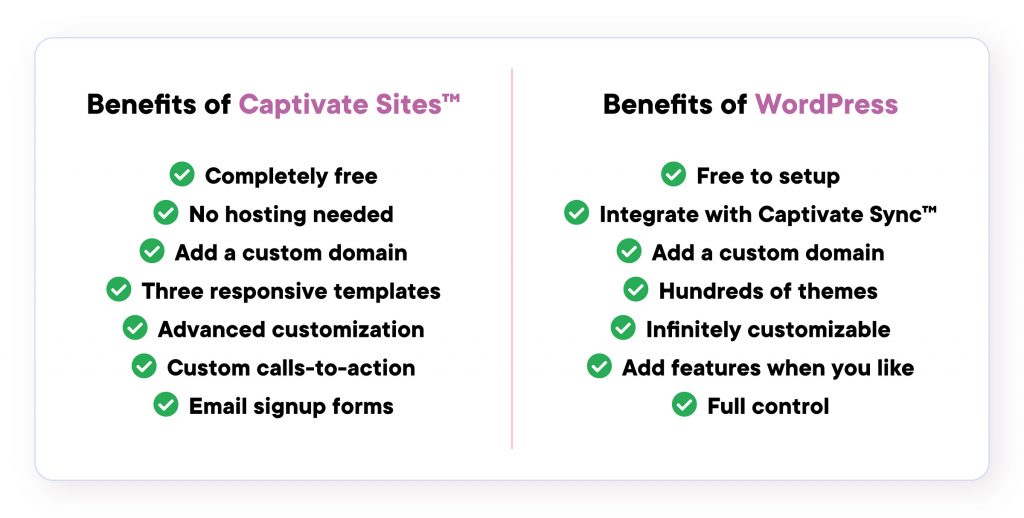 Option 1: Create a Free Podcast Website with Captivate Sites™
With Captivate, you can create a custom, responsive podcast website and have it live in minutes. As well as being a home for your episodes, Captivate Sites™ come with tons of useful, built-in functionality usually reserved for custom builds, including:
Three responsive and customizable templates to choose from
Embedded signup forms and email marketing integrations, so you can offer lead magnets or run a newsletter from your website
Drive listeners to your Patreon or bonus content with custom calls-to-action
Display your transcripts or show notes on beautifully formatted episode pages
Add show + team bios and social media links to build your online presence
Integrate with your Podchaser page to encourage reviews and add social proof
Add a Facebook Pixel and Google Analytics tracking code to get insights into your audience and make more effective marketing decisions
Captivate Sites™ are extremely simple to set up and allow you to bring together your marketing channels in one central place. There's no need to purchase extra web hosting and you can easily add a custom domain to make it your own!
Option 2: Set Up a WordPress Podcast Website with Captivate Sync™
WordPress is behind most of the best websites you'll see online. Building your podcast website with WordPress is the only way to guarantee full flexibility, infinite customization and a solution that will scale with you and your podcast.
With WordPress, you can build a full podcast ecosystem and workflow that meets your exact needs and goals. There are millions of professionally made themes to create your own bespoke website that looks exactly the way you want it to. Expect to pay anywhere from $20-$100 for a premade WordPress theme.
The only downside to building with WordPress is that it's a mostly manual process to get your site live. Here's what a typical WordPress setup goes like:
Secure a custom domain name, web hosting and podcast hosting.
Research and install a WordPress theme.
Install plugins like Captivate Sync™ to customize your site's content and integrate your website with your podcast.
Style up and create individual pages.
The upside is that you'll only ever have to do this once (unless you decide to rebrand). If you don't have the time to pour into a manual build yourself, you can work with freelance web developers or sign up to a managed service like Podcast Websites who will handle all aspects of your build and site maintenance for you.
How to Publish Your Podcast on Your WordPress Website
Captivate Sync™ is our free WordPress plugin that provides complete, seamless integration between your WordPress and Captivate dashboards. Simply install the plugin, connect your accounts and publish your podcast directly to your website without having to leave WordPress!
As well as direct publishing, Captivate Sync™ also offers powerful customization options when it comes to displaying and managing your podcast, including:
A shortcode builder to fully customize the look and feel of your podcast episodes, player and show notes
Add custom CSS styles to your shortcodes for consistent branding
Add transcripts to your show notes for greater accessibility and SEO benefit
Custom page mapping to create bespoke website content that reflects your brand
Enhanced, customizable team and author settings for podcasters working in large teams or managing multiple podcasts
Plus the ability to upload, edit, delete and share podcast episodes right within WordPress and more!
Captivate Sync™ is free and is available in the Captivate dashboard or from WordPress. Learn more about this plugin and its full functionality!
Option 3: Use a Website Builder like Squarespace or Wix
Web builders allow you to create an affordable and custom podcast website without having to dive into WordPress. They're simple to put together, offer a great deal of choice and are cheap (or even free) to put together. They're a great halfway house between a simple solution like Captivate Sites™ and a full WordPress theme, but there are some big caveats to consider before you start building.
Using a builder like Squarespace and Wix comes with a few limitations. First off, you can be restricted by the set templates and widgets. Sure, you can get round this with custom CSS – but the aim of the game here is to grow your podcast, not learn coding.
Secondly, builders are affordable – but only to a point. You can get free or very cheap plans but they'll always come with restrictions on what you can and can't do. You may need to upgrade in order to use a custom domain, for example.
5 Key Things Every Podcaster Should Include on Their Podcast Website
1. A Lead Magnet
Whether you run a newsletter, offer bonus content or tie your podcast to an existing business, creating a lead magnet is a way to give value to your listeners in return for their email address. This might be a discount on your bonus content, a free PDF download or access to your episode archive – anything that your audience will find relevant, useful and will see value in having.
Once you have their email, it becomes extremely simple to target your listeners with relevant messages or a regular newsletter, giving your audience another way to engage with you and your content.
You can create lead magnets and run a mailing list seamlessly from your Captivate podcast website at no extra cost. What's more, Captivate integrates with AWeber and Mailchimp, both of which offer free email marketing plans. Check out our video to see how it's done:
An alternative to Mailchimp and AWeber, if you're looking to compare and see what is out there for email marketing, is Sender.
If you're using WordPress, plugin OptinMonster is a great tool for creating custom lead magnets and sign-up forms to embed on your website. 
2. Ways to Get Involved with Your Podcast
If you want to grow your listenership, your podcast can't be a one-way conversation. Giving people multiple ways to get involved with your podcast is the best way to get valuable feedback and make listeners feel part of your community.
By creating open dialogue with your audience, you also create social proof for your show and signal to potential new listeners that they're welcome to get involved, too!
Here's what we suggest:
Add your Podchaser link to your website so visitors can clearly see your rating and easily add their own reviews. If you're using Captivate Sites™, we'll add this automatically for you. Magic!

Ask for contributions, questions or feedback directly on your site, then use the material to create segments or bonus episodes. People love sharing their experiences and lending their expertise, and it helps to build up your relationship with your audience.

Create a private podcast or bonus feed for fans only. Offering exclusive content is a really popular way to monetize your podcast and make people feel welcomed. Similar to a lead magnet, once you have listeners in your ecosystem, it becomes really easy to engage with them closely. Fans and subscribers will relish the exclusive access they have to you as a host, too.
3. Organized, Optimized Episode Pages
Podcast transcripts and show notes are each incredibly important for accessibility and creating value. It takes time to create optimized, long-form content to go with your podcast, but if SEO is part of your podcast marketing strategy, it's one of the best ways to build authority and climb the rankings.
If you focus a lot on written content as well as audio, you'll know how important it is to properly optimize and categorize it. Not only does this make your library easier to navigate, but it's also vital in making sure visitors to your website get what they came for quickly and without any hiccups. If your material isn't easy to find, listeners and visitors alike will bounce off your page and won't come back.
Grouping your content by topic, tag or category ensures a better user experience and will help visitors discover other relevant content they might enjoy, too.

4. Your Sponsor Kit
When you're pitching to sponsors, it helps to have all your information clearly and professionally presented. You need to show instantly why your podcast is worthy of their investment. First impressions count!
Creating a landing page sponsor kit means you can make it interactive, including top episodes, ad-reads or your trailer for sponsors to listen to easily. There's no need for them to manually search out your trailer (they won't) or ask for more information.
What should you include?
What you'll provide for them – what does a sponsorship include, and how much will it cost?
Your previous ad-reads (if you have them)
An overview of your stats, including downloads, unique listeners and listener behaviour
Information on your demographic and audience
A contact form to call to action to get in touch
A link to your PDF sponsor kit

To make pitching to sponsors simple, Captivate gives you a PDF sponsor kit that you can automatically generate in one-click. Intended to give a snapshot of your podcast, it includes your top analytics, contact details, listener avatar and most recent episodes. We recommend making your PDF readily downloadable so your sponsor has everything they need to make an informed decision.
5. A Guesting Page
One of the best ways to grow your audience and authority is to guest on other podcasts. Similarly, having regular guests on your podcast expands your network and connects you with other experts in your niche. Both tactics should eventually lead to more listeners and recognition when done right.
Guest interviews and appearances can be time-intensive. Creating a dedicated page for guests and appearances on your podcast website is a great way to cut down on admin, questions and ensure your guests are prepared to record from the outset. Here's what that page might look like:
Your speaker or guest profile: Include your bio, speaking experience, preferred topics, previous guest appearances, social media links and photos.

Preparation and promotional material for guests: Include your contact details, a summary of the guest interview and topics to discuss/research, when to arrive to record, the link for your video recording and a link to your podcast assets (to make it easy for them to promote your show).
Taking time to put together this page will save you hours of back and forth, editing out mistakes and troubleshooting when it comes to interviews and appearances.
Want more podcast guest tips?
Recap: Yes, Your Podcast Needs a Website!
Podcast websites are more than just a shop window. There are tons of benefits to creating one, from improving your visibility in search engines through to growing a mailing list and creating a community hub for your listeners. As well as all that, your podcast website can function as a handy resource for sponsors and guests, saving you time and helping you to work smarter, not harder.
If you're serious about growing your brand and generating revenue from your podcast, it's well worth investing your time into crafting your own custom podcast website. It's a guaranteed way to stand out from the crowd, create a lasting, professional brand and build your own authority as a podcast host.
What to Do Next