Reading Time:
5
minutes
This is a guest post from Crystal Carter, Head of SEO Communications at Wix, and also an SEO consultant, speaker and author.

As the host of the SERP's Up SEO Podcast and a regular guest on industry podcasts, I have seen the value that podcast appearances can add to both the individual and team branding efforts.
Podcasts have incredible reach in terms of potential listenership, but also allow you to engage with new parts of the Search Engine Results Page (SERP), the page(s) Google and other search engines return after someone types something in the search bar.
If you have the opportunity to appear as a guest on a podcast or host your own podcast, taking time to ensure that your personal profile is optimised for SEO (both on podcast assets and across the web), can help you to enhance the impact of your podcast appearance and help you to better illustrate your experience, expertise, authority and trust (known in the SEO industry as E-E-A-T and something that's important to Google) for yourself and your team.
In this blog we will discuss:
Why you should think strategically about your biography
Where you should be claiming your talent profiles and citations
How YouTube can help you increase search visibility
Ideas to repurpose assets on your website
Effective ways to share you content
Using these methods, your guest appearance can have a positive effect on the SEO of the podcast, your own website and more.
Use a biography that includes consistent facts about who you are
Podcasts submitted to Google podcasts and distributed from RSS feeds are defined entities within the Knowledge Graph. This means that Google understands them to be specific and unique objects on the web.
This also means that Google understands that they matter to people in real life.
So within the context of a podcast there are a number of entities associated with each episode:
the name of the guest
the name of the host
the producers
the name of the podcast series
the podcast episode itself
These entities are defined within the schema markup for the page and they help machine learning algorithms to discern which entities are most important on the page, and also to tie them in with other information that Google has discovered about that entity from around the web.
As well as understanding the schema markup, Google will be reading the written text of the page. So it makes sense to think about your biography strategically if you're appearing as a guest. In doing so, you can ensure that the most relevant and consistent facts about you are contributing to Google's overall understanding of who you are online.
This helps to show Google that the person being interviewed in the podcast is the same person that has a website or resume that they have seen somewhere else. For instance, if I was to describe someone as:
"Steve McQueen, famous for his films."
This does not give clear enough information around who "Steve McQueen" is nor does it give information that specifies Steve McQueen is a singularly unique person. In this particular instance, there are at least two different men who fit this description.
So Google and other search engines will require more information in order to understand which person I'm referring to. If, however, I said the following, then it would be very clear as to the exact person to which I was referring:
"Steve McQueen, Academy Award winner, film director, and Turner Prize winning artist."
Within this short bio I made sure to include other named entities, which are also listed in the knowledge graph. And will also demonstrate relevance with regards to that individual.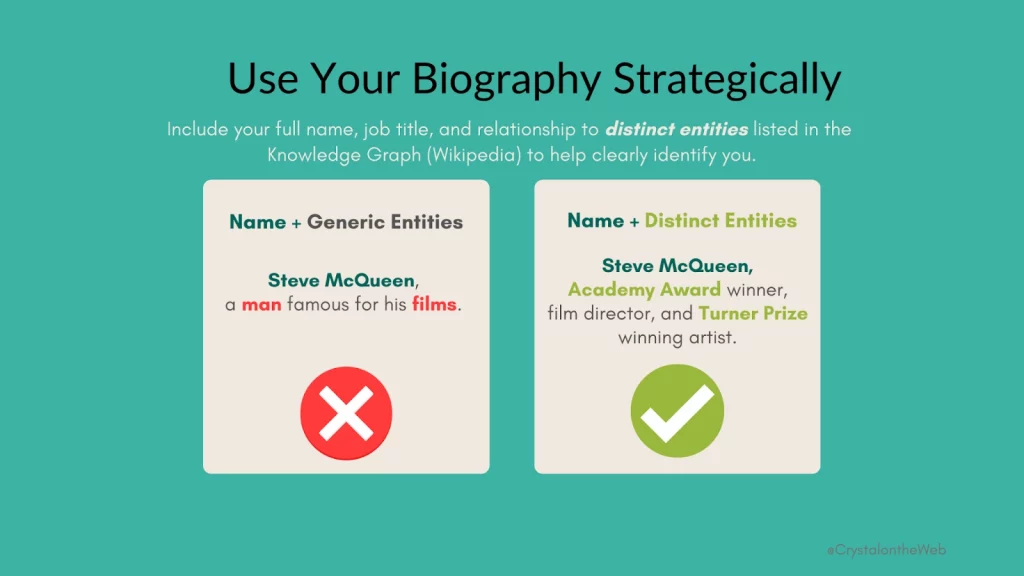 How to optimize your podcast biography for search
In optimizing your podcast biography for search consider:
Using your full name
Including relevant organizations that you work for, or ideally those within Wikipedia page.
Refer to credits that have been mentioned on your website, your LinkedIn profile and/or if applicable, your Wikipedia page
This will help search engines to collate information about you and make it easier for people to discover your podcast appearance when searching for you, your company or your relevant activities online.
Make sure that you claim your talent profiles
If you appear as a guest, host, or cohost of a podcast, then the profiles will be created for you automatically on some of the top directories for podcasts and other content. IMDB and Podchaser for instance can sometimes credit guests, hosts, and even production crew as named individuals with profiles that you can claim.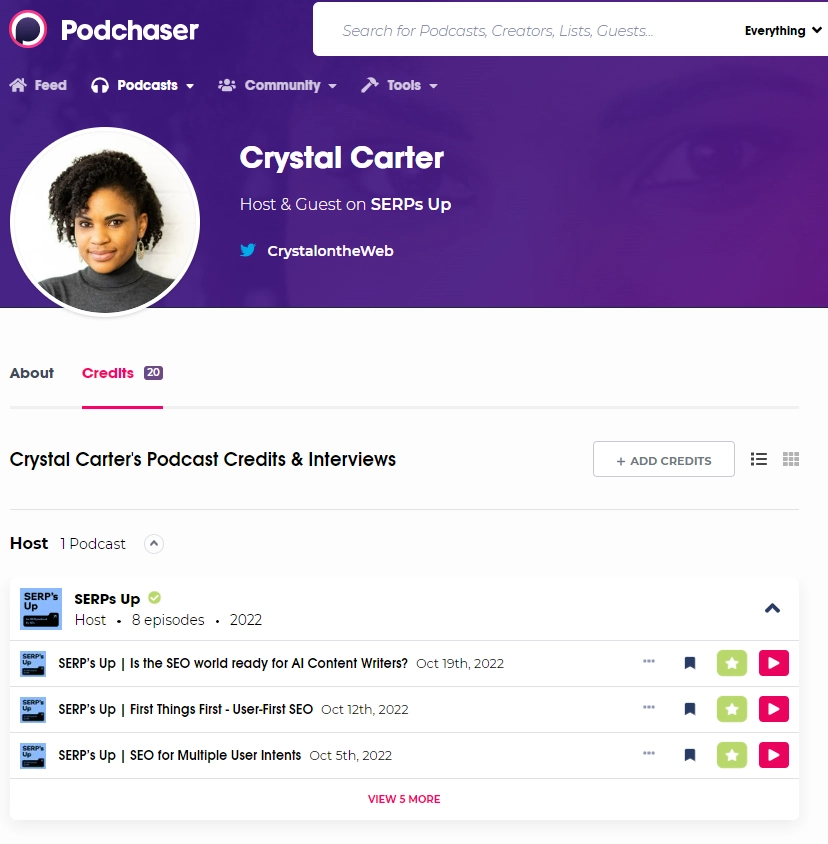 These can be used to build a brand and add links to youand your projects across the web, so they should not be ignored.
Use YouTube to Increase SERP Visibility
Many podcasts syndicate from YouTube. They do so because it is the second largest search engine in the world. This means that users will be consistently searching here for your name and projects, so you should meet this traffic by creating a channel and playlist around your podcast appearances.
You can create a YouTube Channel without uploading any videos yourself. On this channel, you can add your web links, biography and create playlists which feature your appearances and links to relevant content.
Here is an example: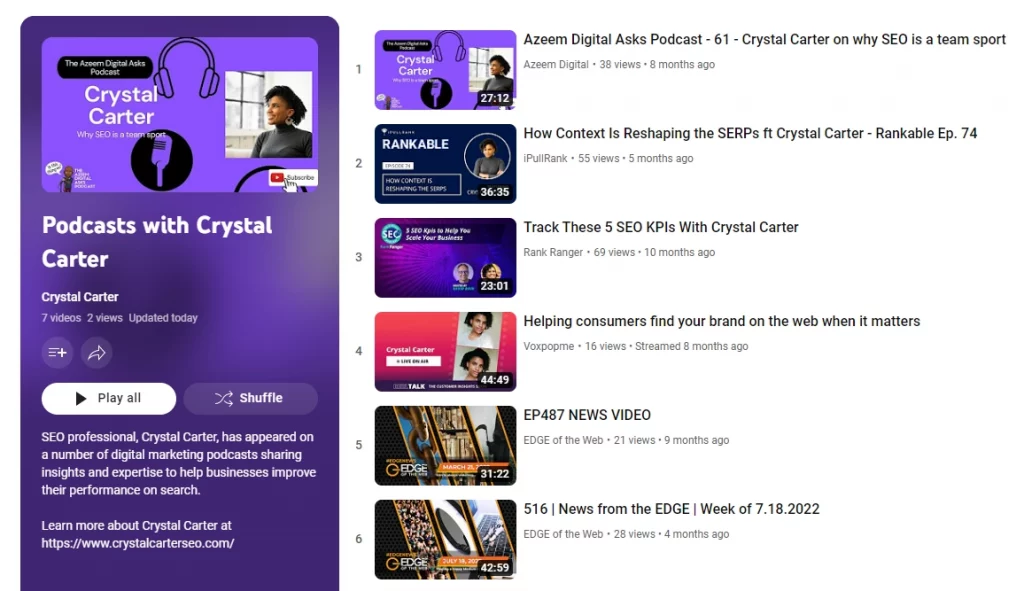 With this tactic, you will increase the visibility of your appearance more generally, but your playlist can also rank in YouTube and on Google search results.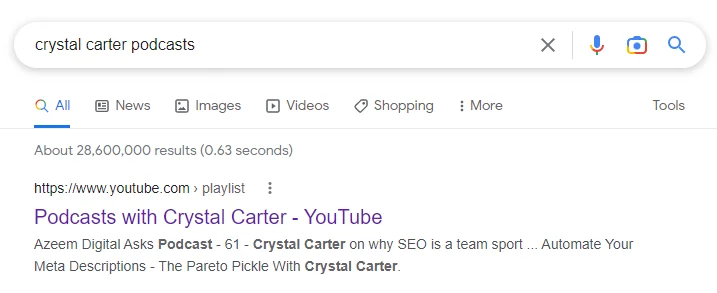 Your playlist description should include keywords and your domain name into your playlist copy to better connect your podcast appearance to your website activity.
Repurpose assets on your website
You can use the content from an external podcast interview to enhance existing assets or create new content on your own website. Video clips, audiograms, sound files and quotes from your transcript can all add value to existing content, which you have on your site.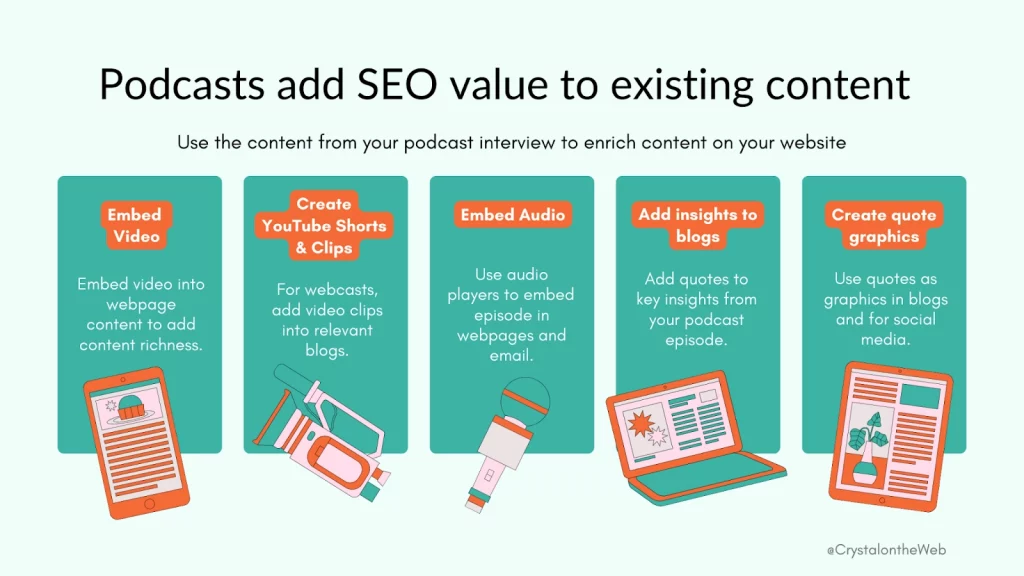 How multi media adds value to your website
From an SEO perspective, these content updates add significant value to your site for a few reasons. Firstly, Google has a dedicated search journey for videos, meaning that content with embedded videos has the opportunity to rank on the main search results, but also within the video tab. Secondly, recency is a consideration for Google with regards to content value and ranking. So content which has been recently updated, it's more likely to be to be crawled and be considered for ranking. Thirdly by adding links between the podcast content and your own website content, make it easier for Google to understand that you are the person who appeared on the podcast and it helps them to tick the E-E-A-T box for your site.
Share with your audience
This may seem obvious, but you should be certain to share a link to your appearance with your internal and external audiences. This should include your social following, of course, but don't overlook internal teams. Sharing your podcast appearance on Slack and in your team newsletter for example, can help you to make your appearance more visible, bolster team morale and demonstrate the benefit that the activity has for the team overall.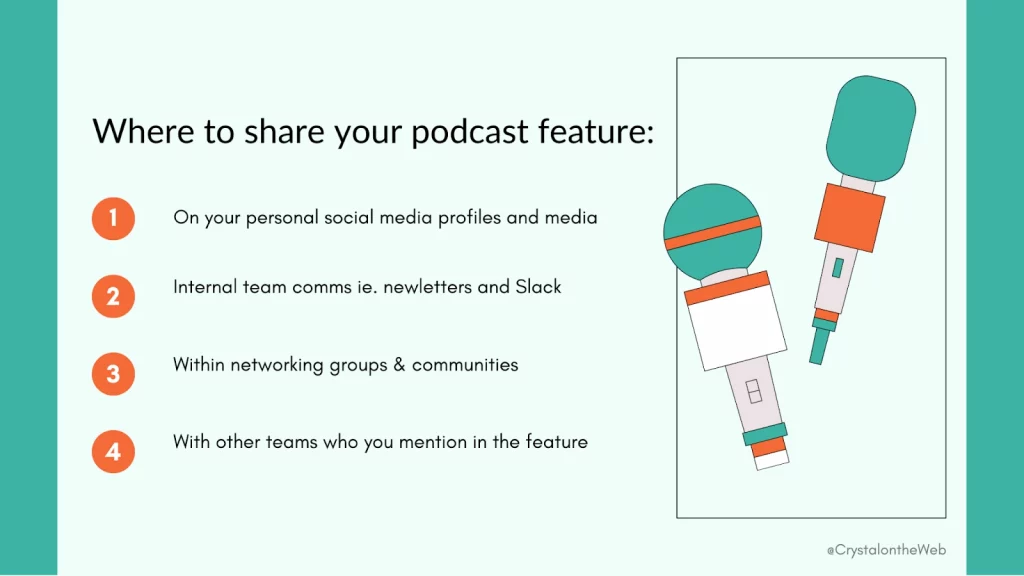 TL;DR
Appearing on a podcast offers a unique opportunity to showcase your skills and reach new audiences. Think strategically about about how your podcast appearance can help to support the overall digital visibility of your website, your team, and your biographical entity for long term SEO gains.
Next steps
We have a quick 45-second quiz that will help you diagnose your issue and give you tailored and specific advice to overcome it!
Do the 45-second 'Podcast Launch Diagnosis Quiz' now!
It's totally free – you don't even need to be a Captivate member!