Reading Time:
8
minutes
This is a guest post from Laura James, Senior SEO Consultant at Flow SEO, and although originally trained to work in TV and Film, she has translated her knowledge into SEO, organic video, and YouTube optimization.
Podcasts are booming (over 3 million exist today). Anyone who's anyone has one. Needless to say, there's a lot of noise and you have to really put in the work to be either different or brilliant to really stand out.
If you're a podcaster looking to take your show to the next level, have you thought about moving to YouTube? Many of the biggest podcasters use the platform to amplify their audio episodes, build a following and create a new stream of revenue
Many podcasters have become popular on YouTube. Some of the biggest include Joe Rogan, who hosts the Joe Rogan Experience and has over 14.4 million subscribers; Trash Taste with 1.5 million subscribers and H3 Podcast, hosted by Ethan and Hila Klein with over 2.8 million subscribers. Examples of successful independent podcasters include Adam Erhart (271k subscribers/marketing strategy), Teacher Luke (338k subscribers/English-learning aid), and Lights Out (nearly 400k subscribers/horror & true crime).
So, how can you repurpose or start a podcast on YouTube?
How to start a podcast on YouTube (or move)
Below I have shared a few easy tips for either starting or moving a podcast on YouTube, so let's get stuck in!
1. Consider showing your face
Google data shows that 80% of the most successful podcast videos feature the host and they get twice as many views as videos with static imagery.
When you start or move your podcast to YouTube, viewers will flock to see you and will glean far more meaning, empathy and reliability from your content if they can see the people talking. Now, this doesn't mean you need a big set or fancy production. Many podcasters simply add a camera to their setup and boom.
The most typical video podcast setups are:
Video conference calls using software like Zoom, or, more preferably, Riverside.fm. This is ideal if you and your guests record remotely, and have great-quality webcams, mics and a good internet signal. Learn more about Riverside.fm in the 'Low/no cost tools to help with production or optimisation' section.
Locked off camera in the studio – this is where you have a camera or two set up on a tripod that doesn't move throughout the recording. This enables you to have steady shots to easily cut between. Think Joe Rogan.
You can also spice things up by using B-roll. B-roll is basically where you cut away to stock or archival footage of what you're discussing to help mask edits, add context and generally make the video more engaging. True Geordie does this nicely in his episode with Ricky Gervais. Alternatively, you can go with an audio-first approach and consider using an image. Examples include Le Parisien's Crime Story podcast and The Telegraph's Ukraine: The Latest podcast.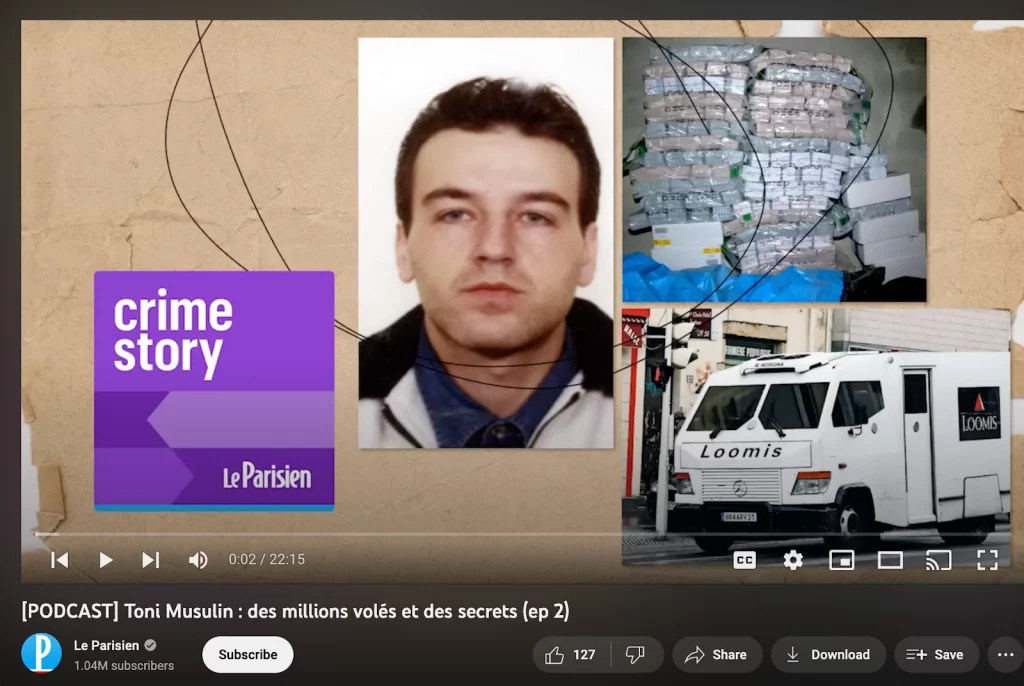 2. Optimising for YouTube
The key thing to remember when optimising or uploading content on YouTube, is that the longer your videos keep viewers on the platform, the better you'll be rewarded. That makes sense, right? Create engaging content to keep viewers coming back for more, and YouTube will rank you higher and recommend you to more viewers.
When you first start out on YouTube, you'll find that optimisation counts a lot towards how your content is found. As you grow, your watch time, subscribers and publishing schedule will become just as important.
Utilise YouTube podcasting features
You can now designate a playlist on YouTube as a podcast, which unlocks a host of features exclusive to YouTube podcasters:
Podcast badges
Official search cards
Podcast specific search results
You can read our in depth article about YouTube's podcasting features here.
Here are some tips for making the most of your playlists:
Use catchy titles: When you create your playlists, make sure the title is catchy and relevant to the content you will be showing. This will help attract viewers and give you a good click-through rate.
Utilise keywords: Include keywords in your playlist's title and description to make it easier to find when viewers search for specific topics.
Keep it organised: Make sure all the videos within the playlist are kept in an organised manner. You want to create a flow in how viewers watch your content, ideally in a linear format.
Use the playlist feature to promote your videos: When uploading new videos, make sure to add them to the playlist. This helps viewers find your other content as they're watching.
Keep clips separate: Don't mix podcast clips and full episodes in the same playlist. This will just confuse viewers.
Captions and subtitles
Adding captions to your videos is great for accessibility and can greatly expand your audience, including those who are deaf or hard of hearing or who speak another language. It's also great for SEO, giving context to YouTube and Google of what is actually being said and discussed within the content. Additionally, videos with captions have a higher watch time compared to those without.
You can add captions in a few different ways, either by uploading caption files that include both the text and timestamp information, uploading a transcript file that will automatically synchronise with your video, manually entering captions within YouTube Studio, or relying on YouTube's auto-captioning feature (although it's recommended to review and edit any errors).
Don't miss out on the opportunity to make your content more accessible and reach a wider audience.
Community
Too often, community is simply forgotten on YouTube. Perhaps some channel owners feel like they are shouting into the void or are afraid to open themselves up to potentially negative feedback. Push those fears aside and say hi.
Sometimes starting small and simply leaving a pinned comment on your video encouraging people to engage is enough. It's a brilliant way of gaining valuable insight into what your viewers want to see more of, what they didn't like and how your content makes them feel – you can then make adjustments accordingly.

Thumbnails
In order to make your video stand out, you should create a custom thumbnail before publishing it. A thumbnail is basically the cover image of your video, and it's what people see when they're browsing video platforms like YouTube. By creating your own thumbnail, you have control over what potential viewers see first. This is important for click-through rate, research shows that videos with custom thumbnails tend to perform better than those without.
To create an eye-catching thumbnail, you could take a screenshot from your video that represents it well, add your logo, and some catchy text using a clear and visible font. TubbyBuddy is a great tool for helping create thumbnails within YouTube Studio.
It's a good idea to look at podcasts similar to yours and see how they've styled their thumbnails. This will help you get the tone and design right, so viewers will better understand what to expect from your content and will be less likely to bounce off.
3. Keywords
As with any kind of optimisation on the web, keywords are hugely important. It's vital to research what types of content people are looking for, what their intent is and how competition shows are optimising their content. Thankfully, the rules of engagement around keywords are pretty much the same whether you're trying to rank on YouTube or Google.
Here are my top tips for using keywords on YouTube:
YouTube search suggestions: This may be the most overlooked keyword research method – go on YouTube, type in what your podcast is about and see what else comes up. Sure, you don't get search volume, but it's a great way of knowing exactly what potential viewers are searching for a gives you a great place to start your research.
Use a tool: like Ahrefs, SEMrush, KeywordSurfer (Surfer SEO) to go deeper and prioritise your keywords using average monthly search volume and competitor analysis.
Setup upload defaults: Upload defaults are a great way of making the upload process faster. They are applied to each new video. You set a template title, description and tags so all you have to do for each video is fill in the blanks. You can do this at YouTube Studio > Settings > Upload Defaults.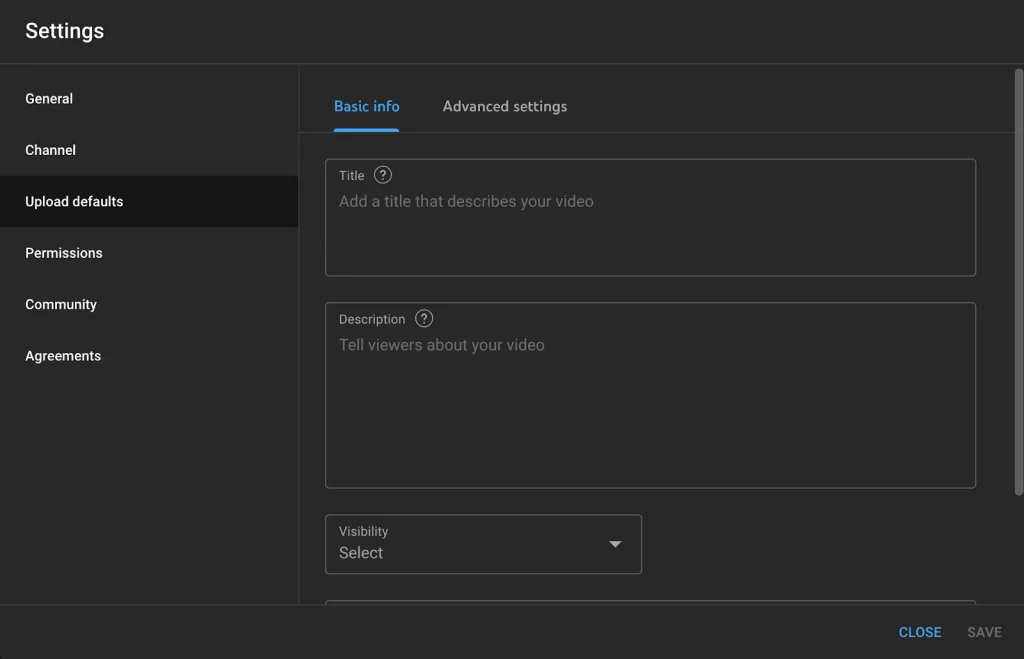 Channel tags: Setting your channel tags gives YouTube a really clear understanding of what your channel's overall context is. It's best to keep these broad, top level and highly relevant. Avoid spamming, don't put keywords in your tags just because they're popular right now. It'll do your channel no favours.
Hashtags: As with many sites, hashtags can be used to help users find your content by monitoring a particular hashtag. They also help with relevancy. I'd recommend using no more than three hashtags per video, and again, avoid being spammy.
4. YouTube Monetisation
In order to monetise your content, you must be a YouTube Partner.
To join the YouTube Partner Program (YPP) and make money from your videos, you need to satisfy YouTube's policies, live in a qualified country, and have no active Community Guidelines strikes. Here's the full list of requirements you must meet:
Activate 2-Step Verification for your Google Account
Have an active AdSense account linked to your channel
Have either 1,000 subscribers and 4,000 valid public watch hours in the last 12 months

OR 1,000 subscribers and 10 million public Shorts views in the last 90 days.
Then, you can apply for YPP from YouTube Studio. Your channel must adhere to the policies and guidelines to be approved. Once you're approved, you can start monetising your videos. Yay!
5. Low/no cost tools to help with production or optimisation
You don't have to have a big, flashy production or employ people behind the scenes to pull off a great podcast video. Even YouTube says that sometimes simplicity is good! Having a setup and style that's a little rough around the edges can be endearing, allowing viewers to follow your journey into maturity as your podcast gets bigger.
Here are some of my favourite tools to help you reach YouTube greatness for low/no cost.
YouTube Studio: This one is kind of obvious, but YouTube studio is definitely something you should make maximum use of. The analytics section is something you should explore and get familiar with.
Keyword Surfer: Free chrome extension for keyword research.
Canva: This is a graphic design tool that can be used to create custom thumbnails, channel art, and other graphics for your channel.
OpenShot: This is a free and open-source video editing software that can be used to edit your videos and add effects, titles, and transitions.
Google Trends: This tool can be used to identify popular search terms and topics that can be incorporated into your video content to improve its visibility.
TubeBuddy: This is a browser extension that provides a variety of tools to help optimise your videos, including keyword research and analytics.
Google Analytics: This tool can be used to track your website traffic, including traffic from YouTube.
Riverside.fm – A platform for high-quality remote podcasting and video recordings. Its benefits include excellent audio and video quality, real-time local recording, unlimited guests, and easy post-production editing capabilities. There is a very basic free option, so worth giving it a try!
Overall, these free tools can be incredibly useful for YouTubers looking to improve their channel's performance, increase their audience, and produce high-quality content.
Main Takeaways
Moving your podcast to YouTube can help amplify your audio episodes, build a following, and create a new stream of revenue.
Showing your face on video can make your content more engaging and improve your viewers' connection to your show. You don't need a fancy set; many podcasters simply add a camera to their existing setup.
Optimising for YouTube involves creating engaging content to keep viewers on the platform for longer periods, utilising playlists, adding captions and subtitles, and engaging with your community.
Free tools such as YouTube Studio, Canva, OpenShot, and Riverside.fm can help improve your channel's performance, increase your audience, and produce high-quality content without breaking the bank.
What's next?
Now that you have learned about the benefits of starting or moving your podcast to YouTube, it's time to create your own channel. You will need to sign up for a YouTube account if you don't already have one. Once you have created an account, you can create your channel.
When it comes to equipment and tools, do your research to find what works best for your needs and budget. You don't need to spend a lot of money to get started, but investing in good-quality equipment can make a big difference in the quality of your videos. Consider investing in a good camera, microphone, and lighting to improve the overall look and sound of your videos.
Keep checking the Captivate.fm blog and YouTube channel to ensure your podcast is the best that it can be. We regularly update our resources to help you with your podcasting journey. Whether you need tips on marketing, editing, or equipment, we have you covered. Our team of experts is constantly sharing their knowledge to help you improve your podcast and grow your audience.
Turning a podcast into a video may seem daunting but is undoubtedly worth it. By embracing the YouTube format and understanding how to optimise on the platform, you'll be able to grow your followers and turn your podcast into an even bigger success. Good luck!
Other articles you may find helpful:
If you're looking for podcast hosting, give Captivate a go and sign up to a free trial. Get access to the full platform and our highly-rated human support team.
Not yet started your podcast? Take our 45 second quiz, to identify the one blocker that is getting in your way, and we'll give you the next steps to overcome them!