Reading Time:
14
minutes
Podcasters have a golden opportunity to tap into search traffic, just like websites and video. To do this, your episodes and related content (like show notes, transcripts and blogs) have to be 'optimized'. That means carrying out podcast keyword research effectively.
Podcast SEO is a long-term, slow-build strategy that strikes fear into the hearts of a lot of podcasters. But, when done right, it will:
Give you a wealth of easy ideas for upcoming episodes and interviews
Build your authority within your niche and trust with your audience
Support your brand, business or services by generating organic web traffic
Make sure your podcast is available wherever people are searching, whether that's on Google, Apple Podcasts, YouTube or social media
The best podcast hosting, recording equipment and editing software will only get you so far. They're crucial for a great listening experience but that only happens after listeners have found your podcast!
My Simple, Reliable Podcast Keyword Research Strategy for High-Ranking Content
Growing your podcast audience using SEO comes down to creating highly relevant content that is discovered by potential new listeners. You want to make sure that the content you're producing is something your target audience is actually searching for.
I know you're not an SEO or marketing expert, nor do you have tons of time and resources to throw at learning a whole new skillset. So, in this guide, I'm going to walk through everything you need to know about doing keyword research for your podcast. I'll share my strategies for picking a topic, identifying search intent, then applying it to episode and content creation.
There won't be a huge learning curve and you won't have to splash out on another paid subscription, either. There's a lot to get through so get comfy and stick with me.
Podcast Keyword Research Explained
Simply put, Search Engine Optimization (SEO) is about giving your written and audio content the best chance of appearing in search engine results when people search for it. We've written about our best SEO tips in detail in our insider's guide. 
The exact same principle applies to marketing and producing your podcast. And, like all successful SEO, it starts with keyword research.
What is keyword research and how does it apply to podcasting?
An academic definition would be something like: a data-driven process to investigate and identify what words and phrases people use the most when searching for information online.
My definition is more simplistic.
Keyword research is about working out what digital content is most interesting to people.
Yes, it is a process and, yes, it is very much data-driven, but the emphasis nowadays is on people's intentions – not the exact keywords they use. Historically, this was not the case; if your content did not contain an exact match it wouldn't rank for that keyword.
These days, Google and other search engines (like podcast apps) are highly sophisticated and can 'understand' content more effectively. For this reason, it focuses less on exact keyword matches and much more on 'search intent'.
In fact, SEO is all about this concept, so much so that the term 'keyword research' should probably be altered to 'search intent research'!
What are keywords?
At their most basic, 'keywords' are simply the words people type into a search engine like Google.
Notably, a 'keyword' can be one word or several and are commonly referred to as: 'keyword phrases', 'keyword terms', 'search queries' and 'search terms'.
In SEO, keywords are much more than just words. We can analyze them and reveal all kinds of useful and valuable information to use in our podcasts. Take a look at this video we put together:
There are a number of different metrics around a keyword, but for research purposes we are primarily interested in just one: 'Search volume', or how many times a keyword is searched for.
Why is keyword research so important?
Keyword research is essential because it enables you to create highly relevant content that people are searching for on Google and listening apps.
Being able to analyze keywords we can ascertain the level of interest in any given topic, from storytelling to digital marketing. From here we can identify the underlying search intent which can then be used to formulate a content strategy. This might see you create a single episode or structure an entire series around a certain topic.
The bottom line is that search engine optimized content is data-driven rather than what you think might be of interest. No shooting from the hip here – only stuff you know is going to work.
By following the numbers, you know your podcast content is what people are interested in (i.e. being searched for) before you've even created it. It's an effective, sustainable way to plan new episodes and schedule in great guest interviews ahead of time.
How to Find Good Keywords for Your Podcast (Without Spending Tons of Money)
Keyword research is one way to boost your audio SEO efforts. So how do you go about finding the right words and phrases to target without a giant learning curve or splashing out on more subscriptions?
Currently, my work sees me interested in creating an online course, starting a podcast and learning web design. Here is my entire process of keyword research from start to finish – follow along for a simple SEO strategy that you can use for all your new podcasting projects going forward!
Step 1 – Picking A Topic
Let's assume you're creating podcast content for the first time.
The best way to get some ideas on what to talk about is by brainstorming with a series of questions:
Why did you start a podcast?
What niche have you got in mind?
If it's for a business, what sector do you work in?
Are there any topics you're passionate about?
Any dream guests or influential figures you'd love to invite on?
What problem does your podcast address?
Are there other similar podcasts and what do they focus on?
You get the idea.
Pose as many questions as you need to get a few decent high level topic ideas in your niche.
Next we're going to work out which high level topic has experienced the most search interest.
Use Google Trends to Identify Search Interest for Your Topic
Let's head to Google Trends and input our first topic idea on the home screen: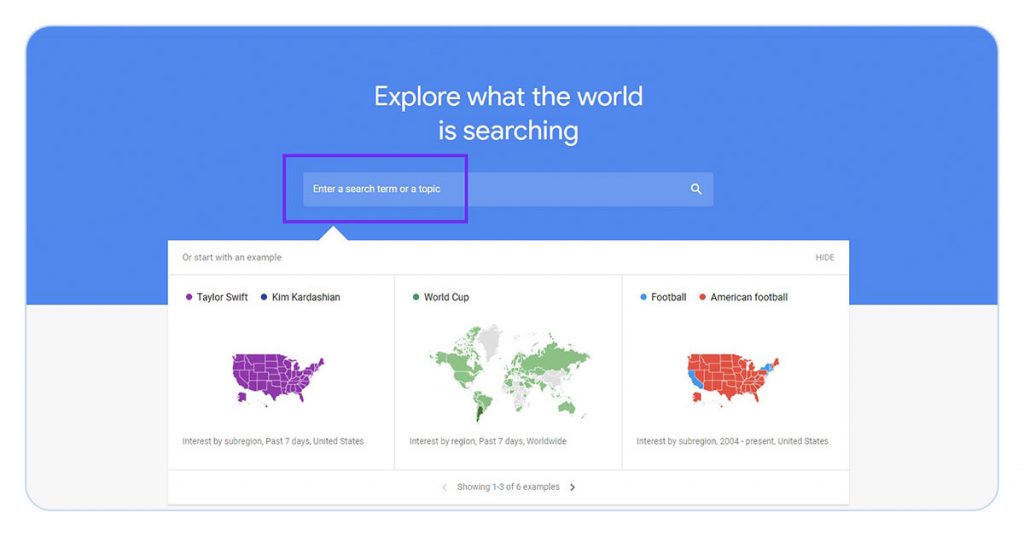 Then, add the others (as many as you like) accordingly in the '+ Add comparison' box: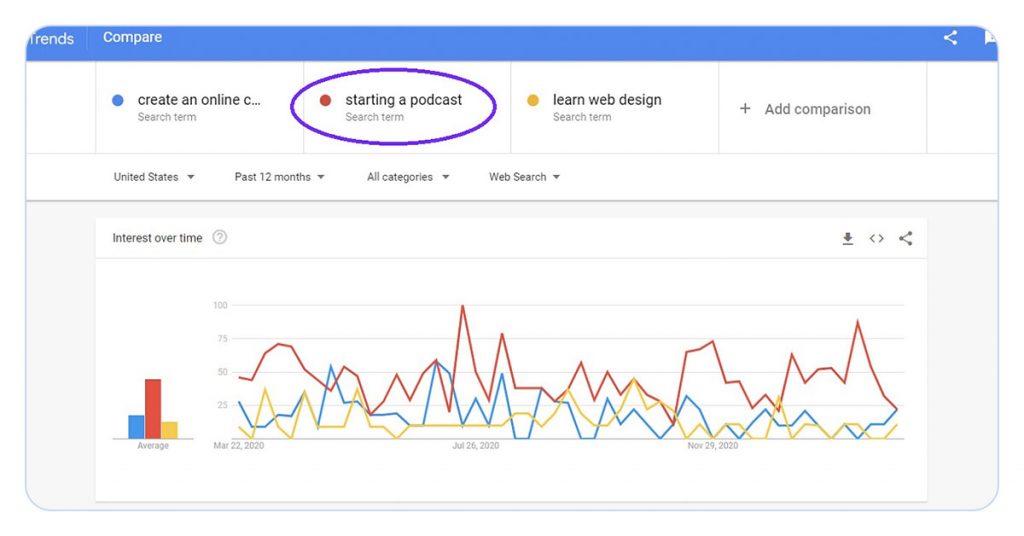 As you can see, 'starting a podcast' is my most popular topic as shown by the graph.
You'll also notice I've set the search to 'United States' – this is entirely changeable and should be focused on where you intend to grow an audience. In my case, the largest amounts of available traffic exist in America, even though I'm based in the UK.
Have a play with Google Trends to work out which of your ideas makes the most sense now. To be honest, I intend to create content on all my ideas but it's logical to go for the most popular one first.
To help your decision making it's always a good idea to check what the competition is doing.
All podcasters secretly want to be trailblazers but no-one can afford to veer away from the crowd. If you haven't already, answer the last question I posed above – are there other similar podcasts and what do they focus on?
Once you're convinced, make a note of the other options then move to step 2.
Step 2 – Identify Search Intent
Based on Google Trends and what my competition is doing, I'm going to choose 'starting a podcast' for my high-level topic (a.k.a. 'seed keyword' or just 'seed').
To analyze this properly and dig into the keyword data behind it we need to use a tool.
There are a few major SEO platforms that can do this, but Ubersuggest is the most beginner-friendly. Its user interface is less complex and it offers 3 free searches per day (if you need more, it has the lowest priced paid plans in the industry).
Firstly, we need to find out what the most searched for keyword term is in my high level topic. We do this to ensure we'll tap into the most popular topic.
First step: do people search Google using 'starting a podcast'?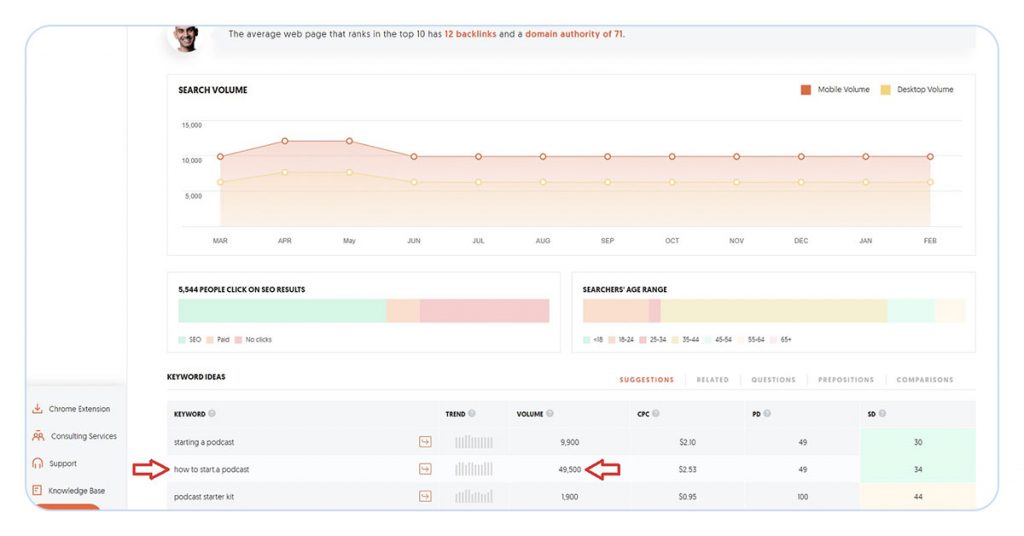 Yes, they do.
This particular keyword – 'starting a podcast' – has 9,900 searches during a month. At this stage, we're looking for anything above 1,000 so this is great.
But, look at my red arrows – there is another keyword that is used a lot more so we follow that term for research purposes.
It turns out 'how to start a podcast' is searched for 49,500 times per month: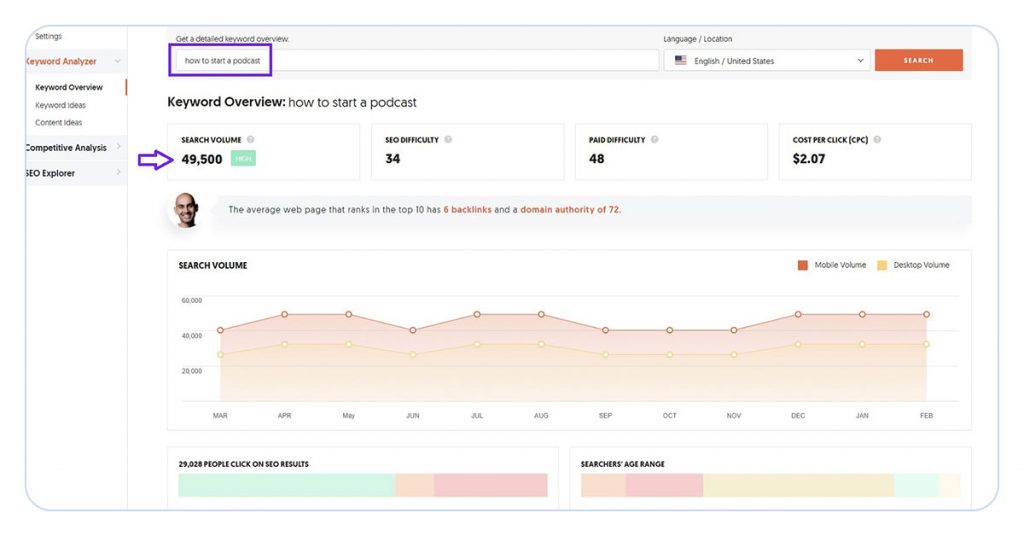 Typically, the bulk of the traffic for a high level topic will lie in the most obvious search query. If you're unsure whether you've found it, just search for the topic on Google a few times.
A common search term will repeatedly appear in some of the search result titles – that's usually the one you want.
Now we know what the most used search term is, we can use it to discover people's underlying search intentions within this subject area.
Next step: find good keyword ideas related to your topic
Click on 'Keyword Ideas' in the toolbar to the left: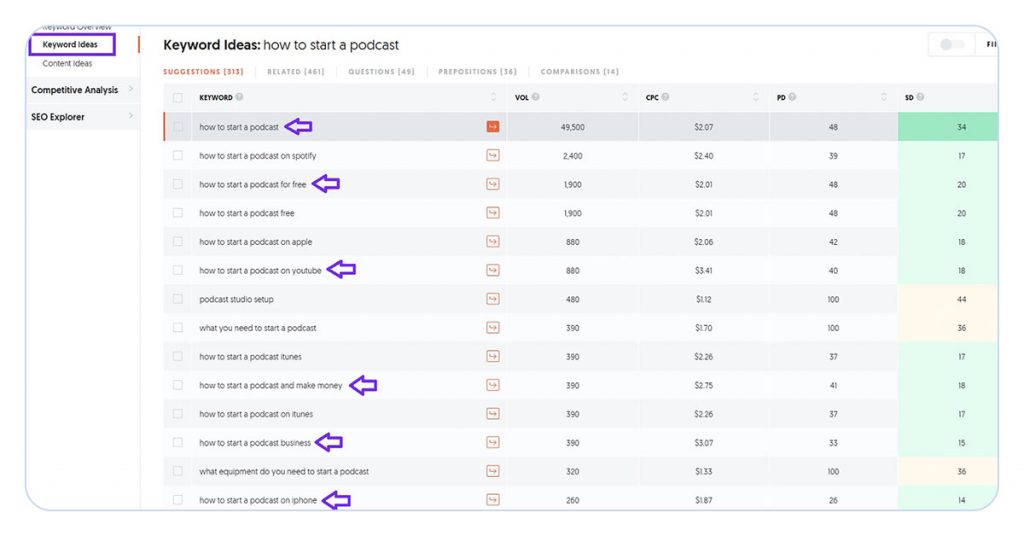 As you can see I've identified 5 keywords in addition to my seed (top of the list), which are:
How to start a podcast for free (1,900)
How to start a podcast on youtube (880)
How to start a podcast and make money (390)
How to start a podcast business (390)
How to start a podcast on iphone (260)
Why these keywords?
Bear in mind my seed keyword 'how to start a podcast', then look at the selections carefully – are they all searching for exactly the same thing?
No, they're not. Their search intention is similar yet subtly different which is what the first stage of research is about.
What's more, they have search volumes of over 200 (the minimum), and search difficulty ('SD' in Ubersuggest) of under 35. That means there is less competition to rank for them.
Pro-tip: Generally, keywords with a lower search volume and difficulty are much more achievable to rank for and will get you good results without using up too much of your time.
Note – you'll notice, I've ignored some of the keywords because they mean the same thing but aren't written as well. Also, I've left out the keywords that are nonsensical (e.g. 'how to start a podcast on apple') – remember, people search Google because they don't understand a topic, but that doesn't mean you can create credible content for them!
Next, we need to check the 'Related' tab for any other search intent: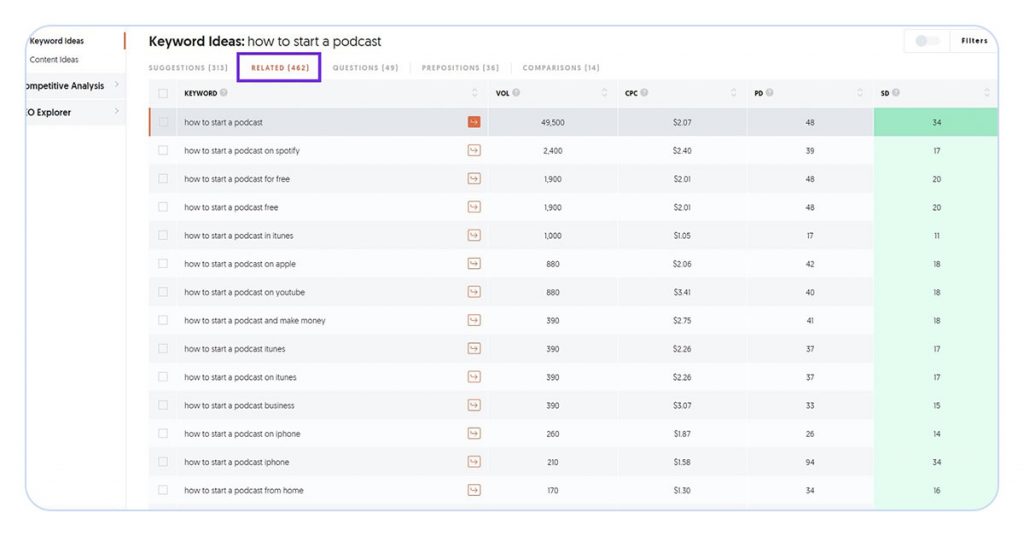 There's no related keyword phrases that indicate different search intent which doesn't surprise me but always check this just in case.
So, omitting my seed keyword (how to start a podcast) for a moment, I've discovered these associated search intentions:
How to start a podcast for free (1,900)
How to start a podcast on youtube (880)
How to start a podcast and make money (390)
How to start a podcast business (390)
How to start a podcast on iphone (260)
We know people are interested in these because of the number of searches every month (number in brackets).
Digging Deeper
So far, we've taken a high level topic – how to start a podcast – and identified 5 associated but slightly different search intentions. In other words, all 5 search terms are about starting a podcast, but each has a slightly different underlying intention, as highlighted in bold.
Now, we're going to 'zoom out' a little and then investigate these terms as well to collate more insight about people's interests.
To do this, I momentarily drop the 'how to start a' on each term, and search Ubersuggest for 'podcast for free':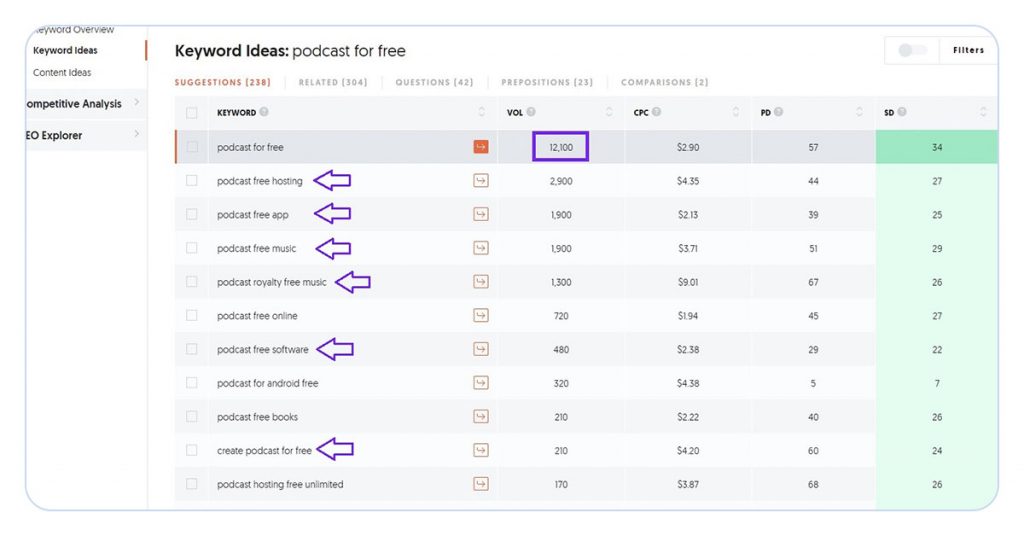 As you can see, this search term gets plenty of traffic at 12,100 searches per month (purple box).
I've noted 6 others keywords (remember – search volume over 200 & search difficulty under 35) that represent differing search intent within the topic of 'podcast for free', as follows:
Podcast free hosting (2,900)
Podcast free app (1,900)
Podcast free music (1,900)
Podcast royalty free music (1,900)
Podcast free software (480)
Create podcast for free (210)
Next, check the 'Related' tab like before: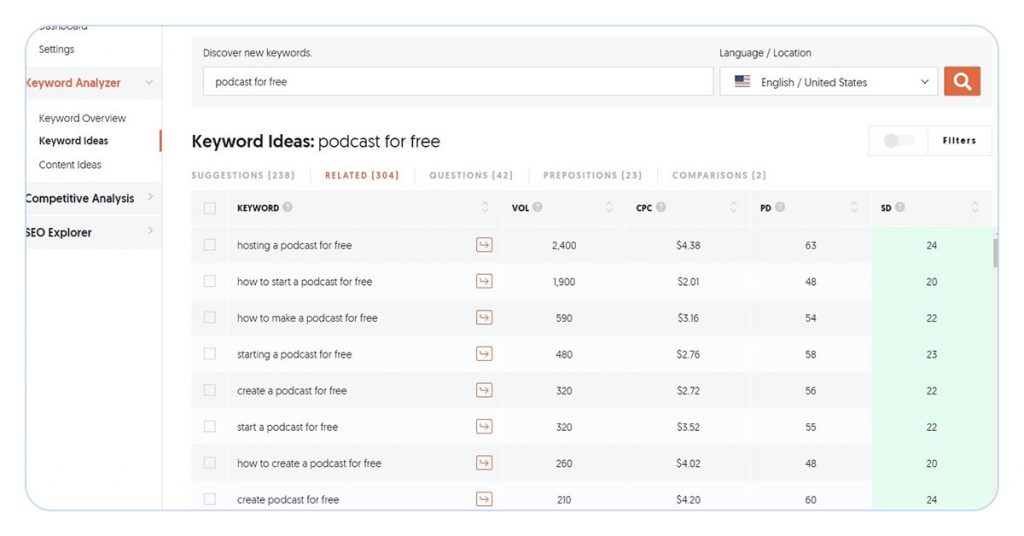 As you can see, most of the keyword terms under the Related tab are about starting a podcast for free which validates our findings so far.
In fact, in this specific area of interest – 'podcast for free' – people's search intentions make sense to me.
If you wanted to start a podcast for free, you'd need: free how-to guides and resources, free music (for episode jingles, intros, outros etc), and free software to record and edit your shows.
How to interpret our podcast keyword research
Let's recap.
So, for this example, we started with a seed keyword – starting a podcast – then we followed the data by working out what most people type into Google. It turned out to be – how to start a podcast with 49,500 searches every month.
Secondly, we dug into this term a little and revealed the following search intentions on the subject:
How to start a podcast for free
How to start a podcast on youtube
How to start a podcast and make money
How to start a podcast business
How to start a podcast on iphone
Then, we took the first term – how to start a podcast for free – and 'zoomed out' a little to investigate the free element of that search intention more fully.
This revealed other different search intentions that made total sense to us. Now, we know that people seek content on:
Starting a podcast for free
Free podcast hosting
Free podcast app
Free podcast music
Free podcast software
Note – I haven't used the keyword terms here that we found during the research.
It's crucial to remember that we're not identifying actual keywords to include in our content (that's step 3). We're trying to identify various search intentions at this stage.
Rinse & Repeat
If I still wanted to focus on the seed topic – 'starting a podcast' – I would do the 'digging deeper' step on all of the remaining 'how to start a podcast…' bullet points. So, the next one would be 'how to start a podcast on youtube' and in doing so, I'd work out the differing search intentions within this subject.
Hopefully, you can see that identifying search intent is a highly logical yet easy process.
The seed topic that you begin with can be on anything. It doesn't have to be a 'broad' topic that has dozens of subtopics but, of course, it can be. Your seed topic might also change during keyword research, or you might decide to set aside new seed topics for another day.
And, this is the crucial point.
By learning this process you're able to search-out what is interesting to people on any topic, big or small. You can 'zoom out', then choose where to investigate further ('zoom in') based on the data (i.e. search volume and difficulty) and based on top-performing podcast episodes.
There is no right or wrong direction providing you stick to these practices.
Step 3 – List Actual Keywords To Use
From step 2, we now know that people are interested in:
Starting a podcast for free
Free podcast hosting
Free podcast app
Free podcast music
Free podcast software
These search intentions are (you've probably guessed) subtopics within the topic of podcasting for free.
The third and final step is to list the best keyword terms that people type into Google for each subtopic (i.e. search intent).
Back in Ubersuggest, I've searched for 'starting a podcast for free':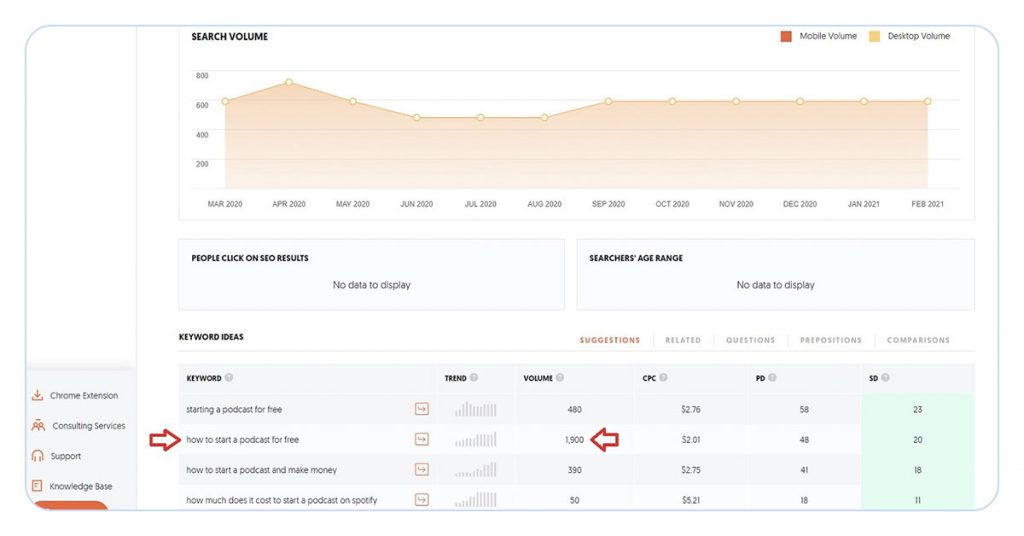 As you can see, there is a better keyword phrase 'how to start a podcast for free' which gets 1,900 searches per month and has acceptable search difficulty of 18.
Do the search again using the best keyword, then go to 'Keyword Ideas':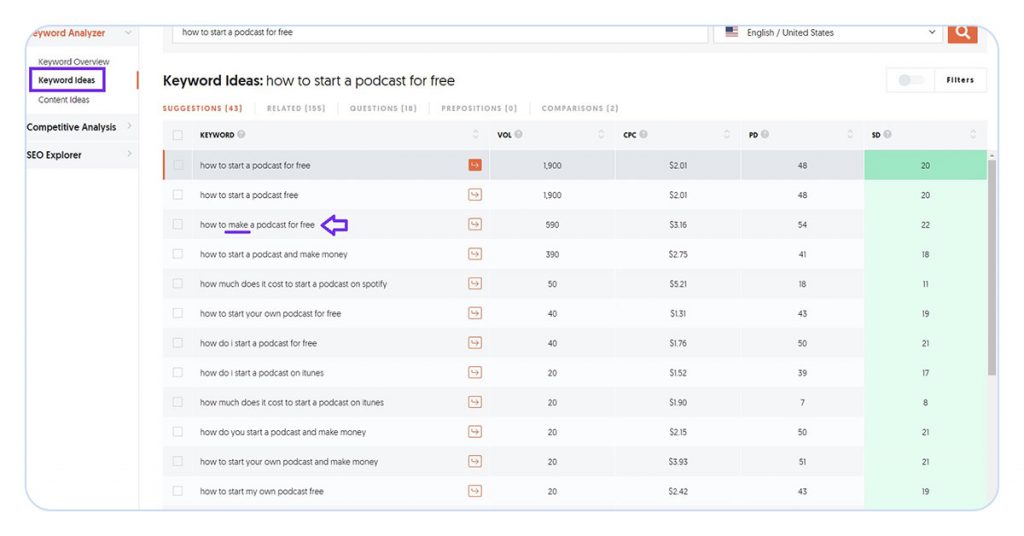 As you can see there is one other keyword worth noting (remember – search volume above 200, difficulty below 35) – 'how to make a podcast for free'.
There are no others under the Related tab, so I go to the Questions tab: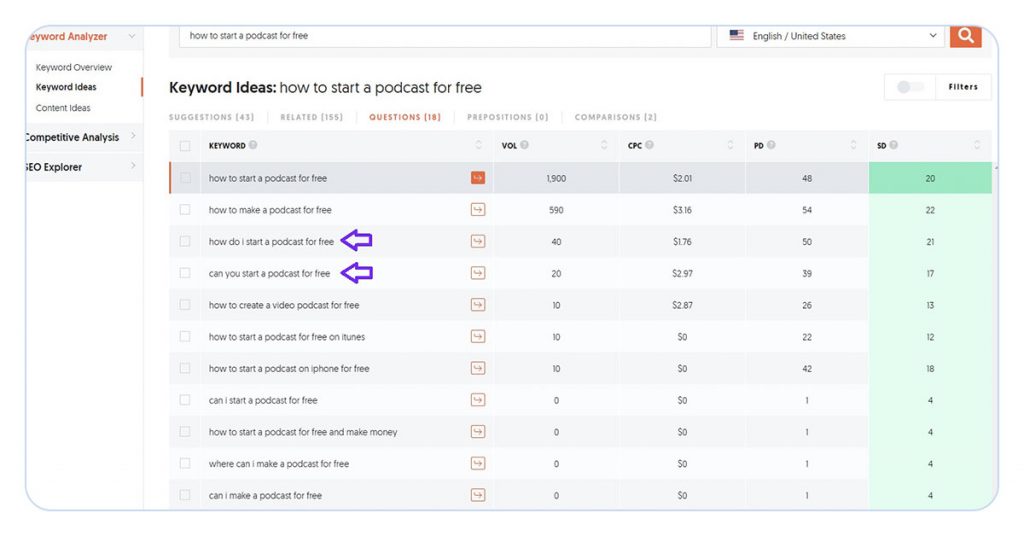 Here, there are two questions worth noting – you'll see I've only picked those that are specifically on this search intention and ignored the rest. Also, we're not bothered about search volumes on questions (more on that later).
So, my list of keywords and questions that need to be included in content on the subtopic 'starting a podcast for free' is:
How to start a podcast for free
How to make a podcast for free
How do I start a podcast for free
Can you start a podcast for free
I'll walk through the next one as well, which is 'free podcast hosting', to show the repeatability of the process: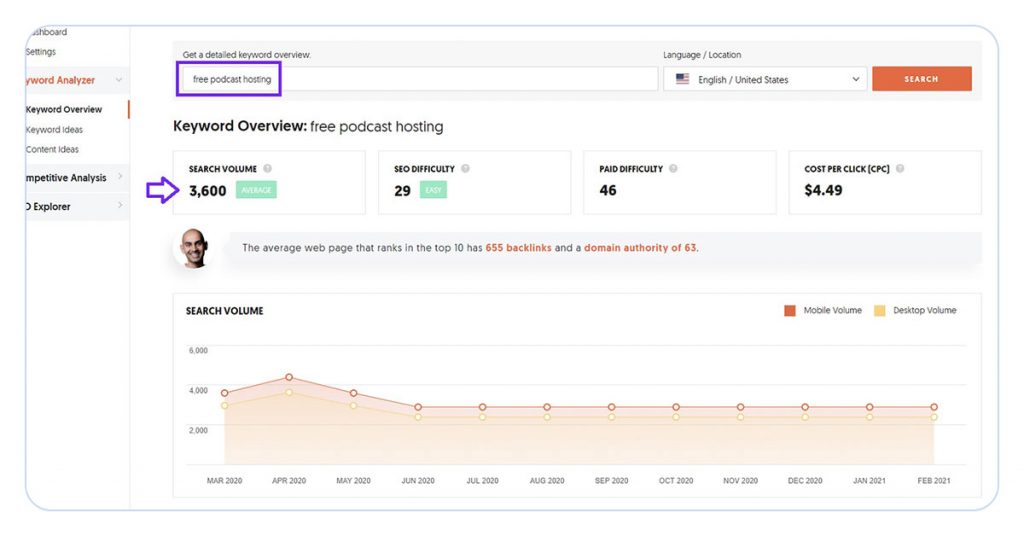 I'm confident 'free podcast hosting' is the most natural and searched-for term so I go straight to Keyword Ideas: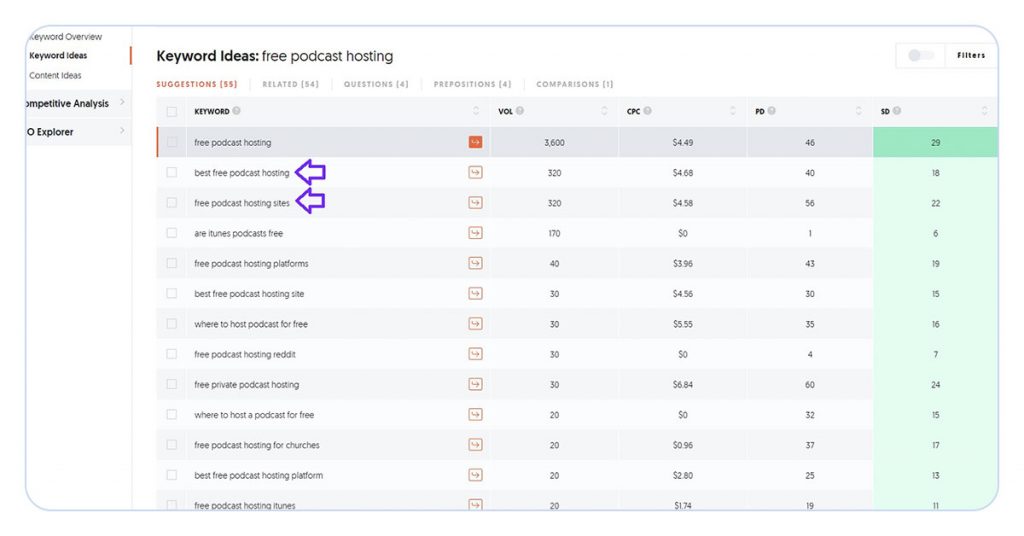 There are two keywords worth noting which are 'best free podcast hosting' and 'free podcast hosting sites'.
Under the Related tab, there are two more: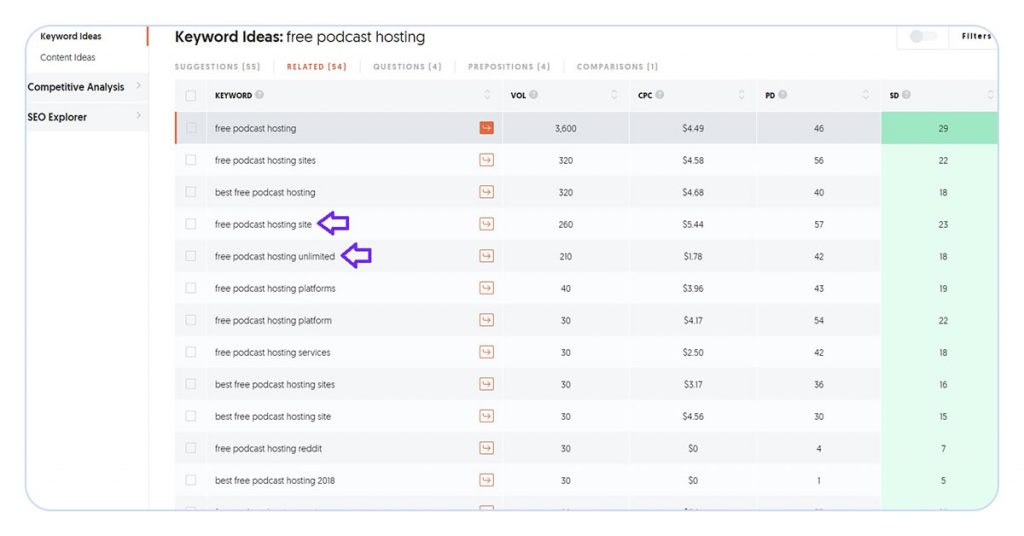 Once I've taken note of 'free podcast hosting site' and 'free podcast hosting unlimited', I finish on the Questions tab: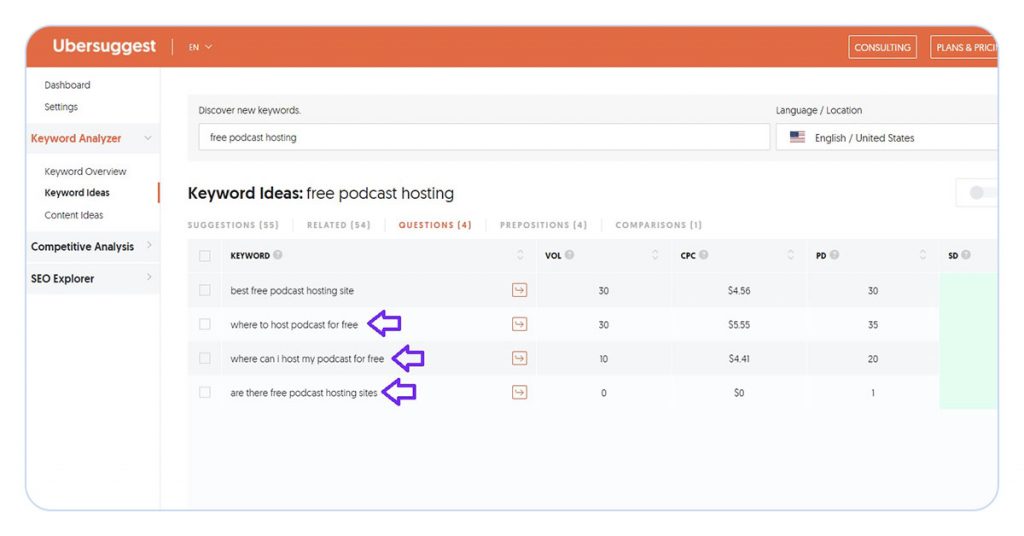 Here, the first result isn't a question so it's ignored but the other 3 are worth noting.
So for my second subtopic, 'free podcast hosting', the keywords and questions to include in my content are:
Free podcast hosting
Best free podcast hosting
Free podcast hosting sites
Free podcast hosting site
Free podcast hosting unlimited

Where to host podcast for free
Where can I host my podcast for free
Are there free podcast hosting sites
On second thoughts, I've decided that two of the questions are the same so I'll keep the one that is written well and get rid of the other.
It's quite common to do this because a lot of information is processed when you're digging into keywords. Never omit keywords on-the-fly. Always make decisions like this from the final list.
By the end of step 3, you should have a list of actual keywords to be used on each subtopic.
Podcast Content Creation
Now you have a list of subtopics and associated keywords and questions that need to be included, it's simply a matter of crafting your content around them.
SEO best practice is to focus on one search intention per piece of content.
This means one subtopic per podcast episode. So in my example, I'd probably craft a 5 episode mini-series on starting a podcast for free, structured something like this:
How To Start A Podcast For Free – A Full Walkthrough
Free Podcasting Hosting Reviewed and Ranked
Free Podcast Apps and How To Use Them
Free Podcast Music: What, Where and Why
The Best Free Podcast Software For Your Show
How to include your keywords in your podcast content
When recording your audio, you need to mention the keyword terms we listed for that specific search intent.
Use the subtopic keyword with the highest search volume in the episode title, preferably at the beginning, and make sure your content sounds natural. Google penalises over-use of keywords that are clearly forced into content for ranking purposes, known as 'keyword stuffing'.
Don't worry too much about this. Just structure your episodes (maybe with a script if you use them) – that will ensure you're hitting the right topics in a natural way that people will want to listen to!
I won't lie – you won't get loads of SEO benefit from optimizing your audio content.
Instead, paying attention to titles, chapter markers, structured show notes and long-form blog posts will get you the best long-term results as well as build your trust and authority with your listeners.
By doing this, you'll still satisfy search intent without sacrificing the quality of your audio and listening experience (which is what people tune in for above everything).
That's A Wrap… Kind Of
There's a lot to take in the first time round, so don't be surprised if you need to return to an earlier step. In fact, I'd encourage it because this is how you'll get to grips with it all, particularly working out search intent.
Remember the 3 fundamentals:
Picking a topic
Identifying search intent
List actual keywords to use
If I ever return to step 2, it's because I've changed my mind on the scope of my content. Sometimes subtopics are big enough to have their own subtopics but you don't realise this until later on.
It doesn't matter, providing you remember the golden rule: focus on one package of content (your podcast episode, optimized show notes, a blog) per subtopic to maximise its chances of ranking. Cover all bases of audio and written material and you will see results long-term.
3 Essential Podcast SEO Best Practices
It goes without saying that effective keyword research takes a lot of time and effort so maximising the chances it'll work is crucial.
Moreover, Google's capability with Natural Language Processing (NLP) – i.e. how well it can 'listen' to your podcast – is seemingly powerful but it's still not perfect. Therefore, we need to give it the best possible chance of understanding your content.
Here's the three most important podcast SEO best practices for fully optimized content creation:
1. Focus on Quality Audio First
Talking smoothly and succinctly is extremely hard unless you practice beforehand. Add keyword inclusion to this and you need even more test runs!
Preparing a script beforehand with the appropriate keywords in place really helps you find a natural rhythm. By saying things out loud a few times you'll learn to remove filler words, control your pace and relax more.
Additionally, a half-decent podcasting microphone will ensure the raw audio capture is high quality and crystal clear. This means the listening experience is rich for your audience and, of course, Google.
The last piece of the quality-audio-puzzle is editing your shows with proper software so that any unwanted interference is removed. This doesn't mean you need to learn professional grade audio editing; just be sure to cut out the obvious background noise that could distort your voice.
Pro-tip – walk around slowly, if possible, when practicing your script out loud because the motion helps you talk naturally and with emotion.
2. Write Your Episode
Always provide Google with at least one, preferably two, text versions of your episode because it still 'reads' this format more effectively than audio.
There are two ways to do this:
Transcribe the episode for the show notes (use your script to cut down on work)
Write a long-form, structured blog post about the episode's content to give your audience more ways to engage with your material
Whichever one you choose it's vital that the associated keywords in the audio are also included in the text, particularly the title.
Remember, be mindful of keyword stuffing by just using the keyword phrases naturally and within the flow of the copy.
Pro tip – the longer the post, the more inclusion possibilities (a.k.a 'length is strength' in SEO). Anywhere from 1500-2000 words is optimal, but generally you'll want to match or exceed what's already ranking on page one. Free tools like thruuu will give you the average length of posts on page one for your search term.
3. Remember Google Podcasts
Adding your shows to Google Podcasts is obvious but also forgettable considering the major podcast directories were always Spotify and Apple. It only takes a few clicks to index your episodes on Google Podcasts which is super-simple to set up.
Better still, many of the top podcast hosts, like Captivate, have this functionality built-in from the dashboard so it's even easier!
Pro-tip – check out Google Podcasts Manager for valuable insights on your podcast, including your organic keyword rankings (what people searched for to find your podcast) and further optimization opportunities.
Podcast Keyword Research: One Key Takeaway
If you're still with me, nice work!
You've just performed professional keyword research.
Obviously, practice makes perfect and there's lots to learn in order to perform each step proficiently. Just take your time and focus on the detail to ensure that you don't cut a corner and miss something.
And, remember the key takeaway of this tutorial: keyword research is all about search intent.
By working out people's underlying needs you know what the most relevant content is before picking up your mic. Providing Google can understand the content properly, your show should get lots more attention by tapping into search traffic.
But, the best bit.
New listeners will quickly become subscribers because your superbly structured content is just what they were looking for.
Recommended Reading