Reading Time:
10
minutes
As a podcaster, you can change peoples' lives. With the power of your voice, you can educate, entertain, and transform your audience.
However, clear audio and useful content alone won't make you a massively successful podcaster. To see phenomenal success, you need a loyal audience.
Your most loyal listeners will download each episode, share episodes with friends, and write rave reviews on Apple Podcasts and Podchaser. Backed by the collective reach of your audience, your podcast can easily transform into a profitable business.
Podcasting is still a new and exciting medium for audiences. As of 2020, there are well over 1 million podcasts out there, and as global distribution channels expand their reach, more and more people are actively listening to them: in fact, Edison Research estimates that well over 1 million people in the US listen to podcasts on a monthly basis.
Attracting loyal listeners who crave your content has never been more important. Yet, as podcasting becomes more competitive, how can you differentiate yourself, build a loyal audience, and grow revenue?
Answer: email marketing.
What to expect in this guide
So now we've covered the benefits of email marketing for podcasters, but how does it work? How do you start building an email list, getting your listeners signed up and new subscribers arriving all the time?
In this complete guide, I'll talk you through my practical advice and tips learnt working in email marketing day in, day out:
Tips for driving listeners to your mailing list
How to collect email addresses
How to incentivize sign-ups with lead magnets
Download the full guide now, for free, for:
4 do's and 4 don'ts for avoiding spam filters
8 essential email formats for podcasters, with real-world examples
8 professionally crafted, ready-to-use email templates
All the tools and personal recommendations that will save you time
Why is email marketing so important for podcasting?
Email marketing is the perfect way to consistently communicate with your audience. With email, you can send subscribers show updates, tease upcoming episodes, share your latest products, ask listeners for feedback, and much more.
But there are so many more reasons email marketing is a fantastic tool to build your podcast.
1. Connect with your loyal listeners
People like getting emails. Yes, I'm telling the truth.

More than 7 in 10 U.S. consumers would prefer to receive email messages from businesses over other forms of communication. Plus, podcast listeners are loyal. Once they find a podcast they love, they stick with it.

In fact, 88% of podcast listeners listen to most or all episodes of a particular podcast. So your audience wants ways to connect with you in other ways and hear what you have to say.
2. Grow your revenue
Email gives you a powerful channel to communicate through when you have a product to sell, bonus content to offer, or to promote a sponsorship opportunity.

This is because most people are accustomed to learning about products and making decisions in email (read: retail store emails). If you're selling a product or service, email marketing lets you build hype for it before it launches, tease content, and then host a product launch. Plus, with tools like segmentation and automation (we'll get to that in a bit), you can target emails to specific groups of subscribers that would be more interested or likely to buy.

Even if you're not selling a product with your podcast straightaway, email is still an incredibly valuable tool for connecting with subscribers, sharing new episodes and building your podcast brand.
3. Control your message
Email is the only marketing channel that gives you full control of your message. It lets you deliver the right message to the right people at the right time.

Thanks to tricky algorithms, social media doesn't give you the same power. Though the algorithms are always changing, and it differs by audience and engagement levels, many businesses' social posts will only be down to about 10% (or less) of your followers.

With solid email deliverability, you can be sure your message is getting delivered to your subscribers' inboxes.
Convinced? Let's get to the good stuff!
How to turn loyal listeners into eager email subscribers
Before you can begin sending emails, you need an audience of email subscribers eager to receive your content.
But where do you begin?
With the audience you already have. Simply asking for someone to subscribe is a great way to begin building your list.
Convincing your podcast listeners to subscribe to your email list means you'll need to show them what value they'll get as a subscriber. If you're providing top-notch content, they'll want to be in the loop.
Here are 3 tips to boost your email sign ups:
1. Create a simple, short, memorable URL
When referencing your email list on your podcast show, use a friendly URL, or create a redirect, to help listeners easily navigate to your landing page (or wherever you plan to send them to sign up to your email list).
An example of this would be www.yourdomainname.com/subscribe, or /join.
2. Create a clear call-to-action, and use it a lot!
Invite users to sign up to your email list at the end of the show. If you mention it at the beginning or middle, the invitation might get lost. Let your listeners know at the end that if they want to continue to receive awesome content from you, they should visit your site and sign up.

Say something like:
"…want to make sure you don't miss an episode? Sign up to get our email updates at yourdomain.com/join. You'll get every episode, exclusive bonus content, and free guides straight to your inbox every week."
Of course, what you say will depend on your offer and what it is you want to promote. But getting subscribers is as simple as asking.
3. Use your social media following or existing audience
Another way to grow your list is by tapping into your existing social audience.

If you have a Facebook business page, for example, be sure to promote your email sign up form on the page and in posts (you can do this with AWeber's Facebook forms integration!)

You could also pin a tweet with a link to your newsletter sign up form on Twitter or include a link in your Instagram bio: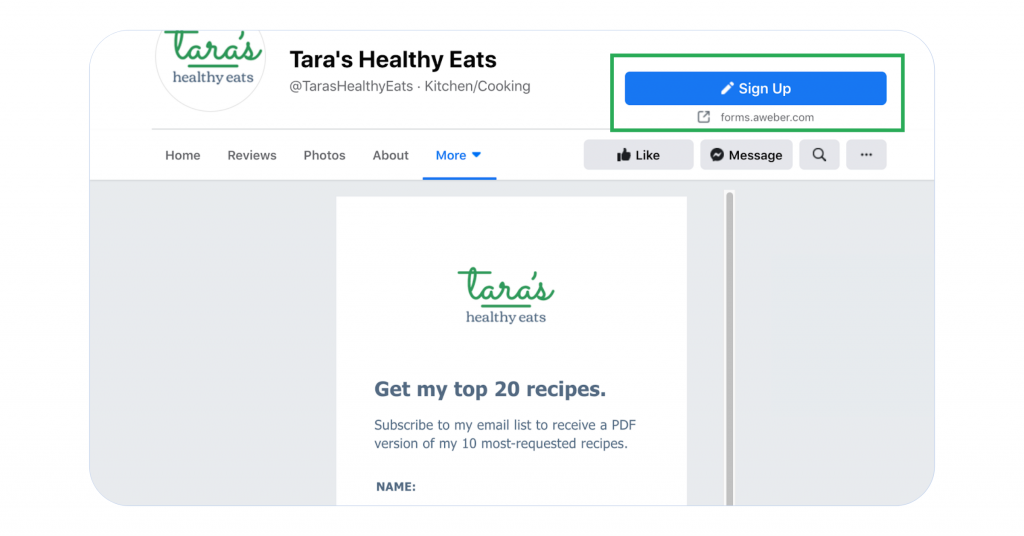 5 easy ways to collect email addresses for your podcast mailing list
Don't have a website? Set up a landing page.
A landing page is a single webpage that drives visitors to take one, specific action. It intentionally limits where visitors can navigate, because it is built with a very specific purpose in mind: to get people to take an action, like subscribing to your email list or buying your product or service.
Landing pages are a powerful part of the marketing funnel. This is the moment when curious or casual listeners become reliable podcast subscribers and fans. They're actively seeking out your expertise and agree that your offer is worth handing over their email address to get.
Landing pages typically include a sign up form (otherwise known as an opt-in form) to collect subscriber information, such as email addresses, names, interests, location, and more. It all depends on your offer and what information you need to send personalized content.
No matter what form your landing page takes, it's important to make sure it's discoverable by the people who matter: your listeners! Here are some tips for optimizing your landing page for more mailing list signups:
1. Put a sign up form on your website and social media
A sign up form gives your listeners a way to easily join your email list. You can simply ask for a name and email address on your form. Then, share a link to your form or website during a podcast episode.
So what should you write on your sign up form?
Inform your visitors what they'll get by signing up to receive your emails. This might be new episode updates, links to exclusive content or products, and special offers.
There are many types of sign up forms and locations you can place them on your podcast website. It's always worth experimenting with a few different styles to see which type your listeners are most receptive to. Here are a few that podcasters are using with great success.
2. Use an embedded sign up form for flexibility
An embedded sign up form is in a static place on your website, alongside other content. You can place one on your homepage, in your sidebar, within a blog post, or on a landing page dedicated to your email list.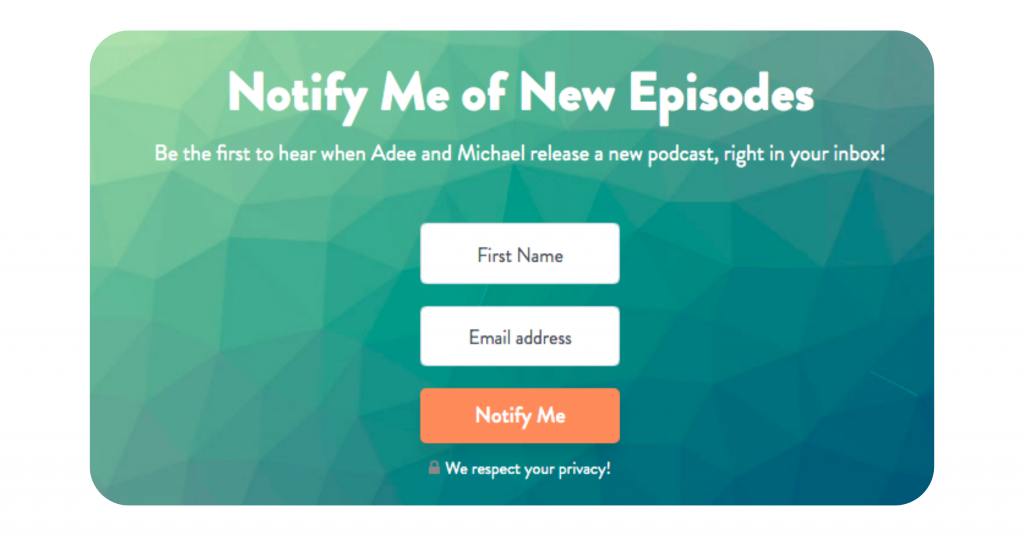 3. Use a pop up sign up form to encourage interaction
Since they appear in front of the content on your website or blog, pop up forms often get high conversion rates. After all, your user must interact with the form –– either by closing the form or completing it.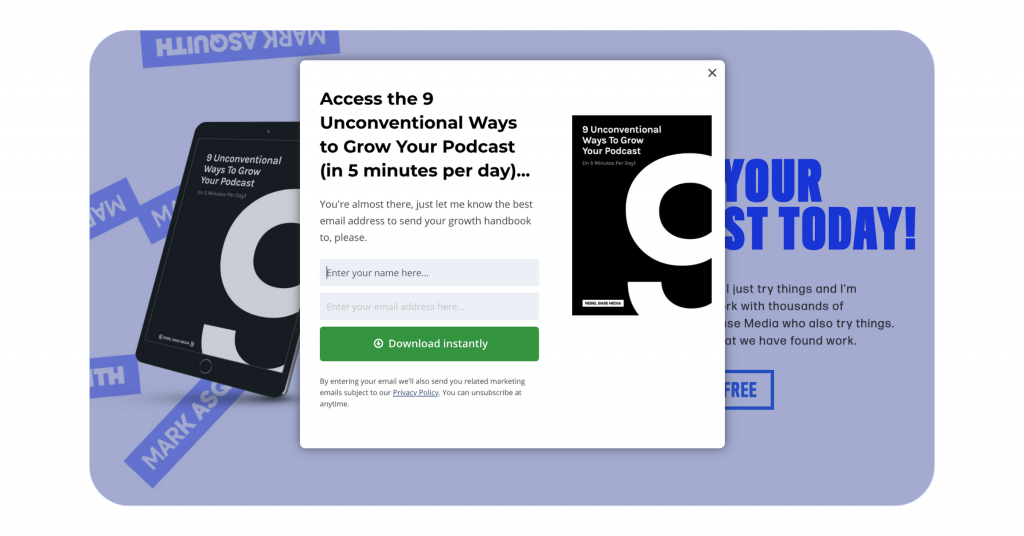 4. Use a notification bar form for greater visibility
A notification bar style form will sit at the top or bottom of your site or blog. Pop up forms can be disruptive for some audiences, and embedded sign up forms can get lost in the content. The notification bar form is a great way to ensure that new visitors can always see.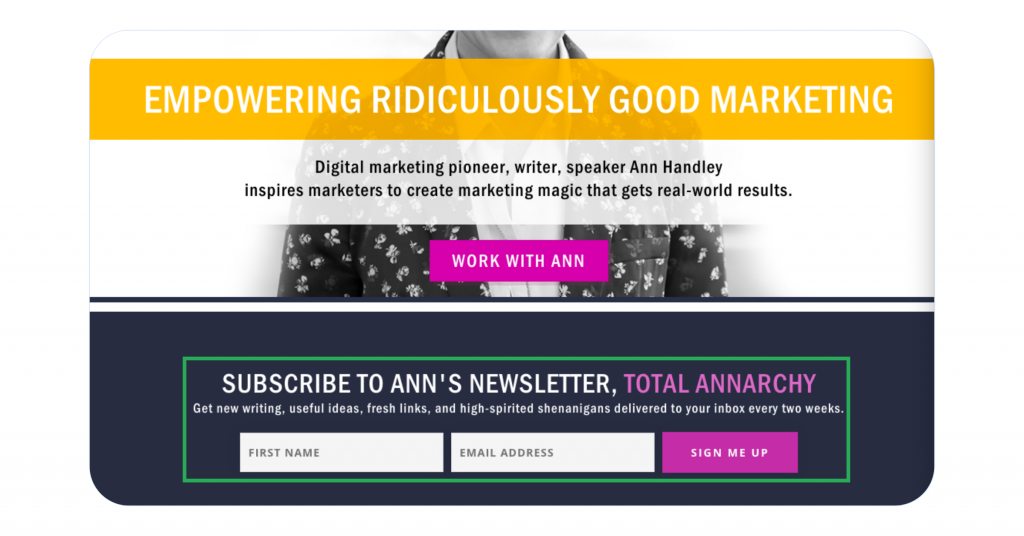 5. Add value with a slide-in form
As a user scrolls down a page, a slide-in form will appear on the bottom right or left of a visitor's screen. A slide-in form can be less intrusive than a pop up form but attain higher conversion rates than an embedded form.
You can often set slide-in forms to appear when a user has scrolled down a certain percentage of a page. For example, many businesses have their slide-in form appear once a person has scrolled 40 percent of the way down a page.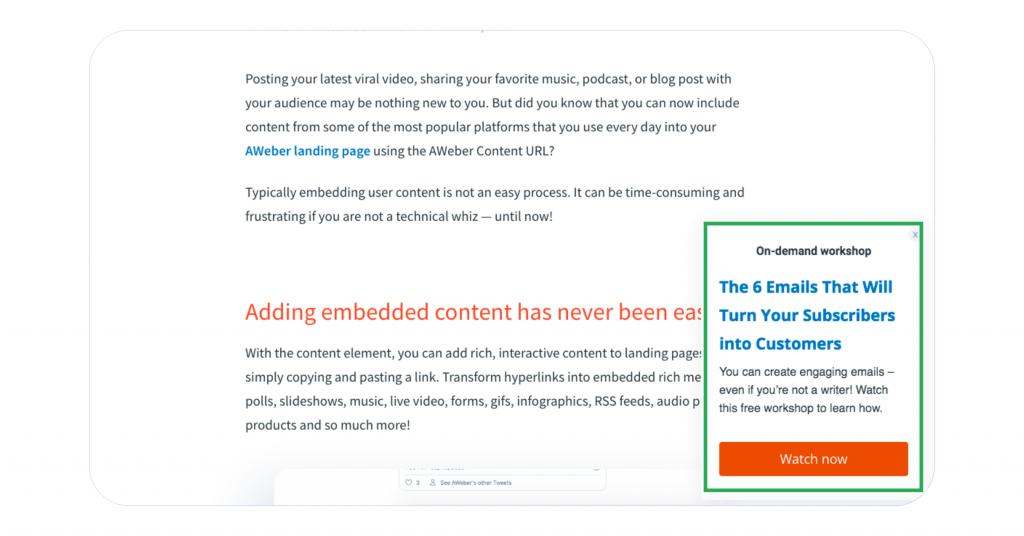 6 ways to incentivize your listeners and visitors to sign up with lead magnets
Once you have your form or landing page set up, you need to give your listeners a reason to visit your site.
Many podcasters offer a "lead magnet" to attract listeners to sign up. A lead magnet provides additional value to your audience and incentivizes them to join your list.
Strong lead magnets look different for every audience. When creating a lead magnet, understanding your audience and their pain points is a crucial first step. Without knowledge of why your listeners are turning to you for content, you won't be able to create something valuable that they'd be willing to hand their email over for.
Some common lead magnets include guides and ebooks (like the one at the bottom of this guide!)

But don't let this piece intimidate you; creating a lead magnet doesn't have to take hours of time.
Pro tip: As a Captivate podcaster, you can create your own lead magnets as part of your free built-in Captivate Site. You can even integrate your site directly with AWeber or Mailchimp to start collecting email addresses today! Learn how with our video tutorial:
Here are some examples of lead magnets you can use as a podcaster:
1. Checklists
If you have an audience that's turning to you for 'how to' advice, checklists are a great way to give visitors value, without taking up too much of your time. You might even have these checklists already created for yourself.
Example: Mike's podcast is about racing triathlon. He knows part of his audience is new to triathlon, and they listen to his podcast for beginner level advice. So Mike created a checklist of gear beginners need before their first race. Promoting this checklist at the end of his podcast episode about triathlon for beginners, Mike informed his audience of this resource and earned many new email subscribers.
2. Templates & calendars
Templates and calendars are a great way to break down processes for your audience. It helps them get started and teaches them how to do something for themself.
Example: Ryan teaches new entrepreneurs how to market their businesses online. He knows this audience is new to social media marketing and creating content for social platforms. To help them better plan their social media content, Ryan put together a calendar template that guides entrepreneurs about creating, scheduling, and engaging with social content.
3. Fill-in-the-blank materials
These resources are about as close to "done for you" as you can get. Fill-in-the-blank materials are incredibly valuable because they save your audience time and money — which will make them eager to sign up.
Example: Kelly teaches people how to grow their email list. To make it as easy as possible for her podcast audience to get started with email marketing, she put together a guide of 20+ subject line formulas for people to download. Now, all they have to do is plug in their own content.
4. Bonus episodes
Dedicated podcast audiences crave new episodes. Bonus episodes attract loyal listeners to exchange their email address.
Example: Alie has a podcast about weird science facts. Her audience tends to be people who enjoy science but aren't scientists. Alie releases bonus episodes to her email list on topics she knows her audience will love to attract people to her email list.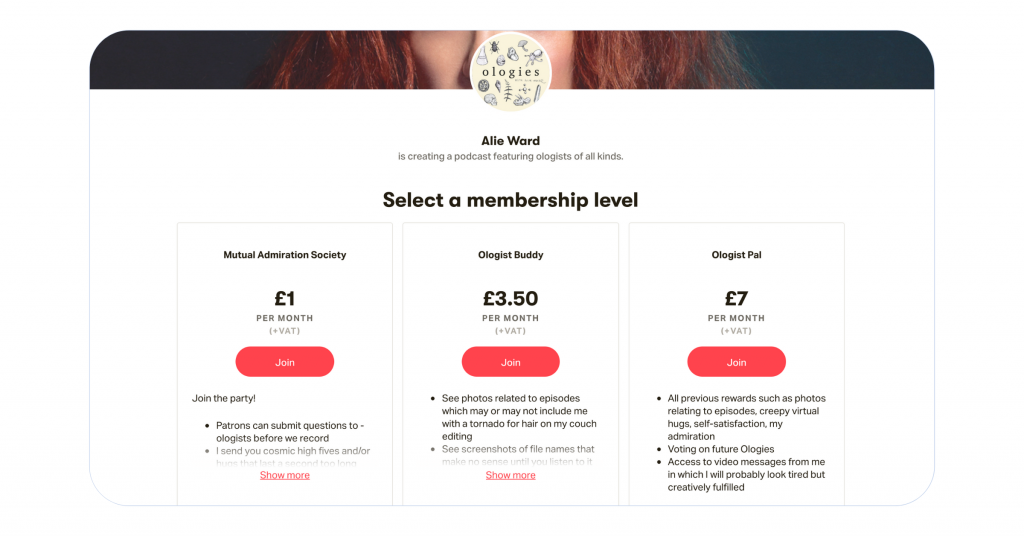 5. Exclusive content
Give your audience content that they will love, can't find anywhere else, and is super relevant to their interests in exchange for their email address.
Example: Jim has a Dungeons & Dragons storytelling podcast. His audience tunes in to hear riveting fantasy plot lines, that only Jim has a knack for writing. But Jim knows that his audience likes to play the game, too. So he wrote a few story starters to help D&D players kick off their own unique games. He gives these stories to his email list for free.
6. Access to member community
People want to be a part of something bigger than themselves; they want community. Giving people a place to gather with like-minded people is a great way to grow your email list while being authentic to your brand.
Example: Cathy has a podcast about going after your goals and starting a creative business. She also manages an exclusive member community for people who join her email list. Her audience loves sharing their passions with each other. Plus, they get exclusive content they can't get anywhere else, like monthly guest chats, live Q&As with Cathy, and more.
If creating something new is too big of an undertaking, simply post your show notes with some additional bonus content and a sign up form. Remind visitors that you have useful material to view, and they will have a reason to visit.
No matter what your lead magnet is, make sure it's relevant to your podcast listeners' interests, wants, needs, and pain points. Understanding your audience will help you create a lead magnet that helps grow your list fast.
Offer bonus episodes, exclusive content or membership access for free with Captivate private podcast feeds
Growing your podcast mailing list is simple with a powerful lead magnet. For most indie podcasters, that means access to back catalogues, transcripts, bonus content and more!
It's super easy to start your own premium podcast offering with Captivate. You can start a secure private feed, at no extra cost, no matter what plan you're on. Give back to your email subscribers with exclusive, private access to your podcast content, now!
Download the FREE guide to unlock 8 ready-to-use email templates
Once you've started growing an email list, you've only solved half of the email marketing equation. So let's talk about the other half: writing and sending your emails.
But what if you're not a writer, or simply don't like to write? What if the idea of sending a regular email newsletter sounds daunting?
I've got you covered! Download the rest of this guide for:
40 pages of free expert email marketing advice
8 essential email formats for podcasters (with real world examples)
8 ready-to-go email templates (just add in your details)
4 do's and 4 don'ts for avoiding the spam folder
All the tools and software recommendations you'll need to start your podcast mailing list, curated by the team at AWeber
What to do next
AWeber has all the tools you need to get started marketing your podcast for free. Sign up now!