Reading Time:
9
minutes
Podcast music can be confusing. There's all sorts of rules on what kind of music you can and can't use; arguments for and against fair use; mythical stories of someone's friend getting away with using Springsteen in one of their episodes.
I'm here to answer all your practical questions about podcast music as well as let you in on some trade secrets for first-class music production. In this blog, I'll explain:
How to choose the right podcast music for your audio brand
How to use podcast music properly to strengthen that brand
What kinds of podcast music you can safely use
Where to find the best podcast music, free and paid-for
At the end, you'll find a free package of 18 royalty-free, podsafe intros, outros, stings and background tracks I've put together just for you. Read on to download them instantly!
How to Use Podcast Music to Build Your Audio Brand
Have you ever been able to recognise a podcast purely from its music? I'm thinking of Stuff You Should Know's distinctive bed track, which they've used for years now:

Audio branding helps you leave lasting impressions, create familiarity and a feeling exclusively associated with your podcast.
Podcast audio branding isn't something that lots of podcasters think about, but it's important if you want to develop your podcast brand and become instantly recognisable to the ears of your listeners (just like Chuck and Josh).
So how can you achieve that for your own podcast?
Having your podcast 'branded' with music or podcast jingles sounds professional, gives your show a unique, recognisable sound and makes for great professional first impressions.
To do this, you'll need to think about the audio elements that make up your overall music package. That means your podcast intro music, transitions, stings and jingles.
Podcast Music Elements Explained
Podcast music isn't one thing on its own. There are in fact lots of different elements that make up a 'package' of podcast music. Combine them together and you'll have a coherent audio brand that helps listeners understand and buy into your podcast.
Podcast Intro
This is a professionally recorded introduction that summarises the podcast and it's purpose to the listener in usually no more than 30 seconds.
Podcast Outro
This is the last recording you play on the podcast – it should provide clear next steps for your listener (also called a call-to-action). This could be asking them to leave a review on Podchaser, to sign up for your bonus content or follow you on Apple Podcasts.
Pro tip: With Captivate, you can add your own calls-to-action within your embedded player to make it easier for listeners to follow them! Learn more about Captivate's custom calls-to-action.
Podcast Jingles
These are short audio transitions that help add structure to your content. They can be used to switch seamlessly between your segments, introduce guests or change the topic without any awkward pauses.
Podcast Ads
These are commercials that can advertise your own products and services or those of your sponsors. Adding music tracks behind your sponsored ad reads or calls-to-action can set the mood, tone and inspire your listener to take action
Similar to a movie, TV, YouTube, or book trailer, a podcast trailer is a short teaser or commercial which teases the topic, content, and highlights of your podcast. It can be an audio-only element, a video or both. It's a fantastic way to promote your podcast and help listeners understand what to expect from your show before committing to a full episode.
Here's an example of Spark of Rebellion's podcast trailer, which is crammed full of Star Wars references, sound effects and musical themes:
Pro tip: Get an expertly crafted, fully editable podcast trailer template by downloading our free Podcast Launch Accelerator crib sheet!
Music-Only Transitions or Talk-Over Music Beds
A music bed is an instrumental piece of music that sits underneath your recording, that you literally 'talk over'. These are often used by podcasters who are just starting out and are in the process of defining their own brand. Try a few of these out by downloading our free podsafe music package!
Regardless of what podcast branding elements you choose, music will likely be a part of it one way or another. Music in podcast branding is like a paint on the picture. It frames the entire composition, provides ability to arouse feelings and emotions, take listeners to a specific time or place and even bring associations with other events, people and places.
See? Podcast music is an incredibly powerful tool when used correctly!
How to Choose The Right Podcast Music
One of the most common mistakes you can make as a podcaster is picking music based on your own musical tastes and preferences. Whilst there is nothing wrong with it – I'm sure your music taste is impeccable – you are missing a huge opportunity by ignoring your audience!
To get the most out of your podcast music, focus on exploring the audience you want to reach. Think about your listener avatar and the content of your podcast, and how you could use music to reflect and enhance that. Ask yourself:
Is your audience linked to a specific location?
Are they likely to be a specific age group?
Is there a specific musical theme or era you can reference, that your audience will recognise?
When looking for a podcast like yours, are they likely to face any specific challenges or feel in a specific way?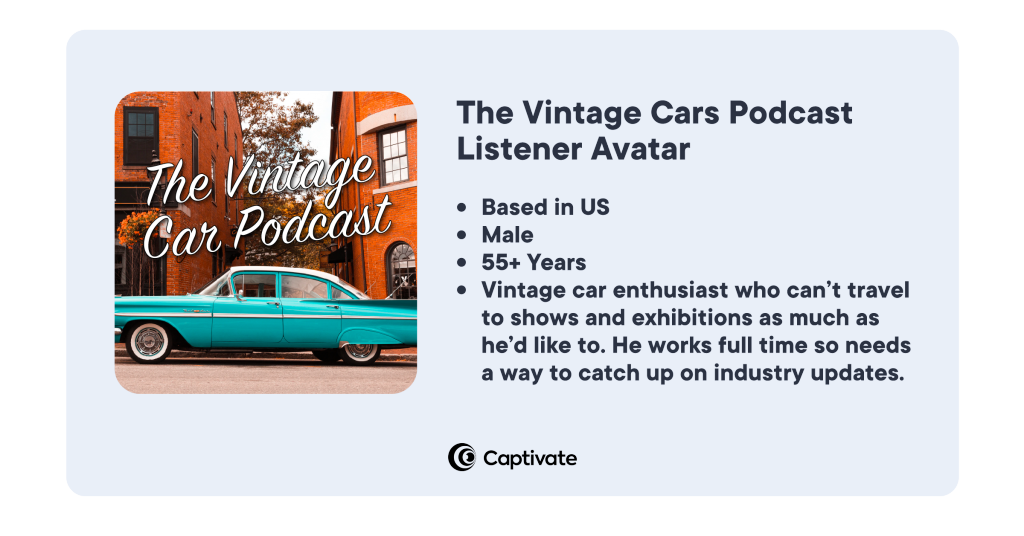 Here's an example:
Your podcast is about vintage cars. You are mainly targeting an audience in the US, although you recognise that the international crowd could be interested in your podcast. You know that 90% of the listeners are likely to be men aged 55+.
Knowing this fact alone will narrow down your choices. Yes, you still have a very wide range of options. However, creating your listener avatar allows you to step into the shoes of potential listeners and create audio branding that will resonate with them. You want to take them back to their first vintage car, how it sounded on the road, what might've been playing on the radio. Doing this with your podcast music will let listeners know you're with them, speaking their language – that your podcast is their new community.
Pro tip: Building your own listener avatar is a crucial step in producing your podcast. Download our free Podcast Launch Accelerator crib sheet and start the online course to create your own, with simple prompts, video tutorials and examples to guide you.
How Many Music Tracks Should I Use for My Podcast?
The answer is very simple – ONE. Remember that a podcast is not a radio show, you are not playing the music for the entertainment value. You are using the music to brand your podcast!
As with all decisions you make when you're starting a podcast, it's OK to change it after a while. The golden rule is that you should be consistent and use only one track across all of your platforms. This creates familiarity and subconsciously forms an audio image of you and your podcast to your listeners.
It's the same as a visual logo – you usually create one variation with a specific colour palette, you don't change the colour each time you use your logo. Music is just the same.
Where Can You Get Podsafe Music for Your Podcast?
Ready to get stuck in and find podcast music yourself? Let's take a look at where you can get it from, safely, without getting into trouble.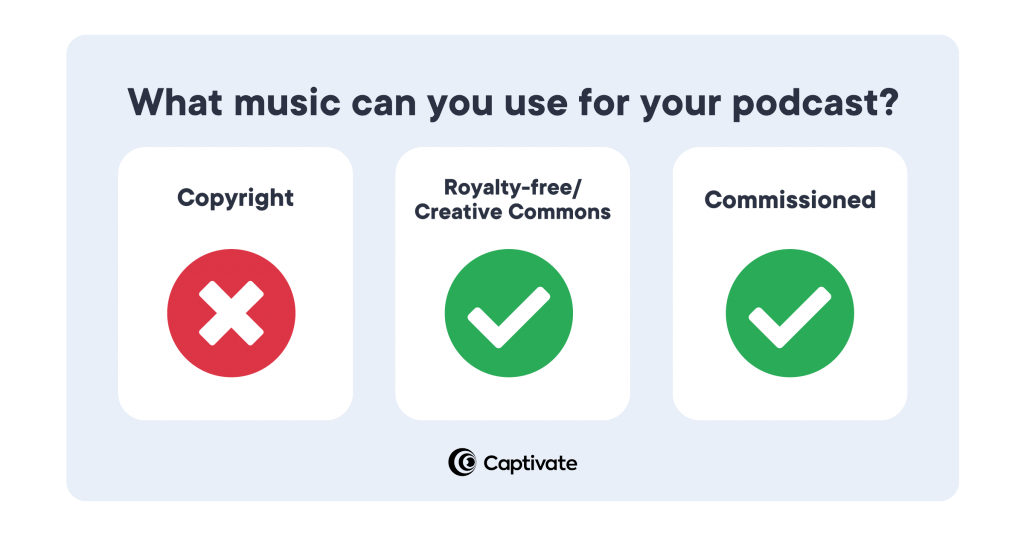 Can I Use Copyrighted Music in My Podcast?
No. Commercial music is protected by copyright law. It's illegal to use it in your podcast (no ifs, no buts). If you do use copyright music in your podcast, you risk being sued for copyright violation as well as take-down action from your podcast host as well as the directories. Bad news all round.
You can only use copyright music in your podcast if you've obtained the rights to it and explicit permission to do so. This is, as you'd imagine, pretty impossible for indie podcasters to do. It's a lot safer to either source royalty-free, podsafe music or commission your own podcast music.
Take a listen to this episode of The Podcast Accelerator for even more clarification:

What Kind of Podcast Music CAN You Use?
When looking for podsafe music you have a few free and paid options.
My friend's a musician – can I use their music?
Have friends and family in bands? You might be able to use their music.
If your friend or family member's music is subject to copyright law, you can't use it. Even if they don't hold copyright or get royalties from their track, you'll need to get explicit permission from them and/or agree to credit them in your podcast description or episode show notes. Do your research, ask and exercise caution before you do anything.
Using royalty-free or Creative Commons podcast music
Typing "royalty-free music" or "Creative Commons license" in Google search will bring hundreds of services that enable you to browse and download endless stock music tracks and sound effects.
Creative Commons music is made by artists who have made their compositions free to use and adapt. There are a few different Creative Commons licenses which dictate what you can and can't do, so read it in detail first!
Royalty-free podcast music refers to music that you'll need to license before you use it. That said, it's usually inexpensive and often only involves a one-time payment, so you can set it and forget it.
Remember to check your royalty-free music licenses!
When looking for royalty-free or Creative Commons music to use on your podcast, make sure that the usage license covers you for the following:
You can use your chosen music in multiple podcast episodes with no download restrictions.
If you plan on playing music on its own (with no added voice over), ensure the license allows you to use and distribute it with no adaptations. You would be surprised how many of the services don't allow for this!
If your podcast is for business, ensure that commercial usage is allowed.
Think ahead of the time. Will your podcast (or part of it) be played on other platforms such as terrestrial radio, YouTube etc? Make sure the license will cover you for that usage as well.
My experience has shown me that time and time again the small print can be confusing and leave more questions than answers. I also know that the usage terms of many services have changed in recent years due to the growth of podcasting and other online platforms.
Read your license in detail and make sure that you are covered now and when your podcast reaches 1000s of listeners a month.
When in doubt, use specialist services such as Music Radio Creative who will guide you through what can become a complex process of compliance AND sounding great at the same time.
Get professional, custom podcast music from Music Radio Creative
Paying a professional to create your music for you is a guaranteed way to get quality, branded and bespoke audio straight off the bat.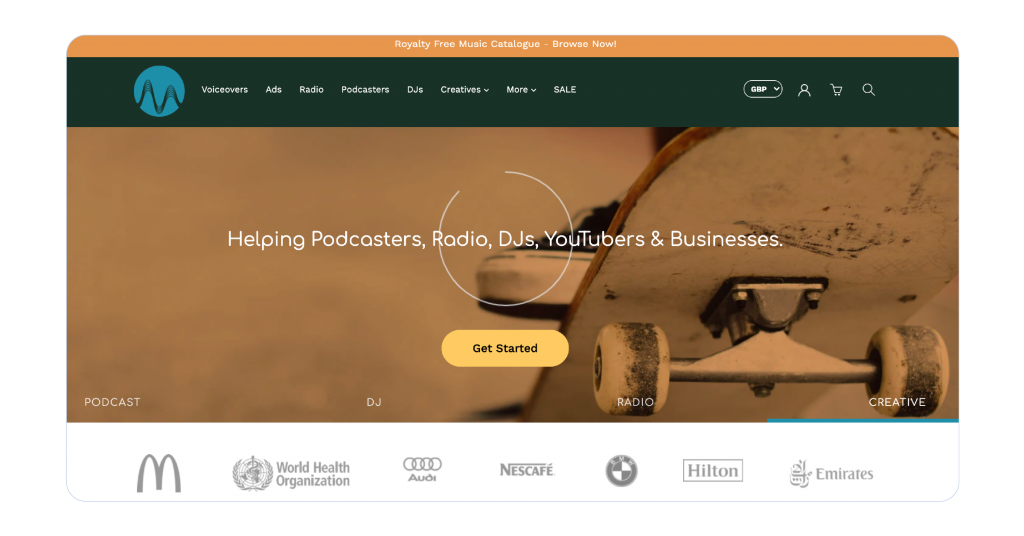 The pros are that the musician or service will create your intros, outros, jingles and beds for your specific use case, meaning you won't get into trouble further down the line. That music is yours, and you can use it however you like. If you want to add or diversify your audio, you can just go back to the musician or service who can easily create more assets on the same theme. It's a really flexible and customizable option.
How much can you expect to pay for a custom composition?
Prices vary, but the finished product will be well worth the cost. Paying a professional musician or service always feels good and will always get you a better end product than free options.
Recap: Your Sound Matters – Don't Compromise It!
Defining your own audio brand can take time, so don't rush it!
It's such an important element and it can evolve together with you and your own podcasting journey. When you are launching a podcast you should ensure that you launch with professional, recognisable podcast music to support your content.
Remember, you can always change your sound as your podcast develops! The most important thing is that your audience has a good listening experience – and music is an important piece of that jigsaw.
6 of the Best Places to Get Free Podcast Music
Here are 5 of my recommendations for free podcast music. Check whether you need to give attribution!
Among thousands of royalty-free stock images and videos, Pixabay offers a huge library of music suitable for commercial or non-commercial use. No attribution required.
YouTube has a big bank of free music and sound effects that is updated and refreshed regularly.
This is a great place to get free Creative Commons, royalty-free music from independent artists. Licenses vary, so check your chosen track carefully to see if attribution is required.
A favourite, with new tracks added every week. It's focused on rap, hip hop and beats music, and you'll need to include a short attribution in your show notes.
5. Captivate x Music Radio Creative Library
The podcast music producers at Music Radio Creative have prepared a selection of 18 podcast jingles, music tracks, podcast intros and outros for you to launch your podcast with.
A bank of 500,000+ royalty free music options, with a whole load for free. Grouped by genre and mood.
Do I Need to Give Attribution?
No – the tracks in this podcast music pack are free for you to use with no restrictions on usage. We hope they will inspire you to create your own professional sound that gives your podcast a unique cutting edge sound!
Have a listen to this selected playlist and download the full package of free podsafe music below! All tracks are MP3 format.

Music Radio Creative is a leading audio branding company helping podcasters, businesses and radio stations to sound great since 2006. We provide professional voice overs, bespoke intros + outros, podcast editing and audio branding packages.
With clients in over 130 countries, we're trusted by organisations such as the World Health Organisation, NASA, AKG, Adobe, as well as thousands of independent podcasters. You'll find it hard to choose a better company to work with on your podcast audio branding.
What To Do Next