Reading Time:
9
minutes
Recording a podcast is a huge milestone: after all the prep work, it's finally time to take your podcasting off the page and into the ears of your listeners. But what about podcast recording equipment?
If you're an indie podcaster, the chances are you won't have access to a full studio setup with all of the latest gear. Instead, you'll be recording at home, remotely, potentially with guests in several different locations.
That doesn't mean you can't create professional, high quality results from your podcast audio in a home setting! In fact, lots of popular podcasting tools are built to give you a great sounding show wherever you record. Better still, you don't have to have tons of know-how or technical experience to achieve consistent, quality audio.
With that in mind, here are 8 of my top equipment, software and technique recommendations for recording high quality audio (and video!) wherever you are, whatever your budget.
Put this Guide into Practice with Help from the Free Podcast Launch Accelerator Course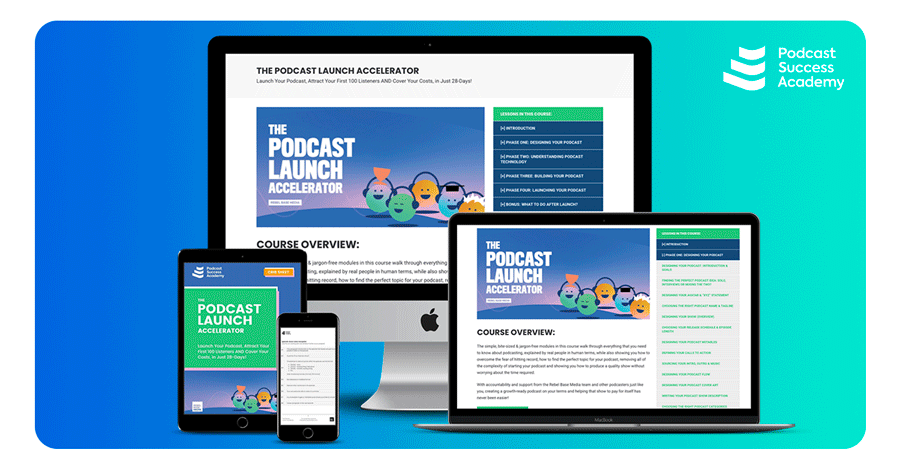 Sitting down to record your first podcast episode is something to celebrate, but we've seen lots of podcasters give up before even getting that far! Why? Lots of people make choosing the equipment and software sound pretty complicated, confusing and expensive – when actually, it's the opposite.
To prove it, we've put together the Podcast Launch Accelerator crib sheet to bring clarity and action to every step of the podcasting process, including how to record your episodes.
What you get in the free crib sheet:
30 pages of guided prompts and exercises to make starting a podcast manageable, fun and stress-free
Show notes templates, pre-recording checklists (for guests, too!), where to get music, intros, cover art and more
PLUS free, unlimited access to 5 hours of video demos and honest reviews of podcasting equipment and software (no credit cards required!)
Plus, it's all bite-size, simple to follow, and completely free, so get registered and start launching your podcast today!
8 Recording Tips for A High Quality Podcast
What's the best way to record a podcast? Let's find out!
Here are 8 tips, techniques and recommendations for recording high quality audio for your podcast. Some are free, some cost a little money, but every one of them will allow you to produce a professional-sounding podcast whatever your circumstances.
1. Prepare Your Episode for Recording
If you've never recorded anything before, I recommend writing a short outline before you fire up your computer. Planning and structuring your episode is important for a few reasons:
It'll help you stay on track and on topic, which leads to better quality content
It'll speed up the edit (or even take away the need to edit in the first place)
It gives guests an idea of what to prepare for
It makes writing your show notes a lot easier
There's nothing worse than coming to record and forgetting what you wanted to talk about, or having to comb through half an hour of idle talk for worthwhile content! Instead, sketch out a rough outline for your segments, shout-outs, main topic and calls to action. That way, you can make sure nothing gets missed, stay on track and produce episodes that you're proud of.
To script or not to script?
Creating a podcast script is a bit of an age-old debate. For some podcasters, it feels like an unnecessary step that takes too much time and leaves little room for the all-important host-listener dynamic. You might want your show to feel casual and improved, in which case scripting isn't the best option.
On the other hand, a fully scripted podcast can be useful if your podcast is crammed full of research and details (like Noble Blood, Hardcore History and Casefile). You can even offer your scripts or research as premium content or use them as detailed show notes.
It's really up to you whether you script or not. In most cases, a simple outline is enough to prepare for recording. If you're wondering whether or not to script your show, check out our video, "Podcast Scripts: Do You Need One?":
2. What Equipment Do You Need for Recording a Podcast?
You've prepared your episode and are ready to start recording! How do you make it sound good, and like you're recording from a studio rather than an echo tunnel?!
Everyone has their own preferences and setups when it comes to equipment. Don't overwhelm yourself by Googling different microphones, DAWs (Digital Audio Workstations) and mixers right off the bat. Instead, focus on creating great content and becoming a skilled podcast host first, because ultimately, that's what keeps listeners around. If you like, you can upgrade your tech later on.
Here is the essential equipment you need to record your podcast (you already have most of it at home!)
Disclosure: Some of the following links are affiliates, so we'll receive a little commission if you choose to buy (at no extra cost to you)
3. Get Your Podcast Recording Kit Together
Choose a microphone – I recommend the ATR-2100x or Samson Q2U for value and flexibility. Both have USB and XLR outputs, which means you can use them with just a PC/Mac. They're the best bet for recording solo at home or over the internet with others.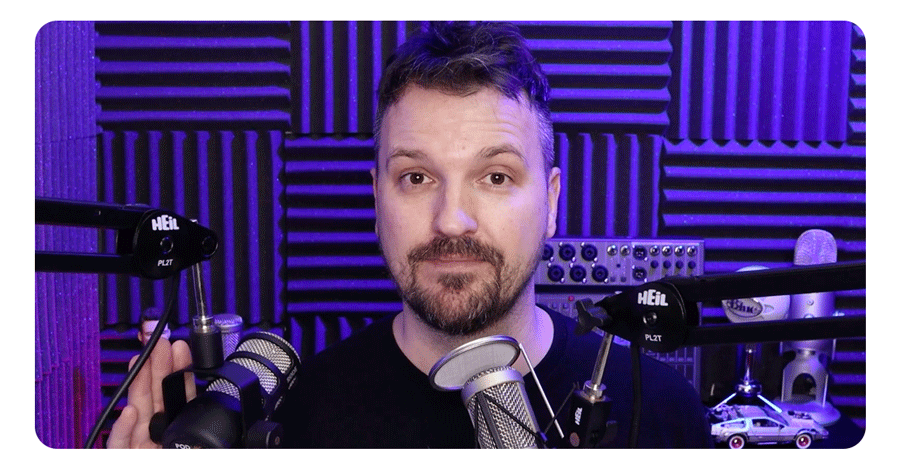 4. Make Your Podcast Sound Good
Your goal whilst recording a podcast is to let the microphone record clean sound. This is easily achievable at home or in non-studio settings with these neat DIY tricks:
Your room needs to do its best to absorb sound rather than reflect it. Avoid hard surfaces and large rooms as they give the sound more opportunity to bounce around.

You can reduce reverb at home using towels, sheets, blankets or coats for a zero-cost solution. If you have a bit of budget, you can invest in some foam insulation pads for your walls or a microphone shield.

Use a foam cover or pop filter. These are inexpensive and make a huge difference to your audio by lessening the hard noises everyone tends to make when they're speaking naturally.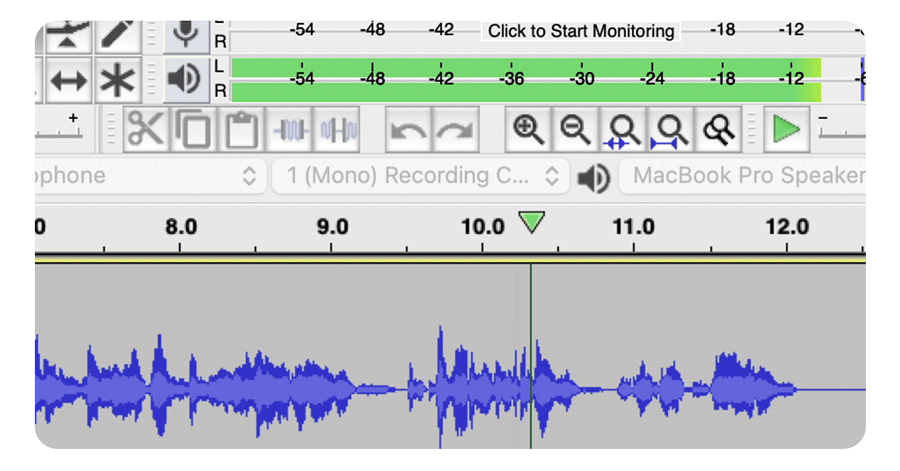 Check your levels by making sure you're in the green, not the red. You can do this either in your computer settings or whatever you're using to record. Do a test recording and listen back so you can catch any harsh sounds or clipping before you run through an entire episode!
Get your free 8-step pre-recording checklist
We've learnt hundreds of lessons (some the hard way) over the course of 8 years in podcasting. We've condensed them all into a simple, 8-step recording checklist so you can sit down to record confidently, both solo and with guests.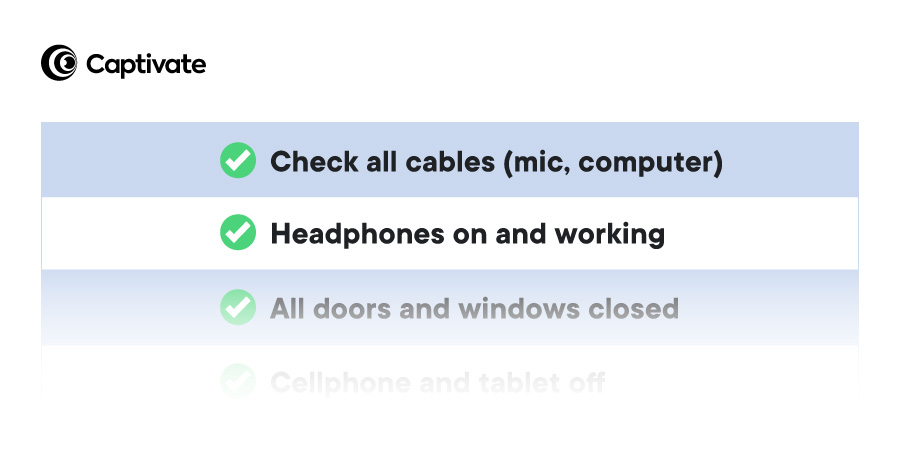 5. Choose Your Podcast Recording Software
What's the best software for recording a podcast?
There are loads of options for free and paid podcast recording software. Here are my recommendations for the best software to use for recording solo, with guests, and into a cell phone!
Some of these options can be used for both recording AND editing a podcast. For all of our podcast editing software recommendations, make sure to check out our guide. For full video demos and in-depth tutorials on how and why you should edit your podcast, join the free Podcast Launch Accelerator course!
6. Best Software Recommendations to Record a Podcast Solo
If you're recording a podcast on your own, you have the easiest job of all. Use Audacity or Alitu for straightforward recording and editing. Captivate even integrates with Alitu to publish or schedule your episode instantly!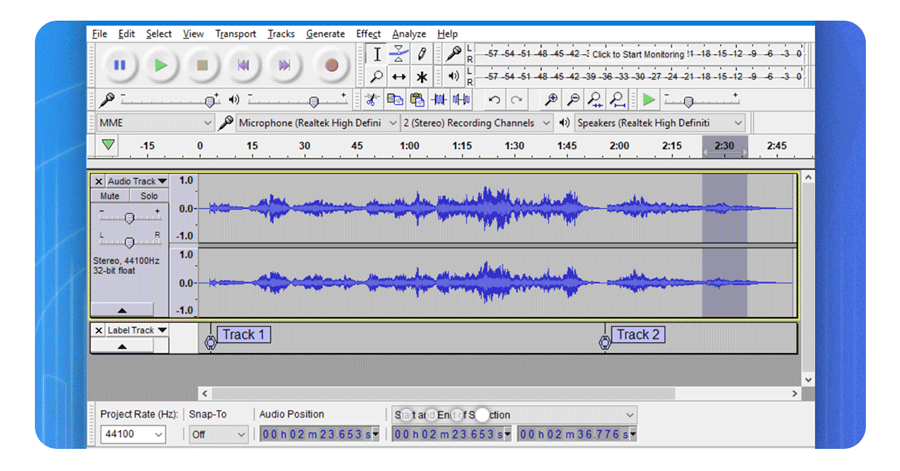 FREE – Audacity
A lot of podcasters cut their teeth on Audacity, because it's free, easy-to-use, works on both Mac and PC, and you can edit on it too. It's a really good all-rounder, and because of its popularity, there are hundreds of in-depth tutorials on just about every feature.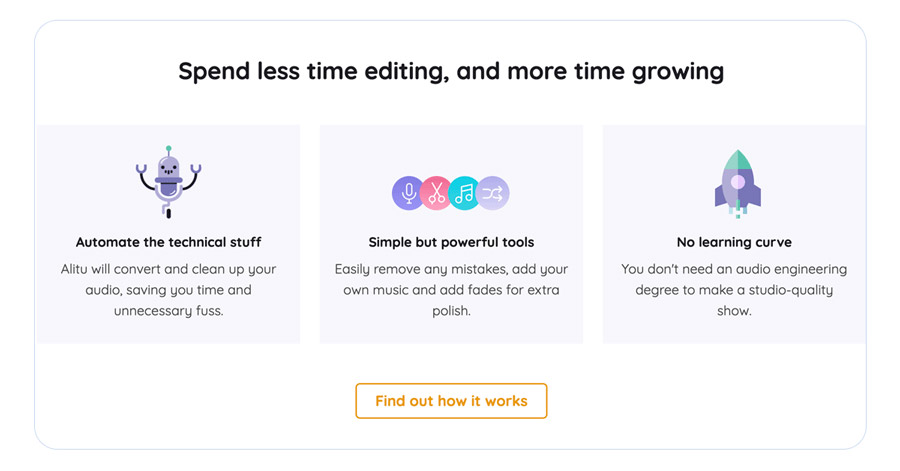 PAID – Alitu
Alitu is a handy tool created by our friends at The Podcast Host. It's perfect for beginners and pro podcasters alike, because it handles everything from direct recording to audio compression and editing all from one dashboard. It's a paid-for service but for the convenience, breadth of tools and handy integrations it provides, it's well worth it if you have some budget.
7. Best Software Recommendations to Record a Podcast with Multiple Mics
What happens when you need to record a phone call, interview or podcast episode with people in different locations and multiple microphones? How does it all work?! It's a lot easier than you think!
FREE – Zoom
Zoom is a really reliable, free solution for recording a podcast with more than one mic. You and your co-host or guest can record a podcast episode of up to 40 minutes in length on the basic account for free, or get extra time/recordings when you upgrade.
Crucially, Zoom gives you the ability to record each track separately (for free). You can easily mix them together and level out your audio in the edit. You'll also get the video recording in case you want to republish to YouTube or clip it for social media, which is handy.
Pro-tip: Like Zoom, Skype is really popular for remote podcast recording. Unlike Zoom, Skype will only give you a single track, making editing multiple voices difficult. There are workarounds, like call recorders, Zoom will give you the same results with less fuss.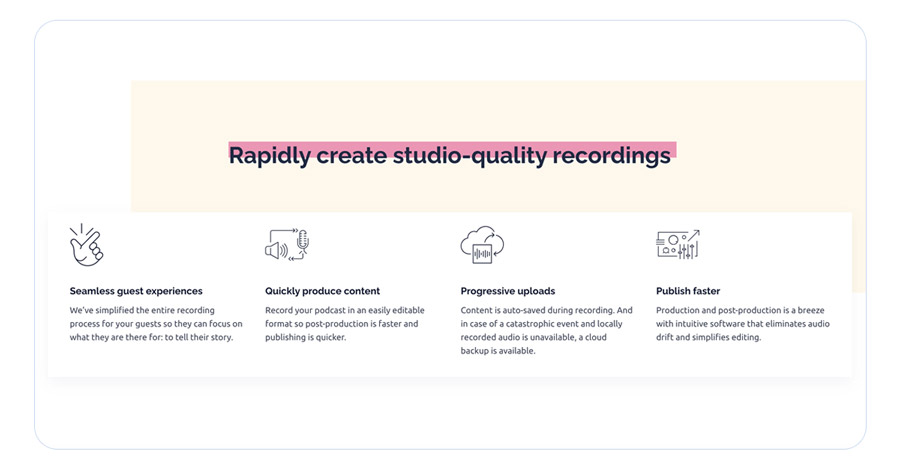 PAID – SquadCast
SquadCast is a double-ended call recording software, meaning it records all ends of a conversation local to each device, before uploading each track separately.
The benefits of using a paid service like SquadCast include higher quality audio, progressive uploads and extra features to make remote recording easy and reliable. Plus, because SquadCast records locally and not over the Internet, you won't risk sacrificing audio quality or your recordings because of a dropped or poor connection.
SquadCast also gives you a neat green room feature with a shared connection and single-click link for your co-host or guests. There's no software to download, either, so you won't overload your computer or overwhelm your guests with instructions for recording!
Finally, Squadcast integrates directly with Captivate's podcast guest booking & interview management platform.
PAID – Riverside
Riverside is similar to Squadcast and operates a double-ended call recording software that records and uploads local audio for the very best quality.
Unique to Riverside though are:
Producer Mode and Controls: Bring your production team in and let them control the show without being recorded.
Magic Editor: Outsource editing with three simple clicks. Riverside's Magic Editor automatically stitches together the locally recorded, separate audio/video tracks. Add a custom background and logo to make it look special.
Smart Speaker Mode analyzes the recording and automatically switches whoever is speaking into full screen 1 second before they speak, making for a seamless transition.
Integrated Media Board: Upload, preview, play and record audio AND video clips directly from the online studio. No need anymore to add them manually in post-production.
iOS App: Riverside is the first high-quality podcast recording software that allows guests to join the interview from their iPhone with the Riverside.fm app.
Live Streaming: Broadcast your show live on the Riverside platform or stream to external platforms such as YouTube and Facebook.
Automatic transcription to convert your podcast or video into text.
8. Best Software Recommendations to Record a Podcast on Your iPhone or Android Phone
Finally, we're going to cover a few options for recording a podcast on a smartphone. It's becoming more and more popular to record using a phone – it's free, accessible and you can record easily on the go!
I'll mention now that this option probably isn't going to give you studio-quality audio, so if that's what you're after, you'll need to look at external microphones that are compatible with phones, like the RØDE VideoMic Me-L or smartLav+.
That said, there are lots of things you can do to make your phone recordings sound as good as possible. Recording in a quiet, insulted environment and using a tripod will make sure you reduce background noise and maintain stable audio levels. This route will be a bit more trial and error than others in this guide, but don't let that stop you from podcasting!
Now, let's take a look at your options for recording with a smartphone: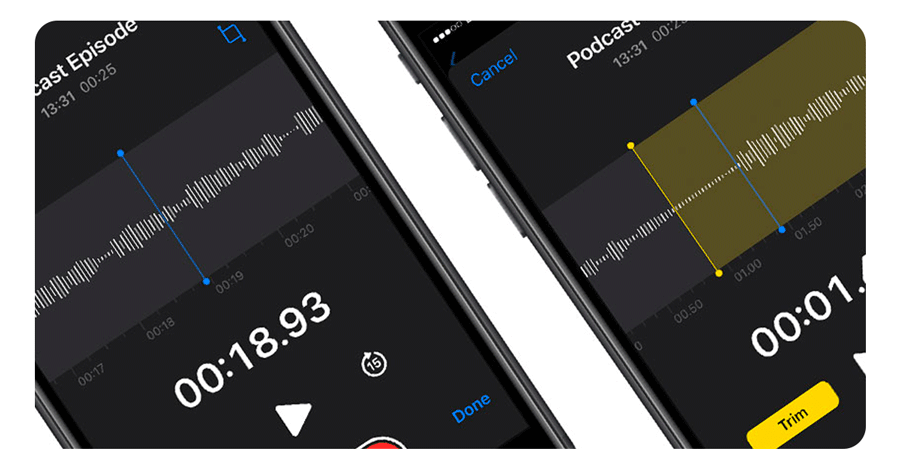 Voice Memos (iPhone) or Voice Recorder (Android)
Your first option is using your phone's in-built recorder and internal microphone. This is a bare-bones route that gives you very little control over your audio settings (won't be able to apply presets or adjust levels like you can with Auphonic).
All you have to do is head to Voice Memos or Voice Recorder armed with your episode outline and start recording. Then, you can use your share options to either save the file to your phone or send it on for editing and publishing. Nice and easy.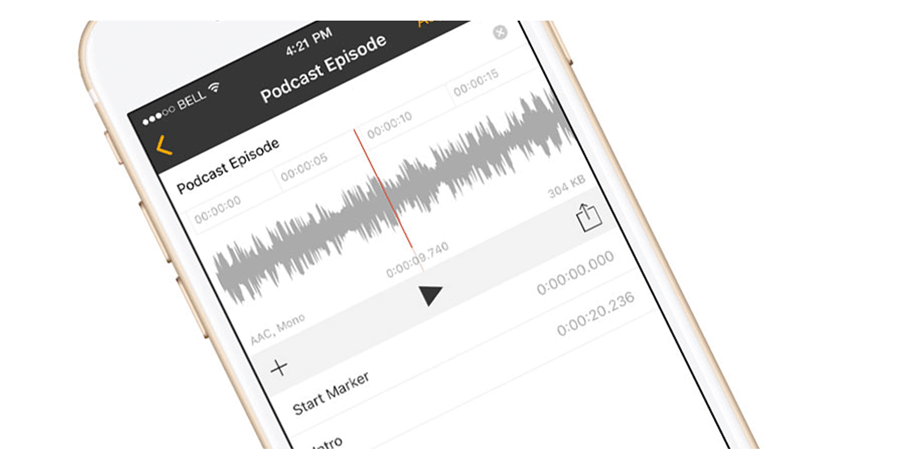 Auphonic Recorder (iPhone) or Auphonic Edit (Android)
Auphonic, as well as being a super powerful audio processing tool, allows you to record on your smartphone using their Auphonic Recorder/Auphonic Edit apps.
Auphonic's apps are full of helpful settings to enhance your audio and make editing your segments a lot easier, including:
The ability to add in chapter markers and stop/start markers
Apply your Auphonic presets in-app for easy levelling and noise reduction
Export and process your recorded file to Auphonic's web service or to other iOS apps like Garageband
Get a Great Sounding Podcast First Time with the Podcast Launch Accelerator
In this guide I've talked you through 8 of my best recommendations for achieving great sounding audio at home, whether you're recording on your own or with others. Everyone has a different style, approach and recipe for recording, and it's up to you to try a few out, see what works best and importantly, have fun doing it!
If you're feeling overwhelmed with options (I get it, there's hundreds of them), we've put together a free course to help you make the right decisions for your podcast from the get go. Get clarity on all aspects of launching a podcast, including choosing the right recording equipment without the complexity, hassle or tech jargon!
Join the free Podcast Launch Accelerator course for hours of bite-size video tutorials, weekly live coaching, demos and personal recommendations on:
Understanding podcast technology, audio formats and RSS feeds
Choosing the right microphone and recording equipment
How to record and edit your podcast
+ BONUS instant download of your 30-page Podcast Launch crib sheet
What To Do Next