Note – all information for the tools mentioned eg pricing plans, additional features etc. are correct to our knowledge at the time of writing.
With so many options available on the market, podcasters are spoilt for choice when it comes to picking the best tool to use when recording a podcast with remote other hosts or guests.
If you are just starting out in podcasting you may not be sure which one to choose. Alternatively, for those of you who have been podcasting for a while, maybe you have a trusted tool that you know and love, but have been wondering lately, what else is out there? Is there something that better suits your needs?
Luckily, we've got your back: we're here to break down the most popular and intuitive remote offerings on the market.
Why just remote podcast recording tools?
You need different tools, software or apps when recording with remote hosts or guests, compared with if you have a solo show or those who are joining you are physically in the same room as you.
For example, in these instances you will hook up the microphones you're using to a program such as Garageband, Audacity or a more sophisticated DAW. Some podcasters may also use some interface of some description or mixing desk.
This article is for podcasters who are looking for recommendations when it comes to recording with remote other hosts or guests.
Most used podcast recording software according to Twitter
We thought a good place to start was to ask fellow podcasters on Twitter what their preferred tool is when recording audio for their podcast shows.
As you can see from the screenshot below, Captivate MD Mark ran a Twitter poll, which got a very decent response (thanks to those who got involved). Looking at the results and a fair amount of podcasters use Riverside (23.9%) and Zencastr (21.8%), but SquadCast was not that far behind (16.2%).
The majority of people chose 'Other' (38%) and replied to the thread with what they use. Go and check out the Twitter thread, as it's interesting to see what podcasters are saying about their preferred software. Some people even got responses from the tool they mentioned.
Using the responses we received on Twitter and combining the team's knowledge here at Captivate, we've compiled a list containing the best recording and editing tools.
What podcasters said on the Twitter thread
You can check out the full thread, but here are some examples of what podcasters said about the recording tool that they use:
The Beach Speaks podcast seems to definitely be a fan of SquadCast:
Jason Perrier uses a mixture of Zencastr, Livetrac L-8 and Audition:
Leo Allen from Voluntary Input Podcast uses Melon App while simultaneously recording on Rodecaster:
She Will Rock You Podcast uses Zoom for guests but edits using Audition:
Our very own Danny Brown who hosts Pod Chat uses Boomcaster when remote:
Niki Morock who hosts the People Experiencing Everyday Paranormal uses Zoom but then Audacity for intros, outros and monologues.
Does all recording software offer editing?
No, not all examples from this list offer editing capabilities, such as Riverside and SquadCast. Riverside does make outsourcing this easy with three simple clicks and has a Magic Editor which automatically stitches together the separate audio/video tracks. SquadCast on the other hand allows you to integrate with editing tools and software.
Zoom does offer some editing but it's limited when compared with the likes of something like Descript. You can trim the beginning or end using the built-in editing features, but anything more advanced you'll have to use another tool.
Yes its handy if you want to be able to do everything in one place, but not having editing capabilities shouldn't necessarily be a deciding factor, if a particular tool ticks all of your other boxes.
There's many editing tools and software out there, some free, others will cost you – and again this will depend on how much you want to spend.
If you're not comfortable with editing, then you can also outsource this to places such as (but not limited to) fiverr, podigy or Pro Podcast Solutions. Seriously, have a Google, and see what's out there!
We have an article that lists the best editing tools and software – check it out!
Why recording and audio quality matter
Getting a great quality recording is one of the very first things you need to get right in your podcasting workflow – it lends credibility and gravitas to your work. No one's going to trust work recorded on a tin can!
Something else to consider is if your audio isn't up to scratch and it's not enjoyable for your listeners then they won't be sticking around or engaged with what you are saying.
It's worth saying that you don't need to spend crazy amounts of money for great-sounding audio. Pick a tool or method that is within your budget. If you don't have the budget, some of the tools we will talk about offer a free version, but it's often limited to how many hours a month you can record or the number of guests.
On the flipside if you do have a large budget there are tools out there that have a bigger price tag which offer more features etc. At the end of the day it all comes down to what you can afford.
6 of the best podcast recording tools
Let's get stuck in – what are the best podcast recording tools out there on the market?
From the poll, the most popular recording software was Riverside, so let's dig deeper into how it works.
Riverside is a recording platform accessible from within your browser, or as a mobile app. It records all participants locally, meaning there won't be any freezing or choppiness due to poor connection.
Cost
Riverside has a number of plans, ranging from free (which includes unlimited recording and editing, but limits separate tracks to the first 2 hours of recording & video quality to 720p) to Pro (which ups the separate tracks to 15 hours/month, quality to 4k and allows call-ins and transcription).
Pro costs $29/month – if you pay annually this is $24/month.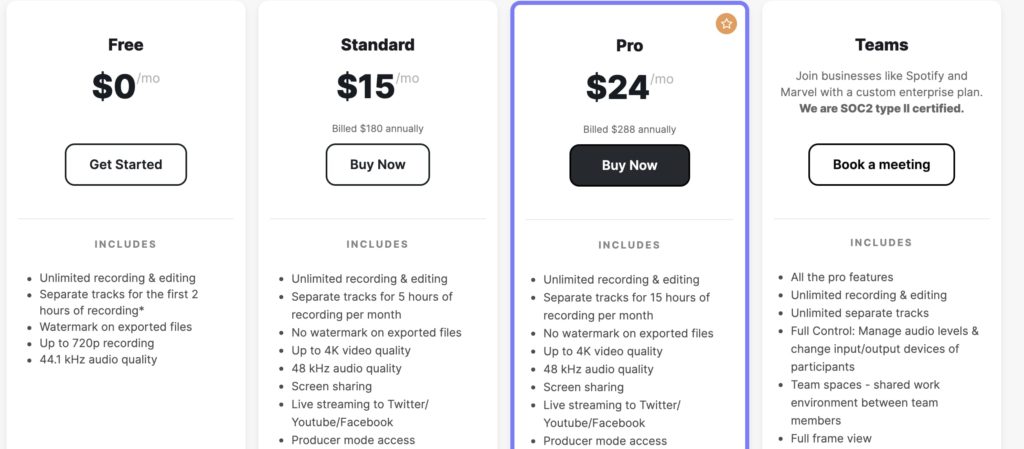 Features
Features do scale with plans, so we'll assume you're going for the Pro plan here. Riverside records in 4K, and allows 15 hours of separate tracks per month. These separate video and audio tracks allow for much easier editing later on.
Audio is uncompressed and in 48kHz WAV quality. You can also record on the go from their iOS app.
Pros
Super high quality audio and video, and separate tracks allow for easy editing down the line.
Simple to use.
Local recording means no buffering or issues.
Cons
Doesn't have DAW (Digital Audio Workstation) functionality, so you will need to use separate software to edit your file and add music etc.
Doesn't integrate directly with Captivate.
Pro tip
Riverside allows you to easily clip up snippets of your video and audio files, allowing for a great social media post to entice potential listeners to check out your show.
Zencastr was a close second, and is very similar to Riverside. It's all web-based: you just send a hyperlink to a guest, and in clicking it they can access your meeting room and participate in your recording. Separate tracks are recorded for each participant, and you can record video as well as audio.
Cost
Zencastr has a free plan, which includes unlimited audio recording to mp3, hosting of up to 4 guests and a limited amount of video recording.
For $20/month, you get unlimited video recording, the option to export audio as wav as well as mp3, and access to their editing options.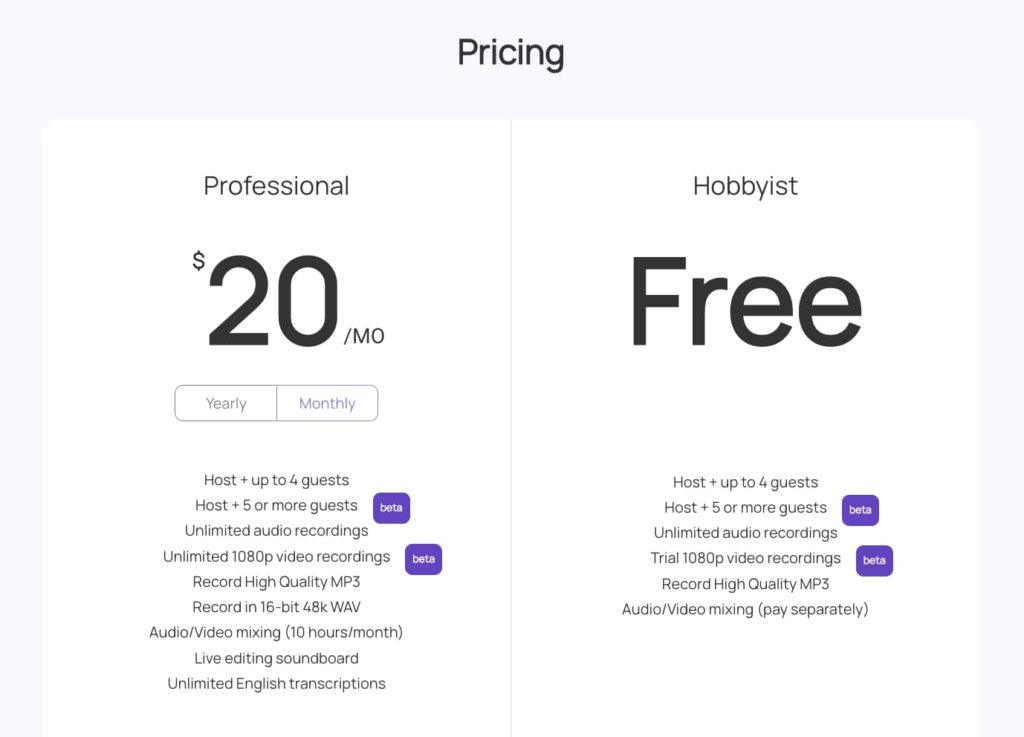 Features
High quality audio and video recording, an automatic mixing feature to get "studio quality" audio after recording and access to Zencastr's live editing soundboard are their flagship features. The paid plan features unlimited transcription, too, which is great for your accessibility and SEO!
Pros
All online, your guests don't need to download anything
High quality audio and video recording
Separate tracks allow for easy editing
Automatic mixing and mastering for great quality episodes
Good free plan
Cons
1080p is the highest quality video option available – Riverside has 4k
Less in-depth DAW than something like Descript
Doesn't integrate directly with Captivate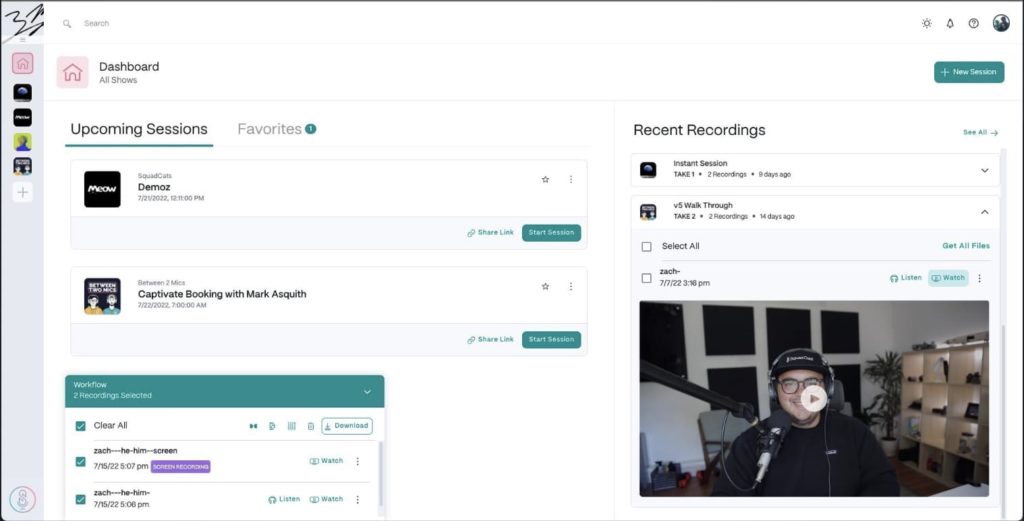 Technically, compared with Zencastr and Riverside, SquadCast did receive the least votes. However, a lot of people mentioned them in the Twitter thread, suggesting they clicked 'Other'. Plus over 10k customers trust them (including big names such as Microsoft, Spotify, ESPN etc).
It's very similar to Riverside and Zencastr, with its main focus being on high-quality audio and video recording and easily accommodating remote guests. It's all local recording for guests, so lag or poor connection won't scupper your perfect recording.
Cost
SquadCast doesn't have a free plan, but their most budget option is reasonable at $20/month, which gets you 5 hours of recording plus other benefits and features. For $40/month you get 12 hours and $80 you get 25 hours.
When you compare plans based on the number of recording hours with the likes of Riverside and Zencastr, SquadCast is more expensive, but this should not be a deciding factor as each tool has differing additional features and of course USPs.
They did recently change their pricing model which affected the entry plan not including video recording (you need to be on at least the $40 per month plan).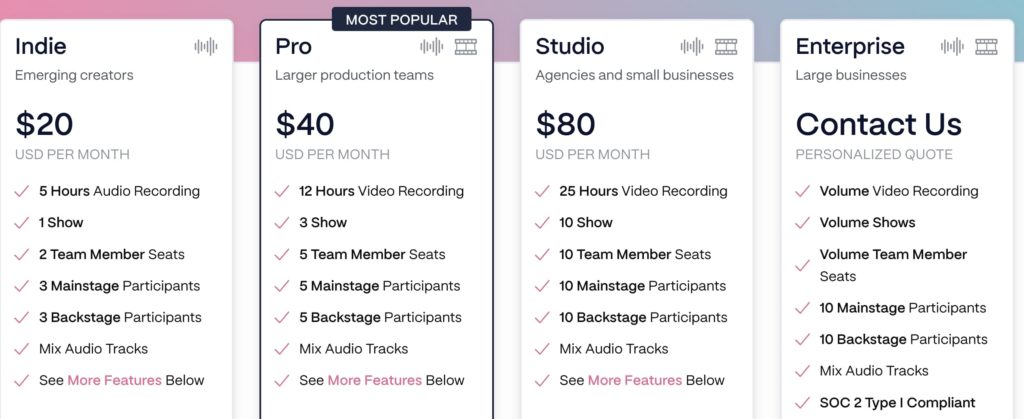 Pros
Local recording and separate tracks streamlines the editing process and stops poor connection affecting the recording
Guests can join the session by simply clicking a link
High quality audio and video
Integrates directly with Captivate Booking
Patented recording engine for fast and secure recording uploads
Cons
No editing capability (unless you integrate with Descript)
Recording and editing software is a pretty saturated market (as this list proves), so it pays to have USP. Look no further for proof of that than Descript, an intuitive recording and editing platform that automatically creates a transcript for any uploaded audio or video file, and allows you to edit the file itself by just editing the transcript text.
Cost
Descript has a free plan, which allows users unlimited video and audio editing, but caps out the transcription to 3 hours. They also have a $12/month plan, which ups the transcription to 10 hours each month.
To get the full feature set, you really want to be going for the $24/month Pro plan, which ups that transcription to 30 hours per month and gets you access to their amazing Overdub feature – more info below!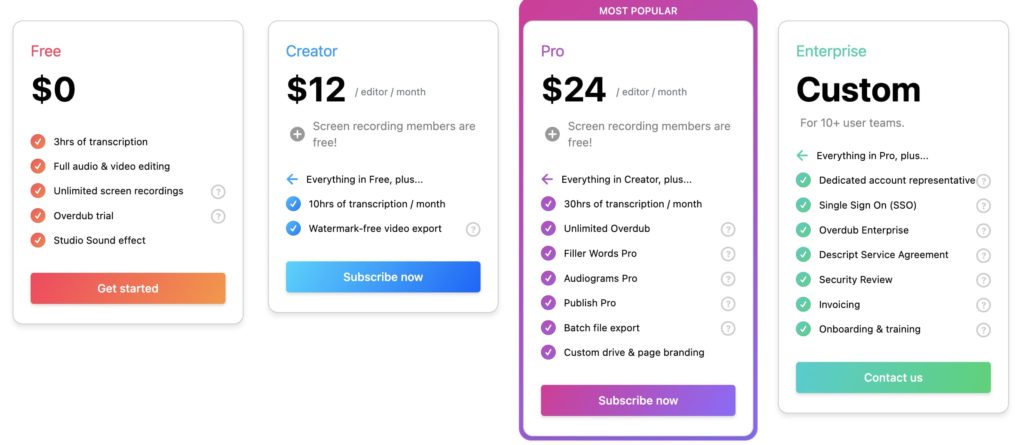 Features
Overdub. Have you ever had to re-record an episode because you made a mistake? No more! Descript creates a clone of your voice based on audio you've uploaded, so you can add or replace words in your transcript and the vocal clone will sound like you said it.
Audiograms. You have the ability to create animated waveform clips of your audio podcast
Screen and webcam recording. It's simple to record and edit videos of your screen and webcam to share on social media or upload to Youtube.
Transcription. Descript is based around transcripts, which are a great way to increase both accessibility and SEO for your podcast episodes.
Pros
Engaging, intuitive UI. It really is one of a kind, with the ability to edit super simply with the transcript or get more technical and precise with a traditional waveform editor.
Great value for money. Professional quality audio with a super simple UI for $24/month.
Integrates with Captivate
Cons
Accuracy of the transcript could be better – does require editing
Pro tip:
Descript integrates in many ways with Captivate, one being the ability to edit episode files you've already published directly from within the Captivate dashboard! This means you can correct mistakes, update ad campaigns and update transcripts to episodes already on streaming services with just a few clicks, without losing any analytics data.
As well as that, Descript allows you to publish directly to Captivate – no need to download the file from them, they export it straight to us. If you're not a Captivate member, sign up for a free trial here!
In the Twitter thread lots of podcasters saying they use Zoom, which is interesting as this is an app usually far more associated with video calls than podcasting. It boasts some useful recording features, though, and has the great benefit that most people are now very familiar with it, making it great for recording with guests.
Cost
Zoom does have a free plan, but to use the recording functions you'll need to be on the £119/year plan. This is good value, working out at very slightly under £10 each month.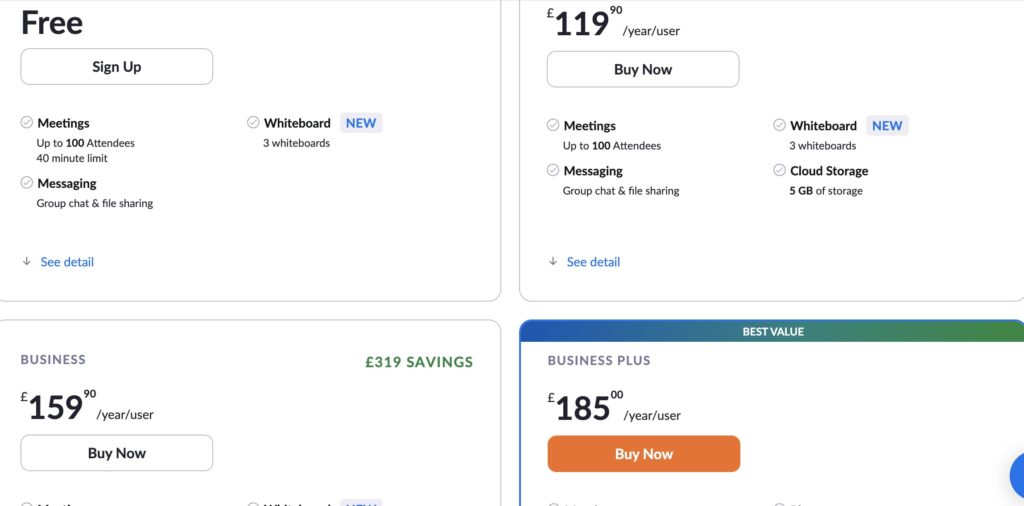 Features
Remote recording. Reliably record with co-hosts or guests who are not able to be in the same room.
Solo-track recording. You can select the option to record the meeting as a whole, or record each participant individually. That makes editing a lot easier!
Transcripts. Zoom transcribes your audio when you upload it to the cloud – this removes one extra step!
Pros
Reasonably priced. £119/year is great value for high quality remote recording software.
Familiarity. Thanks (or no thanks) to the pandemic, pretty much everyone has used Zoom now. This makes it easier to invite remote guests, as the software likely won't be a learning curve.
Cons
No editing. Unlike some DAWs, which offer recording options as well as editing, Zoom is recording and transcripts only, meaning you'll have to use yet another piece of software for your editing.
Requires guests to install the software. Some alternatives, like Riverside, don't require any downloads for guests to access it.
Doesn't integrate with Captivate
Zoom wasn't created for podcasters, so there isn't the same audio quality that you get with the other options listed – something to test yourself
Pro Tip
If you're recording using a decent quality microphone, enable Zoom's Original Sound. This removes the echo-cancellation and audio enhancement features that Zoom automatically uses, instead allowing your microphone and editing software to take care of these.
Alitu is a recording and editing platform with a simple UI, allowing you to easily edit your episodes without a learning curve. It automates mastering audio levels and allows for remote guests with call recording.
Cost
Alitu clocks in at $32/month, or you get a discount when paid annually at $320/year. Both monthly and annual plans come with a 7-day free trial.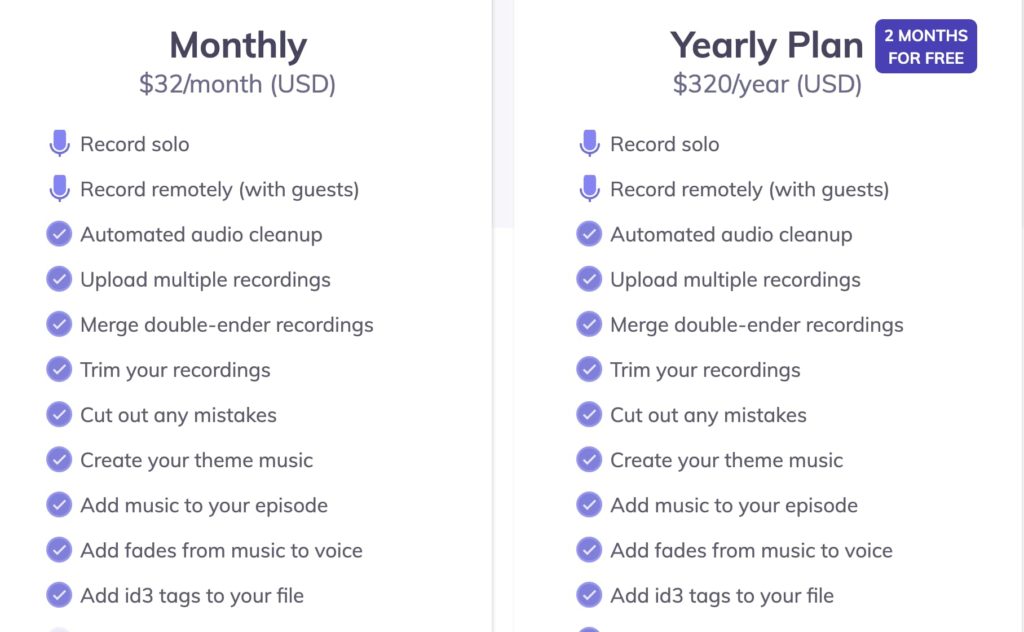 Features
The big ones that set Alitu apart from the other available options are the mastering automation, which allows for professional quality audio without the hassle, and access to their music library – this includes royalty free songs you can use in your podcast. Alongside these, there's also call recording for remote guests, a great editing UI and support of the vast majority of file formats.
Pros
Price – Alitu does recording, editing and automated mastering for $32/month. That's a pretty good deal, and it's the whole package.
Automated mastering. This is a big one, allowing less experienced podcasters achieve a studio quality sound without a studio budget.
Call recording allows for remote guests.
Music library for royalty free music.
Integrates with Captivate
Cons
No video recording or editing.
Only set up for one input – only one mic per session in person (not remote).
Only export as an mp3 file.
Pro Tip
Alitu integrates directly with Captivate, meaning you can export your episode to us with one click!
Check out our article where we did a review of Alitu.
5 podcast recording tools mentioned in the Twitter thread
A Mac-exclusive live streaming and video production platform, Ecamm offers 4k streaming and capability to stream to loads of video hosting platforms. It offers a standard plan, $16/month, and a pro plan at $32/month.
Melon app offers a very similar service, streaming live video to video hosting platforms like Youtube, Facebook, Twitch and Twitter. With recording capabilities and the ability to involve multiple guests on your live stream, Melon offers a free plan, a $15/month plan and a $49/month pro plan.
Boomcaster is a platform for hosting, recording and streaming video, with an emphasis on interview based video podcasts. It has one plan, $20/month which includes 5 hours of recording and live streaming – you're then charged $0.07 per additional minute used.
A Mac-exclusive audio recording platform, Audio Hijack boasts the abilities to live stream and broadcast your audio across the internet as well as the standard recording and exporting. It offers a free version, or can be purchased for a one time payment of $77.
Similar to Riverside, Cleanfeed is a remote recording platform, allowing you to connect with guests from across the globe to record high quality audio. It offers a free plan and a pro plan at $22/month.
2 podcast recording tools not mentioned on the Twitter thread
At time of writing, there was no mention of the old-school classic, which is of course Ringr. Apparently, they officially began in 2014 over chicken sandwiches, man and cheese, and Dr Pepper. Pretty awesome right?
You can use their remote recording platform on desktop or on mobile via an app. Their basic plan is $7.99 per month or you can upgrade to medium for $18.99.
There's also Welder that didn't get a mention, but we couldn't not mention this tool. Think of Welder as a hybrid of Riverside and Descript. They market themselves as a single tool which allows you to go live, edit and repurpose your video content.
Welder acts like a regular video call software, but records local files from your computer giving you a high quality podcast recording. They offer a free plan but you can upgrade to $20 per month which removes watermarks and gives you access to Discord.
Important to note – Welder stopped local recording in February 2022, so it's all browser-based (which could impact quality if low internet connection strength).
Which podcast recording and editing software should I choose?
There's no one-size-fits-all answer when it comes to podcast recording and editing software, it comes down to each individual podcaster's individual needs. We hope this blog goes some way to helping you pick!
Free or the more budget options certainly do the job to a high enough standard – and they allow you to save your money to spend on other things, like hardware and equipment.
If you do have the budget, this is something that we would recommend you invest in for your podcast, as it will help with the success and growth of your show. All the tools mentioned above have their strengths and USPs, so pick the one that suits what you need, right now.
What else do you need to record a podcast?
It's not just recording and editing software that goes into making a high quality podcast, but Captivate has got you covered.
Here's an article breaking down everything you could possibly need, including Amazon store links by our Co-Founder Mark Aquith, who shares his own picks!
Final thoughts
It can be a tricky decision, picking the recording and editing platform(s) that suit your needs, and you may well end up trying out a few before you find your perfect fit.
We could never cover everything out there, but you should have a good idea of what a good free option looks like, and what's worth spending your money on – different paid options do different niches extremely well, whether that's transcripts or high-quality remote recording.
If you've not already, sign up for a free Captivate trial to get your podcast out there and make use of our incredible growth-centred features and content, helping you to grow your podcast and your podcasting community.
"*" indicates required fields