Reading Time:
11
minutes
Choosing a podcast host is a really important milestone for any creator. But how do you know which one is best for you?
A good host should be proactive, reliable, and responsive. You should be able to trust them to help you build your audio influence, audience and support you in growing your show.
We want to help you make the best, most informed choice by giving you honest, side-by-side comparisons of how we compare to other podcast hosting providers.
So, let's get down to reviewing Simplecast and Captivate for podcast hosting.
Here, we take you through Simplecast's main features and why Captivate is the best Simplecast alternative – and choice – for hosting your podcast.
Simplecast Pros and Cons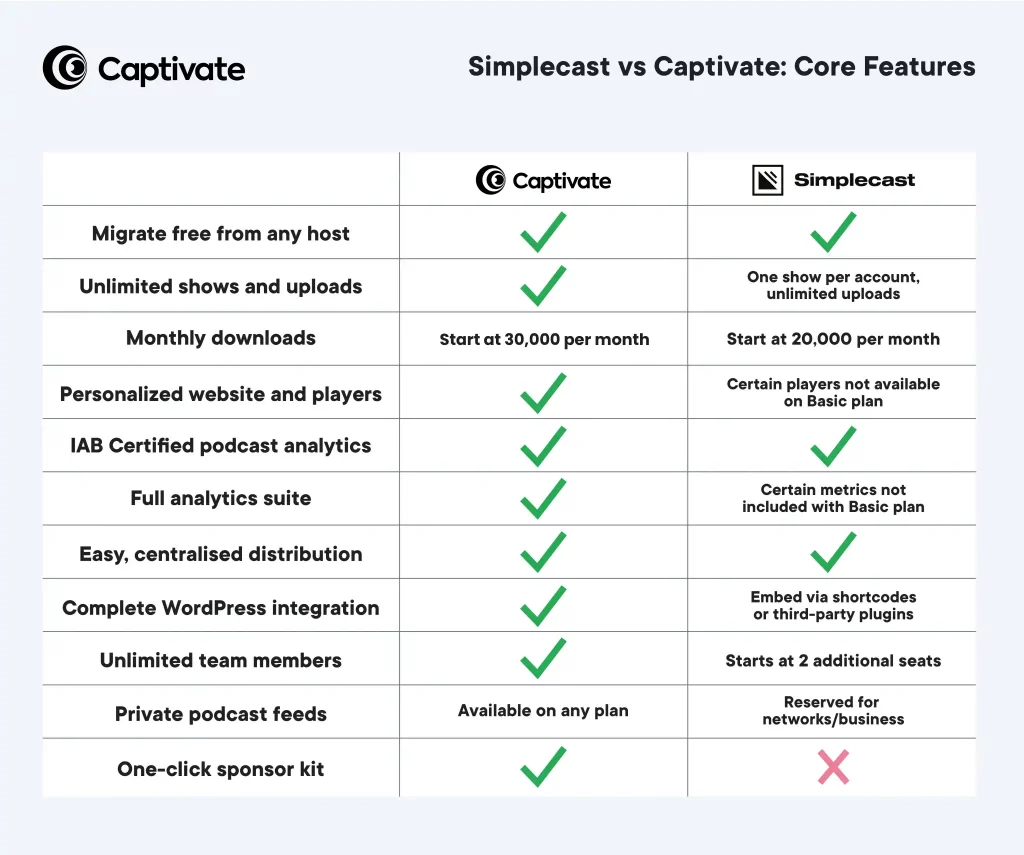 Unlimited Uploads, but Not Unlimited Shows
Like Captivate, Simplecast allows you to upload whatever you like, whenever you like, without having to upgrade or pay for extra time allowance. This is especially handy when you want to release exclusive content, run a private feed or change up your format further down the line.
However, if you want the ability to publish unlimited episodes AND manage multiple shows from one account, Simplecast isn't the host for you – Captivate is.
We don't charge you extra for starting multiple shows. Experimenting with new content, retiring an old show or starting a side project is entirely flexible and won't lead to higher subscription costs.
Plenty of Features
Like Captivate, Simplecast offers a ton of features to help you get started with podcasting, then distribute, publish and market your show in the long run. The basic plan starts with "everything necessary to launch a podcast", followed by additional growth and collaboration tools on essential and business plans.
However, Certain Features Are Only Available with Upgrades
Simplecast restricts access to some of its more advanced features behind paid upgrades. This doesn't just refer to higher upload limits, either. It's genuinely useful things you'll need to promote your podcast, like additional web players and advanced analytics (such as episode comparison, one of our most popular metrics).
All of our advanced features and tools are available to all Captivate podcasters from day one. We believe that if it helps your show to grow, there's no point in holding it back from you!
Who Owns Simplecast?
Simplecast was founded by its CEO, Brad Smith, in 2013. Since then, it has built a strong set of podcast hosting, distribution and publishing tools.
Simplecast was acquired in June 2020 by SiriusXM, a broadcasting company which also owns Pandora, AdsWizz and Stitcher. In a statement, Simplecast says that its roadmap, mission and purpose remain the same, but the acquisition still raises questions should you choose to host with them.
It always felt like Simplecast targeted enterprise and brands much more than focussing on helping the independent creator, and one has to consider that in this context, too.
Choose Captivate for 100% Independent Podcasting
Captivate is a 100% independent, bootstrapped startup. We are invested in creating a culture of empowerment, creativity and sustained growth for podcasters and have created several podcasting products over the past 7 years, including Podcast Websites, Poductivity, and the Podcast Success Academy.
Simplecast vs Captivate: Customer Support Features
Thorough, friendly and accessible customer support is vital for any podcaster. If something goes wrong, looks weird or needs celebrating, it's important to know that there is a community behind you to turn to.
If support is important to you, let's take a look at how Simplecast compares to Captivate.
Simplecast's support channels are fairly standard for a podcast host. One-to-one support is available over email for Basic plan customers, and over email/live chat for those on higher paid plans. There's also a library of self-serve help articles as well as a blog, newsletter and a Facebook group for platform users.
Choose Captivate for Proactive Support, Innovation and Community
Thanks to running Podcast Websites, Poductivity and Podcast Success Academy, we've learnt how to provide valuable, hands-on podcaster support through experience and feedback.
Since we started in 2014, we've put a lot of resources into developing our international support team, some of whom used to be Captivate customers themselves!
In fact, we always put a focus on building a support team that is dedicated to each product that we create – that means that we can share experiences and knowledge, but give you the dedicated product support that you need without ever feeling like the bigger brands or enterprise customers get more, quicker.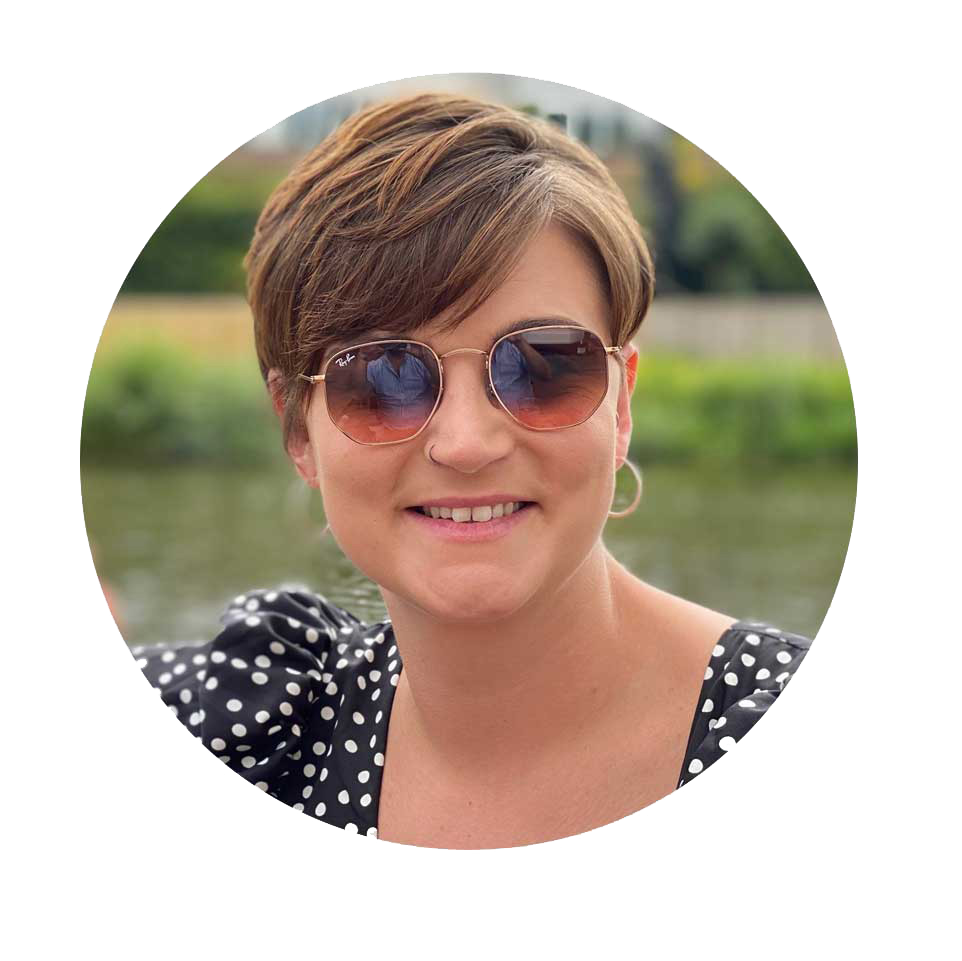 The Captivate support team, led by Sam, covers all U.S. time zones plus worldwide support, meaning that wherever you are in the world, we will be able to give you 1:1 support quickly.
There are also two active, dedicated Facebook groups for peer support when you need it. The private, members-only group hosts regular deep-dive Q&A sessions with our CEO Mark Asquith, giving podcasters the opportunity to put questions and feature requests directly to the team.
If continual improvements are important to you, Captivate is focused on driving innovation within the podcast industry. We are the only podcast host to release updates or completely new features and integrations every single week. We're constantly tweaking, upgrading, releasing new features and delivering platform overhauls with help from our dev team and podcaster feedback.
Simplecast vs Captivate: Platform Features
Create Unlimited Shows
The ability to create unlimited shows is, for us, hugely valuable to any podcaster. We know that when you first launch a podcast, you catch the bug! You want to experiment, create more, get friends involved and feel free to play around without having to pay extra.
On Simplecast, you can manage more than one podcast under one account. That isn't the same as unlimited podcasts. Adding another podcast to our account will increase your monthly subscription, as you'll have to pay for more than one plan. That means:

3 x podcasts on Captivate = $19 (1 x Podcaster plan at $19 p/m)
3 x podcasts on Simplecast = $45 (3 x Basic plan at $15 p/m)
Monthly Download Limits
Captivate and Simplecast both run plans that are priced by total monthly downloads.
This is a much more transparent way to price podcast hosting than the traditional upload allowance model, because:
Outside fixed tech/staffing costs, bandwidth is the only cost we need to recoup
It offers greater flexibility over what you choose to create
It guarantees predictable, monthly costs for you, the podcaster
Choose Captivate for Greater Value and Capabilities
When it comes to download limits, Simplecast is pretty evenly matched to Captivate. Simplecast Basic plans start at $15 per month for 20,000 downloads. Captivate Podcaster plans start at $19 per month for 30,000 downloads.
Read this article about why we decided to increase download limits for each plan.
But remember: for that $19 you'll get unlimited podcasts PLUS all of the advanced analytics, growth and marketing tools that Simplecast withhold for higher paying plans. Captivate gives you better value for money, greater flexibility and advanced features as standard.
Multiple Team Members
Simplecast allows you to manage multiple logins or 'seats' per account, allowing you to bring in co-hosts, team members or freelancers to help produce your podcast.
On Simplecast, seats vary depending on which plan you're on:
Basic plan – 2 additional seats
Essential plan – 4 additional seats
Growth plan – 9 additional seats
This is set up to help production teams scale as their podcast grows. Once added to your account, you can assign each seat one of three permission levels to help manage your podcast.
But what if your podcast team is big to begin with?
Choose Captivate for Better Collaboration
We know that podcasts can be collaborative projects as much as solo efforts. Whether you're podcasting for your business, have multiple shows or multiple co-hosts, Captivate allows you to create however many seats as you like for each podcast on your account.
We used to have preset permission levels, but found them restrictive and not reflective of how our podcasters like to work and run their teams. Now, you can pick and choose from up to 20 different permissions for each login, allowing you to create your own mix as you see fit.
Simplecast vs Captivate: Marketing and Growth Tools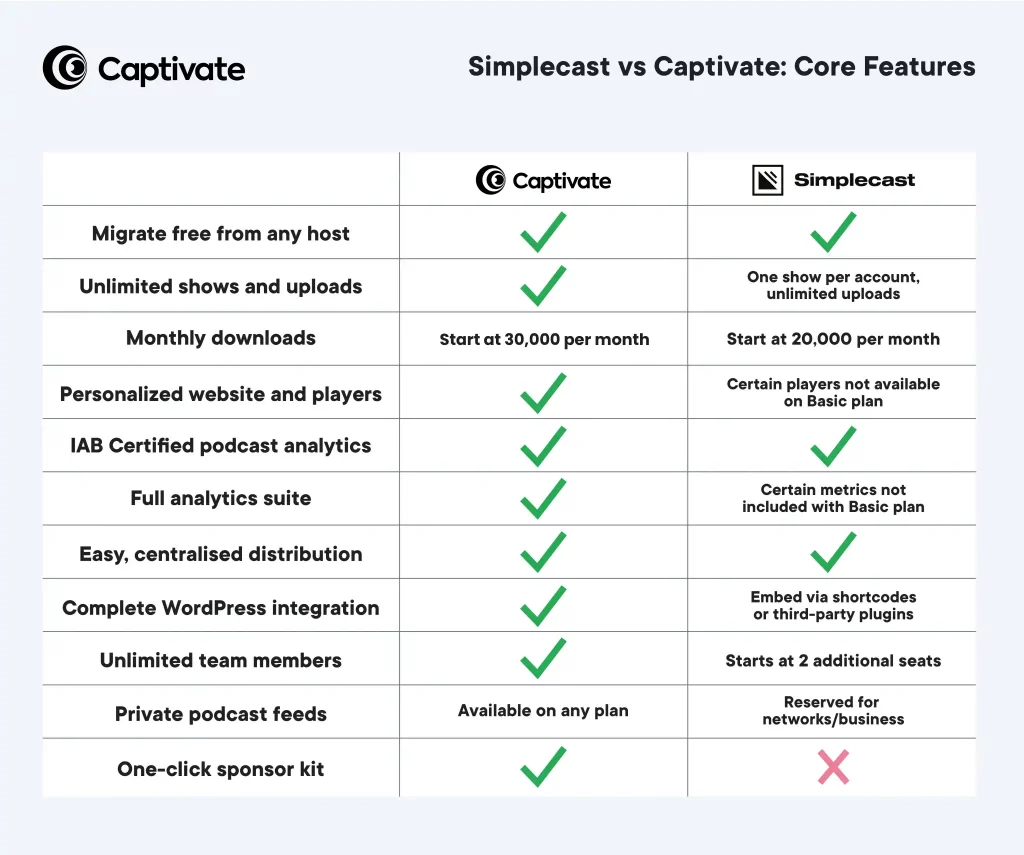 A strong marketing and analytics suite is where a podcast host can really shine. These tools will help you promote your show in the early days, speed up your podcasting workflow and help you make important decisions.
In this section, we'll take you through the key marketing and growth features available to podcasters on Simplecast and Captivate: analytics, built-in websites and episode players.
Advanced Analytics
Simplecast's analytics suite is powerful, for sure. The platform offers a number of insights and reports that will help you get to know your audience, how they like to listen, what apps they use and lots more useful data. Trouble is, if you want anything more than basic analytics, you'll have to upgrade to the Essential or Growth plan.
So what's included in Simplecast's Basic plan?
Total downloads
Unique listeners
Stats for first 7 days since release
Top episodes and top listening methods
Popular time of day
Demographics
This is in theory enough to build a good picture of your podcast's performance and is certainly enough to help you in sponsorship pitches.
But many of our podcasters enjoy being able to drill down into the tiny details of their shows. Using features like episode-level analytics, listener duration and episode comparisons, we help podcasters make the most informed decisions about their marketing, monetization and content plans without having to pay extra.
Get Deeper, More Powerful Podcast Stats with Captivate
We don't believe in holding back analytics from creators. Captivate matches and exceeds Simplecast's analytics suite, giving you access to Simplecast's 'advanced' tools from day one of your podcast.
Our podcast analytics dashboard also allows you to:
Get download overviews, averages and unique listener data across multiple timeframes
Get detailed insights on your listener demographic, geography and listening habits
Drill down into specific episodes with episode-level analytics
See when listeners stopped listening, skipped or replayed an episode within the web player
See how an episode performed within its first 24 hours
Track download milestones by viewing your episode stats cumulatively
Compare the stats for up to 5 different episodes
See your 'trending' or highest performing episodes to identify spikes easily
Need more help? Read more about Captivate's powerful podcast analytics suite and how to interpret your stats.
Are Simplecast's Analytics IAB Certified?
Both Captivate and Simplecast are IAB Certified. Rest assured you can count on both platforms to deliver accurate, reliable and consistent analytics for your podcast.
We achieved IAB Certification within months of launch, having built Captivate to comply with IAB Tech Lab v2 standards to begin with.
Podcast Websites
All Simplecast plans come with a 'customizable show website with custom domain'. This means you'll get a simple site and a secure 'site.simplecast.com' domain, with the ability to add a true custom domain if you like. Publishing to WordPress is manual but possible using embedded shortcodes or a third-party plugin.
Simplecast's sites are a vehicle for podcast discovery and SEO benefit. You'll get a single page to display your episodes, room to add social media links, support for your Google Analytics ID as well as minimal customization options (it looks like you can change the background colour).
This might be everything you need!
On the other hand, we've found that our podcasters enjoy more flexibility when it comes to their podcast websites. For some, a simple 'shop window' site is perfect. For others, more functionality (without having to go so far as creating a WordPress or external site) saves a lot of precious time and resources.
Choose Captivate for Greater Website Functionality
Captivate podcasters on all plans have a few brilliant options available for creating and managing podcast websites that are as simple or as comprehensive as you like:
Automatically publish and manage episodes from your WordPress site using our complete Captivate Sync plugin.
Get full, personal WordPress site management with Podcast Websites.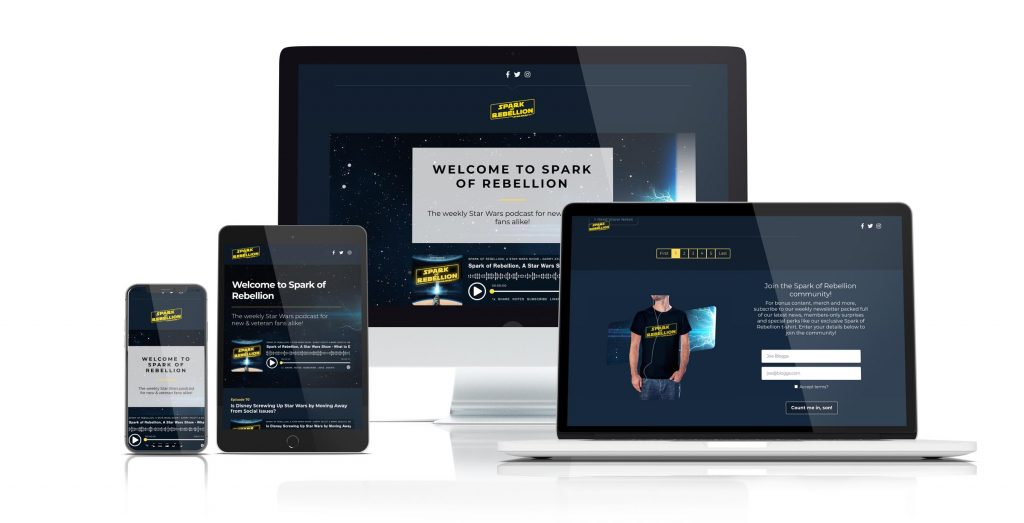 All free built-in Captivate podcast websites are packed full of useful features to help smooth out your marketing workflows and give your podcast a polished online presence:
Secure HTTPS and 'site.captivate.fm' domain, with the ability to add a custom domain
Support for Google Analytics, Apple Smart Banners and the Facebook Pixel
Create an email opt-in form/lead magnet using HTML or direct integration with AWeber
Choose from 3 fully responsive templates, customize team bios and site colour scheme
Highlight featured content and attract new listeners by pinning an episode to your header
Full, automated use of the stunning Captivate podcast player including calls to action, simple subscribe links and full device compatibility
Ready to set up your Captivate podcast website? Learn how to create a beautiful site, and get the most out of all the features, with our 6 step-by-step tutorials.
Episode Players
Episode players are a key element of podcast discovery and promotion. Simplecast offers three player styles, but you'll only be able to access the Standard player on Basic plans.
The Mini Player and Show Player are only available to Essential and Growth plans. For most podcasters, a Standard player will be enough to promote single episodes. But if you're running a private podcast or produce seasons/collections of content, promoting those episodes is a bit trickier.
Choose Captivate for Flexibility and Powerful Listener Insights
As with all our features, Captivate offers greater flexibility and functionality in our web players. Captivate offers 4 fully responsive, embeddable podcast players as standard: the Main Player, Latest Episode, Playlist and Curated Collections.
All players come with heaps of extra functions that make it easier for listeners to access your extra content, including the ability to:
Subscribe via a preferred app
Donate to your podcast
Create custom calls-to-action to drive traffic to your content
Remove Captivate's branding for a fully polished feel
Customize the colours of your player
You'll also be able to get analytics on how your content is performing using Web Player Analytics. This feature gives you powerful insights into what content your audience responds to best, where to place your ad-reads for maximum exposure and lots more.
Metrics include:
How many unique listeners hit play on an episode through the web player
How many people are choosing your web player over other listening apps
Listener duration, drop-offs, skips and replays
Private RSS Feeds
Private podcasting is becoming more and more popular these days. Independent creators use private feeds for their paid memberships and premium content, while businesses, schools and congregations look to them for internal communications, training or onboarding.
Unfortunately, a lot of podcast hosts like to charge extra for private feeds or reserve them for higher paid plans. Some offer solid workarounds – like 'exclude from feed' settings – but podcasters and businesses need security, scalability and reliability from their hosting providers.
So, does Simplecast offer private podcasts?
Sort of. But…
On Simplecast, you're able to publish private episodes that are excluded from your RSS feed and the directories. These episodes are shareable via a link or the embeddable players, but aren't subject to the high level of privacy that you might be after (i.e. you don't need a password to access them).
You'll also need to manually toggle on the 'Episode Privacy', making it a bit of a clunky workaround if you're after a smooth, secure private podcasting experience (not ideal for internal podcasts).
Simplecast does offer private podcast feeds, but they are reserved for networks and businesses.
Aka, they cost more with Simplecast.
Choose Captivate for Private Podcasting For Every Podcaster, At No Extra Cost
Our private podcast feeds are a great way to get started with premium content, internal podcasting or memberships without having to pay extra for more features or third-party software.
We've made private podcasting available and accessible to every podcaster – not just those who can afford it. Our feeds are super secure (we generate a custom private feed URL and password for each added subscriber that can be regenerated at any time), easy to use and come with full analytics.
Our $19 plan includes one free private feed with 150 private subscribers.
Our $49 plan includes one private feed and 500 private subscribers.
Our $99 plan includes three private feeds and 1,000 private subscribers.
Simplecast vs Captivate: Pricing
Podcast hosting is your only consistent outgoing as a podcaster. It needs to be reliable, predictable and most importantly, good value.
Here's how Simplecast stacks up to Captivate in terms of plans and pricing: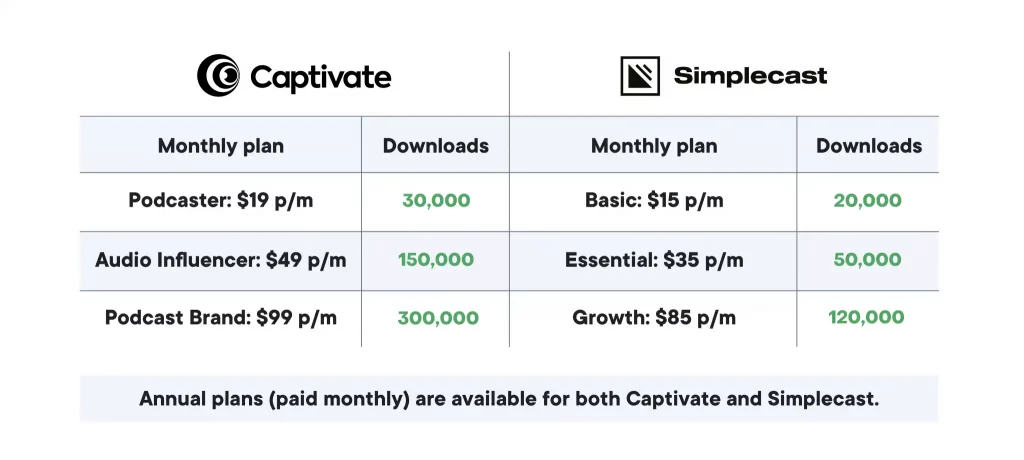 Simplecast gives you everything necessary to start, launch and manage a podcast. The Basic plan has a generous download limit, but it is for just one show, and there's little flexibility in the way of features to grow and scale (remember, you won't get advanced analytics or multiple shows for free.)
For just $4 more a month with Captivate, you can really exercise your creativity and be flexible with how you podcast.
After all, I can't think of a single podcaster who doesn't start a second show, and then a third... You can collaborate freely, start new shows, retire old ones and access advanced marketing and growth features for one fixed, monthly cost.
Choose Captivate for Better All-Round Value, Support and Functionality
On Captivate, you can run as many shows as you want from your account, running however long you like, whenever you like, starting at 30,000 downloads per month.
Yes, it's a bit less than Simplecast, but we don't hold back extra features behind paid upgrades. All of our features are available as standard, across every plan, to help your podcast grow and scale from day one.
That means:
Unlimited podcasts
Unlimited team members
Single-page subscription links
Custom, trackable short links
Private feeds on any plan
Customizable websites and complete WordPress integration
4 sophisticated, responsive, customizable podcast players
IAB Certified analytics including episode comparison and web player stats
One-click PDF sponsor kit to help with monetization
Email marketing integrations, opt-ins and lead magnets
Weekly feature releases, live Q&As and two thriving Facebook communities
Helpful integrations and resources to speed up workflow
Try Captivate – The Best Simplecast Alternative
We created Captivate to bring the best tools, features, education and resources to podcasters all over the world.
We'd love for you to try Captivate out for 7 days with zero obligation, check out our blog or even visit our YouTube to get a flavour of how we can help you start to grow your podcast today.
And whilst you're here, check out our other comparison guides:
And, if you have any questions big or small, don't hesitate to reach out to us over email – we'd be glad to help!