Reading Time:
11
minutes
We get asked a lot about how we match up to other podcast hosts on the market.
We get it. Choosing a podcast host is a big decision to make! You need reassurance that your chosen host will help grow your show and make producing your podcast easier. You don't want to end up with a host that is difficult to use, limits your growth or that pops its stronger features behind paid upgrades.
We want to help you make the best, most informed choice by giving you honest, side-by-side comparisons of how we compare to other podcast hosting providers.
This time: how does Captivate compare to Transistor?
In this guide, we'll take you through Transistor's core features and why Captivate is the top Transistor alternative for hosting your podcast.
Who Owns Transistor?
Transistor is a podcast hosting platform launched in 2018 by co-creators Jon Buda and Joshua Jackson. It is now home to podcasts ranging from brands to smaller businesses and independent creators.
Transistor Pros and Cons
Unlimited Podcasts
Like Captivate, Transistor allows you to host and manage multiple shows and unlimited episodes under one account for one monthly price. Plans are tiered by downloads, which means that, like Captivate, you're free to experiment with different shows and formats.
Easy to Use
Transistor's platform is easy to use, simple and has all things you'd typically find in a podcast host: basic podcast websites, embeddable players and submission to major directories.
Like Captivate, there are lots of helpful integrations to speed up your podcasting production and promotion workflows.
Flexible and Collaborative – If You Upgrade
There are also plenty of features geared towards helping podcasters grow their brands and businesses, like private feeds and the ability to add team members to a podcast. These features are tiered, however, so unlike Captivate you'll need to pay more to Transistor in order to use private podcasting or expand your team beyond a couple of different logins.
On the surface, Transistor and Captivate look a lot alike. But, there are a few big differences that could tip the balance – notably, Captivate gives you the flexibility and collaborative options of Transistor without having to upgrade your monthly plan.
Let's explore why Captivate is the best Transistor alternative when it comes to platform features, customer support, marketing features and finally, pricing.
Transistor vs Captivate: Customer Support Features
Transistor's customer support has received lots of positive reviews from its users. As well as on-page support and email chat function, there is also a help center and a bank of video tutorials covering all the basics of setting up, distributing and growing your podcast using the platform.
If peer support and a sense of community are important to you, there's no dedicated Facebook group for Transistor users.
Instead, founders Jon and Justin host a podcast about the inner workings of Transistor, Build Your SaaS. It's a helpful resource for those curious about what goes into building and developing a SaaS business and becoming a founder, but it doesn't directly help the podcasters on their platform.
At Captivate, we're deeply ingrained in podcasting and have been since 2014 when we started Podcast Websites. Our mission is in creating resources, education and tools that podcasters can use day in, day out, to grow their businesses and brands sustainably.
Choose Captivate for Personal, Proactive Support and Community
For lots of podcasters, support and community is important. The ability to ask questions – especially when you're just starting out, want advice or feedback, or face a problem – is invaluable. This isn't to say you can't find community with Transistor.
But, if you're the kind of podcaster for whom support, development and innovation is important, Captivate is a better choice.
We've been providing hands-on, personal podcaster support since the start of Podcast Websites in 2014. Since then, we've put a lot of resources into developing a comprehensive, responsive and proactive international support team, some of whom used to be Captivate customers themselves! Our team of 11 covers 4 major time zones, meaning that wherever you are in the world, you'll always be able to access personal help in a timely manner.
Our podcaster support team, available via email or chat, gives podcasters direct access to the support team, led by Sam. There are also two active, dedicated Facebook groups for peer support when you need it. The private, members-only group hosts regular deep-dive Q&A sessions with our CEO Mark Asquith, giving podcasters the opportunity to put questions and feature requests directly to the team.
In short: we're focussed on helping you to build your show and we're living and breathing podcasting every day, because we love it. We don't just want to build a software business, we want to help podcasting to progress, too.
Transistor vs Captivate: Platform Features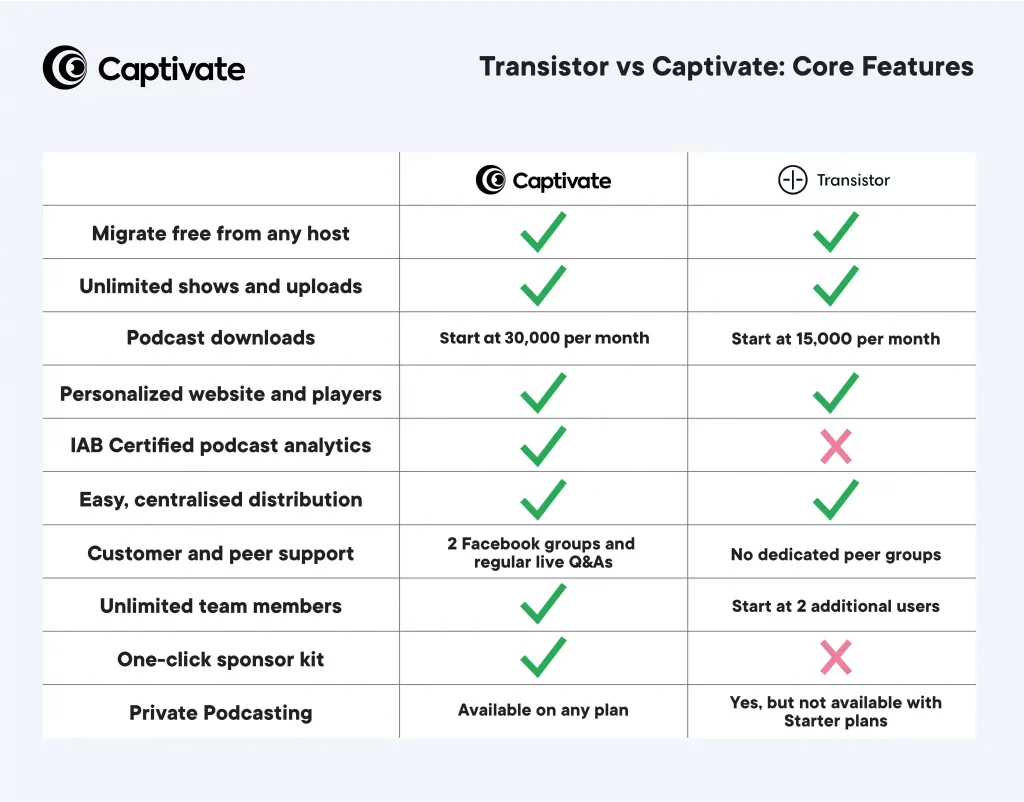 Transistor's platform features are split into two groups: core and advanced. Some are freely available to all plans, and some features are reserved for the higher tier plans. In this section, we'll talk you through all of the features and how Captivate compares.
Pro tip: It's a good idea when considering podcast hosting providers to think about your longer term podcasting goals.
If your podcast were to grow or scale, would your host be able to support you with your current plan? How much would it cost to get the features you need with your chosen host? Factor in these costs and considerations before you commit!
Create Unlimited Shows
Like Captivate, Transistor allows you to create and manage unlimited podcasts from one account. As long as you stay below your monthly download allowance, you won't have to pay any extra – on both platforms, you're free to create and upload whatever you like.
Thinking about migrating from your current hosting provider to Captivate? Check out our series of step-by-step migration tutorials (and let us know if we've missed yours off!) or learn how to create a new show within Captivate.
Monthly Download Limits
Captivate and Transistor are priced by total monthly downloads. This gives you predictable monthly pricing as well as flexibility over what – and how much – you create. It's a more transparent way to price podcast hosting and gives podcasters the freedom to produce high quality shows and content without the fear of being charged extra.
Plans for each platform start at $19 per month, or you can save a little money with an annual subscription.
Who provides the best value for your money? Learn more about how Transistor weighs up to Captivate on price.
What if you go over your download limit?
If you consistently exceed your monthly download limit, neither platform will automatically upgrade or shut off your account.
On Captivate, you'll be able to access and manage your account as normal, but we will talk to you personally about upgrading your plan to meet your growing needs (which is a nice problem to have). The same applies with Transistor.
Multiple Team Members
Transistor allows you to create multiple logins for one account, meaning you can easily invite other users to collaborate on a show and build up a podcast production team.
You can vary the levels of permissions assigned to each team member with the three set roles: owner, admin and member. This allows you to control who can access, edit or manage certain elements of your podcast.
The downside is that you are limited to how many additional users you can have depending on your plan. Additional users start at 2 for the Starter plan, 5 for the Professional and 10 for the Enterprise plan.
Another downside is that you are restricted to the 3 set roles when assigning permissions. This might not give you the full flexibility you need to manage your team effectively.
Choose Captivate for Truly Unlimited Team Members at No Extra Cost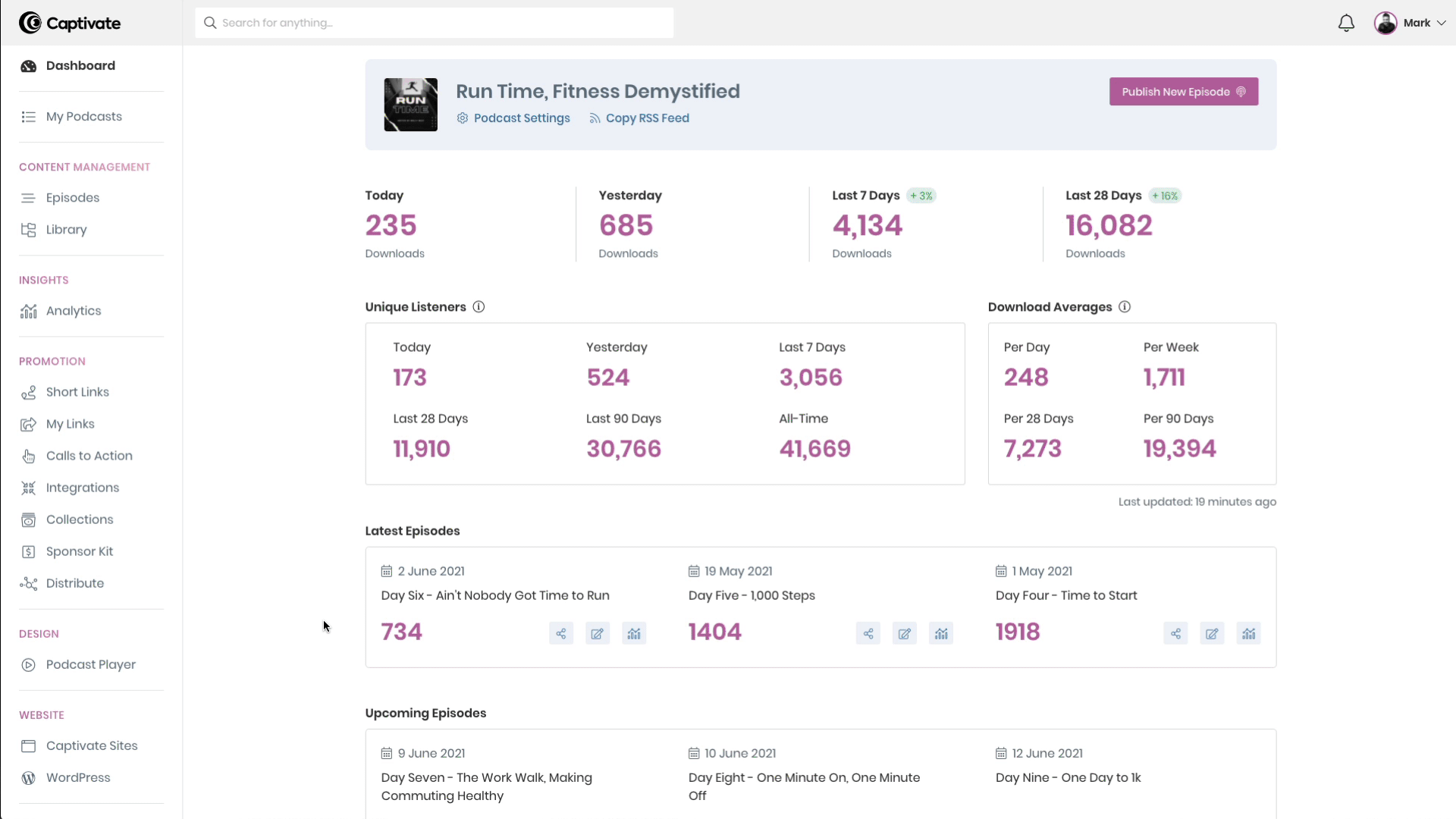 Captivate gives you true flexibility with unlimited team members across all paid plans. You can choose from over 20 different permission levels to build personalized profiles for every user on your account, helping you to manage your podcast production, content and workflows efficiently and securely.
You can also set show-level bios for every member of your team, so maintaining your podcast brand messaging is simple even for those juggling multiple shows and roles!
With Captivate, your podcast is able to scale, grow and develop easily from day one, with no unnecessary upgrades needed.
Transistor vs Captivate: Marketing and Growth Tools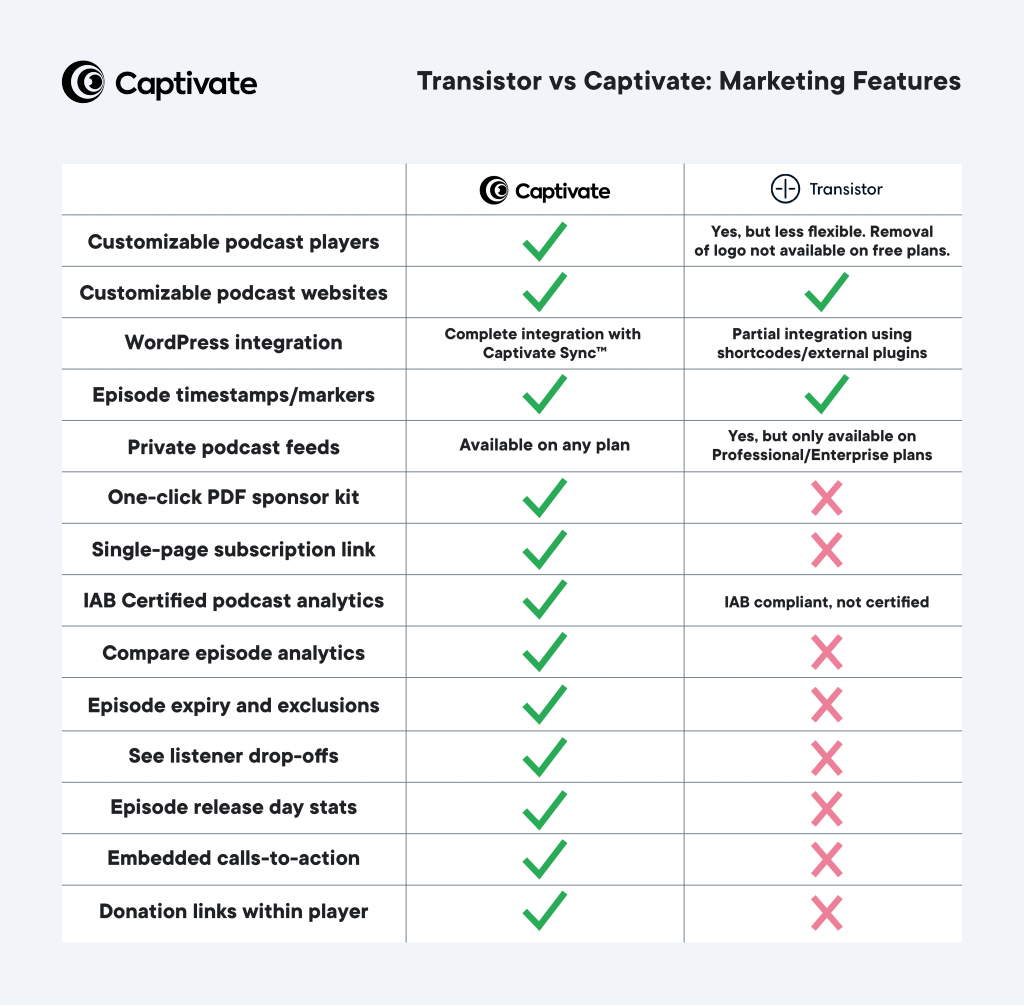 Hosting, managing and distributing your podcast is only one important element of its success. A good podcast host will also give you marketing tools, insights and integrations to help you achieve sustainable growth.
In this section, we'll take you through Transistor's marketing and analytics features and how they compare to Captivate's suite of powerful, growth-oriented tools.
Advanced Analytics
Analytics are key to informing your podcast's growth and marketing strategy. It's vital to know what kind of content resonates with your audience, how/when they consume your podcast and how many of them are actively listening.
At the same time, it's important to know that the analytics you get from your podcast host are reliable, accurate and conform to IAB Tech Lab industry standards of measurement. Without this, you won't get a good gauge of your podcast's reach or its true engagement levels.
Advanced analytics are available across every Transistor and Captivate plan as standard. Both platforms provide a suite of advanced podcast stats, such as:
Total downloads
Listener geography, trends and behaviours
Detailed breakdowns of your top episodes
Get Deeper, More Powerful Podcast Stats with Captivate
Captivate goes one step further than Transistor by offering one of the strongest and most powerful analytics suites of any podcast host.
The Captivate analytics dashboard – available across all plans – gives you valuable data on your unique listeners, episode performance and helps you to make smarter marketing, monetization and content decisions.
Our podcast analytics dashboard also allows you to:
Get download overviews, averages and unique listener data across multiple timeframes
Get detailed insights on your listener demographic, geography and listening habits
Drill down into specific episodes with episode-level analytics
See when listeners stopped listening, skipped or replayed an episode within the web player
See how an episode performed within its first 24 hours
Track download milestones by viewing your episode stats cumulatively
Compare the stats for up to 5 different episodes
See your 'trending' or highest performing episodes to identify spikes easily
Need more help? Read more about our powerful podcast analytics suite and how to interpret your stats.
Are Transistor's Analytics IAB Certified?
While Transistor states that its analytics follow IAB 2.0 guidelines, only Captivate is officially IAB Certified.
Why does this matter to you?
It's a bigger picture kind of thing. When we built Captivate, we set out to represent and serve podcasters in the most useful way possible. It's extremely important to us that we help to standardize analytics and shape the future of podcast measurement – being IAB Certified gives us a seat at the table and a space to champion independent podcasting.
Podcast Websites
A podcast website is essential for allowing listeners to easily access, donate and subscribe to your podcast.
Transistor provides free, built-in podcast websites across all plans. Features include:
Integration with email marketing providers
XML Sitemap
Use of custom domain
If you want something a little more complex or already have a website, publishing your podcast onto your website with Transistor is more of a manual process.
For those hosting their websites elsewhere, such as Wix, embeddable player codes are available. If you want to use a plugin or integrate with WordPress, no dedicated Transistor support is available. You can, however, use external plugins to connect your WordPress blog with your podcast's RSS feed.
Choose Captivate for Greater Website Functionality
Captivate podcasters on all plans have two brilliant options available for creating and managing podcast websites: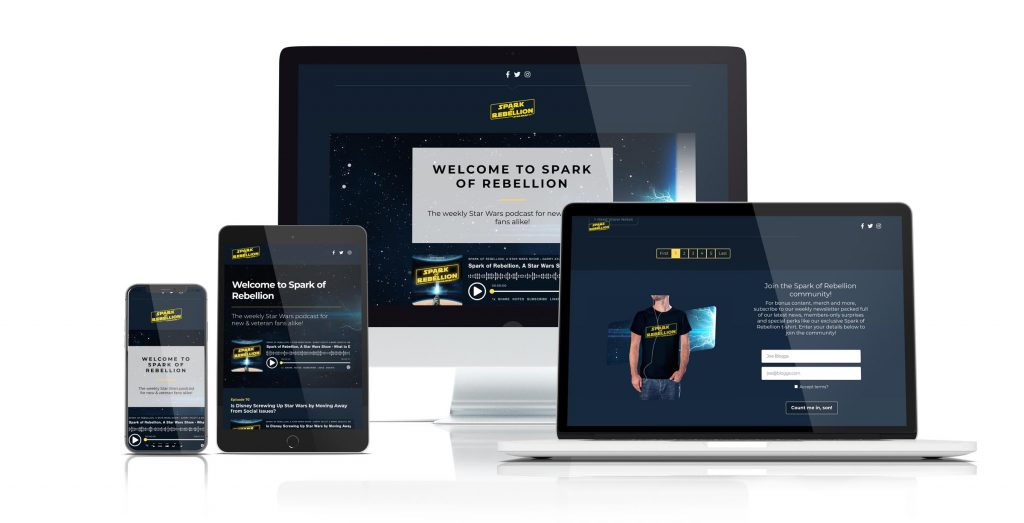 Both options have been designed to smooth out your workflow, give you flexibility and automate as much of your marketing process as possible. With your free Captivate podcast website, you can:
Create an email opt-in form/lead magnet using HTML or direct integration with AWeber
Choose from 3 fully responsive templates, customize team bios and change the look of your site to suit your podcast cover art
Highlight featured content and attract new listeners by pinning an episode to your header
Full, automated use of the stunning Captivate podcast player including calls to action, simple subscribe links and full device compatibility
Ready to set up your Captivate podcast website? Learn how to create a beautiful site, and get the most out of all the features, with our 6 step-by-step tutorials.
Episode Players
Being able to highlight trailers, different episodes and seasons with episode players is an essential part of getting your podcast content out there.
Whilst a lot of listeners encounter your show in the directories, a beautiful, functional and effective podcast player has a key role in making your content more accessible to potential new fans.
Transistor's episode players are minimalist and functional. They look good on the page and allow you to share episodes and subscribe to the podcast. Like Captivate, you can choose from a latest episode player or a multi-episode player, which is a helpful way to display and promote your content.
Choose Captivate for Powerful Listener Insights
Captivate offers 4 fully responsive, embeddable podcast players: the Main Player, Latest Episode, Playlist and Curated Collections. All players come with heaps of extra functions that make it easier for listeners to access your extra content, subscribe via their preferred app, donate to your podcast and navigate to important links.
Our Web Player Analytics will also give you powerful insight into:
How many unique listeners hit play on an episode through the web player
How many people are choosing your web player over other listening apps
Listener duration, drop-offs, skips and replays
We know that you want to make your podcast your own from day one. It's important to be able to customize every touchpoint, even down to the smallest detail, which is why you can remove the Captivate branding from any player on any plan.
Even better, our players automatically adjust their colours to match your podcast cover art, for a seamless and on-brand look throughout.
This isn't true for Transistor – where you're only able to remove player branding on the very highest Enterprise tier. Whilst only a small detail, it's important to know that you'll only be able to take player customization with Transistor so far.
Private Podcasting
Offering a private feed is a great way to start monetizing your podcast by creating bonus/exclusive content that is invite only. Similarly, many businesses are turning to private feeds to run their own internal or corporate podcasts.
Transistor's advanced features – only available on the more expensive Professional ($49/pm) and Enterprise ($99/pm) plans – include the ability to host a private podcast alongside your public feed.
On Transistor, you can manage a maximum of 1000 members of your private podcast within the dashboard. Professional users can have 1 private podcast feed, whilst Enterprise users can have up to 3.
The downside is that private feeds are not available on Standard Transistor plans. This means that 'smaller' podcasters looking to introduce bonus content or subscription-only models for their shows will need to look elsewhere.
Create Your Own Private Podcast with Captivate On Any Plan
You can create a private podcast on Captivate no matter what plan you're on.
You can easily get started offering premium content, introducing paid membership or internal communications from day one, without having to spend extra cash or sacrifice on security.
Captivate's private feeds are accessible for all and built to scale:
Our $19 plan includes one free private feed with 150 private subscribers.
Our $49 plan includes one private feed and 500 private subscribers.
Our $99 plan includes three private feeds and 1,000 private subscribers.
Transistor vs Captivate: Pricing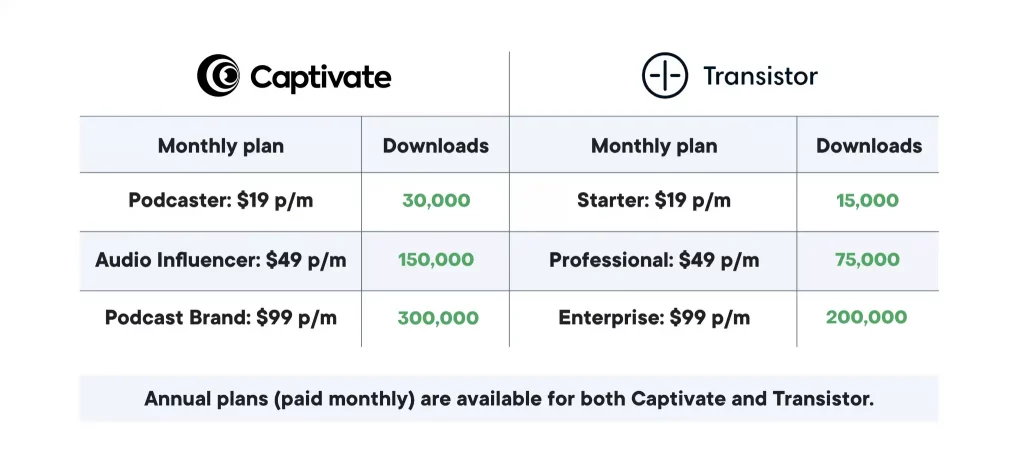 As we mentioned earlier, Transistor charges on a download basis just like we do at Captivate. Their plans start at $19 per month for 15,000 downloads, which is accessible for beginners and smaller businesses. If your podcast takes off, you can easily scale and build a podcasting brand using the upper two tiers.
But remember: on the Starter plan, you won't be able to access certain features such as private podcasting or multiple team members. You'll need to pay for the Professional or Enterprise plans in order to get hold of these features and start using them. That means:
No private podcasting
No ability to remove branding from the player
No WordPress integration or dedicated plugin
Only 2 additional users per podcast
Choose Captivate for Overall Better Value and Powerful Podcast Insights
On Captivate, you can run as many shows as you want from your account, running however long you like, whenever you like, starting at 30,000 downloads per month.
Read this article about why we decided to increase download limits for each plan.
Yes, it's a bit less than Transistor, but we don't hold back extra features behind paid upgrades and Captivate has a significant range of features you simply won't find at Transistor, each built to help you to grow your podcast.
All of our features are available as standard, across every plan, to help your podcast grow and scale from day one.
That means:
Unlimited podcasts
Unlimited team members
Single-page subscription links
Custom, trackable short links
Private feeds on any plan
Powerful podcast websites and complete WordPress integration
4 sophisticated, responsive, customizable podcast players
Advanced, IAB Certified analytics
One-click PDF sponsor kit to help with monetization
Weekly feature releases, live Q&As and two thriving Facebook communities
Helpful integrations and resources to speed up workflow
Try Captivate – The Best Transistor Alternative
We created Captivate to bring the best tools, features, education and resources to podcasters all over the world. We were IAB Certified within months of launch, and a year on, we continue to work with our community of podcasters to release new features every single week.
We're incredibly proud that our platform helps creators grow, scale, market and earn money from their podcasts every day. We'd love for you to try Captivate out for 7 days with zero obligation, check out our blog or even visit our YouTube to get a flavour of how we can help you start to grow your podcast today.
And, if you have any questions big or small, don't hesitate to reach out to us over email – we'd be glad to help!