On The Lookout For A Buzzsprout Alternative?
Let's get right to it. When it comes to podcast hosting, we know that everyone has different priorities, goals and budgets, and that there are lots of stellar hosting providers on the market today.
We want to help you make the best, most informed decision by giving you an honest, factual comparison of how we match up to other podcast hosts on the market.
So, Buzzsprout or Captivate?
In this side by side comparison, we take a deep dive into Buzzsprout podcast hosting, its pros and cons, and how it weighs up to Captivate when it comes to support, service, features and, of course, pricing.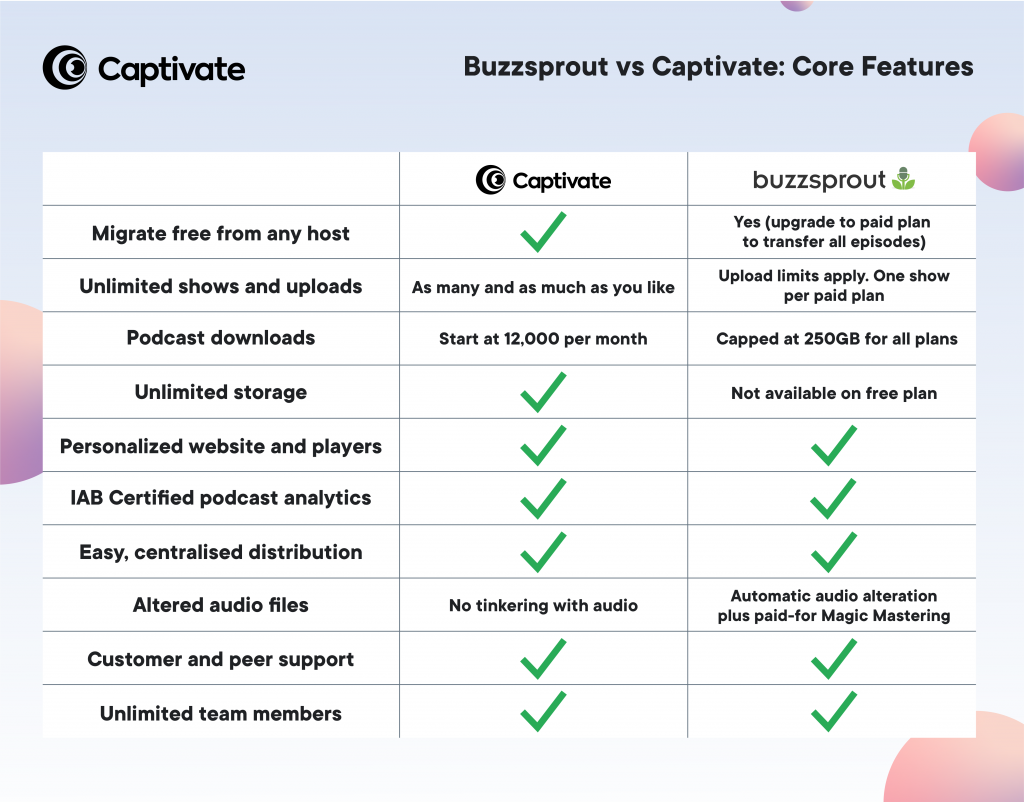 Who Owns Buzzsprout?
The company that owns Buzzsprout, Higher Pixels, makes software and Buzzsprout is one piece of software that they make. Higher Pixels has built the Buzzsprout reputation steadily since its launch in 2009. Higher Pixels is run out of Jacksonville, Florida, and is headed up by entrepreneurs and developers Tom Rossi, Marshall Brown and Kevin Finn, who alongside their team design and run various software products.
Who Owns Captivate?
Captivate is founded by entrepreneurs and experienced podcasters, Mark Asquith and Kieran McKeefery. The platform is anchored in the UK with support team members and developers in the United States and across the world.
Mark and Kieran only make podcasting products and work under the banner of Rebel Base Media. Rebel Base Media has been developing podcast-related products like The Podcast Success Academy, Poductivity and the world's #1 WordPress solution for podcasters, Podcast Websites, since 2014.
We produce four podcasts per week – check out CEO Mark Asquith's Podcast Accelerator – so we've built Captivate with podcast growth, innovation and creativity in mind because well, that's what we needed for ourselves!
Buzzsprout Pros and Cons
At A Glance
Buzzsprout has a reputation for being pretty affordable and easy to use, with a decent dashboard and solid customer support. The platform includes a range of features that you'd expect from a hosting platform, like flexible pricing tiers and customizable players.
Buzzsprout's simple, affordable approach doesn't focus too much on podcast production, sustained growth and monetization opportunities, but Buzzsprout works well for people who understand that approach.
Buzzsprout's upload and bandwidth limits can restrict how flexible and creative you can be with your content. The tried-and-tested "start people for free and upgrade them after limits are hit" approach does work well as a business model, but as a podcaster it can sometimes feel a little challenging when the limits are on upload, especially if you want to produce and grow podcasts for the long term.
As long as you understand that, though and are going into Buzzsprout with that knowledge under your belt, you might feel comfortable kicking the tyres a little on it.
So, without further ado, let's get into the detail of how Captivate weighs up as a Buzzsprout alternative.
Buzzsprout vs Captivate: Podcast Support Features
At A Glance
Both Captivate and Buzzsprout offer email-based customer service, but Captivate has a built-in chat function, too. There's a dedicated private Facebook group frequented by CEO Mark and run by Sam, our Head of Podcaster Support and Experience, where we host bi-weekly deep-dive live Q&A sessions.
We are committed to developing Captivate as a service for podcasters. We release new features and upgrades every single week, giving you a unique, responsive suite of tools to help you launch, produce and grow your podcast.
Captivate has support staff in the UK, US and across the world and operates 24 hour support during the week and 3 hours per day on a weekend, so you're never alone!
Customer Service and Support
One of the most important factors when choosing any podcast host is the quality of its customer service. Buzzsprout – like any online business – pride themselves on their fast, responsive service, and there are a lot of positive reviews on their website to back this up. Depending on your perspective and needs, a brief check of their T&Cs reveals that their customer support is only provided over email. This may be fine for you, but it's worth knowing about.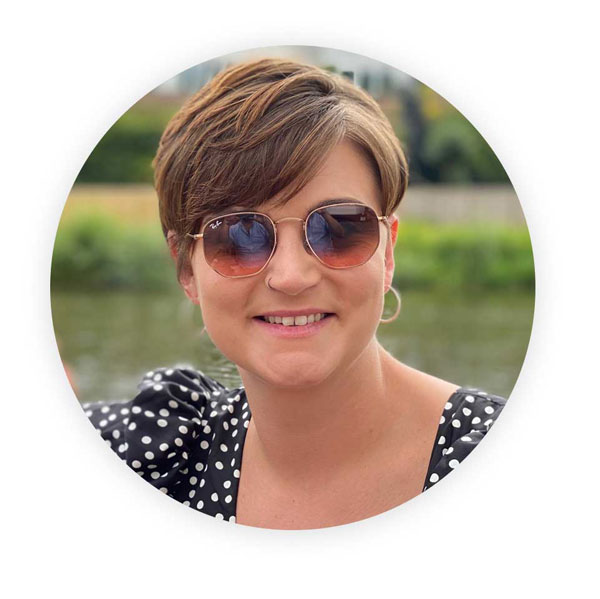 Captivate support can be carried out over email, too, but there's also a chat function built into the homepage and Captivate dashboard which gives users direct access to the support team, led by Sam.
Both platforms have active Facebook groups for peer support, too but Captivate's group goes a little deeper with regular deep-dive Q&A sessions with our CEO Mark Asquith, giving podcasters the opportunity to put questions and feature requests directly to the team AND to dive deep into questions around how to grow your podcast and more, twice a month.
Speaking of features… we don't call ourselves "The World's Only Growth-Oriented Podcast Host™" for nothing.
We release updates or completely new features on a weekly basis that are focused on helping podcasters like you to grow their shows, meaning podcasters can continually develop and grow their podcasts using cutting-edge tools, and have ample opportunity to suggest their own features.
We've no doubt that Buzzsprout enjoy updating their own platform, but the appetite for growth and evolution within the Captivate community makes it an incredibly exciting place to be for any beginner or growth-seeking podcaster.
Buzzsprout vs Captivate: Podcast Hosting Platform Features
At A Glance
Each time you upload, Buzzsprout automatically processes your audio file into 96k mono, the recommended setting for spoken word podcasts. If you want better audio quality (for music-heavy podcasts, for example), you can turn on Magic Mastering for an extra monthly cost. Captivate doesn't alter your audio in any way.
In order to transfer your whole catalogue episodes over to Buzzsprout, you'll need to upgrade to the $12 per month plan. Migrating with Captivate is always free and we'll also auto-convert your files to MP3 format to save you the hassle of doing it yourself.
How Easy Is It To Create My Podcast with Buzzsprout vs Captivate?
Just like Buzzsprout, Captivate makes setting up your podcast as simple and transparent as possible, with just a few clicks to get up and running.
A consideration when uploading files to Buzzsprout is the platform's automatic episode optimization tool. This basically squishes your audio file down to 96kbps mono as soon as you upload it – which is a way to limit Buzzsprout's outgoing bandwidth cost so that the free plan doesn't cost them too much and overall profitability is maximised.
There's nothing wrong with that as a business model and of course, it'll mean episodes also stay small for listeners, but you need to know about it.
Of course, better audio quality options are available, but again, you have to pay extra for it through the Magic Mastering add-on.
With Captivate, you'll get more creative control over your audio production. If you don't spend time editing your episodes, this won't be an issue. But if you edit, mix and master your own episodes (or pay someone to do it for you!), Captivate gives you the peace of mind that your audio will remain untouched, without the need to pay for add-ons.
What About Migrating My Existing Podcast from Another Podcast Host?
It's just about as easy to transfer your podcast to Buzzsprout as it is to Captivate but Captivate has a benefit in that you can transfer your podcast to Captivate on any of our plans, whereas on the free tier, you can't transfer a podcast to Buzzsprout (more on that in a second).
The process with Captivate takes a few minutes and is handled for you in just a few clicks. It's really easy and your podcast will stay active in Apple Podcasts, Spotify and anywhere else without you having to worry.
If your back catalogue is in MP4/M4A format, no problem – Captivate will automatically convert your files into a high quality MP3 without you having to do a thing. We also have a video walkthrough available to all podcasters wanting to import their podcast into Captivate and Sam and the team on hand to help, too.

However, if you choose Buzzsprout's free plan to migrate with, you'll only be able to transfer over a few episodes of your back catalogue. You'll need to upgrade to a paid plan in order to transfer your full library of episodes over to your new account, or risk losing them altogether – another reason to maaaaybe not be seduced by free podcast hosting – you'll probably not stay on the free plan for long!
We also have a very useful feature that checks your episode numbers and detects if your show has published more episodes than are in your feed so you can change that setting in your old host before importing. No episode left behind!
Want to know how to migrate your podcast to Captivate?

Read our dedicated step-by-step guide on importing your podcast from Buzzsprout to Captivate quickly and easily.
What About Distributing My Podcast to Apple, Spotify etc?
Both platforms make publishing your podcast to all the main directories very simple. After publishing your episode, you can use the dedicated distribution page to register and submit your podcast wherever you like.
Currently, the directories you can submit to include:
Apple Podcasts
Spotify
Google Podcasts
Amazon Music/Audible
Gaana
Pandora
TuneIn
Stitcher
RadioPublic
Podchaser
All the main aggregators including Overcast, Pocket Cast and Castro
And so many more…
All podcast hosting platforms allow you to list your show in the same places, pretty much. New directories are popping up all of the time and all major hosts like Captivate work hard with these channels on integrations.
Buzzsprout vs Captivate: What About Podcast Audience Growth and Marketing Tools?
Being able to share your podcast around is a dealbreaker. Being able to make money off your podcast is, for some, a dealbreaker. Buzzsprout and Captivate make it easy for you to do both of those things with affiliate programmes, analytics and marketing tools.
We go several steps further when it comes to audience growth and marketing tools. From day one, Captivate podcasters get:
A one-click, customizable PDF sponsor kit
Embedded, customizable calls-to-action within the podcast player
Curated Collections, episode exclusions and expiry dates to easily adapt and experiment with podcast formats
LOADS more…
At A Glance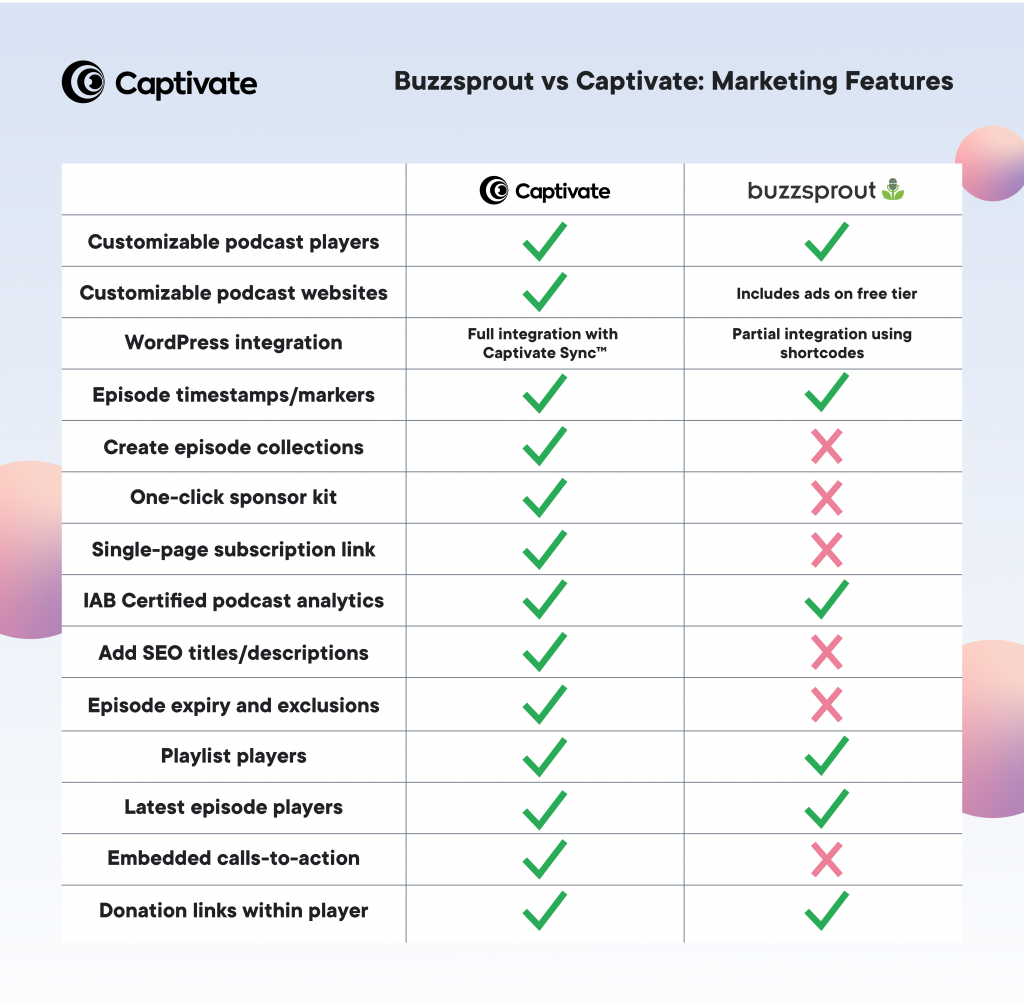 Podcast Websites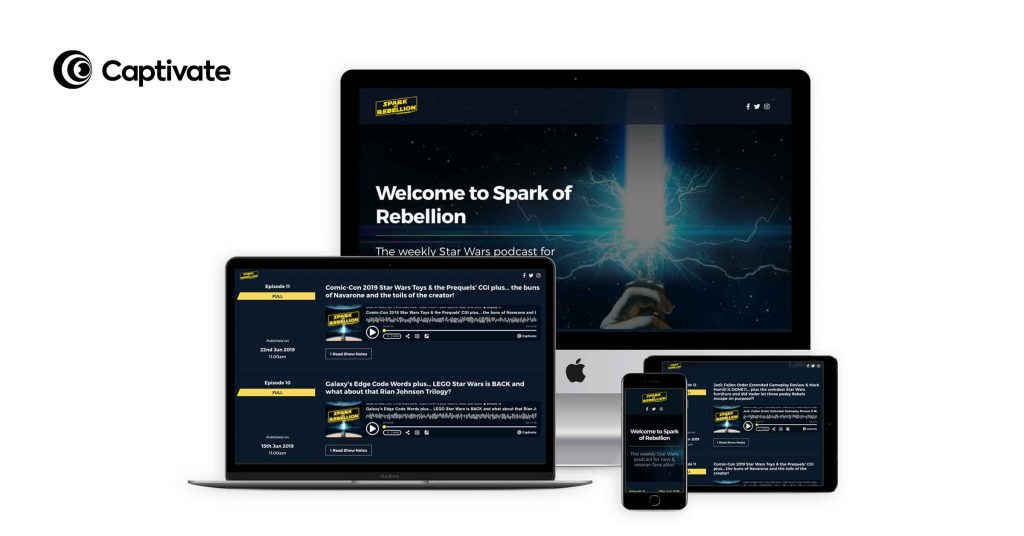 Buzzsprout's podcast websites are a relatively new feature (introduced in May 2019) and you're a little constrained with what you can do with them beyond adding your links and colours. They're very basic websites that function like a slightly jazzier RSS feed.
Our websites are anything but basic feeds for your episodes. We've gone beyond that and developed two entire services: Captivate Sync™ and Captivate Sites, to give you tons more freedom to flesh out your audio brand with flexible tools that are great for beginners and seasoned pros. If you're just starting out, it gives you the chance to launch with a full suite of promotional tools that look as awesome as your show sounds.
Our websites function more like a fully-fleshed podcast website than just an RSS feed. Choose from 3 fully responsive templates, customize your page's header, your team bios and pinned episodes. You can even enable an email marketing opt-in form and create a lead magnet to encourage listeners onto your mailing list – directly within the Captivate dashboard.

So, from day one, you have access to these invaluable features to make your podcast look and feel professional, especially important when you're trying to grow and monetize your podcast.
WordPress Support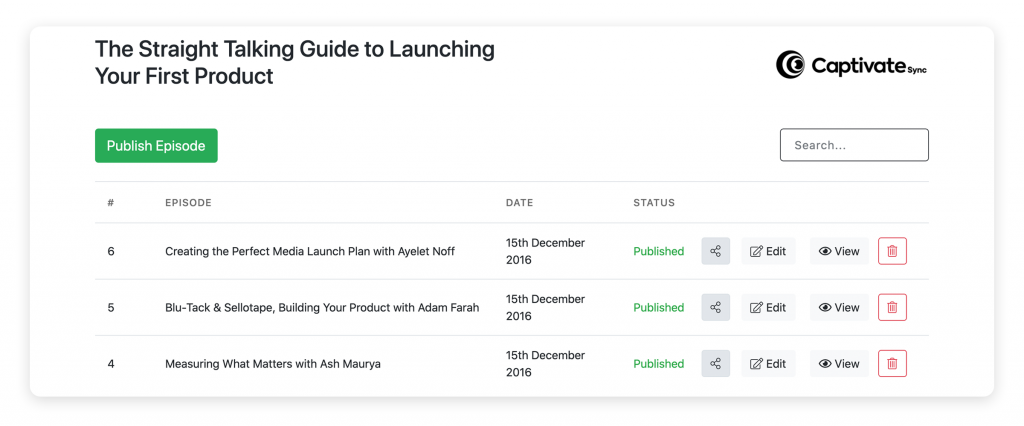 If you're a dab hand at WordPress, Captivate Sync™ allows complete integration meaning you can embed your podcast within an existing website. You can publish, edit, delete episodes, map them to specific pages and see your changes immediately within your Captivate dashboard (or vice versa). It's an incredibly useful time-saving feature that will no doubt speed up your workflow.
We're also on hand to offer WordPress-centric support through our Podcast Websites service, should you need any help.
If you want to use your WordPress website with Buzzsprout, their plugin offers partial integration. However, functionality is limited: you can only embed episode players using shortcode for use in blog posts with this plugin.
Podcast Players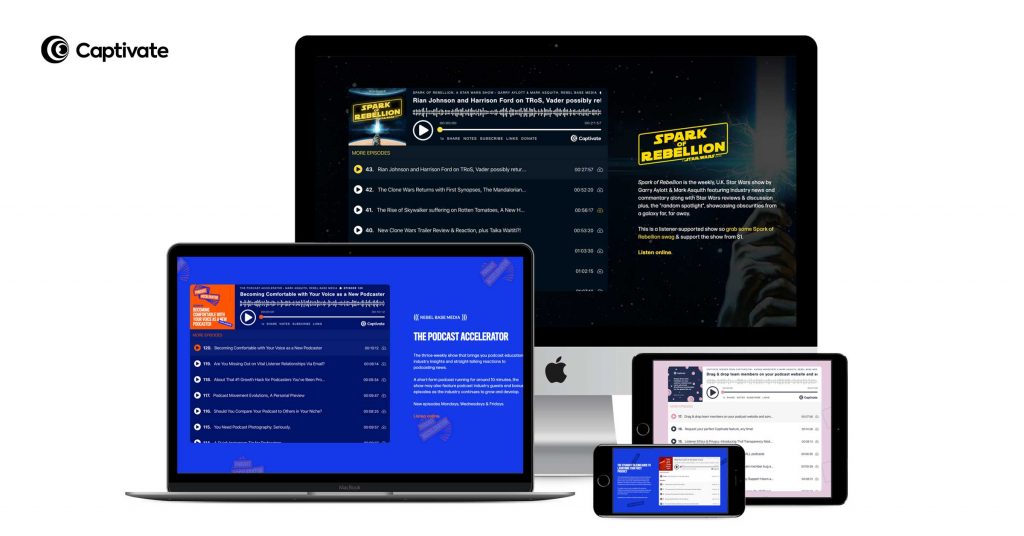 The Buzzsprout players and website are simple, effective and responsive tools, yes. But embeddable podcast players are not available to those on the free Buzzsprout plan (if you wanted to stick around on that, you'd need to build your own website and wouldn't have a player for your podcast from Buzzsprout).
Captivate's episode and playlist players have been developed with podcast growth in mind. Captivate's embeddable podcast players are fully customizable with access to episode information and social sharing links. So far, so good.
Inside Captivate's Intelligent Podcast Players
Our player allows listeners to access show notes, donate and subscribe to your podcast directly within the player AND set up calls to action unique to drive listeners to your content. There's more!
Save time with intelligent customization – Let the player design itself automatically based on your cover art colours for consistent branding throughout your players!
Monetize the player itself – Register as a Captivate affiliate and turn the Captivate logo on your player into a referral link. You'll earn commission from everyone who clicks through and signs up to Captivate.
Display however many episodes and collections you want, wherever you want.
Embeddable playlist and latest episode players help with growing and promoting your show to prospective listeners, subscribers or sponsors.
Fully responsive with a clean, easy-to-navigate interface for listening on any device.
Captivate's IAB Certified Podcast Analytics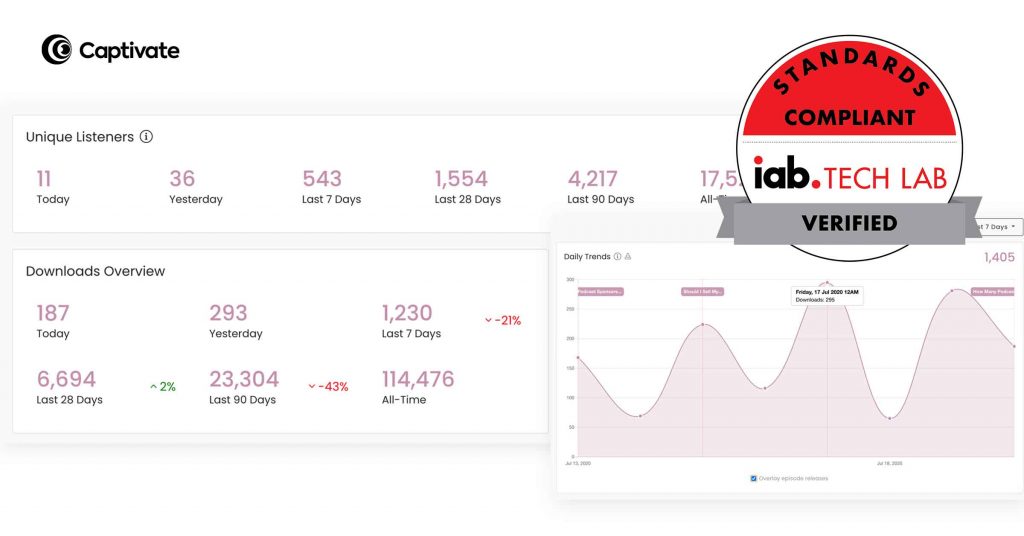 Captivate achieved IAB Certification within months of launch. In fact, we built the platform to adhere to IAB standards in the first place, so our advanced analytics are free to all our podcasters.
Update September 2020: Buzzsprout has now achieved IAB Certification for its podcast analytics.
For us, working with the IAB Tech Lab and achieving certification early was a no-brainer. When we built Captivate, we set out to represent and serve podcasters in the most useful way possible. As podcasters continually look to hone in on the accuracy of their analytics and understand their listenership, it is super important to us that we help to standardize analytics and shape the future of podcast measurement.
What is IAB Certification and why does it matter to you?
Having the IAB certification seal means that you can be assured that your download analytics and unique listener counts meet the industry standards, giving you a true reflection of the growth of your show via your analytics data. We'll also give you a flashy IAB-Certified badge to add to your one-click sponsor kit and to use in sponsorship pitches.
Captivate's Clickable Timestamps
If you want to make it easy for your listeners to navigate your episodes, you can do that with Buzzsprout's 'Chapter Markers' and Captivate's 'Clickable Timestamps' features. Both features make it possible for you to identify and label sections within your audio, meaning you can point listeners towards relevant content and drive SEO benefit for yourself.
Captivate's Curated Collections
Unique to Captivate, Collections are curated playlists that you can use to collect related episodes for your audience. They feature their own embeddable player and their own custom RSS feed.
They're the perfect way to make your back catalogue more accessible and to increase listenership of your podcast through curation and collection of related episodes.
We use them all the time when putting together our comprehensive tutorials as a way to round up relevant podcast episodes that readers might find useful. Here's one we've created to go alongside our comprehensive How To Market Your Podcast tutorial: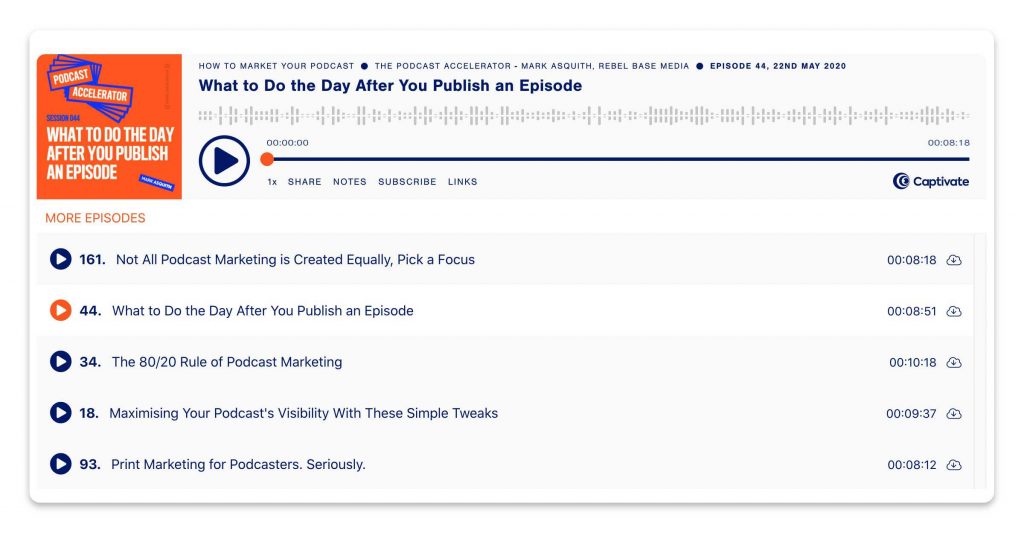 Other use cases include:
End of year round-ups
'Best of' content
Modules or course content
Your most popular episodes and guest interviews (great for sponsor kits!)
They're super easy to put together, and you can read more creative ways to use them over on our blog.
Buzzsprout vs Captivate: Podcast Host Pricing
How Much Does Buzzsprout Cost?
Let's get down to it: we've shown you how much value Captivate provides compared to Buzzsprout – but what about price?
At A Glance
Buzzsprout offers free (or else very low cost) podcast hosting. But you're not getting the value for money that would with Captivate unless you upgrade or purchase add-ons. Examples include limited upload allowances, in-page advertising, limited analytics packages and those and those cheeky little things like not being able to import your podcast that will likely force you to upgrade.
Captivate starts at $19 per month. This includes 12,000 downloads a month, unlimited shows, full marketing and analytics suite, the One-Click Sponsor Kit, customizable podcast website and players with new features and upgrades coming every single week. Plus, direct access to respected podcast industry figures.
Free Podcast Hosting, But At What Cost?
A lot can be said for free podcast hosting. It is accessible to beginners just trying out podcasting, or those just wanting to see what all the fuss is about. But when you look into Buzzsprout's free hosting in more detail, it is more a very long free trial than a platform you could use over a long period of time for an actual live podcast.
For the sake of a monthly subscription, you sacrifice a lot of functionality and important growth-related features, including episodes being deleted after 90 days, limited upload allowance, an incomplete analytics package and, of course, in-page advertising. You won't get access to a podcast website or players, and you'll only be able to import a handful of your previous episodes (if you have them) should you choose to migrate from another host.
We chose not to offer a free plan because it didn't feel right for Captivate. To podcast, you need to experience everything that you can really do, not hit frustrating limitations and an "upgrade" page right at the point where you're excited to get going.
You're going to end up paying for podcast hosting, we'd rather let you know right away that you're getting value for money and that you won't be scaled up unless you genuinely grow.
Buzzsprout's Costs Lurking in T&Cs vs Captivate's Download Tiers
Buzzsprout stipulates in their T&Cs that the plans listed on their website are not suitable for "enterprise networks, corporate customers, or others with high bandwidth requirements".
That's totally fair.
But, dig a little deeper and you'll find that it's not out of the question for anyone to become deemed an enterprise network, corporate or high bandwidth guzzler – even you could be upgraded to an expensive tier.
If you think these fair usage restrictions probably wouldn't apply to you as a beginner or even a professional indie podcaster, you may need to think about this…

According to their website, if you…
Use more than 200GB of outbound transfer within a month
Produce episodes consistently exceeding 5000 downloads
Have historical episodes exceeding 10,000 downloads
Have more than 2500 listeners
…they could bump you onto a 'Buzzsprout Pro' plan at $49 a month without warning.
Yes, Buzzsprout is well within their right to operate a fair usage policy (and so do we); after all, podcasts are huge files and require a lot of bandwidth to upload/download.
All Buzzsprout paid plans come with 250GB bandwidth per month. But use more than 200GB of that monthly transfer, and you could end up paying $49 a month when you only budgeted for $12.
That's why from day one, we put Captivate's usage and pricing front-and-center – so that you can see right away what you're really to expect.
Take our example: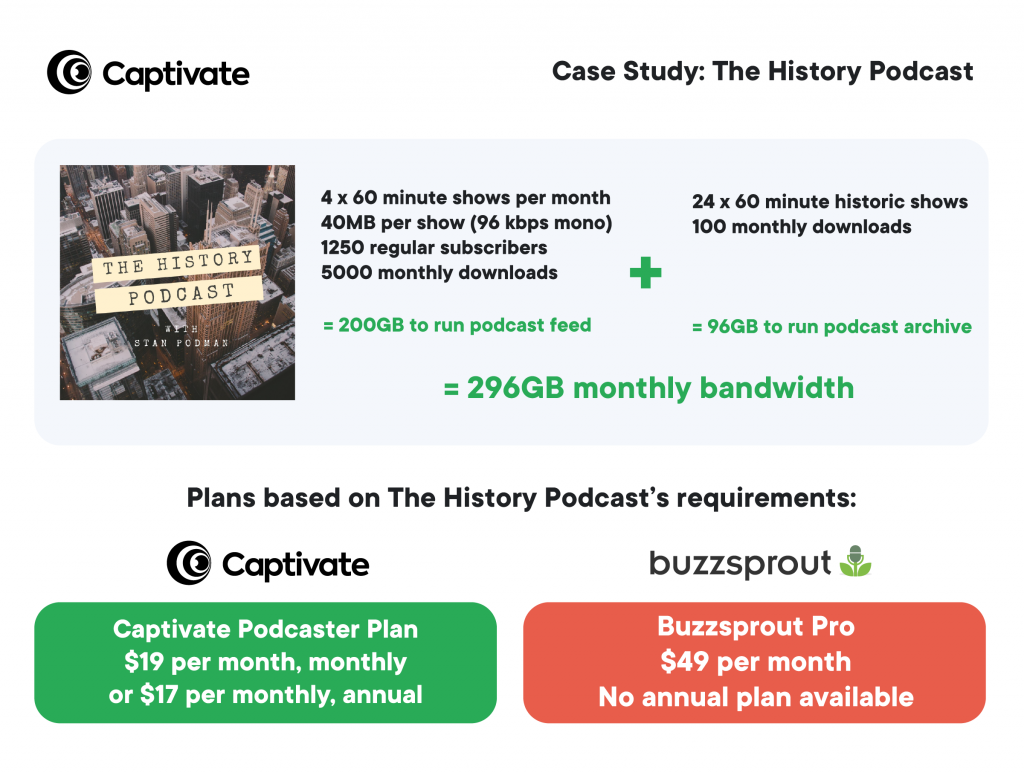 Stan at The History Podcast wants to run 4 one-hour-long shows per month. Each of his files comes in at 40mb (96Kbps mono) and he has roughly 1250 subscribers who listen regularly (equalling 5000 downloads a month). To run his podcast feed, he'd need 200GB of bandwidth per month.
He's been running The History Podcast for 6 months now, which means he has 24 episodes in his back catalogue, and expects to get around 100 downloads of each episode. That's 96GB of bandwidth to run his archive.
All that equals 296GB of bandwidth a month, give or take. Factor in those downloads, and there's a lot of price instability on Stan's mind.
That's well over Buzzsprout's bandwidth limit, and he'd be upgraded to the $49 per month plan.
With Captivate, Stan would pay $19 per month to get more than double the allowance (12,000 IAB compliant downloads per month), keeping his running costs predictable.
If you're putting out regular, well-received episodes, or looking for serious growth and a podcast career, you might want to consider choosing a platform that can support you fully from day one – with no extra costs lurking just around the corner as you begin to grow.
Captivate's structure is transparent from the very beginning.
All our plans are laid out, there's no hidden costs in our T&CS or upgrades to pay for if you need a little bit of wiggle room. If you exceed your bandwidth limit with us, we don't automatically upgrade you. We'll always talk to you first and discuss a plan of action with you – and if you're in that position, you're bossing the podcast game to begin with!
Pay Per Hour or Per Total Downloads?
Buzzsprout is tiered by the hour, with their free plan allowing 2 hours of audio uploads per month and the highest paid plan offering 12 hours (there is an option to add on more hours if you want). These are usable packages if you know exactly how long your show will be and how often you'll be uploading, and if you're only running one show (each extra show with Buzzsprout must run on its own paid plan.)
But flexibility in podcasting is actually really useful (and essential if you're just starting out or running an interview or discussion-based format). You might want to play around with release frequency, release a couple of bonus episodes or change up your format to accommodate different segments. It could also get really annoying (and expensive) trying to juggle different payment plans.
Plus, why limit your creativity?
Create unlimited podcast shows with Captivate, for one cost
Most podcasters love podcasting so much after their first show that they want to start another, and another, and another… that's why with any Captivate plan, you can create unlimited podcasts for yourself!
Captivate is tiered by total downloads across your account, with predictable monthly pricing and no features held behind add-ons and upgrades. That's it.
Starting at 12,000 downloads per month, you can run as many shows as you want from your account, running however long you like, whenever you like.
This gives you total freedom to play about with the format, schedule and length of your podcast and episodes without having to worry about time and bandwidth allowances – all you need to focus on is producing great content and using Captivate's tools to grow your downloads.
Why does Captivate charge on a download basis?
For two reasons:
Outside of our pretty fixed staffing and technical costs (like servers, file storage etc), bandwidth is the only cost any podcast hosting platform has, and the most variable. In fact, we increased our download thresholds early on because we were able to make cost savings elsewhere. Instead of keeping the cash for ourselves, we upgraded everyone's service!

We'd rather be upfront about it with you because every podcast host (including Buzzsprout) limits your bandwidth in some way, it's just that not many actually tell you about it upfront. We do.

We know that you'll probably want to start a second podcast, or a third, or more! We get the bug, just like you! So, we want you to have the flexibility to be able to try things without having to worry about paying more or being limited on how much you can upload.
So, by including all of our features to you on every plan, we give you the best chance of growing. We have made sure that our tiers are priced in such a way that when you reach the top of the download tier, you're highly likely to be already making money to cover your hosting costs.
Buzzsprout Paid Plans
Buzzsprout's paid plans are as follows:
For $12 per month, you'll get 3 hours of audio (enough for 3 hour long episodes per month)
For $18 per month, you'll get 6 hours of audio (enough for 4 weekly hour-long episodes plus a couple of bonus episodes)
For $24 per month, you'll get 12 hours of audio (enough for 3 hour-long episodes a week)
Extra time, transcription and Magic Mastering can be added at each tier on a sliding scale. All paid plans come with unlimited team members, advanced analytics, podcast website and player, unlimited storage and 250GB bandwidth per month.
Be aware, though, that the Buzzsprout bandwidth limit remains the same for all basic plans, and places some hefty restrictions on what you'll be uploading and how much your show can grow even on the highest paid tier.
For $24, you'll get 12 hours of audio allowance compared to 3 hours – great if you want to play around with episode formats or run multiple shows. But in reality, Buzzsprout stipulates that every individual show must be on its own paid plan, and at the end of the day, you'll still only have 200GB of bandwidth a month to play with before being moved up to the Pro Plan.
What does 250GB bandwidth equate to in real podcasting terms?
Captivate Paid Plans – Built For Growth and Scale
Our plans are much more transparent about what you're paying for, and place no such limit on your creativity. We don't charge you for better audio quality, multiple shows or episodes, or penalise you for being in the early stages of podcasting where you might want to experiment with running lengths, formats and schedules.
Your podcast(s) can be as long as you like, with a new episode every day if you want. We only charge you for the thing that actually costs us money – downloads. Everything else available to you, and up to you, from day one.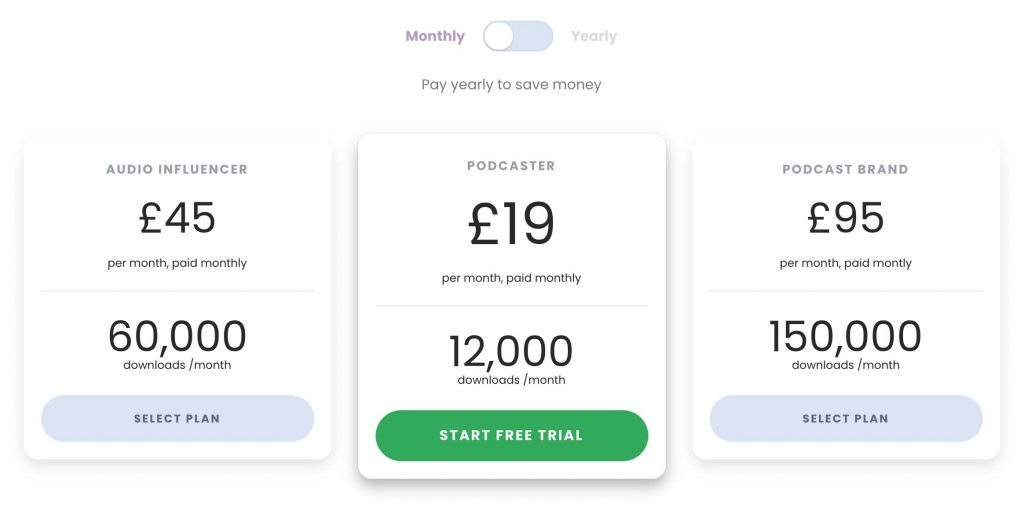 Our plans are as follows:
Podcaster – $19 for 12,000 downloads per month
Audio Influencer – $49 for 60,000 downloads per month
Podcast Brand – $99 for 150,000 downloads per month
Choose a monthly plan or an annual subscription to save you a little money on your podcast hosting.
There's no limit on your uploads or the amount of hours you can publish: you can just focus on producing great content, growing your audience and your brand without having to worry about exceeding your limit or incurring extra surprise charges.
If you do reach a massive 60,000 downloads per month, you'll (likely) be making money through sponsorship deals or other monetization methods to cover your expenses.
Is Buzzsprout Worth It?
Which podcast hosting platform is best for you? Which one provides best value in terms of running a successful, sustainable podcast? Which is best, Buzzsprout or Captivate?
Most importantly, who do you trust to support you as you start and grow your podcast?
In this article, we've shown you the positives and as we see it, the risks of Buzzsprout.
Yes, they make their platform available for free – but they place restrictions on what you can do and how far your podcast can go.
That's a tried-and-tested business model that embeds you into a service and hooks you, it's called "freemium", and it forces you to upscale quickly to paid tiers and it just doesn't feel like something we'd like to do here with Captivate.
Yes, free podcast hosting starts out like that – but you may find lower-than-you'd-need bandwidth allowances that put a cap on your downloads or features that you need being restricted and could result in you paying more than you expected to.
In our book, it's better to just say that upfront.
Yes, they have some promotional and growth-related features – but Captivate's marketing and analytics suite is growth-oriented, powerful and is getting upgraded all the time.
Try Captivate – The Best Buzzsprout Alternative
We started Captivate because we were (and are!) podcasters.
We needed kickass products that would help us accurately measure performance and grow revenue, sure. But we also wanted space to experiment, create and produce the kind of high-quality audio we all love listening to but make it achievable, accessible and fun to produce.
Captivate was created, designed and built by podcasters, for podcasters. We'd love for you to take a look at our full features list, check out our blog or visit our YouTube to get a flavour of who we are, what we're about and how you can start growing your podcast. We're great people to work with, promise.