Reading Time:
10
minutes
There are many podcast app options out there for listening to, recording and editing podcasts, it can be overwhelming to know which one to choose. In this blog, we'll break down which apps are great in which areas, and help you decide what's best for you.
What are podcast apps?
Firstly, app is a pretty broad term, and it will mean different things to different people. Normally, it's used to describe a computer program or software application which has been designed to run on a mobile device such as a phone, tablet, or watch. However, nowadays, the term app is used more broadly, and not specifically for describing programs or software for mobile devices. Therefore, for the purposes of this article, the apps we refer to aren't strictly for mobile devices.
Now we have that covered, what is a podcast app? A podcast app is any program or piece of software which you can listen to your favourite shows, or plays a role in podcast creation, recording and editing. Anything from Spotify to Garageband is fair game!
What is the most used podcast app?
The most popular podcast app in the US is Spotify with a third of US podcast listeners, closely followed by Apple Podcasts, with a quarter of all US podcast listeners. It's no surprise that these two giants are at the top, nor is it a surprise that the most used type of podcast apps are listener apps, given that there will be more people that listen to podcasts than those who create them.
Apple and Spotify didn't have any major competitors, the next nearest app on the list was iHeartRadio, but they only amassed 6.2% of the audience share. Seems that Apple and Spotify are untouchable!
Interestingly, even though Spotify is the more popular app, Apple saw the most podcast downloads by a significant amount, amounting to 70.8% of all downloads, while Spotify amounted to just 8.9%. Experts say this disparity in data could be down to Apple Podcasts' automatic download feature, which immediately saves new episodes for subscribed listeners. Unfortunately, Apple Podcasts doesn't report on how many of these downloads are listened to, but PodNews estimates that around 31% are not.
In the report, Amazon Music saw significant increases since September 2021, its audience share rose by 126%, with downloads increasing by 132%. Experts say the platform introducing ad-free listening in November 2022 to Prime members could be an attributing factor to this.
What are the different types of podcast apps?
Listener Apps
Listener apps, also known as podcast directories, are platforms on which listeners can access, download and listen to podcasts. These can be podcast specific, like PocketCasts, or podcasts could be just one aspect of what they offer, like Spotify. Some listener apps are limited to a single operating system in the way that Apple Podcasts is limited to iOS.
Podcast Recording Apps
The clue's in the name with these – apps with which you can record podcasts. There's a multitude of options out there, including both free and paid options. We broke down the best options out there down in detail in our article that reviewed the best podcast recording tools and software.
Podcast Editing Apps
These are apps which can be used to edit podcasts. There's a lot of overlap between editing apps and recording apps, but not all of them can do both. Again, you have free and paid options, so it depends on your budget and podcasting needs.
Top podcast listener apps
Spotify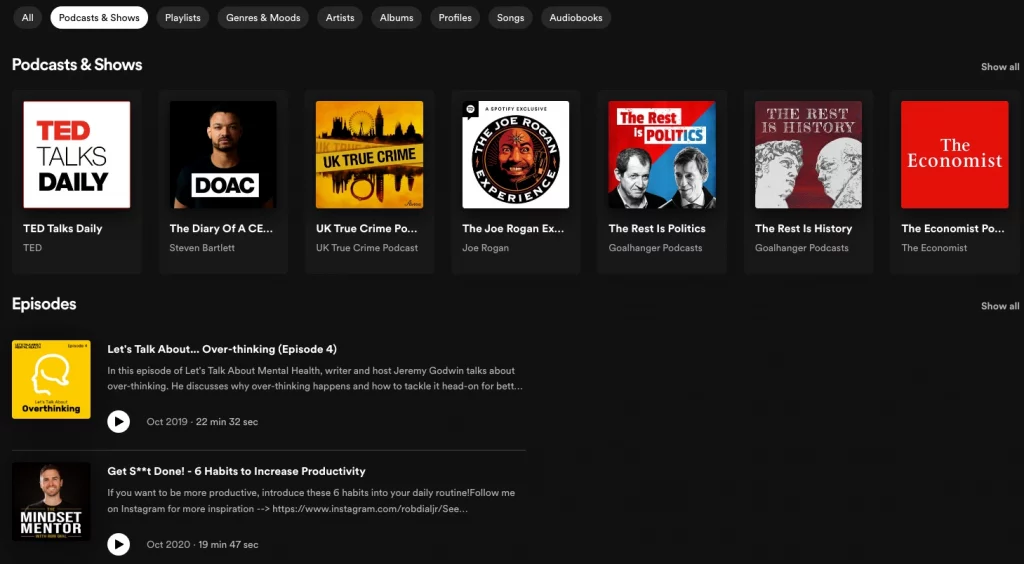 With a suite of exclusive podcasts, including the Joe Rogan Experience (and with 11 million people tuning in this is one of the biggest podcasts in the word), Spotify commands a hefty share of the listener market. The Swedish company profited from big name recognition as a music streaming giant, as well as not being limited to a single operating system to claim its spot at the top.
If you already use Spotify to listen to your music, it makes sense to use it for podcasts too.
Free version – but $9.99/month for a premium subscription, which offers ad-free listening and other perks
Compatible for all mobile operating systems eg iOS, Android etc
Compatible for all devices mobile, desktop, tablet etc.
Get recommended and featured podcasts and shows
Save the podcasts and shows you like and then new episodes are automatically saved
Download episodes to listen offline
Some episodes feature videos too
Apple Podcasts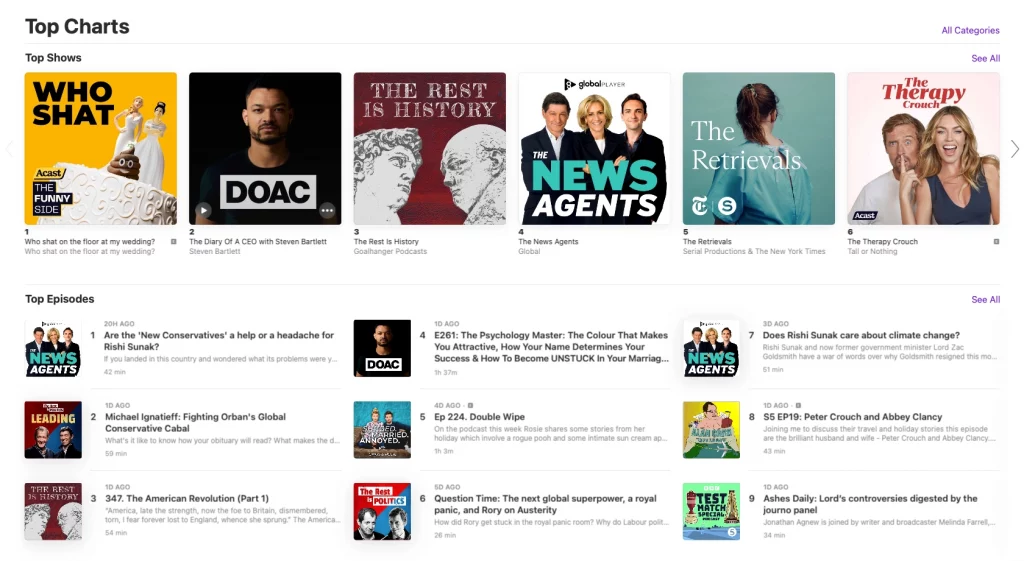 Another podcasting giant, Apple Podcasts is free for those on iOS devices. You can link across your Apple tech, meaning if you're listening to a podcast on your Mac, your preferences will track through to your iPhone. If you're an Apple user, this is a super convenient choice.
Free!
Exclusive to iOS operating systems
Compatible for Apple devices eg iPhones, Macs, iPads etc.
Get recommended and featured podcasts and shows
Save the podcasts and shows you like and then new episodes are automatically saved
Download episodes to listen offline
Google Podcasts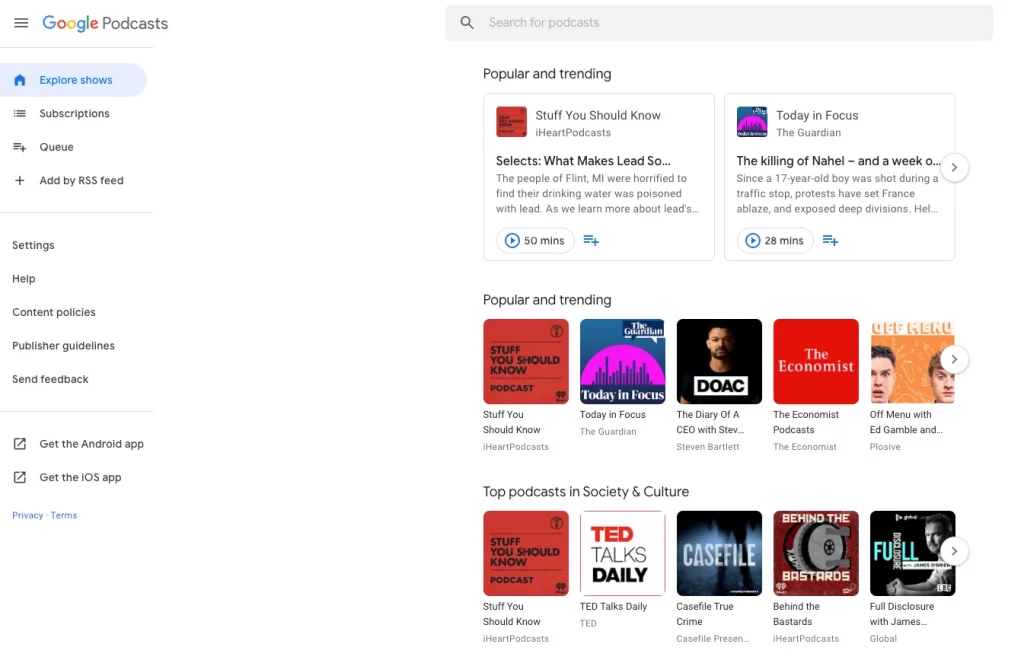 Google Podcasts has a great categorisation system, meaning you can get down into the niche categories to find what you're really passionate about. You can also import public RSS feeds and listen through Google, even if they don't list the podcast!
Totally free, no premium version to pay for
Compatible with all mobile operating systems e.g. Android, iPhone
Works on desktop and mobile
Get recommended and featured podcasts and shows
Save the podcasts and shows you like and then new episodes are automatically saved
Download episodes to listen offline
Player FM
Player FM is a cross-platform independent podcast player and podcast library, allowing its users around the globe to search, discover, save and listen to over 20+ million free podcasts, covering a variety of different topics. Their podcast library is updated multiple times a day with the latest shows and episodes.
It's free but you can pay for Premium to get additional features such as no ads etc.
Offline listening is available when you have no WiFi
Available as a web app, Android app, on iOS, and all major operating systems and devices
Organize your shows into genres and moods with podcast categories
Follow it on your phone and you'll see it on your tablet to with seamless cloud sync
Over 20m podcasts and videos for you to browse, listen and watch
PocketCasts
PocketCasts is a simple yet multi-faceted podcast app, providing seamless listening, search and discovery tools for its users. They offer hand-curated podcast recommendations for easy discovery, and you can enjoy your favourite shows without the need to subscribe.
It's free but you can pay for PocketCasts Plus for $9.99 per year for more features such as advanced customisation
Compatible with all mobile operating systems eg iOS, Android etc.
Also available as a desktop app for both Mac and Windows
Easy-to-use listening, search and discovery tools
Hand-curated podcast recommendations
It syncs your podcasts and playback location across all your devices
Top podcast recording apps
Riverside.fm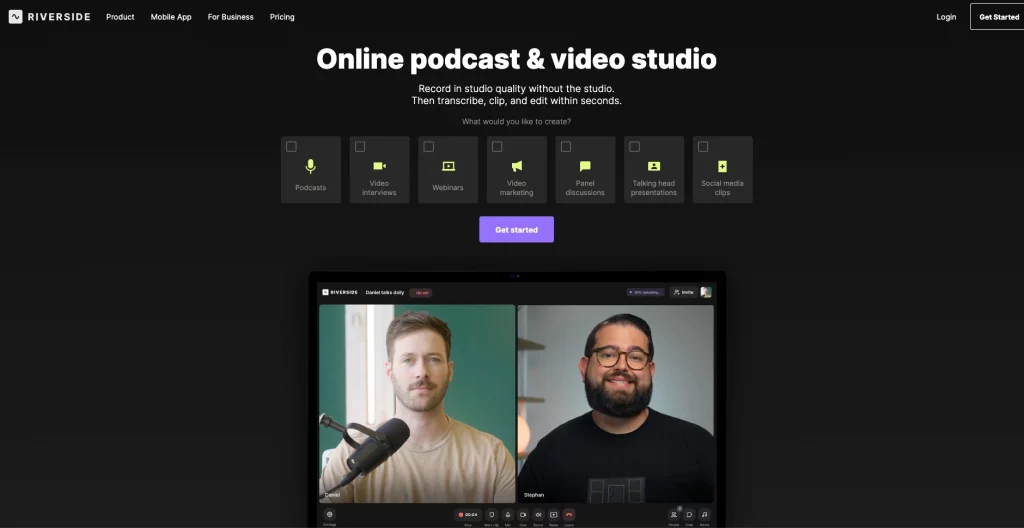 Riverside is a great choice for recording audio and video content: you can record with other participants remotely, with each speaker having a separate track, so no latency or buffering issues will show up in your final recording. You can access Riverside from within your browser, or from an iOS app.
Free version is limited to 2 hours of recording a month, $15 per month covers you for 5 hours and $24 for 15 hours (alongside other perks)
Super high-quality recordings, but it's recording only, no editing capability whatsoever
Local recording means no buffering
Download their mobile app or use their browser version on a desktop
Compatible with iOS and Windows
Live streaming options to social media
They offer transcriptions which are essential for accessibility and help with SEO!
Ability to create short clips to share with social media
Downloadable separate tracks makes editing easy
Descript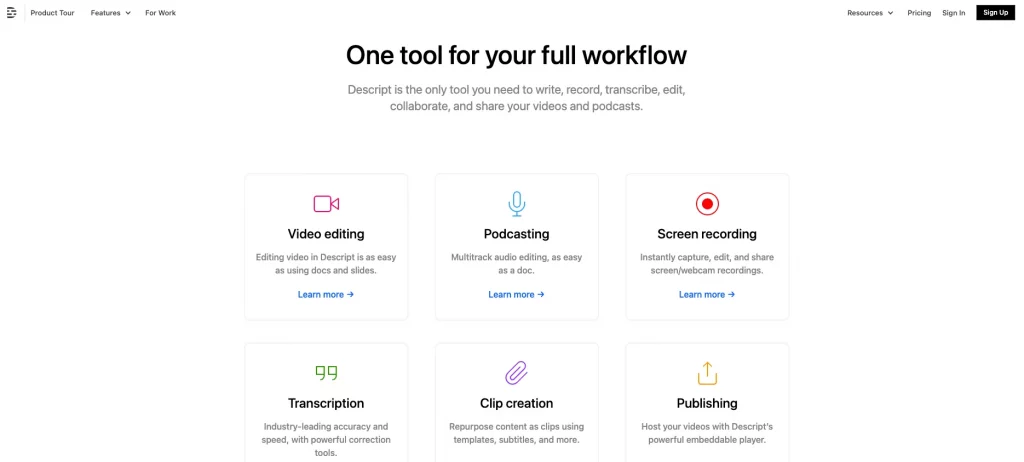 Descript is a transcript-based recording platform: when you record your audio, a transcript is automatically generated. You can then edit the actual recording by simply editing the transcript text – if you add words in, an AI-generated version of your voice will say them in the recorded file.
Free version is limited to 1 hour.. $12 covers you for 10 hour, whereas $24 covers you for 30 hours, and you also get other perks
"Overdub", their AI voice software, is super intuitive and unique, as well as useful if you make a mistake when recording
They offer transcriptions, making sure your podcast is accessible and is SEO friendly!
No mobile app, but it is compatible with Mac and Windows
Browser version available for Linux users
Zoom
A pretty popular choice among podcasters, Zoom benefits from the familiarity of remote working & general pandemic life (remember that?). Most people you know will have used it, making it a great choice for a guest-based podcast. You can record tracks locally, making editing easier at a later time.
To use their recording options, you need to be on the £110/year plan. This is pretty reasonable, working out at just under £10/month.
Focuses on recording, no editing options
In order for a guest to use it, they'll need to download the app.
They have a Mobile app
Compatible with iOS and Windows
Can download separate audio tracks for easier editing
SquadCast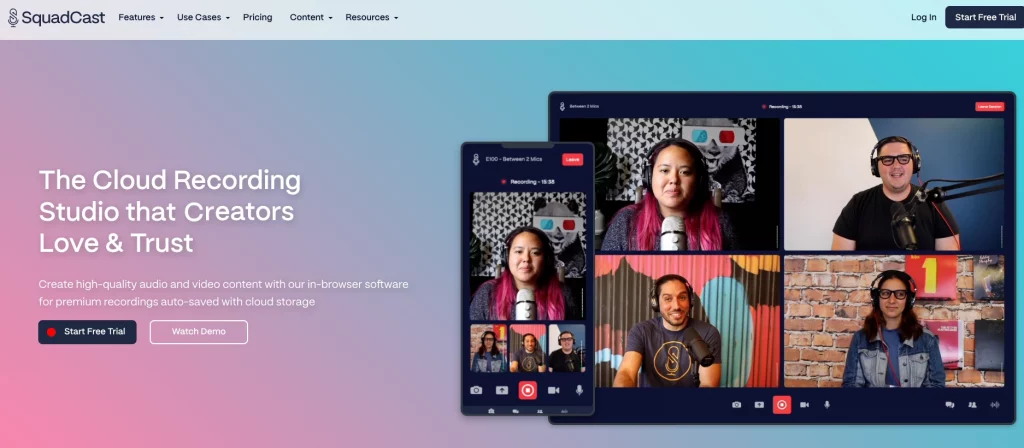 Broadly similar to Riverside, SquadCast is a remote recording solution which allows you to create high quality video and audio files. All recordings are local, so any buffering or bad connection won't affect the quality of your interviewees tracks, and uploaded to the cloud straight away so that they are accessible from any device.
Recordings are progressively autosaved to the cloud, so you never lose your file
Remote recordings mean you can have guests and interviewees
$20/month for 5 hours of audio recordings, $40/month gets you 12 hours of audio and video
Guests can join by clicking a link – no need for them to download anything
There's a mobile app for Android users, with a version in Beta for iOS
Works on Mac and Windows
Boomcaster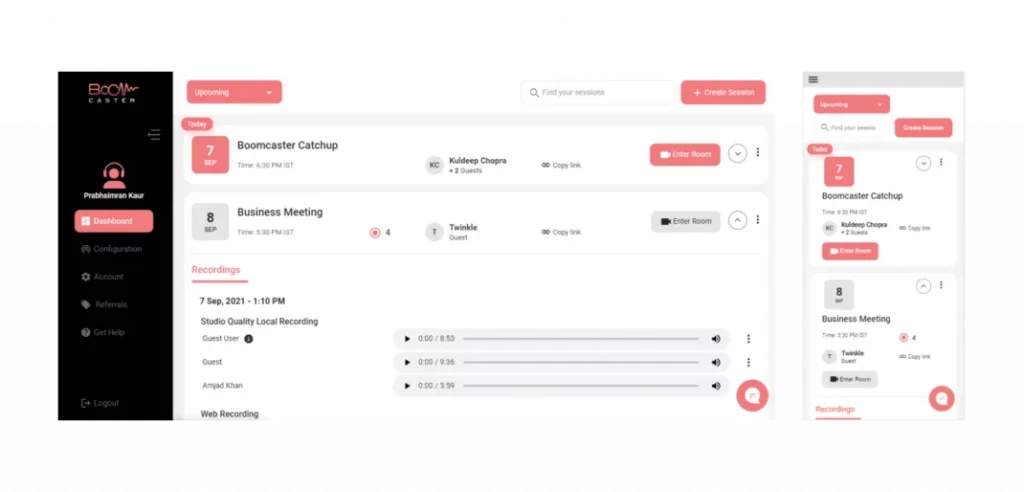 A high-quality remote recording solution, Boomcaster is browser-based and doesn't require any downloading or recording on behalf of the guest. They have audio and video capacity, live streaming and customization options so that you can use your podcast logo.
All recordings are saved and organized in your own private cloud
Flat rate of pay – standard price is $20/month, which allows for 5 hours of HD recording and live streaming and then $0.07 per extra minute of recording on top of that
All interviews are double recorded, once locally and once through video conferencing, ensuring you never lose an interview
Live streaming partnerships with YouTube and social media
You can read our in-depth review of recording software here.
Top podcast editing apps
Audacity
Audacity is a real workhorse – nothing fancy, but it does quality recording and editing for free. It's super simple to get to grips with, and while it lacks the bells and whistles of some fancier options, you can chop up your audio on a variety of platforms, from iOS to Windows to Linux.
Free, open source and simple to use
Record and edit within the platform
Clean, fuss-free interface
Downloadable on Apple, Windows and Linux
Multi track audio editor and recorder
Garageband
Another free option, this one is exclusively for iOS users. While it was intended for music production, Garageband offers recording and editing tools that can be easily co-opted by podcasters. If you're familiar with Apple software, this will be a super easy tool to get to grips with.
Free and simple to use
iOS exclusive
Mobile app available
Available on Mac, iPhone and iPad
Will be very familiar and intuitive to those familiar with Apple's other tech
Not all features, such as time signature and instrument inputs, are podcast specific
Alitu
Alitu's main draw is how easy it makes podcast editing and recording for you. You can automate fancy things like audio levelling and cleaning up background noise, allowing for a professional level recording without the steep learning curve.
$32/month – price tag is justified by how easy it makes getting that high-quality audio level
You can record guests remotely
Drag and drop sections like music and intros into a storyboard UI for fuss-free editing
Alitu can be accessed from mobile devices, but it's not optimized for them, so functionality will be slightly limited
Automated levelling and mastering means great quality audio.
Read our in depth blog about podcast editing options here.
Podcast Apps FAQS
What is the best app to listen to podcasts?
There's not really a definite answer that will apply to all podcasters for this one – it depends on what device you're using, your budget and what you're familiar with. For example, Apple Podcasts is great for iOS users but can't be used on Android phones. On the other hand, Spotify is more accessible, with both iOS and Android users able to use it.
At the end of the day, most listening apps do the same thing – it's just going to be down to what you're already used to.
What apps can you listen to podcasts for free?
Most podcast listening apps have a free version – in fact, all of the ones mentioned in this article do! Of those, two which are entirely free (i.e., there's no "premium" paid version) are Google Podcasts and Apple Podcasts.
Is it better to pay for a premium listener app?
Usually, paying for a premium app, or for the premium version of the app you're already using, will mean you can listen ad-free. It's up to you to decide whether that's worth the money. If you're an Apple user, there's no reason to pay for a premium version, though, given that Apple Podcasts allows for ad-free listening as standard.
What is the best podcast recording and editing app?
There's something to be said for all of the options listed above: the free or more budget options do allow you to record competently, while also saving money to spend on other aspects of your show.
The paid ones we listed cost money for a reason, though – apps like Descript are super intuitive and offer a seamless recording and editing experience.
Has the Stitcher app closed?
Stitcher specialized in the distribution, and monetization of podcasts, and created original shows through networks such as Earwolf and Witness Docs. Being one of the oldest podcast apps, launched back in 2008, they announced in June 2023 that the app would close in August 2023.
In their newly added "Stitcher Farewell" section on the website, they said, "SiriusXM, the owner of Stitcher, is focused on incorporating podcasts into its flagship SiriusXM subscription business. Subscribers can listen to podcasts within the SiriusXM app and will see an all-new listening experience later this year."
Takeaway
From podcast fans to creators, there is a huge range of options out there for recording, editing and listening to podcasts. We've aimed to cater for all budgets in this article, and there are some great free choices as well as some intuitive and time-saving paid options.
In each niche, most apps accomplish broadly the same thing – it's down to your own personal preference and experience as to what works best for you. We've given you the information to decide, so you can make an informed choice as to how to listen to, record and edit your podcasts.
When it comes to listener apps, you may decide to use an app that is based on your mobile, for example, Apple Podcasts for iOS. Then again, you may decide that Spotify features are better for your needs, which can be used on all types of mobile, no matter if you're team Apple or Android!
With editing and recording apps, take a look at the features that we've highlighted. For recording, Zoom is a great option, but remember, unlike Descript, SquadCast and Riverside, it's not strictly for podcasting. Maybe Riverside's live streaming to social media is what you need, or Descript's overdub AI feature is ticking your boxes, and then there's SquadCast accessibility with no need for guests to download software on their device.
With editing, Audacity is trusted by many podcasters and is free, and with a tonne of resources on the internet, whilst there is a learning curve, you'll be using them like a pro in no time. Garageband is the same but is only compatible on Apple devices, just ignore features that are for musicians and not podcasters, such as the metronome. On the other hand, maybe you want to make things really easy for yourself and use something like Alitu. Whilst it's not free the features and benefits justify the price tag as when it comes to editing, they do everything automatically for you!
Let us know on Twitter what you use for listening, recording and editing your podcasts!
What next?
If you're new to Captivate, sign up for a free trial, where you have access to the full platform (nothing is restricted), including our highly-rated human 24/7 support team.
Not yet started your podcast? Take our 45 second quiz, to identify the one blocker that is getting in your way, and we'll give you the next steps to overcome them!