Reading Time:
14
minutes
Anyone who runs a podcast will know that there's a lot of work behind every episode. Between recording, editing and publishing, there are hundreds of tiny details and manual tasks that go into making a quality audio experience.
That said, you might not have the time to sit and trim audio, level out voices and remove popping p's from an hour's worth of track. You might not have the money to outsource editing, transcription or promotional work. You need a tool that brings every aspect of podcast production together into one simple app that you don't need pro skills to master.
So, in our continued quest to make podcasting easier, accessible and fun for every podcaster, we've partnered with Descript on a direct integration to make publishing and distributing your podcast super smooth from start to finish!
Prefer video? Check out the video version of this Descript podcast tutorial and how to use it with Captivate:
In this Descript podcast tutorial, we're going to take you through Descript's key features, interface and how to connect it to your Captivate account for quick and simple podcast publishing. Let's go!
What is Descript?
Descript is a transcription and audio editing app for beginner and professional podcasters. It combines all sorts of extremely useful, intelligent podcasting tools in an all-in-one workspace designed to automate and speed up your workflow without cutting corners or sacrificing creative control. Core features include:
Podcast recording and importing
Simultaneous, word-processor style audio and text editing
Accurate transcription
Advanced text-to-speech transcription and filler word removal tools
Video/screen recording, captioning and audiograms
Integrations with Captivate to make editing and updating podcast episodes seamless and with one click!
Is Descript free?
Descript offer an extremely generous free plan to everyone, which includes recording, editing and mixing for one project plus limited screen recordings and transcriptions. This is perfect for trying out the app's core functions and seeing if it works for you.
Descript's Plans and Pricing
Paid plans offer a huge range of powerful, useful and intelligent tools. Starting at $12 per month, you'll get unlimited projects, recordings and transcriptions. Plus, you'll get other handy features like non-destructive exports to other DAWs (Digital Audio Workstations) like Audition and Pro Tools.
For $24 per month, you get pretty much everything you'd ever need to produce, publish and promote your podcast to a very high level: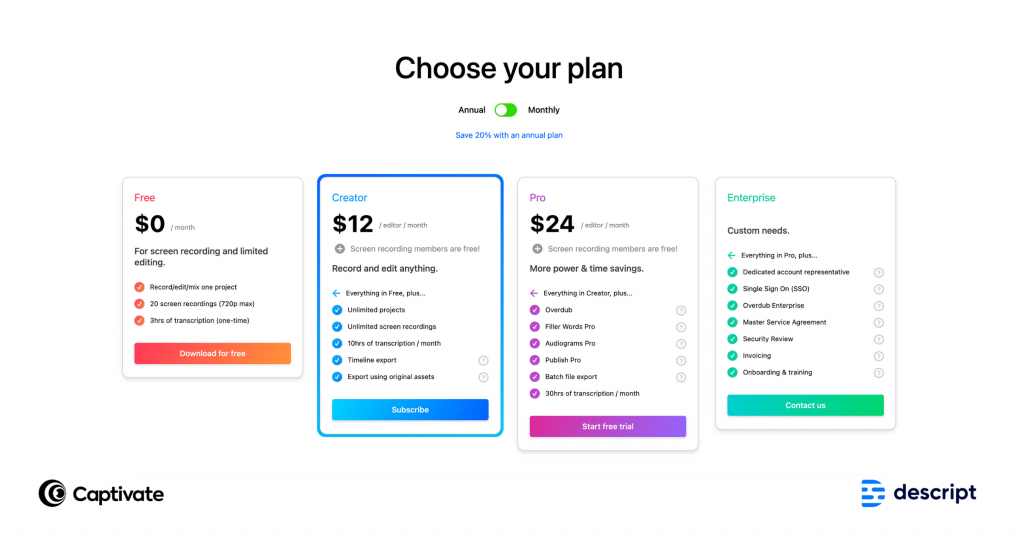 In this Descript podcast tutorial, we'll be covering free as well as Pro features to show you the app's full capabilities and just how useful it can be for podcasters.
How to Use Descript
When you first open Descript, you'll be met with the project homescreen. This view gives you a run-down of your projects, teams and folders. Here, you can create a new project, and within that project, a composition. The composition is where you'll record or import your audio and begin to edit your podcast episodes and transcriptions.
For example, we've created a project for The Podcast Accelerator and within that is all of our episodes: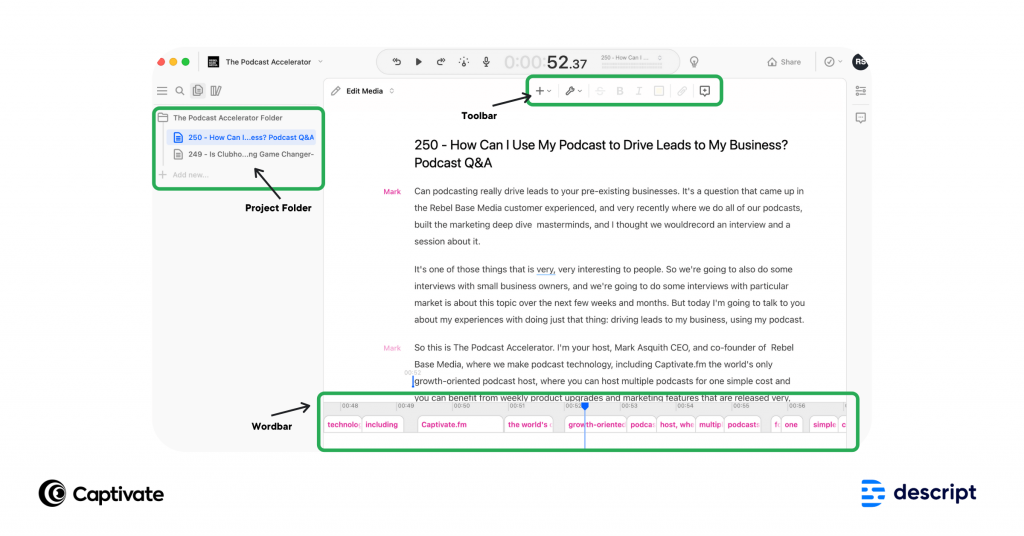 Pro tip: Descript's compositions are non-destructive, meaning that it backs up your original files to the cloud. You can go back and find the original file in your media library in case you make any mistakes!
Descript works by transcribing the audio that you can then make edits to. You have two options:
Record your audio directly into Descript
Import your audio into Descript
1. Recording your podcast audio
Recording directly into Descript is as easy as it would be with Alitu or Audacity: simply plug in your microphone armed with your episode outline and fire up the app.
Start a new composition and use the keyboard shortcut or '+' symbol at the top of the screen to add a new audio recording.
Click the plus symbol to add extra speakers and assign tracks to them, or just start speaking to start the automatic recording and transcription process on your own. Nice and easy.
2. Importing your podcast audio
If you're not recording directly into Descript, you can also import your own pre-recorded audio for transcription and editing.
Just add a new composition, hit the '+' symbol at the top of the recording screen, and insert a new voice file. From there, you can choose to transcribe your audio.
Main Features of Descript (and how to use them)
Now you know how to set up a project and record/import audio into Descript, it's time to dive into the app's most useful features for podcasters!
1. Improve accessibility with accurate and automatic transcriptions
Providing transcriptions of your podcast episodes isn't only important for accessibility: transcriptions are also a great way to repurpose your episodes and provide content for your podcast SEO strategy.
One of the neatest features Descript provides is its ability to transcribe instantly as you speak, removing the need to listen back to your audio and manually type it out yourself. The same goes for imported audio, where you can turn on transcription and watch Descript work its magic in real time.
What makes it even more useful is the ability to edit both transcript and audio simultaneously, as you would a Word document. Click anywhere in your vocal track or text transcript to pinpoint where you'd like to edit, and just delete as you would in Google Docs. Descript will find the audio snippet and zoom into it for you for precise, easy editing.
Pro-tip: Toggle from 'Edit Media' to 'Correct Text' to fix any typos in your transcription. This won't affect your audio track.
Import your transcription from Descript straight into Captivate
Thanks to our direct integration with Descript, you can import your finished transcript straight into Captivate at the same time as your audio.
Your transcript will be accessible by listeners, apps and directories through your RSS feed, thanks to Captivate's support for the podcast:transcript tag. Captivate will also display your transcripts on the episode page of your Captivate podcast website without you having to do a thing. Magic!
Read more about how to upload, import and create transcriptions in Captivate in our Transcriptions FAQ.
How accurate is Descript's transcription tool?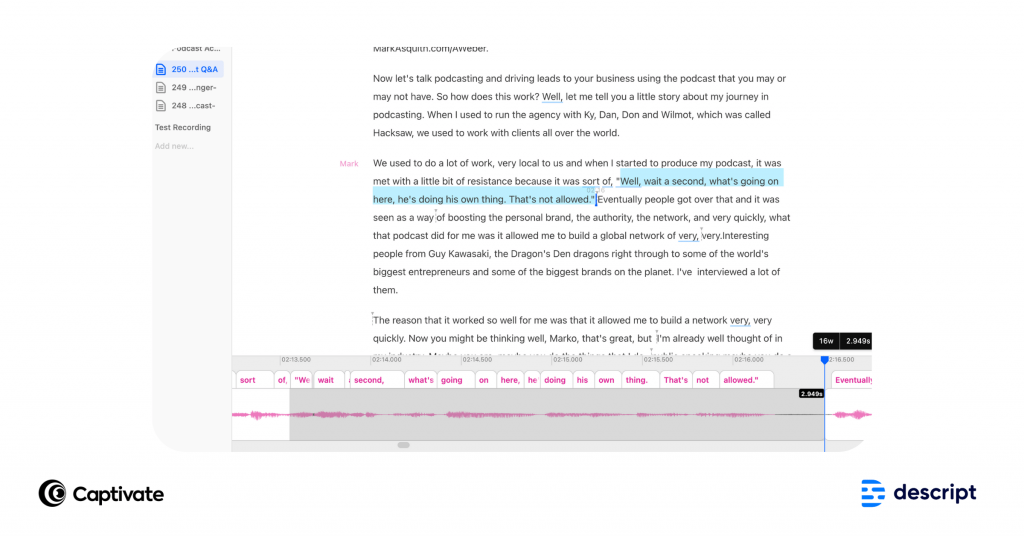 It's clear that Descript have invested heavily in their transcription engine. A casual glance through our transcripts showed a few mistakes, but we do have strong regional British accents up here in the North of England.
I was very impressed with its correct use of punctuation (!), inserting speech marks exactly where Mark was using them in his recording, and correct spelling of names, which in the past transcription tools have struggled with. Overall, the transcription is accurate enough to feel safe doing a quick quality check rather than a thorough comb through.
If you need the pinpoint accuracy of the human ear, you can pay extra for Descript's White Glove Transcription service from $2.00 a minute.
2. Use text-to-speech transcription with Descript's Overdub tool
Text-to-speech transcription has been around for a long time, but Descript's Overdub feature makes it accessible to everyone. It's useful for a whole range of reasons, including fixing small mistakes and adding in detail in situations where recording is out of the question.
How does it work? Use Descript's AI to record a sample of your own voice (and only your own voice, for privacy reasons). All you need to do is record 10-30 minutes of your speaking voice (don't worry, they give you a script) and your Overdub voice is ready to go. For a closer and more uncanny clone of your voice, you can record in different tones and pitches, which would be perfect for the busy podcaster looking to patch up their episode script from time to time.
3. Speed up your podcast editing by removing filler words
One of the biggest burdens of podcast editing is clipping out all of the ahhhhs, ummms, and other mistakes you make when recording, not to mention the unplanned gaps, silences and cross-talk that happen from time to time.
Descript makes editing really easy and accessible, so you don't have to worry about mastering Hindenberg Pro to create a high quality podcast. It works a bit like a find and replace feature, and saves you mountains of time by automating this tedious part of the podcast production process.
You can customize which filler words Descript removes, so if you like using 'So…' as a way to start your sentences (here's looking at you, Mark Asquith!), you'll still be able to preserve your personal presenting style.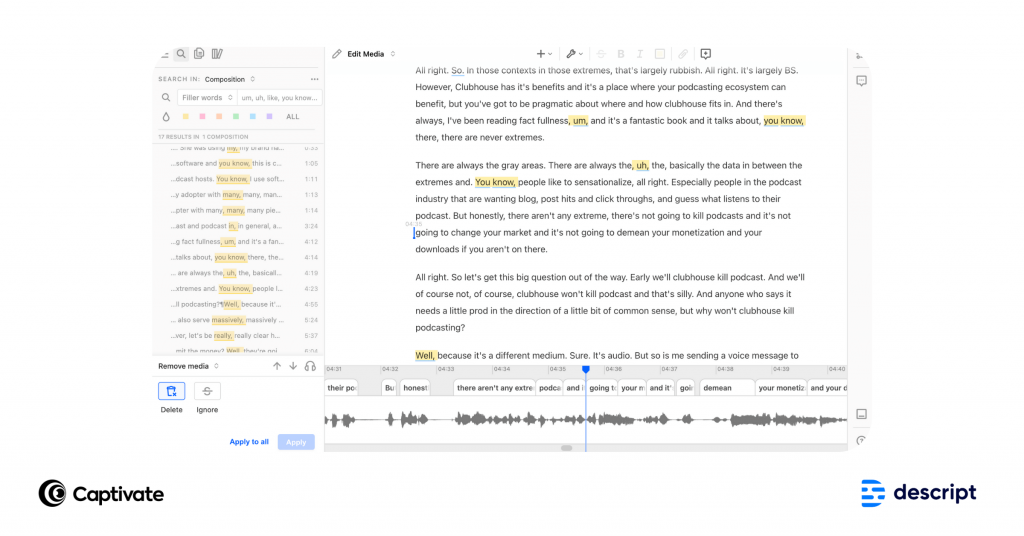 4. Promote podcast episodes using Descript's Audiogram and Subtitle Features
Audiograms and captioned video clips are a podcaster's best friend when it comes to marketing your episodes. They're short, visual, appealing and can give listeners a real sense of what your podcast content is about before they choose to listen.
Audiograms are usually a step that comes after recording and publishing, but with Captivate's Descript integration, you can create marketing material for your episode at the same time without having to leave the Descript dashboard. This saves you tons of time and manual steps.
To create an Audiogram, just highlight the audio and text you want to use using your cursor. Click share and choose the Audiogram option. You'll be able to choose from a wide range of customization and animation options. You can even connect it up to your Twitter, YouTube or Headliner account for instant publishing!
Here's one I created for The Podcast Accelerator:
5. Quickly export your podcast to Captivate
Once you have cleaned up your transcript and audio in Descript, you can then export directly to Captivate from Descript with a click of a button with a pretty cool integration. This makes your process and workflow much easier and saves you time.
Exporting a podcast directly to Captivate from Descript is easy.
To do so:
Open the Composition in Descript that you wish to publish to Captivate
Click "Share" at the top right of Descript's screen
Choose "Cloud Export" and "More", then "Captivate"
Follow the on-screen short, easy-to-understand instructions to publish your episode and send it to Captivate
Simple!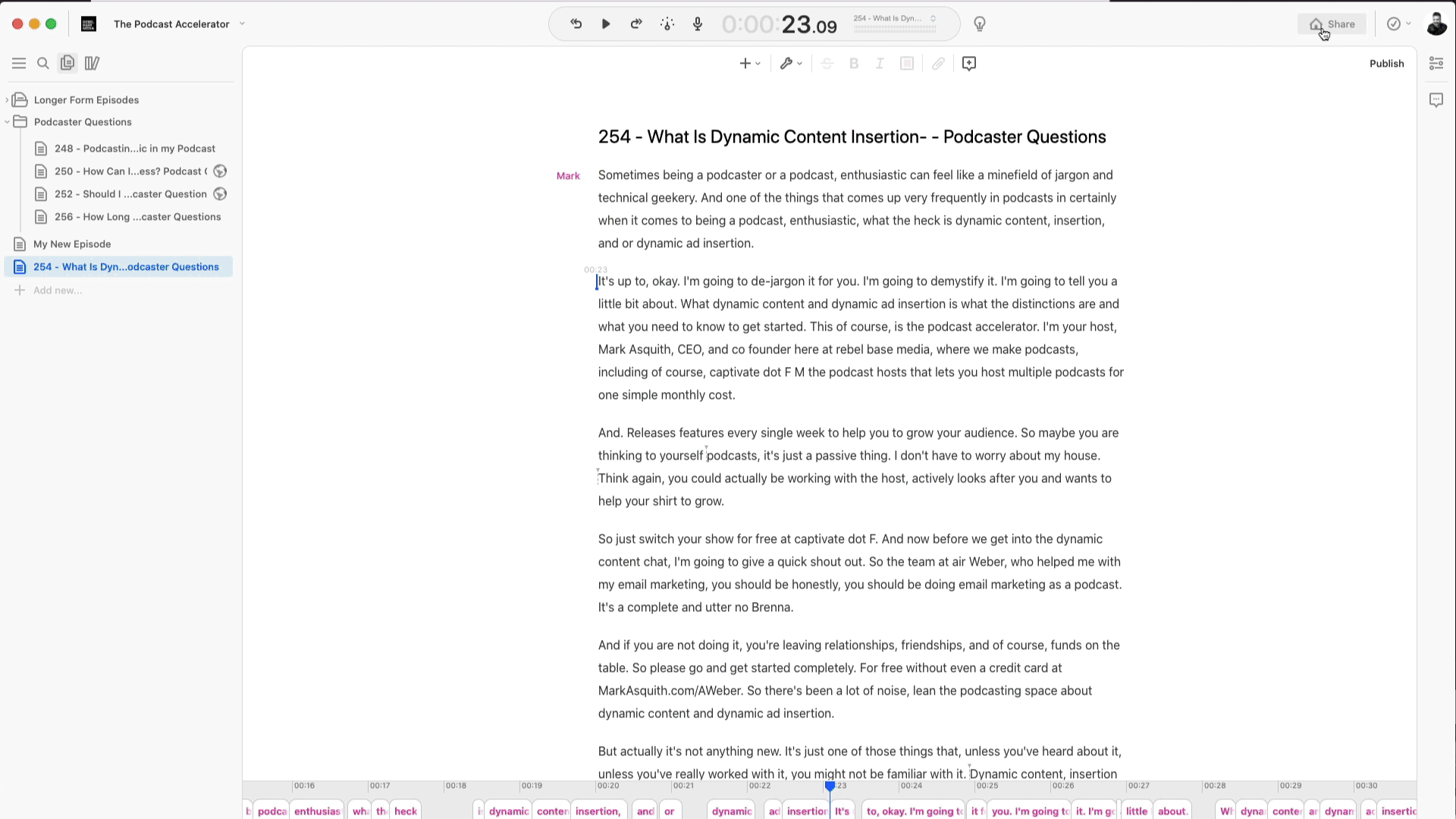 6. Edit live podcast episodes with a click of a button
There's another Captivate and Descript integration which makes some podcasting processes a lot easier.
With a click of a button, you can edit live podcast episodes in Descript from Captivate's dashboard, without affecting your podcast stats and download numbers.
This is a great feature as you can update content that is either out of date or incorrect, delete sections that are no longer relevant, and correct any mistakes that are made when recording.
To do so:
Open the live podcast episode that you wish to edit within Captivate's dashboard
Click the 'Edit in Descript' button just underneath the audio file
Make your changes in Descript either by deleting words/sections or using Descript's Overdub feature to make tweaks with your keyboard (meaning no need to record)
Click 'Share'
Select 'Captivate'
Save your changes in Captivate by clicking 'Update Episode'
Descript Reviews
Ok, how about some testimonials from real podcasters who use Descript? Here are some reviews grabbed from G2:
Natasha M – Owner & Chief Motivator

What do you like best?
So easy and intuitive to navigate around and get started.
I really like the filler word feature to cut out all of the ums and ahs plus love the ability to easily be able to cut and paste content and move it around to any part of the recording that I want to.
What do you dislike?
So far everything works really well. The only thing I would like is an undo button sometimes I cut out a piece by accident and then can't replace it without starting from scratch.
What problems is the product solving and how is that benefiting you?
Quickly and easily transcribing my video and podcast content. It saves me hours of time as compared to when I was just trying to edit in a video editing tool. It's much easier for me to be able to read the transcript and know where to edit than just trying to listen to the content to know when to cut. It's also very easy to hand over to my VA for editing. Plus I already have 90% of the content ready for my social media posts and podcast show notes by having the transcript and can quickly edit direct from the transcript – not to mention the transcript is a great base for course content and blogs.
Crys W – Digital Content Creator

What do you like best?
The ability to edit audio by revising its transcript has been truly life-changing. Editing my clients' podcast episodes with Audacity took eons, probably because I'm not a sound engineer; I'm a writer who crafts podcast show notes, wanted to offer my clients an add-on service, and felt danged lucky to find a free tool I could manage. Descript makes audio editing more than manageable; it makes it insanely easy. I cackle madly and cheer every time I finish a job.
What do you dislike?
I want to organize my Drive better, but I haven't explored the possibilities. I hope there's an archive feature for tucking away old projects without deleting them.
What problems is the product solving and how is that benefiting you?
When I was editing podcast episodes with Audacity, plucking out all the ums, uhs, false starts, and missteps earned me a bit more money, but nitpicking through a 45-minute soundwave created a LOT more work.
Descript simplified the whole process. I mean, it selects all the Ums at the same time for one-click removal — I may have shed actual tears the first time I used THAT feature — and other errors are easily removed by selecting the text instead of fiddling with a squiggly line. Wow!
Descript makes writing up the show notes quicker and easier, too. I just skim the transcript, highlight sound bites, then click Copy Highlights and paste them all into the document. Like, at the same time. Whoa…
Audacity was (and is) a free tool, and I was glad to have it, but Descript pays for itself 10 times over every month, and I'm elated about that!
Phoebe O – Freelance Writer & Content Developer

What do you like best?
I love the timeline editor and the ability to do multi-track editing very quickly. I edit a dramatic fiction podcast for kids as well as comps for voice-over work for hire using this tool. If I were still an ad agency librarian, I would be using the heck out of its automated transcription- which is literally the. best I have ever seen, and I used to professionally shop for this service- for about ten years.
Review collected by and hosted on G2.com.
What do you dislike?
Playback after adding new content to a composition can be buggy and may require the user to completely quit out and restart- this is annoying, but the overall features make it worth it.
What problems is the product solving and how is that benefiting you?
I am solving the problem of not having to use an expensive editor that makes no sense to me. The timeline is a stupid-easy interface that took a few minutes to learn. The accuracy of the AI features is astounding!
Danny B – Podcaster Success Analyst

What do you like best?
Descript makes it super easy to edit an audio or video file. I use it for my podcast, and the ability to use a Word editor to correct errors, etc., is genius. Additionally, the ability to use Studio Sound to clean up bad audio saves a considerable amount of time on what I would typically spend on my DAW. This alone makes it a great piece of kit.
What do you dislike?
Much like any automated transcription service, Descript struggles with non-neutral accents. So, for example, my Scottish accent means I still need to go in and tidy up at least 40% of the transcript, sometimes more. This can make any time saved on other features moot. I would really like to see more work put into regional accents.
What problems is the product solving and how is that benefiting you?
The ability to edit words on a screen means I don't have to listen, pause, re-listen, correct, re-listen, etc. It's a huge time saver.
Jock B – Freelance head of product, founder, author and conference speaker

What do you like best?
Using the script to edit the audio and video is very intuitive and makes it easier to tell the story you need to. Filler word removal combined with the optimised edit gaps is particularly effective, providing the word boundaries have been detected correctly by the automated transcript (yes, you can edit detected word boundaries, but it's a lot of work to reset several of them when you're on a tight deadline).
What do you dislike?
While the pace of updates is great, there are still a few annoying glitches that can hold things up, particularly when you're on a tight timescale to turnaround a new episode. Sometimes the automated transcript just doesn't recognise a passage of audio, and editing simply won't let you add in the missing transcript. And because you have no transcript to edit, you're back to editing visually using the timeline alone.
Other slightly annoying things include the transcript deciding that a quiet background noise is a word, and again you can't teach it to stop recognising that particular noise as a word.
Studio sound (admittedly beta) is great when it works, but is time consuming to upload files afresh to take advantage. It can also be a bit aggressive on some audio, making it sound a little robotic.
Then there are user interface annoyances, like suddenly no longer being able to drag compositions into folders. Reinstalling appears to be the only hard-and-fast solution, and that's getting tedious. Don't get me wrong, Descript is great, but it needs a bit of polish and reliability for the people relying on it for their production workflow.
What problems is the product solving and how is that benefiting you?
I was previously using OpenShot to edit together video and audio, but it was impractical to tidy up the audio (ums and ahs)from purely a timeline edit. For a basic video podcast, the video editing in Descript does 95% of what I need.
Other common Descript FAQs – answered!
1. Does Descript have an affiliate program?
Absolutely! There are no minimum sales requirements to become a Descript affiliate, and you will earn 15% recurring commission throughout the first year of each new Descript Creator or Pro that you refer.
2. What Descript alternatives are there?
There are a lot of options out there for podcast recording and editing – what are your choices?
Descript vs Audacity
Audacity is a free DAW which allows you to record audio directly, overdub recordings or import your files.
Naturally, it lacks the feature set you're paying for with Descript – the automatic transcription, editing the file itself by editing the text, all the good stuff mentioned in this article!
Descript vs Otter
Otter is a podcast transcription service which automatically transcribes uploaded audio and video content. Transcripts are time stamped and searchable, allowing for great audience interaction.
It isn't a DAW (Digital Audio Workstation), so you can't edit the audio files themselves, as with Descript. It's purely for creating and editing transcripts.
Like Descript, Otter has a free plan or a paid, premium option for £12.99/month.
Descript vs Loom
Loom is a platform to easily record and send recordings of your screen or your webcam, as an alternative to meetings or sending long emails or messages.
Loom has a free plan to send 'quick video messages', and then paid plans for more advanced recording and analytics starting at can't find uk price anywhere!.
As with Otter, Loom is great at what it does, but lacks all the DAW aspects of Descript, whereas Descript allows for editing of video and audio files through transcripts, as well as screen recording capabilities.
3. Is Descript an app?
Yes, Descript is a web-based app available for Mac and Windows.
4. Do you get support from Descript's customer service?
Descript have an engaged customer support team to help with any issues you may have.
5. Does Descript support multitrack?
Descript supports multitrack audio, and is able to automatically recognise different speakers and assign them names inputted by users based on their vocal profile.
6. Is Descript safe to use and legit?
Absolutely – Descript is a fantastic DAW, and integrates directly with Captivate. Completely legit!
7. Does Descript offer a trial?
Descript doesn't offer a trial on its paid plans, but does have a free plan which you can use as long as you want.
8. Can you edit videos with Descript?
Descript isn't just for audio – you can upload and edit video content as well. Its editor works in the same way, meaning you can edit your video content by making changes to the transcript, or by using a more traditional timeline editor to get more precise.
8. What is Descript's voice cloning feature?
Descript will intelligently create a clone of your voice based on content you've uploaded. With this, you can add words or sections to your transcript or change sections, and it will sound just like you saying it.
This means an end to re-recording tricky sections if you messed up or got a name wrong.
Final thoughts on using Descript for podcasts
So there you have it! In this tutorial, I've shown you how to use Descript's features to record, edit, transcribe and promote your podcast episodes, as well as how to connect it up to your Captivate account for quick and easy publishing.
Whether you're a beginner or a professional podcaster, Descript is packed full of tools to make all aspects of the podcast production workflow that much easier. It's simple interface and accessible tools make it easy to pick up and master within an afternoon, and its mixing, mastering and collaboration features make it a great value all-in-one workstation for the everyday podcaster.
Captivate's Descript integration is live now for every Captivate podcaster. Export your final episodes and transcriptions straight into Captivate ready for publishing, or import audio from Captivate into Descript for easy transcriptions and more! Just head to the Marketing tab in the dashboard to connect your account and get started.
You can start using Descript for free by subscribing today, or upgrade to access more advanced features like Audiograms, Overdub and Filler Words.
What To Do Next
If you also haven't already sign up to Descript and use their free plan to get a feel of the platform