Reading Time:
8
minutes
In this blog, we're going to look at podcast Calls To Action, and how you can use them effectively to grow your show.
A Call to Action, or CTA, is something that you're asking listeners to do. As a podcast listener, you'll have heard countless CTAs, you just may not know it – and if you use them in a smart way, they can help you to turn casual listeners into engaged fans.
What are podcast calls to action (CTAs)?
With a podcast Call to Action, you ask listeners to do something for you. You'll have come across a CTA if you've ever read a blog or watched an advert: they're everywhere, and you'll undoubtedly have followed some yourself.
When it comes to podcasting, typical Calls to Action are "Subscribe to my podcast for free", "Follow me on Twitter" and "Leave me a review" – we'll dig into where and why you use them.
Benefits of using CTAs in podcasts
The obvious benefit of using a CTA is that you're getting people to do something that you want them to do – namely, something that will further your podcast growth. Cultivating subscribers and positive reviews is great for brand positioning: you can display reviews as testimony to your amazing show and a big social presence lends authority to your voice.
Keep it quick and easy, though – include hyperlinks to anywhere listeners will have to go in your show notes, and direct them to these. The easier you make a CTA, the more listeners will actually complete it.
A lesser known benefit of Calls To Action is that they can help to make listeners feel more involved. You can offer something in return for them completing a CTA – such as a shoutout on your show, or a free bit of content, which will help listeners feel part of a two way relationship, rather than just a passive consumer. These incentives are called lead magnets, and we'll discuss them in more detail later on.
What should you ask listeners to do?
As we mentioned, a Call to Action should be something that will further your podcast growth. They should be simple and proportional – that means they should be super easy, and be something that your average listener would be reasonably willing to do.
When you're just starting out, don't try to sell expensive courses or merch – CTAs should be focused on getting listeners into your ecosystem. The best way to do this is to get them to follow you on social media or, better yet, on your email list (using an email marketing service such as Mailchimp, AWeber or Sender). Listeners will probably follow you without any other incentive, but it's good to offer a bit of free, exclusive content as a lead magnet in return for them signing up to your email list.
When they're in your ecosystem, you can notify them whenever new episodes are up and about any other news pertinent to your show – they're basically one step up now from a casual listener and on the journey to being a true fan.
Another good CTA is for listeners to leave you a positive review on Podchaser. Podchaser is the IMBd of the podcast world. It's basically a podcast database and discovery tool. Podcasters can set up a profile, claim their podcasts and interact with those who leave reviews. Listeners can find information about podcasts, filter by category, and read and post reviews of their favourite shows. These are great to display on your website and socials, and signal to other potential listeners that you're the real deal. As ever, make it easy for them – include the link to your show on Podchaser in the show notes, and tell them the exact steps they need to take once they've clicked it.
Important: We would recommend sticking to one CTA per episode, two at the maximum – if you're asking listeners to do a lot of different things, it's likely that they may not do any. Stick to one, say it at multiple points throughout the episode and make sure it's easy.
What is an example of a Call to Action (CTA) for a podcast?
Here's an example of a CTA to get people following you on social media:
"If you're a fan of [show name], please follow me on Twitter! Click the link in my show notes to find my profile – anyone who follows me will have the opportunity to submit discussion topics for the podcast. I'll shout you out if I pick your topic to discuss!"
And then make sure to include the link in the show notes.
Here's an example of an CTA you can use for a lead magnet:
"Follow the link in the show notes to sign up to my email list – that means you'll get notified every time a new episode is released. Anyone who signs up will also get an exclusive episode of [show name] as a thank you for being a big fan!"
What are effective CTAs for a podcast?
There are many different types of effective CTAs you can use for a podcast, such as:
Subscribe or follow the podcast. This means listeners will see new episodes in their podcasting app of choice as they are released. Make sure to say "Subscribe for free", as some listeners associate subscription with payment.
Rate and review. Encouraging reviews is a great way of showing potential listeners how engaged people are with your podcast! It lends credibility to your voice, and listeners interested in your niche will be more likely to listen if you've got a bank of positive reviews singing your praises.
Share with friends. Ask people to share the show with their friends and on social media if they enjoy it. A word of mouth testimonial from someone interested in the same thing as you are is a big driver to check out something, and it's free promo for you!
Follow on social media. Any way of getting people in your ecosystem, getting them notified whenever you release a new episode, is fantastic for listener retention. It's a great idea to interact in a genuine, natural way on your socials as well – don't go for the hard sell all the time, just join in conversations. It will pay dividends in terms of brand positioning.
Join a mailing list. This is a big one. Listeners will likely need a sweetener in the form of a tasty lead magnet, but getting them on your email list means you have a consistent and direct point of contact. Use it wisely, don't spam, but make sure to notify for new episodes and other exciting things!
Support the show. Money makes the world go round. With Captivate, you can offer premium tiers and paid, windowed content in return for monthly subscriptions. We'll touch on this in more detail below, but offering paid content is a natural way for podcasters to monetize.
Monetize your show with podcast CTAs
Offering exclusive content is a great way to monetize your podcast, so let's talk about how to effectively use a CTA to entice listeners to take that step. With Captivate, you can use our Memberships and Tipping features to seamlessly monetize your podcast, offering exclusive, paid content for your members and accepting one-off donations.
If you're just starting out, you might want to focus more on growing your email list and building up an engaged fanbase – they'd be more receptive to the idea of paying for exclusive content than the curious early listeners you'll get if you're just starting out.
When you do decide to monetize, though, you'll want to spell out the process for listeners, including links in your show notes and generally making it as easy for them as possible, as we discussed for other CTAs. You'll also want to let them know exactly what they're going to get for their money, and how much it's going to cost.
Here's an example:
"Do you love [show name]? Want more? Well, for just $3 a month you can have early access to all episodes, plus an exclusive episode every month and the ability to submit discussion topics to the show! Just follow the link in the show notes and sign up for the Fan tier!"
You'd go through a similar process for the Tipping feature, too:
"If you're a big fan of this show, please think about using the Tipping link in my show notes. Even a few bucks helps me to keep producing this show for free every week!"
Read more about Captivate Memberships.
Where can you put CTAs in a podcast?
In podcasting, there are three areas where you can include a Call to Action. Let's take a look at them:
Pre Roll: The pre roll is before the main section of your podcast. So your listeners will hear your pre roll before the main podcast episode starts.
Mid Roll: Mid roll is anything in the main body of your episode – think of using a CTA here as similar to an advertisement break on the TV.
Post Roll: You guessed it – post roll is after the main body of your episode. So this will play after your main episode comes to an end, as part of your outro.
By all means you can have CTAs in all three sections for repetition, but we'd definitely recommend picking either the pre and mid roll, or post and mid roll. Savvy listeners will skip past your introduction and finish listening when they know it's coming to an end, however, if you include the CTA in the middle, they won't skip past and miss it. Do a split test with the pre and post, for a couple months try one, and then a few months later, try the other. Look at your results, in which period did you have more CTA clicks?
You can use Captivate's dynamic content insertion software, AMIE, to retroactively change out any CTAs in any sections of your episode. With the Ad Painter, you can essentially cut out a section of a published episode and replace it with something new – this is great for changing any sponsors or advertisers and swapping out your CTA!
How many CTAs can you use in each episode?
This is a super important one – we would recommend limiting your CTAs to one per episode, maximum two. If you ask people to do one easy thing, they'll think "Hey, I like this show, I'm getting it for free every week, I don't mind leaving a review". You can repeat that one key CTA multiple times throughout the episode, but don't go asking for loads of different things.
If you ask them to leave a review, follow you on three different social media platforms and sign up to your email list, the chances are they won't do any of them: they'll be overwhelmed, confused and probably a little annoyed that you're giving them a to-do list that could take half an hour. Keep it simple and short!
How do you measure CTAs in a podcast?
With Captivate, you can use trackable Attribution links to see how many people click on what you ask them to in your CTA. This allows you to split test whether listeners are more receptive to CTAs in the pre, post or mid roll sections of your show, and what kind of CTAs they respond best to.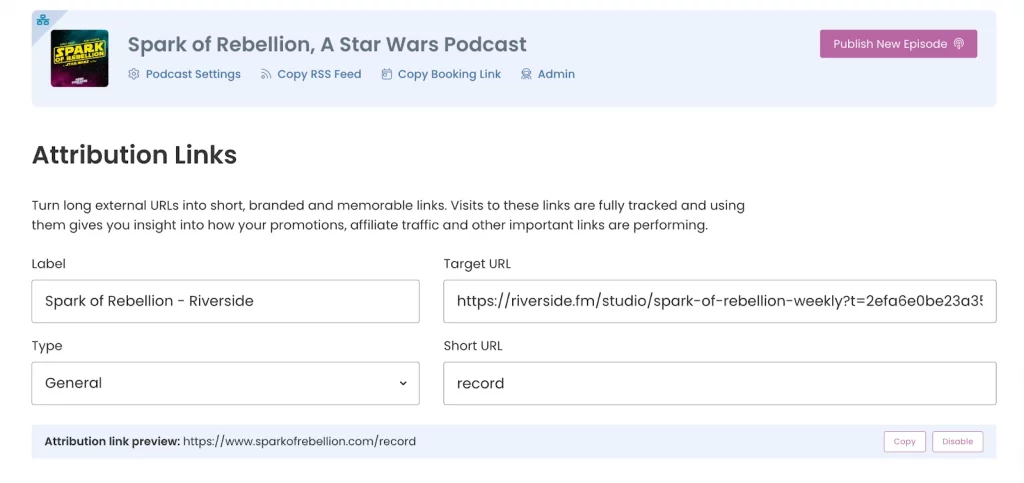 Not only can you track the links, but you can also choose the text with which they're displayed, making them far better looking for your audience!
CTA best practices
Let's summarise the lessons we've learned about Calls to Action:
Ask for something small and proportional. Don't go asking listeners to spend money straight off the bat, and make sure that whatever you're asking can be accomplished in less than 5 minutes – think following you on socials, signing up to an email list or leaving a review.
Spell it out. Let's say you're asking someone to leave a review. Direct them to the link you've placed in your show notes, and then give verbal instructions of every step they have to take after they've clicked that link in order to post a review.
One at a time. Ask for one easy thing per episode, two at a maximum. Don't overwhelm your listeners with loads of different requests.
Track performance. Use Captivate's Attribution Links to track where CTAs perform best and use that data in your plans going forwards.
Use lead magnets. If you want someone to sign up for an email list, give them something in return. An exclusive episode, a free bit of written content – the sky's the limit, but make sure to incentivize people.
Takeaway
Calls To Action get listeners involved with your show and in your ecosystem. Following the tips in this article, you can use them effectively, grow your show and deepen your relationship with your fans. Just keep things nice and simple, don't ask for too much and spell out all the steps!
Remember – stick to one CTA, spell it out and make sure it's super easy to follow. Getting people on your email list and following your socials gets them into your ecosystem, increasing the chances of them becoming repeat listeners and down the pipeline big fans.
What next?
If you're new to Captivate, sign up for a free trial, where you have access to the full platform (nothing is restricted), including our highly-rated human 24/7 support team.
Not yet started your podcast? Take our 45 second quiz, to identify the one blocker that is getting in your way, and we'll give you the next steps to overcome them!