Reading Time:
6
minutes
Lots of people are working or learning from home nowadays. Companies, schools and communities still need ways to communicate important information remotely, securely and privately.
So… what if, instead of sending emails that get ignored or posting bulletins on clunky old intranet systems, you could record a quick podcast episode that people can listen to at their own pace instead? 
Enter private internal podcasting. 
It sounds like a mouthful, but it's actually an easy, cost-effective and secure way to keep people in the loop with important corporate communications wherever they're based. Instead of clogging up inboxes, people can listen in, securely, using their device at a time that suits them. 
In this guide, we'll talk about the benefits and uses of private internal podcasts and how you can create and launch your own, as well as share some tips and best practices for producing successful internal communications.
What is a private internal podcast?
A private internal (or corporate) podcast refers to a podcast that is produced in-house and privately distributed to a select group of invited people. It's not publicly available, you can't share it, but otherwise it works in the exact same way that a normal podcast does. 
Companies, congregations, schools and more are turning to private podcasting not just because it's easy and cost-effective to produce.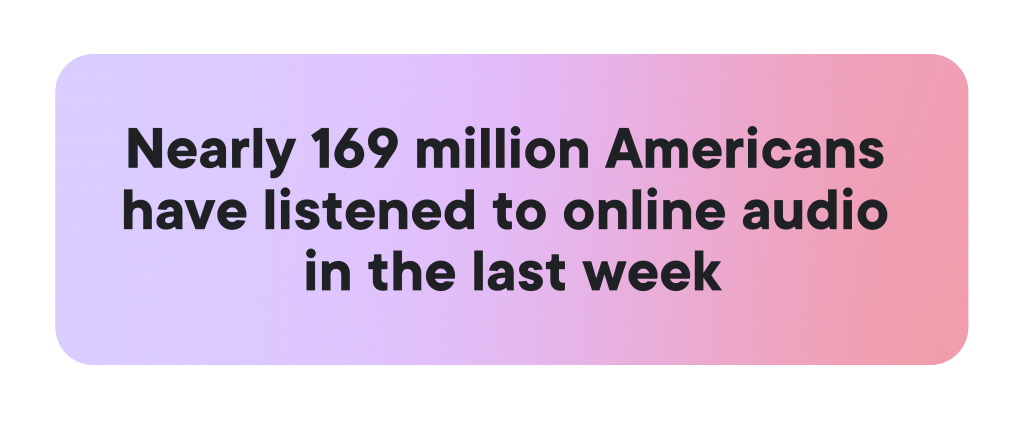 Audio is increasingly the main way we consume media nowadays, whether on the commute, while doing chores or exercising. In fact, nearly 169 million Americans have listened to online audio in the last week. Private internal podcasting is a really effective way to keep people informed, connected and engaged in a way that suits them.
How does private podcasting work?
To create a private internal podcast, you first need to create a private RSS feed. These behave a lot like normal podcasts (which are public RSS feeds). Unlike public feeds, you won't be able to search for them on directories like Apple or Spotify.
Instead, private podcast feeds are invite-only. Here's how it works:
You sign people up using their email address
They then use a unique RSS feed link to access the podcast on their devices
They can subscribe to receive new episodes each time they're published
They can download the episodes to listen to offline
They can't share or access the private podcast without your invite
Captivate's private feeds work better than most other podcast hosts by making it easier for listeners to subscribe (without sacrificing security.) Often, you'll have to authenticate a private subscriber using a username and password to reveal the audio.

Captivate instead generates a custom private feed URL per subscriber. This link can be regenerated, per listener, at any time if you suspect that the private feed URL is being shared or copied.
Starting your own private internal podcast with Captivate takes two minutes and no extra cost. Create yours now!
What can you do with a private internal podcast?
Whether you run a very large-scale business, a small college course or an exclusive paid membership, private feeds are a flexible and accessible form of remote communication.
Here are how businesses, schools and teams benefit from private podcasting:
Internal corporate communications. Share private announcements and information with your employees, colleagues or team members whether they're working remotely or in the office. Answer common questions, share success stories, launch new projects or initiatives, promote events or bake sales… the list is endless!
Onboarding. Record an onboarding or training course to give to new employees when they start. This evergreen content saves you time and ensures each new team member receives the same information on company culture, policies and procedures from the beginning.
Online learning. Private internal podcasts aren't just for businesses! You can use a private feed to provide learning and development to teams, develop courses or share audio lessons to complement your school's curriculum.
Run a membership or paid course. Podcasters use private feeds to sell premium content, paid subscriptions and memberships to their audiences. With Captivate, you can embed your private episodes into a password-protected site for easy listening on both mobile and desktop devices.
How to make your own private internal podcast
So you're sold on private internal podcasting and are ready to start recording your own. You'll need:
A podcast host that supports private feeds
The email addresses of who you'd like to invite to your private podcast
Your first private episode
The rest of this guide!
Unlike other podcast hosts, you won't need to upgrade to get a private feed with Captivate. We don't hold back on features, and think every podcaster should have the tools they need to grow and scale – not just those who can afford it.
With Captivate, you can start your own private internal podcast as part of our $19 Podcaster plan. You'll get one free private feed and room for 150 private subscribers – perfect if you're testing the waters or run a small-scale operation. If you need more space:
Our $49 plan includes one private feed and 500 private subscribers.
Our $99 plan includes three private feeds and 1,000 private subscribers.
You'll step-by-step guidance on how to set up your private internal podcast in our Private Feeds how-to.
3 best practices for producing a private internal podcast
Once you've set up your feed and planned your first few episodes, it's time to think about launching it! Here are 3 of our tips for running a successful private internal podcast.
1. Share your private podcast with your subscribers
Ok, ok, this sounds like common sense, BUT there are people who don't know what podcasts are, don't listen and won't know how to access your internal podcast.
It's a good idea to put together a guide telling people what your private internal podcast is, how it works, what they can expect and how to access it on their devices. Tell them exactly how easy it is to subscribe and what they can find on the other end! That way, you'll get people on board straight away, rather than waiting for them to figure it out alone.
To save you time, we've put together a full tutorial on how to subscribe to a private podcast which you can use!
2. Ask for feedback and involve people
Podcasts are not one-way streets. The most successful shows are ones that continually engage their listeners and act on honest feedback. It's important to involve the people you're talking to, and nowhere is this more true than at work or in school.
Creating a private internal podcast makes internal comms a conversation rather than a lecture. Podcasting makes it easy to have open, transparent and effective communication that feels personal rather than formal.
To really make the most of your podcast, ask for feedback after every episode. Invite questions, host AMAs on Slack and ask people on for guest interviews or to share their success stories. You'll soon get an idea of what people want to hear from you and what would engage them best.
3. Be open, honest and authentic
One of the best things about podcasting is how personal it can be. You're listening into a conversation from a real human, not reading a memo from someone you might not have even met before.
A private internal podcast is just that: internal. It's not for anyone else but the people within your community. While there's a lot to be said for high production values, people are used to podcasts being unscripted and off-the-cuff. Recording a podcast allows you to express your personality and address difficult topics with more honesty than you could get away with in an email.
Make your private internal podcast with Captivate
Private podcasting should be available and accessible to every business, school, college or community, not just those on enterprise or network hosting plans. Secure communications are important at smaller scales, too! At Captivate, you can start your own private feed, for free, on any plan.
Private podcasting for anyone, at no extra cost
With some podcast hosts, private feeds can feel like a very big commitment. You'll often have to pay extra or upgrade to higher paid plans. We think secure private podcasting should be available to anyone, so our plans are affordable and built to scale.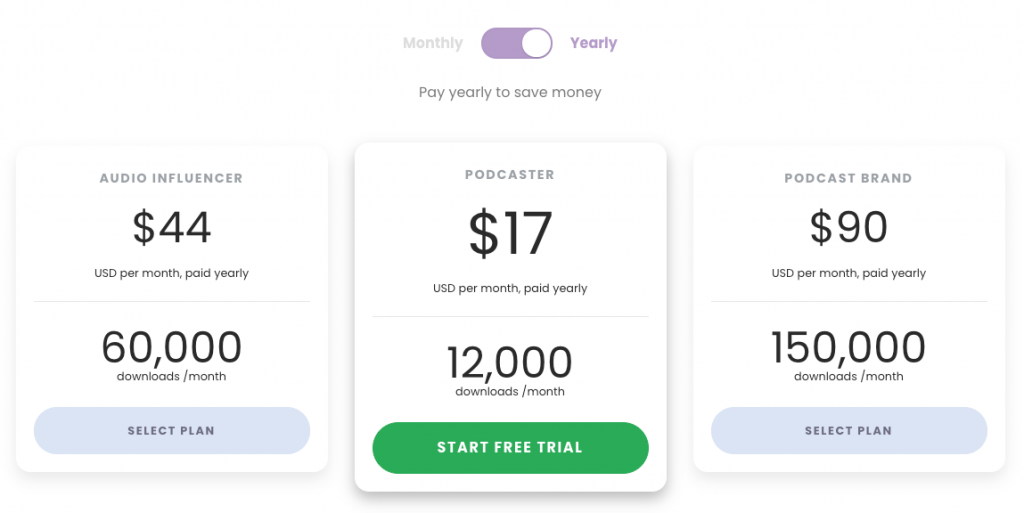 Our $19 plan includes one free private feed with 150 private subscribers.
Our $49 plan includes one private feed and 500 private subscribers.
Our $99 plan includes three private feeds and 1,000 private subscribers.
Safe, secure and easy to use
We've worked hard to make our private feeds both easy to use and secure.
We generate a custom private feed URL for each added subscriber that can be regenerated at any time. This protects your private content from any external sharing or pirating.
As a business, secure and responsible data management is a huge priority. We've made it easy to keep track of new subscribers and revoke access without having to remember or do it yourself manually.

Integrate your Captivate private internal podcast with Zapier to automatically add or remove subscribers from your CRM or list-management software. Subscribers will be invited or access revoked from one centralised location.
Want to start your own private corporate podcast for internal comms or something else? You can start today with a free 7-day trial of Captivate or log into your account to create your feed right now.
What to do next