Reading Time:
6
minutes
Podcast guest interviews are one of the best ways to grow your podcast and reach new audiences. In this guide, I'll talk you through how to prepare for podcast guests for maximum impact and a great interview every time!
How can you make sure you get the best bang for your buck from every new podcast guest?
The best way to ensure that happens is that you make a truly great impression.
You have to stand out from the rest.
Podcasts present a few unique challenges compared to other types of content:
Podcasts are traditionally audio-only, which means it's difficult to grab your potential listeners' attention straight away
Audio is not as inherently shareable as text or video; people consume it differently
Discovering new podcasts and podcast episodes is a slow-burn process based on personal taste and recommendations
For all these reasons, you, as a podcaster, have to be crafty and strategic about getting your show seen and heard. Growing your podcast listenership is largely a grassroots effort — among other methods, it's dependent on word-of-mouth recommendations from a few loyal listeners.
If you have guests on your show, you have a leg up on the rest because your guests can share your podcast with their audience. But first, you have to earn it.
Let's dig into five ways you can prepare for podcast guest interviews and impress your guests when they come on your show!
1. Start researching your guests
Since most podcasters don't do much (if any) research on their guest ahead of time, one surefire way to impress your guest is to show that you've really done your homework on them.
Not only will this help you produce a better podcast, it'll also increase the chance that your guest will share the episode with their audience, refer you to other guests, and do you a favor in the future.
It sounds simple, but this one small gesture can go a long way to making a lasting impression.
Here are a few clever hacks you can use to get to know your guest ahead of your time with them!
Use Twitter advanced search to research your podcast guest
Dave Gerhardt knows a thing or two about podcasts. He's behind the hit podcasts Tech In Boston, Seeking Wisdom, Ecommerce Marketing School, and B2B Marketing Leaders.
Here's a sneak peek into how he uses Twitter to surface interesting content from his guests that he can ask about on his podcast.
Fun way to do podcast prep with Twitter Advanced search.

Take your guest – filter by min. faves or replies to see which topics have started conversations 🙂 pic.twitter.com/SDdvphSiIM

— Dave Gerhardt (@davegerhardt) April 23, 2020
Twitter's advanced search page makes it easy and extremely quick to filter by the number of likes (as shown below) as well as the number of retweets and any keyword or phrase!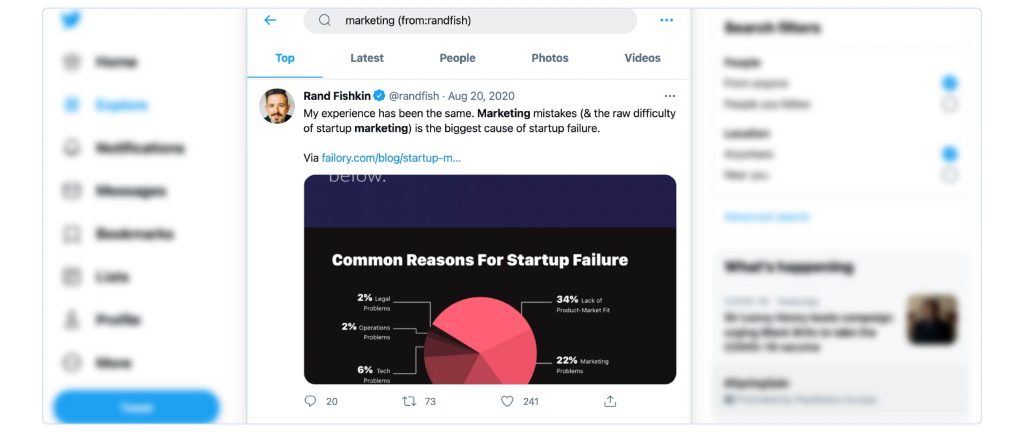 It's not just Twitter, either: using search operators in Google or a tool like BuzzSumo (free for a few searches) allows you to find all content associated with a certain person.
Research your guest's LinkedIn profiles
If the professional background of your guest is of any particular interest, their LinkedIn profile will come in handy.
Here, you can see a precise timeline of their jobs and involvements in different companies.

From their profile, you can also dig into their "Activity" to find what they've been posting about.

Listen to your guest's other podcast appearances
Podchaser also allows you to search for someone and pull up a curated list of their guest appearances in a special tab. You can also set appearance alerts, which is a handy hack if you've got a wishlist of potential podcast guests and want to keep your eyes on them.

Listen Notes describes itself as a search engine for podcasts, which makes it easy to dig up past guest appearances your guest has made on other podcasts.
As you can see, a quick search for Rand Fishkin turns up a massive 917 results, so use the filters to narrow down your choices to the most recent or relevant.

It doesn't take more than listening to 1-2 other podcast appearances they've done to get familiar and pick out other topics and questions that'd be compelling to explore on your podcast.
Use Quora answers
Quora has become one of the most popular websites in the world with its unique Q&A format.
If your guest is active on Quora, searching through their past answers might give you some good ideas for questions to ask since you can quite literally see how they would respond.
Entrepreneur and investor Jason Lemkin have answered over 3,600 questions, many of which are "off the beaten path" of what he might normally get asked about.

2. Send your podcast guest a prep email
Once your guest has booked a time to record with you, you can send over a list of questions or topics to help them prepare, as well as a package of marketing materials they can use to promote your episode.
Not only does this show your guest that you're well-prepared and on top of your game, it also allows your guest to be able to deliver the best content they can for you.
You might send them an email like this a few days before you record:
Hey NAME — looking forward to our conversation.

I wanted to send over this list of topics we'll likely cover.

Topics to prep for:

Any questions before our recording?
Derek Sivers talks about how he asks the host to send him questions months in advance when somebody invites him on a podcast.
Here's why: "People say that your first reaction is the most honest, but I disagree. Your first reaction is usually outdated. Either it's an answer you came up with long ago and now use instead of thinking, or it's a knee-jerk emotional response to something in your past."
He's observed that his best answers come after he's had some time to think about it from experience. He spends hours writing from different perspectives before choosing the most interesting answer. Then, once the recording begins, he tries to make his answers sound spontaneous.
Giving your guests time to prepare thoughts on questions and topics is guaranteed to impress, but it's also a great way to make them more impressive to your listeners.
3. Personalize your scheduling link
If you're still scheduling recording sessions with guests by trading emails back and forth, it's time to start using a scheduling tool that allows guests to book a time directly on your calendar.
But even then, scheduling links have become so ubiquitous that an unwritten taboo has developed. Like it or not, some people take offense to receiving a generic booking link.
So if you want to impress your guests (and avoid offense), get in the habit of personalizing your scheduling links.
With a scheduling tool like SavvyCal, you can generate personalized scheduling links for each and every guest with just a few clicks.

You can prefill your guest's name and email address so that all it takes is two clicks to book a time with you.
For example, you can set up a personalized link with your guest that shows their avatar, their name in the meeting name, and even their name in the scheduling link.
If I wanted to record with Derrick, I could send him the link savvycal.com/corey/derrick and that way he knows it's just for him.
4. Create a specific guest page on your podcast website
You want to make the guest experience as seamless as possible. A guest should never feel confused. If they do, it's your fault.
One way to take your guest booking process from a Motel 6 experience to a Ritz Carlton experience is to provide a "Guest Page" with essential details for recording, so you can ensure a seamless guest experience as well as high-quality audio results for your edit. Your guest page might include:
Your contact details
A summary of the guest interview and topics to discuss/research
When to arrive to record, i.e. 15 minutes early for an AV test
How to prepare to record (if your guest isn't podcast-literate)
The link for your video recording, plus any passwords or extra detail
Links to assets, bios or copy for your guest to use to promote your episode
You can easily spin this up in a free app like Google Docs or Notion, or host it as a landing page on your own podcast website. Either way, if you do a lot of guest interviews, having a resource like this will cut down on tons of admin time for you and give your guests a better experience, too.
Some scheduling apps, like SavvyCal, allow you to add your guest page as a redirect option for each calendar booking. Once your guest interview is scheduled, they'll be taken to your page automatically. Handy, right?

5. Streamline production follow up
If your guest has recorded any audio locally on their end, do them a favor by providing a link to your Google Drive or Dropbox so they can upload it without any problems.
Audio files are large and not everyone has a good Cloud storage solution. Asking your guest to send you their Drive or Dropbox link isn't bad by any means, but it can be inconvenient. Make it easy on them and provide an easy way for them to upload directly to you.
Once you've scheduled the episode to publish, send your guest a quick note about which day they can expect it to go live. This way, when you send another message day-of with shareable links, they're much more likely to amplify it and help you grow your audience.
Pro-tip: Save time and look pro by automating your podcast guest follow-up with Captivate's Zapier integration!
Recap: When it comes to podcast guests, good impressions last!
If you want to stand out and make a great impression with your podcast guests:
Do extensive research
Send a prep email
Personalize the scheduling link
Create a guest page
Streamline production follow up
Do these 5 things, and there's no way your guests won't share your podcast, refer you to other great guests, and do a favor in the future.
Recommended reading