Reading Time:
7
minutes
A great way to boost your credibility as a podcaster is to appear on other peoples' shows as a guest – but how do you get on podcasts as an interviewee? In this article, we'll tell you how to get on others' shows, how to be a guest on a podcast, why it's important and some best practices when pitching to be a guest.
What is the benefit of appearing on other podcasts?
Being a guest on someone else's show, shows the world that you're worth listening to. This is fantastic not only for your own personal brand but for the podcast you're trying to build yourself – any credibility you can build up, especially in the early stages, is invaluable.
This credibility feeds into increased discoverability for your own podcast. In appearing as a guest, you're getting your name out there and in front of a whole new audience, and more exposure means more listeners.
How do I get invited to a podcast?
A valid question, but let's think about it in a more proactive way: don't wait to be invited, take action in order to get yourself on someone else's podcast. This generally involves being active and credible on social media – participate in conversations about your particular niche and interact with people in a way outside of just promoting your own podcast.
As well as this, reach out to people who have shows in a similar area to your own. Make yourself a one-page biography which talks about who you are, what you've done and monthly downloads and guests you've interviewed. Include any of your achievements as an individual or for your podcast – even if you're not a superstar, most podcasters are like yourself and will be keen to speak to someone with the same interest that they have.
Networking is key for this, whether that's online or in person. If you have the money, go to in person podcast events like Podcast Movement, The Podcast Show or free ones like MIC podcast meetup – meeting like minded individuals face to face can't be underestimated for your own motivation as much as for tangible outcomes.
How do I pitch myself to a podcast?
Be active in forums and groups such as Facebook and Reddit – loads of podcasters who talk about whatever topic you're interested in will be self promoting there, and that will give you a super easy way to contact them.
Outside of organic networking like that, search "Top Podcasts in [TOPIC]" in directory apps like Spotify and Apple, as well as on search engines and social media. Once you've found podcasts that you think would be a good fit, reach out – email is usually perceived as a more professional first point of contact, but if you're more comfortable over X (formerly known as Twitter), LinkedIn, Facebook or Instagram DMs then go ahead and use those.
It also depends on how the podcast hosts prefer to be contacted – keep an eye out in case they have a particular process to follow when pitching to be a guest.
6 tips for preparing your podcast pitch
Only pitch where it'll work
When you're applying to appear somewhere, the temptation is to cast the net as wide as possible and just see what sticks. It's better to really craft and perfect a few pitches towards those who really align with your own interests and your target audience to get the most return on your time investment.
Make your pitch personal to the hosts/podcast
One thing not to do is to send out the same pitch to six or seven podcasts – it'll be blatantly impersonal and you'll be far less likely to get a reply. Craft a pitch to every podcast on which you want to appear entirely from scratch. Start with a personal message about why you like the show, and why you specifically want to appear there, and then tailor every point you make about yourself specifically to relate to that podcast.
Include a topic idea and why it will resonate with the audience
It's a great idea to be proactive and give the host you're applying to an idea of what you could talk about together on the episode – even if they don't end up using it, it shows that you're there to put the work in rather than just asking them for a favour in promoting yourself.
Link out to other podcasts where you have been a guest
Including a list of your previous experience shows that you're credible and trustworthy – a portfolio of podcast appearances certainly isn't required, but if you have any then it's a fantastic idea to put them on your application.
Be persistent – if you don't get an answer at first, reach out again
We all miss emails and messages on social media. If your first correspondence isn't reciprocated within a few days, send a friendly follow up email bumping it to the top of their inbox. If this one doesn't get replied to within a few days, it's probably time to call it for the time being. Persistence is good, asking 3 or more times is probably more of an annoyance. Don't take rejection personally, it happens to everyone at every stage of their career.
Get to the point
Don't make your pitch read like War and Peace. Get to the meat of who you are, what you do and what you're asking for within the first paragraph – we're all busy these days, and no one has time to read a three page email when a few paragraphs will do. Make it easy for them to scan your message and pull out the important key information.
Promote your podcast appearance
When you do get invited on as a guest, make sure to share it around like crazy. Showing it to a new audience of your family, friends and fans will show the reciprocal benefit of having you as an interviewee to the podcaster who asked you on – and if they feel this way, they'll be likely to let their friends and network know.
What should I do to prepare for a podcast interview?
Listen to previous episodes
Familiarizing yourself with the format and style of the podcast you're going to be joining is a great idea as it will allow you to integrate yourself naturally into the flow of things. Minimizing the opportunity for surprise is a very good thing, especially when you're in front of a microphone.
Make sure you feel comfortable with your topic
This one really goes without saying, but make sure you go on with all your ducks in a row. Any facts and statistics you might need, write them down and have them in front of you.
Don't worry about coming off over-choreographed; if there are any impressions you want to leave first time listeners with of yourself, practice them and ensure to make sure that they land with listeners
Practice active listening
We've spoken a lot about what to say, but podcasts are a dialogue more than a monologue. What is active listening? It's listening intently to what your host is asking you – you're there to participate in a conversation rather than spout talking points like a politician. Be fully present in the conversation, and listen to understand rather than to respond.
5 tips on how to be a good podcast guest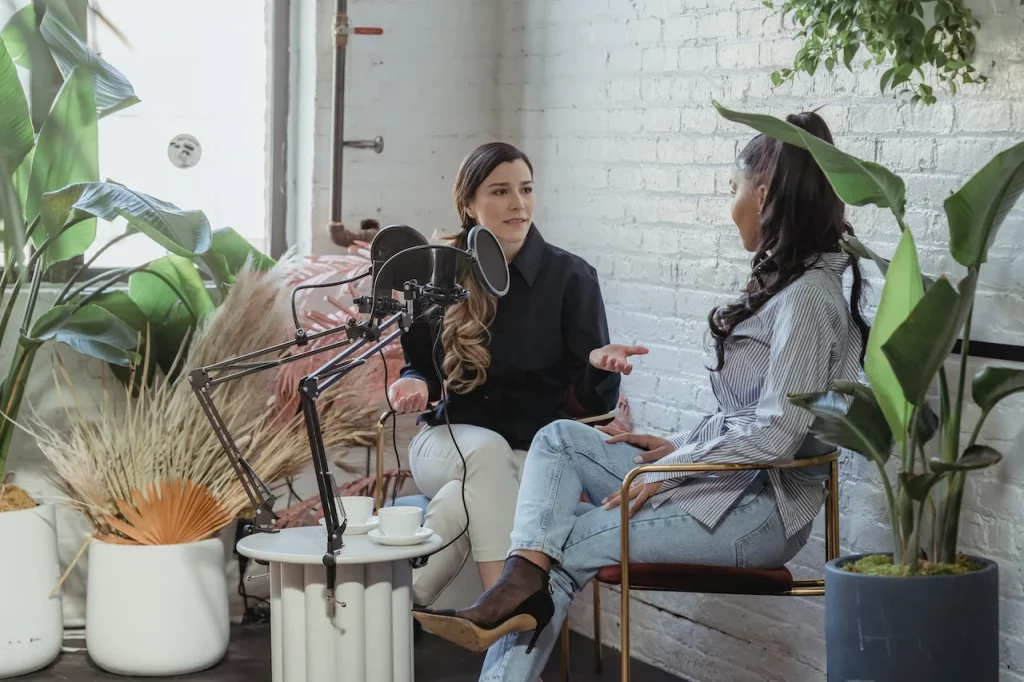 Be professional and courteous – don't make your host wait. First impressions are key. Understandably situations happen that are out of our control, so if you are running late let the host know as soon as you can.
Being authentically yourself is the best thing you can be as a guest – you've been invited on because of your particular personality, expertise or knowledge, so don't try and be someone else.
Ask for questions beforehand
If the host is willing to email you the questions and discussion points before your interview, this gives you the opportunity to prepare exactly what you're going to say. This isn't to say you should script everything out verbatim, just that you won't be caught off guard.
Don't be afraid to ask for questions to be repeated
You're not there for an exam – you're appearing as an equal for an honest and engaging conversation. It's better to ask for clarity on a particular question rather than plough ahead without knowing what you're answering, no one will think less of you.
If you've not appeared as an interviewee many times before, it can seem daunting and overwhelming, but if you weren't qualified then you wouldn't have been asked. Take a walk, have a cup of tea – do whatever you need to do to calm yourself before your appearance. There are some effective breathing exercises that can help calm your nerves. You'll do great!
FAQs
Do guests pay to be on a podcast?
Maybe some guests have paid to be on incredibly popular podcasts before, but as a rule, you really shouldn't be – that's not what the whole collaborative process is about. You'll get on plenty of shows on merit, don't be forking out for it!
What should you include in a podcast guest pitch?
You should always include a tailored message about why you want to appear specifically on the podcast to which you're applying – make it as specific and real as possible, you don't want to look like you're happy to be accepted anywhere. You should also include any evidence of your credentials in the field of the podcast.
Do I need prior experience to get on a podcast?
Not necessarily, no – it might help sway certain podcasters towards having you on, but it's by no means an absolute requirement. If you can show you have something valuable to say about the topic, you don't have to have done it before. Any relevant transferable experience, like having delivered a talk or led a workshop is worth declaring to the host.
Can I appear on multiple podcasts in the same niche?
Absolutely, and you should! Being ubiquitous will signal to listeners that you have something unique to say and show your credibility as a guest, podcaster and authority on the topic.
Is it possible to get on a popular podcast if I'm just starting out?
Never say never, but be realistic – you're not gonna get on a massive show before you've established yourself. It's always worth pitching realistically based on your own experience – going for a mid level show will usually yield better results.
Do I need to invest in special equipment for podcast interviews?
You really want to sound good when you're appearing on a podcast – it's super important to use a good microphone and to treat your room. Read our full podcast equipment guide for all budgets here!
What if I'm nervous about speaking on a podcast?
It's super natural to be nervous before a podcast appearance – just take a deep breath, make your favourite drink and remember that you're qualified to be there and speak.
Takeaway
Appearing as a guest on others' podcasts is essential for the growth of not only your own personal brand, but of your own podcast. Being interviewed about a particular topic indicates to the listeners that you're an authority on that topic, and that your views are worth listening to. The more ubiquitously you can get out there and be seen in this light, the more people will be already primed to listen to your podcast – they'll already believe in you.
When pitching to a podcast host, make sure you're being personal about how much you like their show and why you want to appear there. Sending a generic application to be a guest to a lot of different podcasts might seem easier in the short term, but you'll see far less success than if you tailor each pitch.
What next?
If you're new to Captivate, sign up for a free trial, where you have access to the full platform (nothing is restricted), including our highly-rated human 24/7 support team.
Not yet started your podcast? Take our 45 second quiz, to identify the one blocker that is getting in your way, and we'll give you the next steps to overcome them!