Reading Time:
6
minutes
You've got the kit, the concept and maybe even a few podcast episodes under your belt. You know your Stamps.com from your Squarespace and your Stitcher from your Spotify, but you're still none the wiser on how to get your podcast off the ground and into the ears of your audience.
Or, maybe you've got none of the above but do have one really great idea?
No matter what stage of podcast conception you're at, you're probably asking yourself these questions:
How do I go about promoting my podcast to the world?
How do I organise all my podcast episodes into a feed for easy access?
How can I easily submit and distribute my podcast to Apple, Google, Spotify and the other directories?
Spoiler for all of the above: you don't do it alone!
Your podcast host is here to help – well, if you're with a good one ;).
In this beginner's guide, we'll take you through the basics of podcast hosting: what it is, what it does and why it's so important to begin with.
How Does Podcast Hosting Work?

A podcast host acts as a bridge between you, the creator, and the podcast directories (like Apple, Google Podcasts, Spotify, Stitcher, etc). A middle man, if you will.
Simply put, a podcast hosting platform is a place to upload your audio files, show notes, cover art… basically, everything that makes up your podcast and your podcast episodes.
Your chosen host will then store and collate your episodes into an RSS feed, and from there, into the pockets of listeners whenever you publish a new episode.
Why Is Podcast Hosting Important?
Whether you're podcasting for a hobby or with hopes of making the big time, the bottom line is that it should be fun. It should be rewarding to create and easy to maintain, and most importantly, it should be out there for people to listen to.
Podcast hosting not only takes care of the leg work that comes with producing a show, but it also provides you with a raft of added features that will enable you to grow and market your podcast to audiences across the world.
There are over a million podcasts out there (and counting). If you're just starting out, this can be intimidating to reckon with. Investing in a growth-oriented podcast host (like Captivate.fm) will give you tools and features you need to give your show an immediate online presence, grow your community of listeners and pitch to potential sponsors easily.
Hosting platforms like Captivate offer great value for money when getting your show off the ground for the first time, with important things like a website, podcast player, analytics and customer support built in.
What Happens When You Publish A New Podcast Episode?
Once you've uploaded a new episode to your podcast host, your host will automatically generate an RSS (or "Really Simple Syndication") feed on your behalf.
You can then submit your generated RSS feed to the directories for distribution, making it easy for people to share, listen and subscribe to your podcast quickly and easily.

Read our comprehensive step-by-step guide on how to publish an episode in Captivate.
Pro tip: Captivate makes it super easy to maximise your podcast's exposure. From the distribution page, you can submit your show to all the major directors across the globe. You can also host as many podcasts as you like with no extra cost!
Can You Host A Podcast Yourself, For Free?
Access to your podcast is key to its growth and ability to compete. With an estimated 30 million podcast episodes to choose from, potential listeners and subscribers will quickly get turned off and choose another show if your episodes aren't available to download or listen to on demand. We know because we've done it.
It's important to have podcast hosting in place because podcasts are decent sized files, which in turn place high demand on traditional web hosting each time a new episode is uploaded and downloaded.
This means that hosting your podcast yourself, such as on a WordPress site or other storage facility, can lead to trouble down the line.
As a rule of thumb, a podcast recorded at 96Kbps equals roughly 0.75mb per minute, and one recorded at 128Kbps roughly 1mb. That means a 40 minute podcast would come in at 30mb or 40mb respectively. Not too bad!
But download this file 100 times and you'll quickly gobble 400mb of bandwidth, which won't make your web host or ISP very happy and can easily, if you aren't careful, bring your website down, noooo!
Unlike other web hosting providers like GoDaddy, Wix or Squarespace, podcast hosting is created specifically to hold such files reliably and give fast upload/download speeds via reliable content delivery networks.
If you host with Captivate, on top of publishing your podcast and generating your RSS feed, you'll also get access to other podcast-centric growth and marketing features such as analytics, players, websites, distribution options as well as tailored customer support that you won't get elsewhere.
So don't be tempted to host a podcast yourself or get swayed by services offering 'free' hosting. You can easily violate terms of service, get slapped with fines or charges, or suffer the brunt of slow download speeds and shoddy tools that make your dream project turn into the podcast equivalent of Chucky.
Can I Access Podcast Download Analytics On My Show With Podcast Hosting?
Podcast hosting platforms will give you access to a range of analytics and data on your show. With this information, you can tell:
Who's listening to your podcast
How many times your episodes are being downloaded
Where your listeners are in the world
…and so many more useful statistics about the performance of your show.
Why is this data useful?
Podcast download statistics tell you more about your listeners, like where they are and their download activity. It'll also help you understand where to channel your marketing, how to tailor your content and make it easier to attract sponsors and advertisers.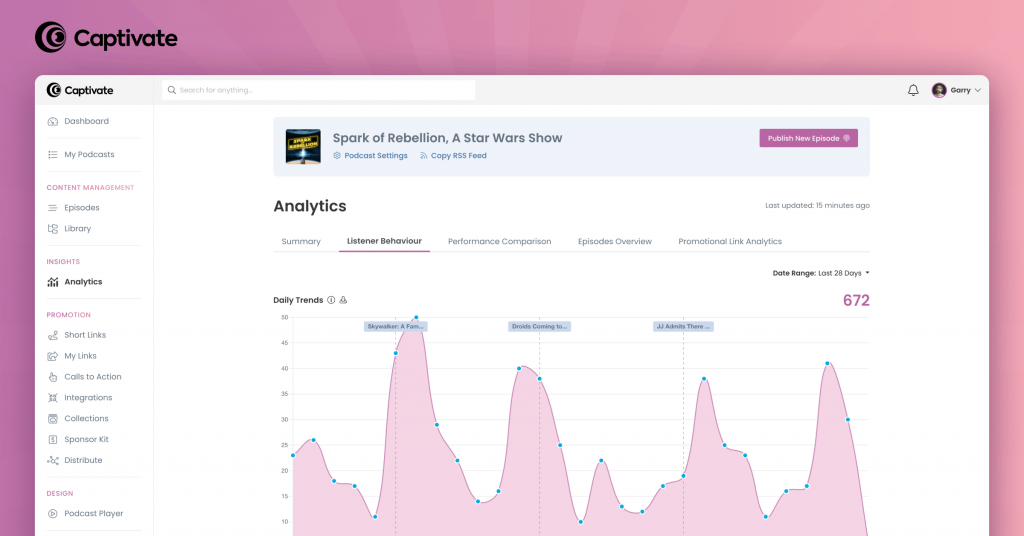 Captivate.fm, as a Growth-Oriented Platform Host, has been designed to give you this intelligence from the get go, with IAB Certified analytics, unique listener data, one-click sponsor kits and a mass of other growth-oriented features built in as standard.
What's The Best Podcast Host?
We're biased here, but we also know that every podcast and podcaster will have different needs and priorities. There are loads of providers on the market, and it's important to do your research and think about the long-term goals and priorities for your show. If you're thinking about getting a podcast hosting account, here are a few key things to consider when choosing the right one for you:
What features can it offer me in the way of growing my podcast?
Does it give me valuable insights into who's listening and where?
Is it enjoyable to use and does it offer good customer support?
Does it release new features regularly?
Does it give anything else, like a secure community, for example?
How Much Does Podcast Hosting Cost?
Most hosting providers bill on a month-to-month basis and will offer free trials of their platform so you can try them out before you commit.
Subscription tiers vary from platform to platform: some offer free packages (exercise caution on that front), some are measured by the bandwidth you'll use and some by the amount of downloads you'll accrue.
When choosing a podcast hosting account, it's a good idea to take stock of your long-term podcast goals and choose the platform that suits those goals best.
For example, if you're just starting out and aren't sure where to take your podcast, free hosting is super handy. But beware – hosting providers have to recoup those costs from somewhere, and most likely, you'll have to sacrifice service, tools and features to enjoy that free hosting.
Try Captivate – The Best Host for Launching, Growing and Marketing Your Podcast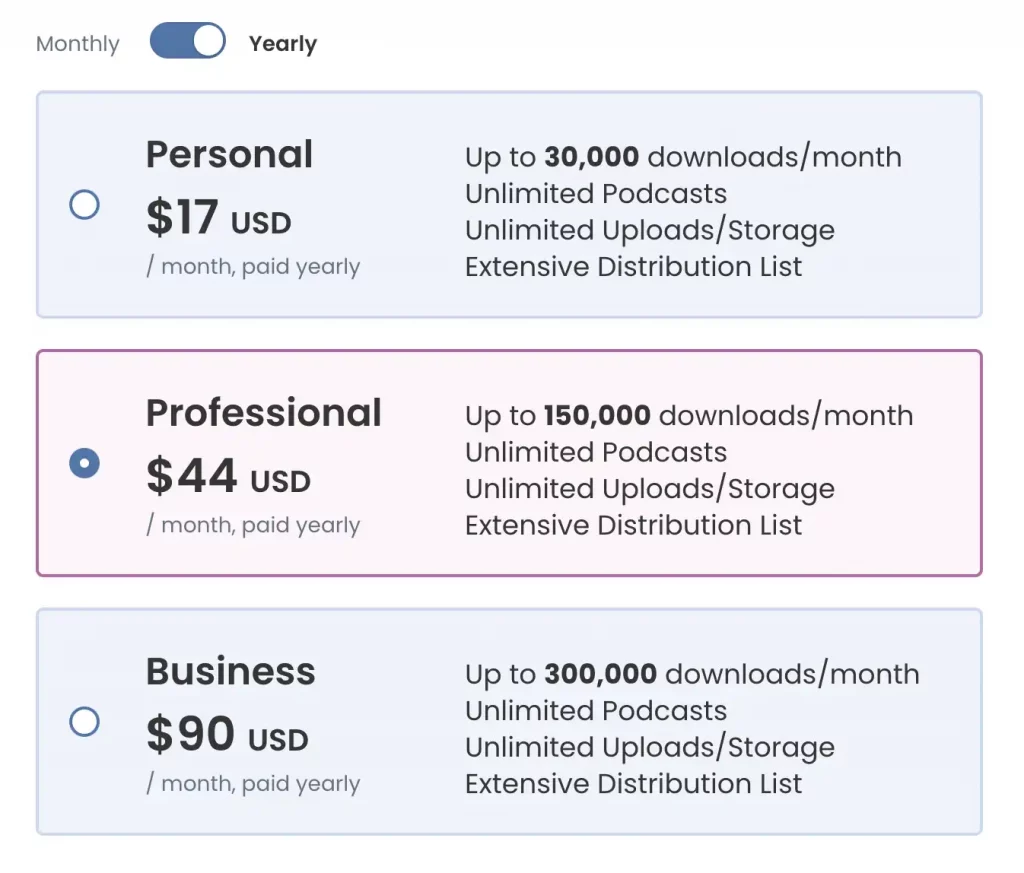 Our plans are as follows:
Podcaster – $19 for 30,000 downloads per month 
Audio Influencer – $49 for 150,000 downloads per month
Podcast Brand – $99 for 300,000 downloads per month
Read this article about why we decided to increase download limits for each plan.
Plus, you can choose a monthly plan or an annual subscription to save you a little money on your podcast hosting.
Our podcast hosting platform has been built, designed and tested by podcasters. It makes it easier for you to maximise exposure, promote your show and quickly gather subscribers with built-in subscription links, customisable players and simple one-click distribution to all the major directories.
With Captivate, there's no limit on your uploads or the amount of hours you can publish: you can just focus on producing great content, growing your audience and your brand without having to worry about exceeding your bandwidth limit or incurring extra surprise charges.
Pro tip: Captivate.fm gives you 7 days of free access to all features as well as a flexible beginners plan with up to 30,000 downloads a month – perfect if you're just testing the waters. Read our full (and growing!) list of features and try us out (no obligation!) today.
Helpful Resources and Next Steps
This guide is part of a wider series on How To Start A Podcast! Check out our step-by-step tutorial on the basics of getting started with podcasting, launching and winning your first listeners.
Thinking about switching to Captivate? We'd love to have you. Check out our simple guide on how to migrate your podcast from all major hosts to Captivate.
If you need help starting your podcast, launching, or have any questions, reach out to us on our support channel and we'll be glad to help. You can also join our dedicated podcast launch Facebook group where you can connect with over 3000 other podcasters as well as the Rebel Base Media team!