Reading Time:
7
minutes
Whether you're podcasting as a simple hobby, on the side or full time, a podcast website is the home of your brand and, after word-of-mouth recommendation and social media, is still one of leading methods of podcast discoverability.
As a growth-oriented host, Captivate podcasters have had the option of a free, customizable and responsive podcast website since day one of the platform.
One year on, we thought it was high time to give our websites a full upgrade, and our podcasters yet more growth and marketing tools to grow their podcasts on their own terms, without having to invest hours on manual website builds.
We're proud to announce a raft of exciting new upgrades to Captivate Sites™, making them the most powerful podcast websites from any hosting platform, included for free on every Captivate hosting plan.
Yes: your free, customizable podcast website now has even greater flexibility, functionality and marketing potential!
We've been working hard behind the scenes all summer to bring you this release, but it wouldn't be possible without the podcasters who requested features and provided honest feedback – so thank you to our brilliant community!
Let's take a deep-dive into the brand new Captivate Sites™ features, what they look like and how you can apply them to your own podcast from today.
Captivate Sites™ 2.0: What's New?
1. Two New and Beautiful Site Layouts
A podcast website shouldn't just be an RSS feed.
You can now customize the format as well as the look of your podcast website with two new, fully responsive layouts. Alongside the standard layout, you can now choose from sleek Sidebar or a Central layouts – whatever suits your podcast and content best!

Want more guidance on creating a beautiful, effective podcast website? Our detailed step-by-step guides lead you through everything from choosing a layout, colour scheme and creating an impactful header to the techy bits like domain configuration and 302 redirects. Learn how to apply your jazzy new site layout with our tutorial on Basic Settings, now!
2. Greater Control With Episode Order Settings
Gain full control over how your audience listens to your podcast episodes with new customizable episode settings specific to your website. You can now sort the ordering of your episodes by either oldest first or newest first.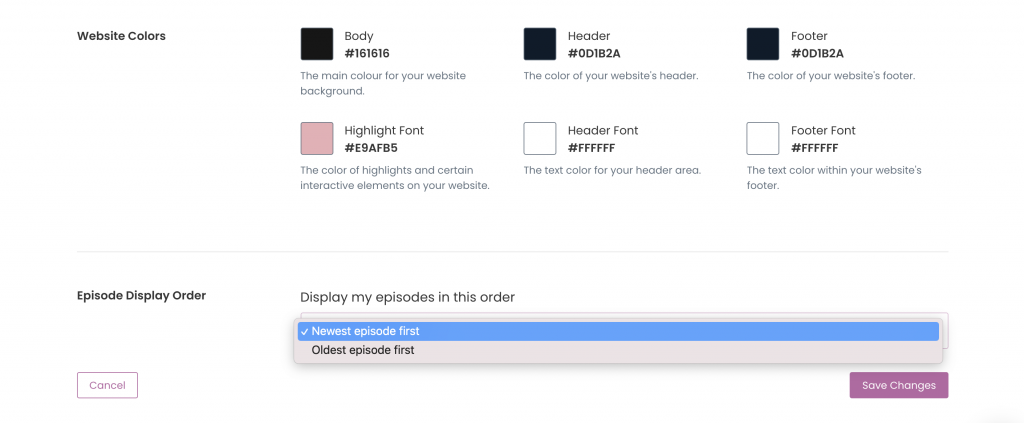 When it comes to episode settings, most podcasters opt to put the most recent episodes first, especially if their content relies on current events or interviews. But hey, every podcast is unique – who are we to stick you in a box?!
This small tweak prioritizes creativity, flexibility and control over how you want your podcast to be consumed, and is especially useful if you're using our Curated Collections feature to bundle up selected episodes, format your show by seasons or simply want your episodes to be listened to in a certain order.
3. Highlight New Content or A Trailer With Pinned Episodes
Let your listeners know what your show is all about by pinning a featured episode to the top of your site! This is a perfect place to put your show's trailer but can also be used for a bonus piece of content, an eye-catching guest interview or an episode that you feel really showcases the strengths of your podcast.
Your pinned episode is among the first things that new visitors to your podcast website will see – so you need to make those first seconds count!
We've put together a full, detailed guide on how to craft an impactful, effective podcast website header section so you can turn casual scrollers into curious listeners from the get-go!
4. Show Off Your Podcasting Team With Expanded Show Bios
Podcasting is about personalities! Your podcast wouldn't be what it is without the people and faces behind it. Whether you produce on your own, co-host your show or run a whole team of podcasting professionals, you can now show off the people behind your podcast with show level biographies!
Setting up detailed team biographies is a great way for listeners to get to know you and your team on a personal level and plays a really important role in fostering those all-important relationships with your audience. After all, it's those relationships (as much as the content) that converts casual listeners into die-hard fans.
You can now tailor your team's biographies depending on their roles and experience, add social media links and links to personal projects – the list is endless. Your bio will fall back to your account's default bio if not overridden. Learn how to customize and create your own podcast team biographies in our dedicated guide.
5. Convert Listeners to Subscribers and Fans with Email Opt-ins
If you run a newsletter, course or business, it's time to rejoice. All Captivate podcast websites now come with email opt-in (or sign up) forms!
You can either integrate directly with email provider AWeber (with further partnerships landing frequently!), Sender, or insert a HTML snippet from your chosen provider (which we'll make look pretty!)
Tailor all your copy to suit your messaging and you're ready to go!
Why is this such a cool feature?!
An opt-in or sign up form gives your listeners a way to easily join your email list. You can simply ask for a name and email address on your form, then share a link to your form or website during a podcast episode as part of your call to action. Once a listener has opted in, you'll be able to send them newsletters, updates, episode transcriptions, invites to bonus content and loads more!
Learn how to set up your new email opt-in form and start using email in your podcast marketing strategy by reading our detailed guide.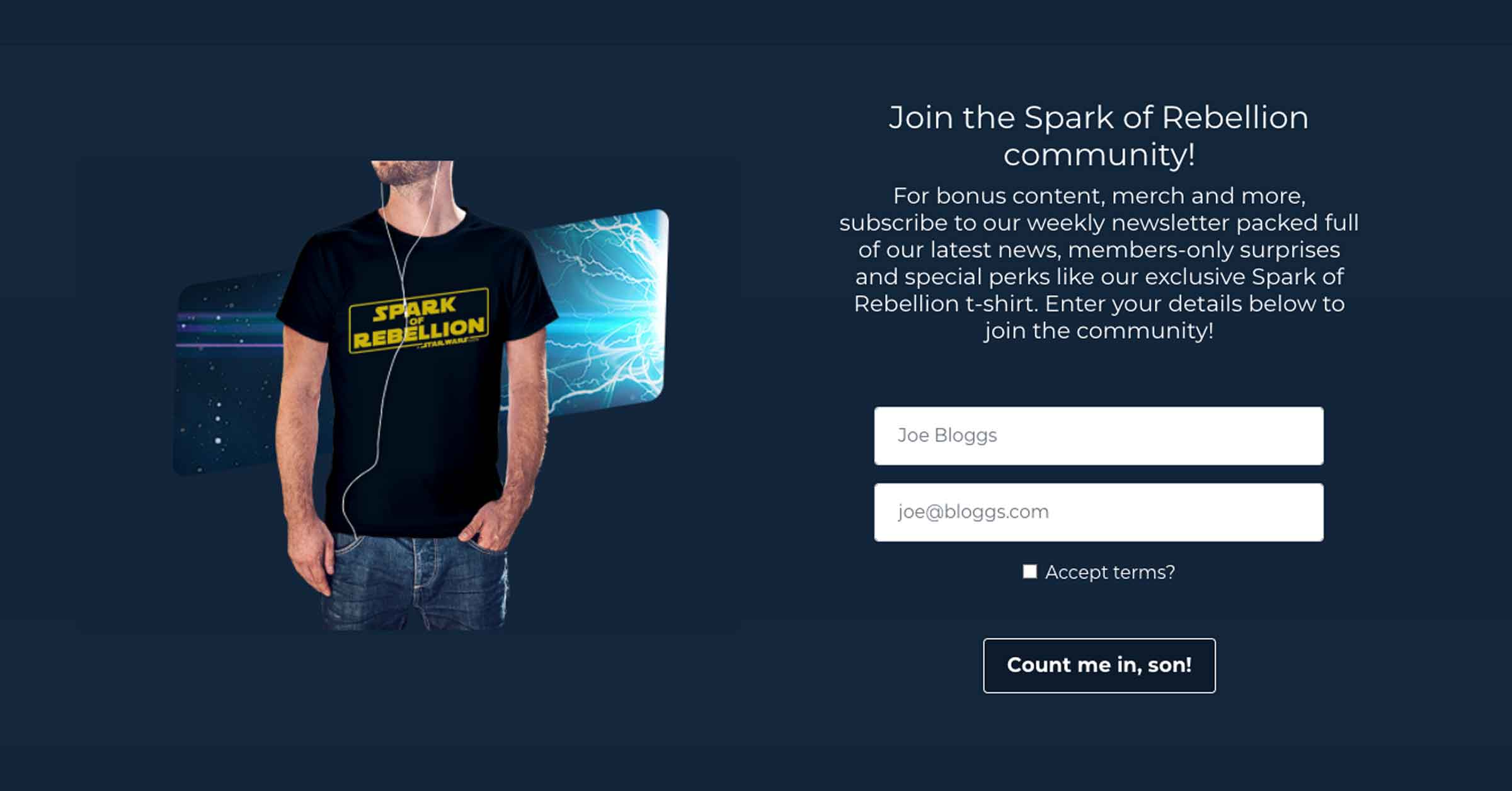 6. Incentivize Email Sign Ups with Lead Magnets
If you offer lead magnets to increase your email signups, great news! Captivate Sites™ now supports in-built opt-ins, allowing you to manage your lead magnet fully within Captivate and your email provider. As with sign up forms, you can use AWeber or insert a HTML snippet from your chosen provider.
BONUS: if you choose to upload an image alongside your email opt-in, Captivate will make your opt-in layout look great automatically, too!
Setting up lead magnets can be fiddly. We wanted to speed up your workflow and give you a central, convenient place to store all of your marketing assets, without the need for external hosting.
With this expanded image and PDF support, you can now upload an asset to the library and insert it straight into your website from one central destination – no messing around with where to store your PDFs, eBooks, whitepapers or guides. Magic!
Master Email Marketing Direct from AWeber's Marketing Specialist
Make your new opt-in and lead magnet a success by watching AWeber's Ready, Set, Grow! 30-minute webinar, Growing Your Podcast (and Revenue!) Using Email Marketing. Host Kelly Forst gives 5 simple email marketing tactics to help grow your mailing list, develop your brand and nurture new listeners into subscribers and fans!
7. Improved On-Site Search Functionality
Discoverability is essential to your podcast's growth and SEO performance. But without an easy way for listeners to find your content quickly and easily, growth becomes that much trickier.
We've made it easier and more convenient for listeners to find the episodes or content they want within your podcast website by adding a search bar to the navigation. Listeners will be able to satisfy their own search quickly without having to crawl through your back catalogue or navigate your full site.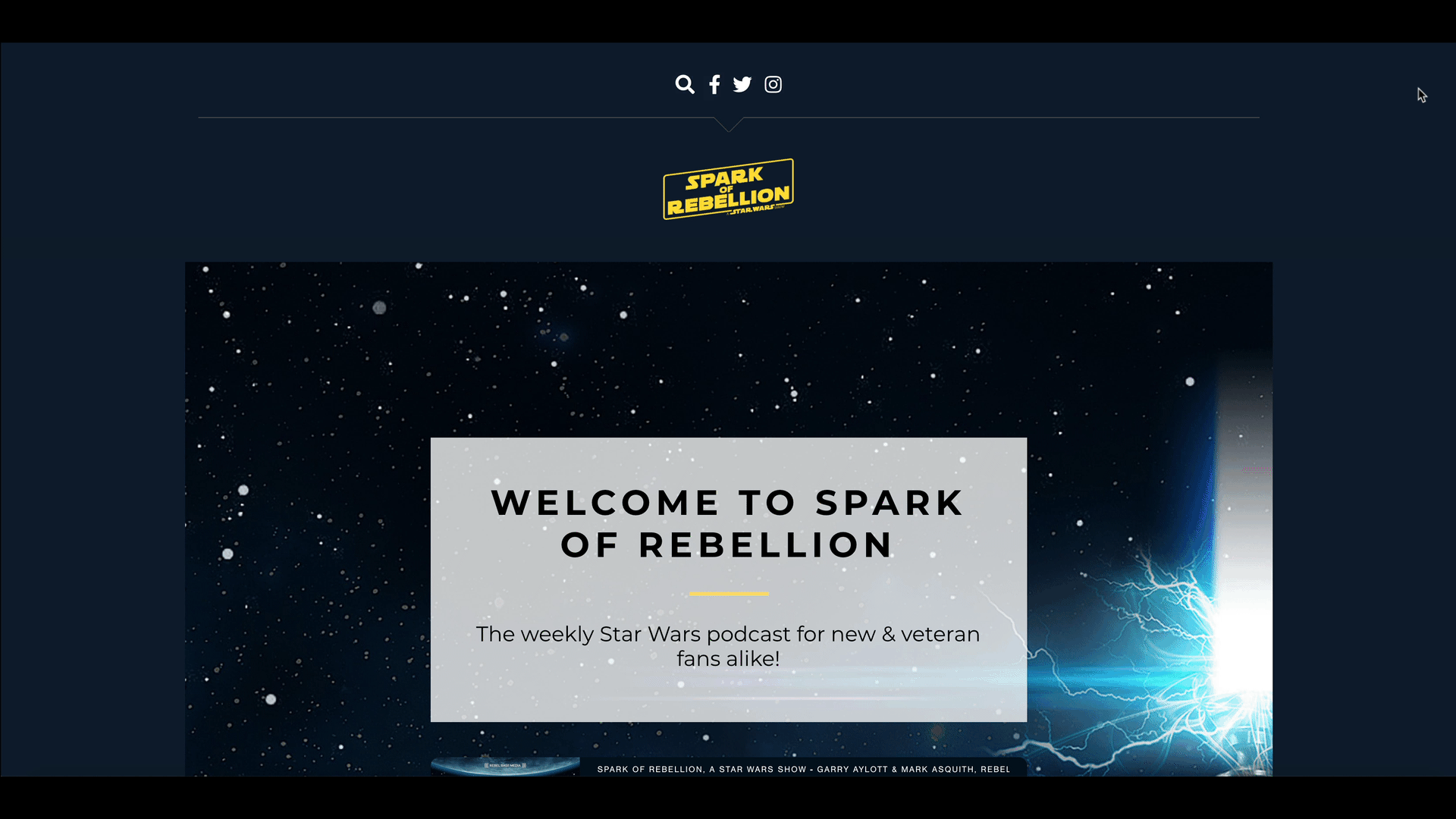 Not only is it excellent for user experience, SEO and accessibility, but you'll also get insight into what keywords and phrases your listeners are searching for on your site – giving you a goldmine of new podcast ideas to dig into, or intel on how to optimize existing content for future searches!
Optimizing your podcast website for search is super simple with Captivate Sites™' built-in SEO tools. Learn all about your website's metadata, setting up Google Analytics and more with our step-by-step guide on SEO & Sharing!
P.S. – You're not alone if you don't quite understand what SEO for podcasting looks like, or how to do it properly! Check out our tutorial for the 10 best insider tips and SEO best practices that are simple enough to start applying to your podcast marketing now, including formatting transcriptions and show notes for SEO benefit, identifying your best-performing keywords and navigating search engine algorithms. 
8. Enhanced API Functionality
Great (techy) news! Captivate will now use the API instead of your RSS feed for displaying your podcast episodes. In the past, the maximum amount of episodes displayed on site was 300, causing older episodes to disappear – not great for discoverability or SEO.
While this is still true for directories like Apple Podcasts, you can now display all of your podcast episodes on your Captivate podcast website. So if your episodes have previously gone walkabout after hitting the limit, they will now still be displayed.
The feed will auto-paginate and will populate as many episodes as it needs to fill the page, so your page load speed won't be affected. Happy days!
Learn How to Craft A Beautiful Podcast Website for Free with Captivate Sites™
We've put together a series of 6 step-by-step guides showing you exactly how to use all of our new, upgraded features – as well as set up the basics – for your Captivate podcast website.
Each guide provides detailed set up information on every feature so you can upgrade or create your own site, for free, within Captivate, right now!
Part 1 – Basic Podcast Website Settings
Part 2 – Setting Up Your Header
Part 3 – Setting Up Your Team
Part 4 – Email Opt-Ins
Part 5 – SEO & Social Sharing
Part 6 – Advanced Settings
The Most Powerful Podcast Websites from Any Hosting Platform, Included for Free on Every Captivate Hosting Plan
Get a no-obligation, free 7-day podcast hosting trial to create your own podcast website in seconds. Easily build, promote and measure the performance of your podcast, content and site centrally from within the Captivate dashboard!
For one monthly price, all Captivate podcasters can manage podcast distribution to all major directories, get access to podcast analytics and advanced marketing tools like easy-to-share podcast single subscription links, calls to action within your podcast player and of course beautiful, powerful podcast websites.
If you have a question about our podcast websites or about podcasting in general, we live, breathe and sleep podcasting. The team also have podcasts themselves! We'd love to offer you any support, guidance or advice that you need – just get in touch.