Reading Time:
4
minutes
Getting your show listed under the correct podcast categories helps with discoverability and makes sure that it reaches people who are likely to be interested in it. In this article, we'll teach you how to categorise your shows, which categories are popular and why it pays to get it right.
What are podcast categories?
Podcast categories are, simply, little tags on which tell the directories where to list your show. You can have broad categories, like Sports or Religion, and then more niche ones like Fashion & Beauty and Entrepreneurship.
For example – The Joe Rogan Experience would come under:
Comedy > Comedy Interviews
Society and Culture
News > News Commentary
Why is it important to select the right podcast category?
Selecting the correct categories for your show is absolutely essential – for those interested in your topic, it's a key way they'll find the show. Choosing categories which reflect your content well can get your podcast in front of people who are way more naturally predisposed to it.
Can a podcast belong to more than one category?
Yes, you can select up to three categories for your podcast. We'd recommend picking them from different (relevant) parent categories – this will get your show in front of a larger number of people who could be interested in it.
Your first category is the one that has the most weight, and then the other two are supplementary. Try picking less competitive ones for your second two, as long as they're still relevant.
So, if your podcast is about Karl Marx, you could choose:
Arts > Books
History and Society
Culture > Philosophy.
All of those descriptors make sense for the podcast subject, so this greatly opens up your potential audience.
How to select the right podcast category
Podcasts are categorised by genre and subject matter. Think about which categories best describe your podcast, and all the different lenses through which it could be seen. If it's a podcast about white water rafting, you could go for subcategories within Sports and within Nature.
It should go without saying – but we'll say it: don't just pick a random, uncompetitive category to increase your chances of getting in front of more people. If your categories aren't representative of your content, you could be reported and removed from directories.
What are the main Apple podcast categories?
The main parent categories on Apple are as follows:
News
Comedy
Society and Culture
Sport
Health and Fitness
Arts
Business
Education
History
True Crime
Music
Science
Tv & Film
Kids & Family
Religion & Spirituality
Leisure
Technology
Government
Fiction
What are the main Spotify podcast categories?
The main podcast categories on Spotify are as follows:
Black Voices
Only on Spotify
Comedy
History
True Crime
Sex & Relationships
Self-care
Stories
Educational
News and Politics
#influencerlife
Arts and Entertainment
Sports
Music
British Podcast Awards
Do podcast directories list podcasts by category?
Directories do list podcasts by categories, yes – that's why it's so important to make sure your categories are true to your content. If you pick your categories well, you can make it to the top of the charts in a given category without having to have a crazy amount of listeners.
Podcast charts are just a list of the most popular shows in each category – exactly the same as the Top 40 for music, and just as influential when listeners are looking for something new.
How to select your podcast category in Captivate
Selecting your podcast category within Captivate is easy!
Go to Podcast Settings

Scroll down and select your categories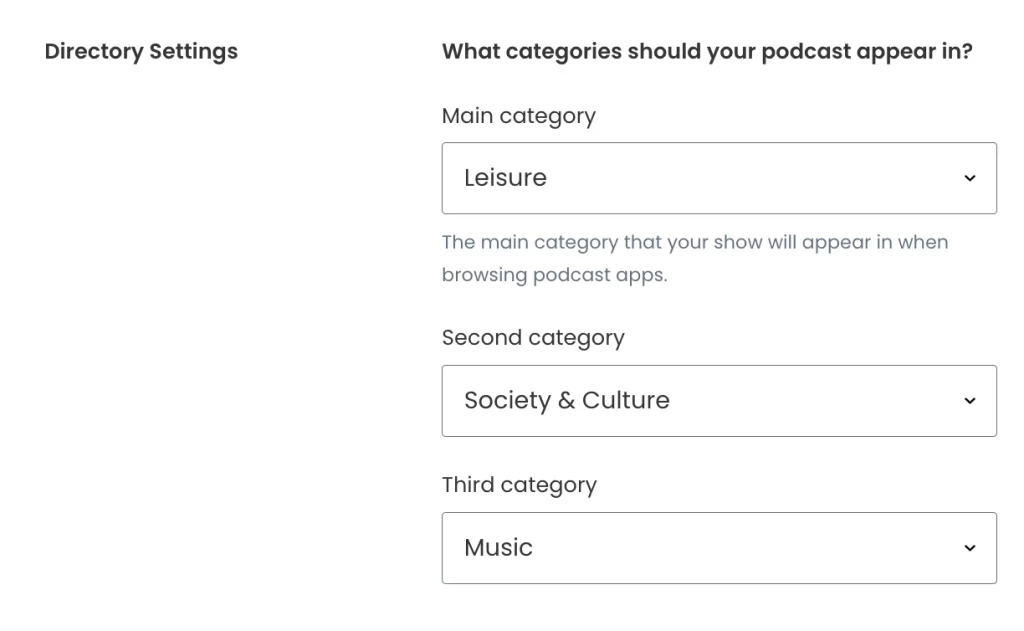 Scroll down to the bottom and click 'Update Show Settings'

FAQs
Can I change my podcast category once episodes have been published?
You can change your podcast categories at any time, even after your episodes have been published, within Podcast Settings in Captivate. If you're performing well in a category, think carefully about changing it – what are the benefits of doing so, and is it worth sacrificing your place in the charts?
What are the most popular podcast categories?
Some of the most popular podcast categories are Comedy, Society & Culture and News. This data, from Edison Research, measures reach as a percentage of the weekly podcasting audience.
What is the difference between podcast category and format?
Your podcast categories are descriptors of the kind of content you're producing, whereas your format is the way your show is structured – whether that's a panel, a solo show or an interview. You can read our full podcast format guide here.
Do Apple change their categories?
Apple will often add new categories based on what is popular or new in the industry – it's a great idea to keep checking what's popular within the app! A new topic that's relevant to your content could be a massive boost, as you could get to the top of the charts before it becomes super competitive.
Do Spotify change their categories?
Much like Apple, Spotify will add new categories when new and popular topics begin to be discussed. If you can find a new category that suits your content better than what you're currently tagged as, it's really worth considering changing to it while the category is still new.
Are there niche podcast categories?
There are some niche podcast categories – from Sports > Wilderness to Leisure > Aviation, there'll be something new and unique to sink your teeth into! Picking niche categories means there's less competition, so you're more likely to top the charts.
How do I select categories in listening apps other than Apple?
You simply select your categories in Podcast Settings in Captivate and this will track through to all directory apps – nothing to fiddle around with within the apps themselves!
Takeaway
Correctly categorising your podcast is essential to make sure that it's found by listeners searching the charts in directories. A lot of listeners find new podcasts by looking for them in categories related to topics of interest to them, so it pays to think about how your podcast could be described.
It's a great idea to categorize by different parent categories, if at all possible, as this will make sure that your podcast gets in front of more potential listeners. If you decide to change your categories, even after your show has been published, you can do so at any time from within Captivate's Podcast Settings.
What next?
If you're new to Captivate, sign up for a free trial, where you have access to the full platform (nothing is restricted), including our highly-rated human 24/7 support team.
Not yet started your podcast? Take our 45 second quiz, to identify the one blocker that is getting in your way, and we'll give you the next steps to overcome them!