Reading Time:
8
minutes
This is a guest post from Silvia Gituto, a freelance content marketing consultant and founder of Witty Content Writers.
According to statistics by Demand Sage, there are 464.7 million podcast listeners globally as of 2023. This number is predicted to reach 504.9 million by the end of 2024.
Considering this, It's no wonder brands are spending millions on podcasts. And why as an SEO specialist, I like to point out how important earning high-quality backlinks is for any podcaster to succeed.
By using these few simple strategies I've given below, whether you are an independent podcaster and creator or part of a larger podcasting network, you can start getting high-quality podcast backlinks in no time.
But first, what are backlinks, and why are they so essential for podcasters?
What are podcast backlinks?
Podcast backlinks are hyperlinks that direct users from external websites or platforms to your podcast's website or episode page. They serve as recommendations or references from other websites and indicate that your podcast is trustworthy, valuable, or relevant.
Why are podcast links important?
Podcast links are important because they can boost your online visibility, grow your audience, and help your podcast rank higher in search engine results (SERPs), making it easier for people to find and listen to your episodes.
Done right, backlinking can help you:
Increase visibility and traffic
Podcast backlinks are like a pathway for listeners to discover and access your content. That way, you increase visibility, reaching more potential fans.
Done well, backlink acquisition leads to more engagement, downloads and subscribers with each episode produced.
Improve search engine ranking
Podcast links also have an impact on SEO ranking. When you have numerous quality links it will be easier for search engines to find and recommend your content to users searching for related topics.
Gain credibility and authority
Podcast links are like votes of confidence that signal to Google that your podcast is a trustworthy and reputable source of information. They help you demonstrate authority in your field and can draw attention from industry professionals who may want to collaborate or link to your content as well.
Find networking opportunities
Backlinking is one of the best ways to build relationships with other podcasters, possibly leading to cross-promotion opportunities down the road. This is a fantastic opportunity to interview industry experts, increase your brand authority and build a network.
How can I get podcast backlinks?
Some ways to get quality backlinks for your podcast include:
1. Creating high-quality content
This is the cornerstone of a successful podcast. Start by creating informative, engaging, and relevant content. Experience, expertise, authoritativeness, and trustworthiness (E-E–A-T) is a framework used by Google to assess the quality of web pages and websites. It's part of Google's algorithm and is baked into Google's Search Quality Evaluator Guidelines. When your podcast follows these guidelines, others will want to link out to it from their websites and share it with their audience.
In addition to the expertise, authoritativeness, and trustworthiness (EAT), Google added experience. Your content, therefore, needs to demonstrate your first-hand, life experience on the topic at hand. It should be well-researched and well-structured to provide value to your listeners.
Here are some tips on how to create high-quality content and get backlinks for your podcast in 2023:
Find your niche and target audience
Identify your niche and target audience then tailor your content to their preferred interests. Creating such content that resonates with your target audience increases your chances of acquiring backlinks to your podcast.
Use engaging formats
Try out different types of engaging formats. Use interviews, case studies, debates or storytelling to keep your listeners interested and engaged. Switch them up and identify which works best for your audience and use them accordingly.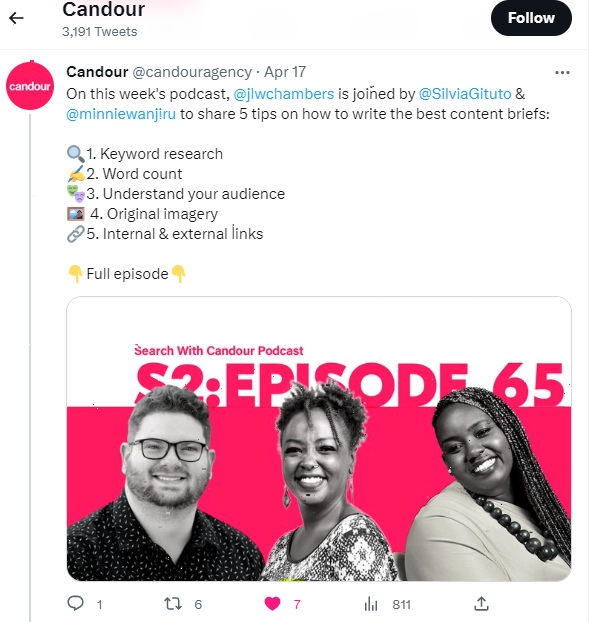 Use eye-catching titles and descriptions
I rarely watch a movie without watching the trailer first. I bet you rarely do too.
Eye-catching titles and descriptions that accurately reflect content work like a trailer for your podcast. When people clearly understand what your content is about, it entices potential listeners to click and listen.
Provide valuable insights and information
Ensure that your content provides valuable insights and information to your listeners, and offers a unique perspective on your topic. This will make your content more shareable and linkable.
2. Utilize social media
We all know how powerful a tool social media platforms are for promoting content.
Here are some tips on how to effectively promote your content on social media platforms and get podcast backlinks:
Be where your audience is
A survey conducted by Statista in 2022 found that 62% of individuals aged 12 and above have listened to at least one podcast. That's why identifying your target audience and having the right content isn't enough. You need to be where your audience is to increase the likelihood of acquiring backlinks by engaging with current and potential listeners.
Once you know where your audience hangs out, consistently share your published podcasts with them. Use eye-catching captions, visuals and captions to entice them.
Engage with them on social media by asking for feedback, responding to comments and sharing behind-the-scenes content. That way, you'll build relationships with your followers and create a community around your podcast.
Collaborate with other content creators
Cross-promoting content, appearing as a guest or co-creating content are great ways to collaborate with other content creators in your niche. It'll help you expand your reach and attract backlinks from their audience.
Because successful backlinking, and SEO in general, is a continuous process, monitor and analyze your social media performance regularly. Identify your best-performing posts and refine your social media strategy accordingly.
By building relationships with other content creators and optimizing your content for maximum engagement and visibility, you'll greatly help your podcast backlink building efforts.
3. Guest appearances
Appear as a guest on other relevant podcasts; related and identical niches. You'll get to share your expertise and promote your podcast to a new audience, increasing the chances of other content creators linking to your podcasts.
Here are some tips on how to approach other podcasters and secure guest appearances to help acquire backlinks for your podcast:
Reach out to podcasters
Use email, social media, or a guest booking platform, introducing yourself and explaining why you would be a valuable guest on their podcast. Highlight your expertise, unique perspective, and what value you can provide to their listeners.
Do your research
When appearing as a guest in a podcast, doing thorough research is key. Not only does it help you craft a compelling pitch but also establishes a solid foundation for building meaningful connections within the podcasting community.
Start by delving into the preferences, interests, and needs of the target audience to understand their pain points. This will help you suggest a relevant and compelling topic that'll resonate with them.
It's also crucial to listen to past episodes of the podcast you'd like to approach for an interview. That way, you gain a deeper understanding of their tone style, and subject matter, so you can tailor your pitch effectively.
Research also helps you identify any previous episodes that align with your interest or expertise. Referencing them during your interview will enhance the relevance of your guest appearance by demonstrating your familiarity with the podcast and enhance the relevance of your conversation.
Promote your guest appearance
After the interview, promoting your guest appearance on your podcast, website and social platforms is the next step. Your host will likely do the same on theirs. This way, you both reach a larger audience and attract high-quality backlinks.
Check your links have been added
You've successfully secured a backlink for your podcast. Congratulations! It's now time to follow up and ensure that your links have been added. Check the show notes and particular episode pages of the podcast you collaborated with to verify that your links are present and active.
If your links are missing or aren't working correctly, it's ok to reach out to the producer or podcast host and politely inquire and request them to update or add the link. Taking the time to confirm the accuracy and presence of your links ensures that your podcast backlinks contribute effectively to your podcast's credibility and visibility.
4. Outreach
This is a proactive approach to acquiring backlinks for your podcast. By reaching out to other content creators and websites in your niche, you can proactively acquire backlinks for your podcast, grow your network and build relationships.
Here are some tips on effective podcast backlink acquisition by reaching out to other websites:
Identify relevant websites
First, identify relevant sites in your niche. These are more likely to link to your podcast episodes. In addition to being open to featuring guests, they should cover topics related to yours and have a higher domain authority (DA) than your site. Domain Authority (DA) is a search engine ranking score that predicts how likely a site is to rank in search engine result pages (SERPs). Ranging from 1 to 100, a higher score corresponds to greater likelihood of ranking.
Next, research these websites and find the content manager, website owner or editors email address, social media handles, or a contact form. Make note of guidelines and/or requirements for guest appearances or content submission.
You can use tools like the Appolo.io Chrome extension to find B2B email addresses.

Image source Google Chrome Web Store
Craft a personalized pitch, follow up and analyze
Use a personalized pitch to highlight your podcast. What unique value does it have and why would it be a valuable addition to their website content? For example, have you got an episode that backs up a point or message they're making in a particular article. Have you interviewed someone, that helps prove a point?
Research and explain how your podcast aligns with their audience and content.
Next, politely and professionally follow up after a few days. Remember to provide any additional information or clarification.
Monitor and analyze your outreach efforts regularly. Which websites are linking to your episodes and which ones aren't? Use this information to help refine your outreach strategy, focusing on websites that are more likely to provide the greatest value.
5. Content syndication
Content syndication is the process of republishing your podcast content on other websites or platforms to increase its reach and attract backlinks. By syndicating your podcast episodes, you can reach a wider audience, increase your visibility, and attract podcast backlinks from other websites and content creators.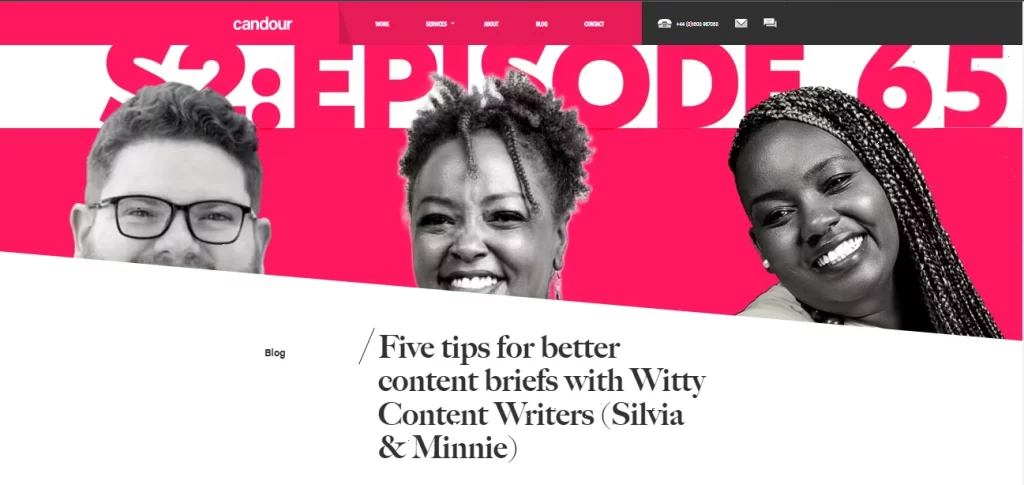 Here's how to effectively syndicate content and acquire backlinks for your podcast:
Identify relevant platforms and repurpose your content
Content syndication platforms such as podcast directories, social media and niche websites in your industry are great places to start. The larger and more engaged the audience, the better.
You can then repurpose your podcast content into different suitable formats for the platform, such as short clips, quotes, or summaries. This will help you attract a wider audience and increase the likelihood of acquiring backlinks.
If your website has a blog, use it to syndicate your podcast.
Be sure to follow the guidelines and requirements for guest submissions or content syndication to help along your efforts. These could be specified length, formatting, style guidelines, submission deadlines, bio or contact information.
Promote, monitor, and analyze your syndicated content results
Promote your syndicated content on your socials and encourage others to link to it and share. This will help you reach a larger audience and attract backlinks for your podcast.
Monitor and analyze your syndication efforts regularly. Restructure your strategy and gear it toward platforms generating the most traffic.
It may take time and effort because, like every other SEO effort, results aren't instant. But the results, in terms of increased audience growth and engagement leading to podcast backlinks, can be well worth your while.
What is the easiest way to get podcast backlinks for free?
The easiest way to get free podcast backlinks is through outreach and collaboration. Identify relevant websites and podcasts and reach out with personalized messages.
Offer value through guest appearances or content collaboration, engage on social media, and leverage your existing network.
Building backlinks takes time and effort, so focus on establishing meaningful connections within your podcasting community to gradually expand your network of backlinks and enhance your podcast's visibility.
Final thoughts
Undoubtedly, quality podcast backlinks are an essential aspect of podcasting in 2023. They not only enhance your podcasts visibility, but also help establish credibility and authority.
Remember, engaging, valuable content that shows experience and expertise encourages others to link back to your podcast.
Additionally, staying up to date with the latest SEO trends and practices will ensure that you maximize your backlinking efforts for maximum impact.
With a well-executed backlinking strategy, you can attract new listeners, significantly enhance your podcasts online presence and grow your podcasting brand in 2023 and beyond.
If you enjoyed this article, check out Silvia's top tips for better content briefs, visit her Witty Content Writers website or you can connect with them on LinkedIn.
What next?
If you're new to Captivate, sign up for a free trial, where you have access to the full platform (nothing is restricted), including our highly-rated human 24/7 support team.
Not yet started your podcast? Take our 45 second quiz, to identify the one blocker that is getting in your way, and we'll give you the next steps to overcome them!