Reading Time:
4
minutes
Private podcasts are a popular way to monetize your content, add value to your show or communicate with teams, students or members.
Setting up a private podcast is really easy, but there's still a lot of manual work that goes into managing one. You have to add subscribers, remove them, manage payments and a publishing schedule.
Not any more! Now, you can automate your private podcast subscriptions using Captivate's Zapier integration. Add and remove subscribers from one central location for accurate, secure and quick membership management. Magic!
You can run a private podcast for all number of reasons, but here are some of the more common ways podcasters use them:
Private podcast feeds are available now for free to any Captivate podcaster on any plan! Log in to set yours up now or sign up for a 7-day free trial of the platform today!
Why Use Zapier to Manage Your Private Podcast?
Using a tool like Zapier means you can connect your Captivate podcast to thousands of apps and services, allowing you to automate almost every step of your podcasting workflow. Here are some examples of how you can use it:
Day-to-day podcast processes: Auphonic, Patreon, Mailchimp
Storing your episodes and files: Dropbox, Google Drive
Managing your publishing calendar: Slack, Trello, Monday, Asana, AirTable
Promoting your podcast: Twitter, Facebook, Instagram, LinkedIn
Managing your guests: Calendly, Google Calendar, Outlook, Acuity
From scheduling and marketing to audio processing and publishing, integrating with Zapier just means there's fewer things for you to remember (and less chance of things being forgotten!)
With Captivate's Zapier integration, you don't have to change the way you work or add any more chores to your to-do list (we know it's already bursting).
Instead, you can give back to your audience with high quality premium content or run a secure internal podcast without having to sacrifice your precious podcasting time.
Automating your private podcast is a bonus for your listeners, too. They can subscribe and be enjoying content within minutes of signing up without having to wait for you to manually add them. The same goes for removing subscribers, too: there's no risk that someone could copy or keep receiving private episodes if the process is automated.
Get started with our Zapier private podcast integration below, or check out our FAQs to learn more about how Zapier works!
We've also put together 12 Zapier templates covering everything from running analytics reports to publishing new episodes. Go and copy them!
How to Automate Your Private Podcast Subscriptions in Captivate
If you want to integrate your Captivate private feed with Zapier, there are 5 steps to follow. The good news is that it's super simple and we can tell you exactly how to do it!
1. Set up your private feed in Captivate
First things first, you'll need to create a private podcast and start subscribing people to it. Follow the steps in this tutorial to set up your private feed:
You might start out manually adding people to your feed. That's fine, but as more people subscribe, it's much easier (and safer!) to manage your subscription list from one place to save you the time, the task and to keep things organised.
Where you store this information is up to you. Here are some popular apps used by podcasters:
Google Sheets
Patreon
Memberpress
Email marketing providers (AWeber, Mailchimp, ConvertKit)
2. Create a free Zapier account
Next, you need to create a free Zapier account. There are paid options available giving you more Zaps, tasks and more complex features, but if you're a smaller show or business, the free plan should work just fine.
Follow the steps in this video tutorial to set up a Zap:
3. Connect Captivate to Zapier
Before making a Zap, you need to connect Captivate to Zapier. To do this, you need to authenticate the connection with your API key. You can find that under My Account > API Key: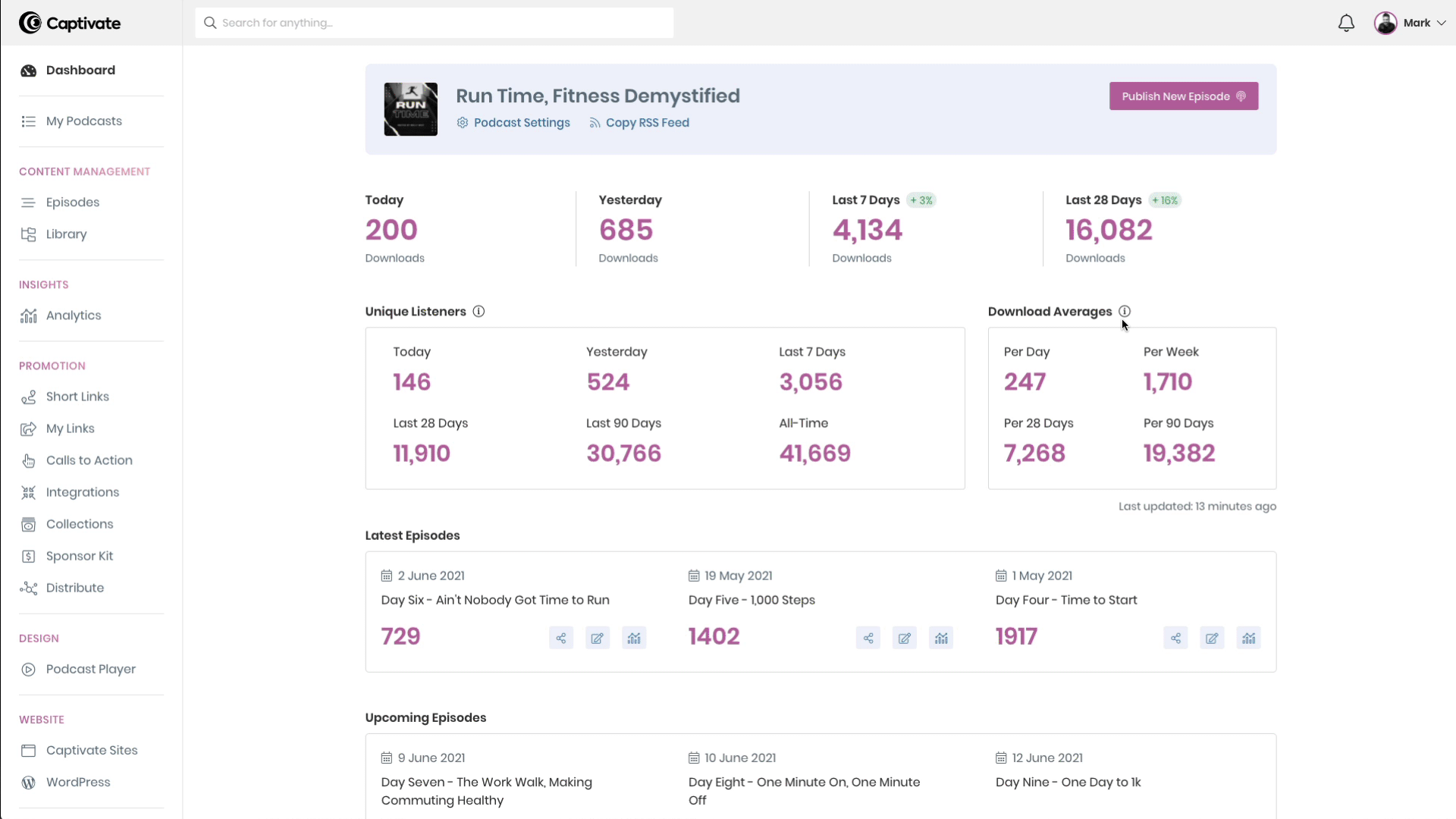 Just copy your API key, and enter it into Zapier when prompted: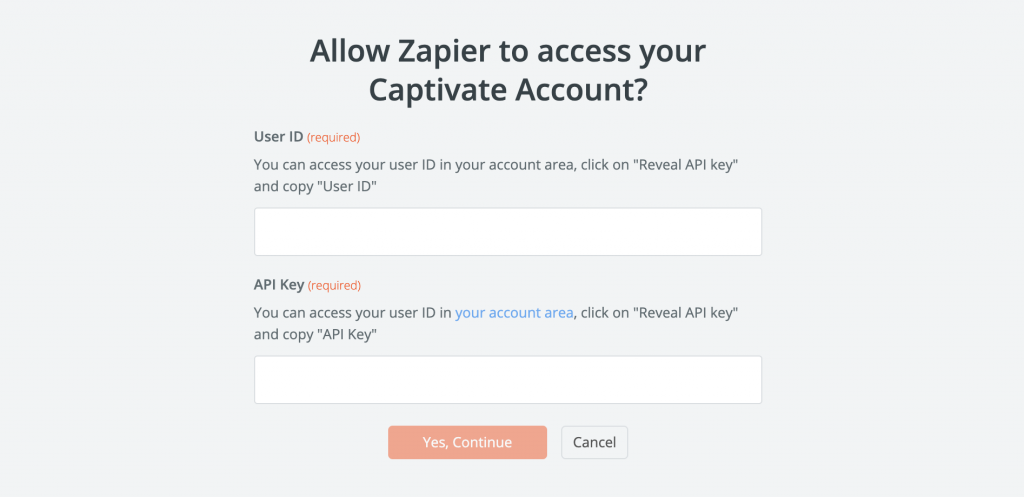 Once you've done that, Captivate will be connected and you won't need to touch it again!
4. Create your Zap
Now you can create your Zap, or your 'trigger'. Think of a trigger as something that happens as a result of something else taking place first. So, when someone completes an action to start the Zap you've created, a Trigger will start the process to do that. When you ring the doorbell, someone answers the door.
For private podcasts, you have the option to add or remove subscribers from your subscription list. So when a new subscriber lands in a Google Sheet, they will automatically be added to your private podcast. Similarly, when you remove them, so will Captivate.
We've made a Zap template that will automatically add a new subscriber to your Captivate private podcast whenever you add a new contact into a Google Sheet. Here's how we did it: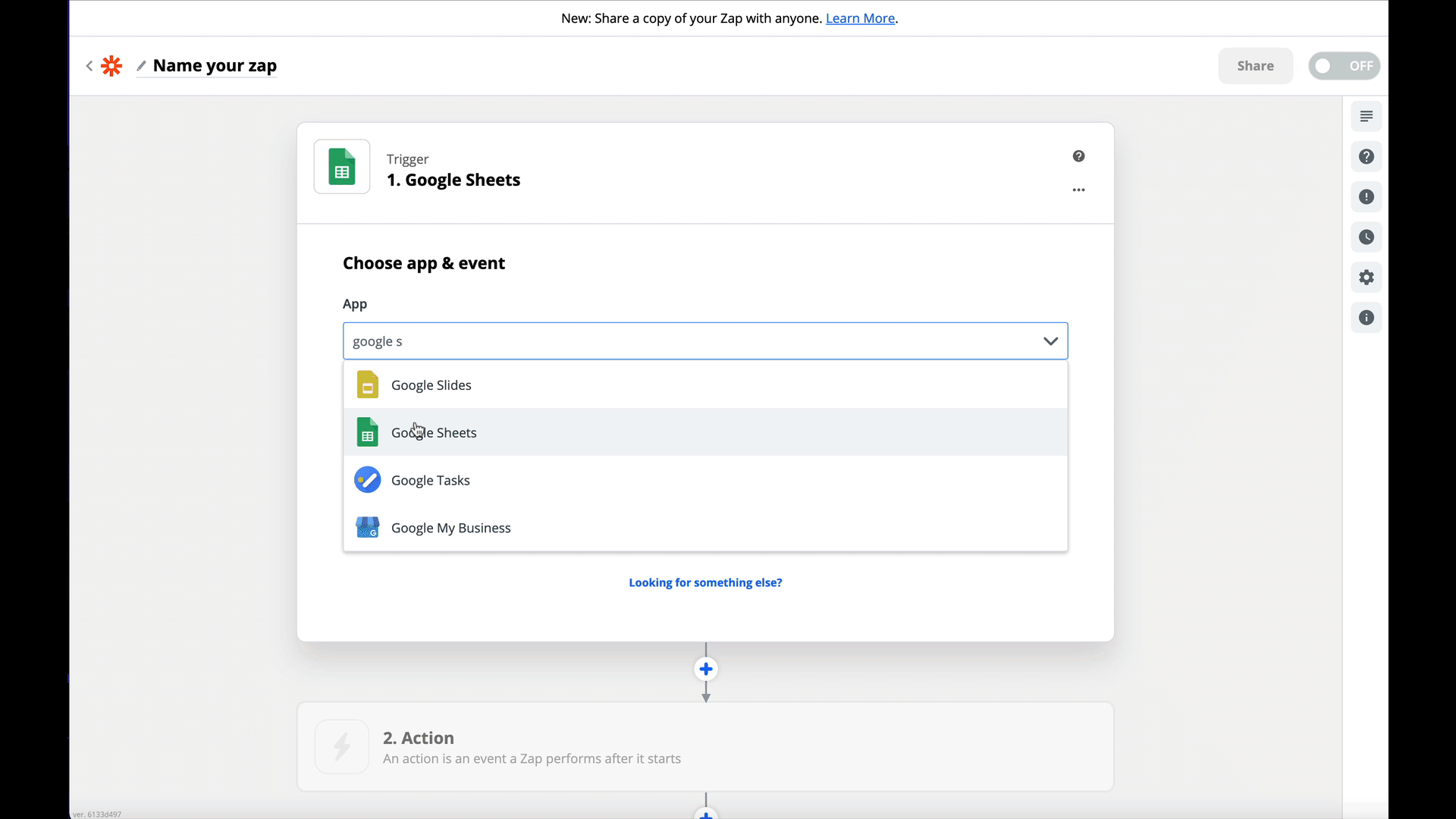 First create your trigger. In this example, we've selected Google Sheets and set the trigger as 'new spreadsheet row'.
Select the spreadsheet and worksheet you want to connect up to Captivate. Follow the steps to log into your Google account and test the trigger.
Next, set up the action. Here, the action is 'add a new subscriber to a Captivate private podcast'.
Follow the steps to link up your Captivate account and test the connection.
Then, map the fields you want Captivate to populate from your Google sheet. In the example, we select the show name, the contact's email, first name and last name.
Test the trigger and you're done!
5. Set it and forget it!
That's it! Captivate will now automatically add or remove subscribers from your private podcast.
Start private podcasting for free with Captivate
Private podcasting should be available and accessible to everyone, not just podcasters and networks on enterprise hosting plans. At Captivate, you can start your secure own private feed, for free, on any plan!
What to do next
Private feeds:
Zapier integration: