Reading Time:
3
minutes
Today we're delighted to announce two brand new partnerships!
We have teamed up with Gaana, India's #1 audio platform, and Podcorn, the podcast sponsorship marketplace, to bring our podcasters even more distribution, marketing and monetization opportunities.
An extra bonus – this announcement arrived just in time for the release of our brand spanking new podcaster resources section, where you can access all of our recommended tools, software, equipment and services for launching and growing your podcast.
But first, let's get to know our two new partners a little better.
Introducing Gaana, India's #1 Audio Platform
Gaana is India's largest audio streaming service, providing both international and Indian content. With over 150 million monthly users, this is a major international distribution channel for your podcast!
Register your podcast on Gaana by heading to the Distribution page of the Captivate dashboard!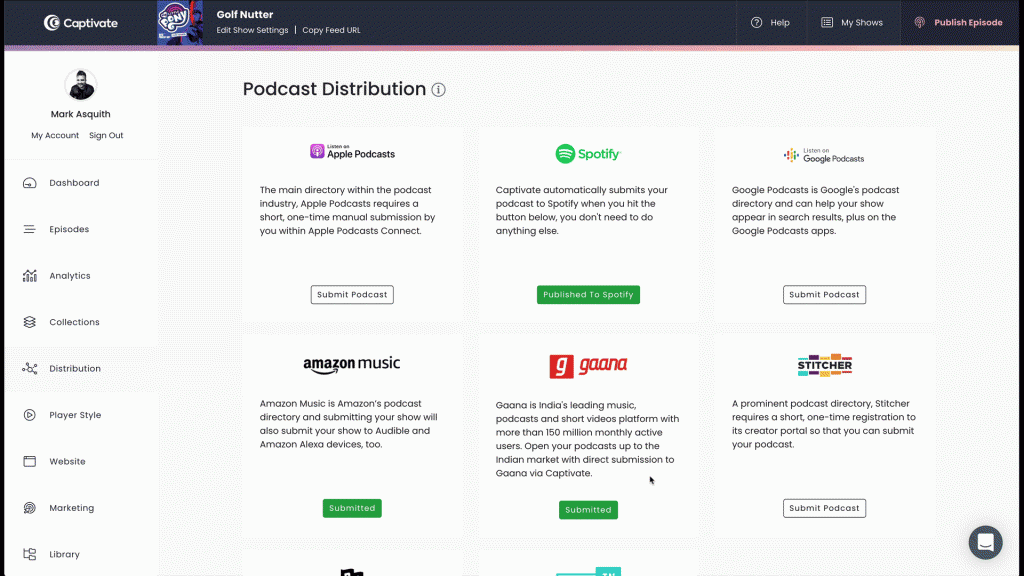 And, here's the full press release – nice:
Captivate Partners With India's Largest Music Streaming App Gaana To Expand Reach For Podcasters
Enters the world's third-largest podcasting market – India with industry collaboration
Adds over 150 million Indian users to its total audience for podcasters on Captivate
Captivate, a leader in podcast hosting, distribution and monetization, is proud to announce a partnership with India's largest music streaming service, Gaana, to distribute Captivate podcasts on its platform. This association will offer podcasters on Captivate the opportunity to get discovered by more than 150 million new Indian audiences while offering Gaana users access to an enviable catalogue of thousandspopular global podcasts hosted on Captivate.
The Captivate network reaches millions of monthly unique audience members. Additionally, with Captivate's powerful audience analytics platform, podcasters will be able to gauge the size and unique geographic location of audiences consuming their content.
Captivate CEO, Mark Asquith notes "More and more podcasters are creating shows to share their unique voice and our goal is to support those podcasters by making sure as many people in as many locations as possible can access that content. Working with Gaana has been a fantastic experience and we're excited about India's podcasting industry continuing to flourish."
"India has seen tremendous growth in podcast space in the past 6 months and Gaana has been at the forefront of that growth. India is also one of the top 10 fastest growing countries for podcast content creation. We are very excited to partner with Captivate and bring their wide range of content to the Indian audience through Gaana," Prashan Agarwal, CEO – Gaana added,
India is witnessing an unprecedented podcast boom, fuelled by rising smartphone penetration, low mobile data prices, and the Indian millennials' growing affinity towards on-demand content. The growth of online streaming has also impacted podcasts consumption, with several popular Indian music streaming startups like Gaana now offering a wide array of local and language content. PwC indicates that India is already the world's third-largest podcast market, with only the US and China ahead of it.
About Captivate
Captivate is the world's only growth-oriented podcast host™, giving podcasters the tools and support to create & distribute their podcast to the largest audiences in the world. With unique features such as Captivate's one-click sponsor pitch and single-subscription links, podcasters benefit from a podcast hosting platform dedicated to the growth of their audience.
About Gaana
Gaana is India's leading music, podcasts and short videos platform with more than 150 million monthly active users. It has an extensive music library with more than 45 million songs across various languages, podcasts in multiple genres and languages and the most recently launched short video creation and consumption platform Gaana Hotshots.
Introducing Podcorn, the Podcast Sponsorship Marketplace
Podcorn is a brilliant resource helping to connect podcasters to sponsorship opportunities. Their service makes it easier to find relevant brands and deals that will resonate with your audience. Set up a profile, set your rates and availability and start monetizing with sponsorships today!
Find Podcorn in the new Resources section of the Captivate dashboard.
Inside Captivate's New Resources Section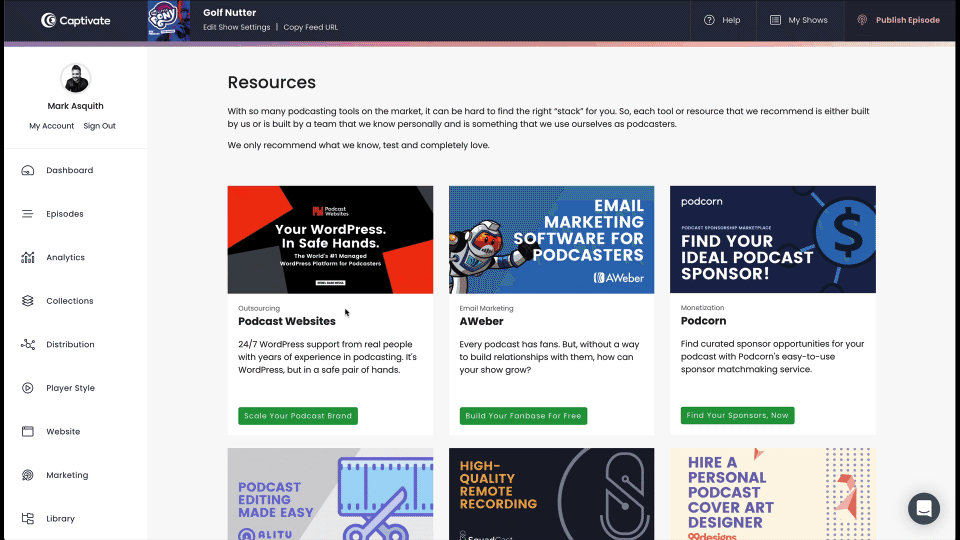 We've rounded up the partners that we know, trust and use ourselves, including all of our recommended design, outsourcing, music and editing tools. So, if you're ever need anything for your podcast, you can now access a handy list of tried-and-tested resources directly within Captivate. You'll find resources for:
Email marketing
Design partners
WordPress support
Podcasting equipment
Production and marketing tools
…and loads more!
For more information about today's full release, or to listen to the latest Captivate Insider episode, head over to the changelog why dontcha!