Reading Time:
9
minutes
What better way to celebrate #InternationalPodcastDay 2022 than looking back on our podcasting journey so far and sharing what we've learned and enjoyed with others in the industry? Some of us have been podcasting for years, whereas others have just started – no matter where we are in our journey, we all know a lot more now, compared with when we first picked up that microphone.
With that said, we did a Q+A with those in the podcasting industry, including our MD Mark Asquith and Head of Customer Support Danny Brown, and our amazing Captivate podcasters to share their best podcast tips, advice, achievements and revelations. We thought by doing this, it gives us all the opportunity to learn from each other's podcasting experiences. Happy International Podcast Day!
What is #internationalpodcastday 2022?
International Podcast Day happens every year on September 30th and is an international celebration of the true power that podcasts can have. It's a great opportunity to connect with fellow podcasters, and also those who listen to podcasts, enthusiast and leaders in the industry.
You can get involved and spread the world by telling friends, sharing the celebration on your own podcasts and social media accounts, getting involved with the hashtag #InternationalPodcastDay.
What podcasting advice do you wish you knew when you started?
With this first question, podcasters share great practical advice that they wish they knew when they first started out. Some corkers in here, get reading and learning!
"Be yourself! Don't try to please everyone, focus on being you and attracting those who are your people."

Captivate's MD Mark Asquith of The Podcast Accelerator
"While equipment is important, it's less important than the space you're going to record in. You can have the best gear, but if you record in the equivalent of an aircraft hangar when it comes to bare walls, hard surfaces, etc, then the sound will suffer. Learn about sound treatment and dampening based on the space you'll record in, and then work to achieve that as best you can. Your listeners will thank you."

Captivate's Head of Customer Support Danny Brown of Pod Chat
"Podcasting is a weekly grind. It is a long game to win and there are no shortcuts to success and it will take years to really get great traction."

Eric Goranson of Around the House With Eric G:
Great point Eric, podcast success doesn't come overnight, it is a weekly grind. However, if you you focus on creating quality content for your audience, and build a community, you will get great traction!
"Find alternative places to advertise, like Reddit"

Dan Cole from A Grim Podcast of Perilous Adventure
Short and sweet Dan, but this is a great point. When thinking about marketing and advertising, think of all the places your audience are hanging out. Where can you reach them and start to build relationships.
"Know that you won't get much feedback and it can be pretty lonely. But practice and you will get better. Perfection is not the goal, you need to have pleasure at doing it if you want to last.

Valerie Lucchesi from Podcast Strangers
"Have fun while recording each episode. It will translate into the final product. If nothing else you had a blast and that's really why we do this."

Brett Evans of Text, Lives and Videotapes
Too many people get wrapped up in numbers and sponsors and forget why they even started podcasting – there's nothing that can enthuse a listener on your show like the sense that you're really having fun. If you're going to phone an episode in, it's not worth doing!
"Don't ask the same thing everyone else is asking. There is a conflict hiding somewhere in the story. Find it."

Mark Miller of The Untold Stories of Open Source
We can't agree with Mark's keen journalistic sense enough – in a media saturated with interview shows, you need to be researching your guests, listening to their previous interviews and making sure that you're getting new information from them. They'll appreciate the effort you've gone to and it will be more engaging for listeners.
"Stick to your strengths. Hire talent for the stuff you don't love to do otherwise you may quit too soon."

Isabel Alexander of Lift As You Climb
Isabel makes a great point about burnout – if you spend too much of your time doing aspects you don't enjoy, you'll quit before you've really started. If you can't afford to hire out, look for kind and talented friends or equally kind automation software.
"Podcast growth is all about partnerships and working with others, making podcast friends."

Lauren Passell from Podcast the Newsletter
What is one podcasting tool or asset you can't live without?
There are some amazing podcasting tools and assets out there that can help with all aspects of planning, recording, editing, publishing and promoting podcasts. Here podcasters share some of their favourites.
"Twitter! Sounds a bit weird but that is where the most amazing community of podcasters are. There is a wealth of knowledge waiting for you in less than 280 characters so I definitely encourage anyone to get connected."

Admiria Cooper of Podcast Drama
The power of social media is not to be underestimated! Twitter truly is a tool for podcasters, and meaningful engagement with your intended demographic should be part of every podcaster's checklist.
"Krisp.ai which is an inexpensive software that uses AI to remove all sound/noise except human voice in Zoom, recording software etc. There's also Recast.studio which is the best program to create video/audio clips for podcast promos."

Kristin Fitch of Make Beautiful Things
"Not joking, Captivate. You have been the hosting platform that has helped build my podcast consultant business."

Brett Johnson of Note to Future Me
Thanks Brett! We promise that we didn't encourage anyone to mention us! Joking aside, we love seeing how we've helped podcasters to grow – our whole feature set is designed around saving you time and money when creating and marketing your podcast, allowing you to spend your time where it's most useful.
"My podcast is fairly new. The idea of producing Surface Time was conceived in March 2022 and my first series was live in June 2022. Platforms like Captivate and Descript have made it possible for me to launch my podcast in such a short time period. Although for now I am focusing on creating content more and less on marketing, I am yet to see how these platforms can support the marketing later."

Stephanie Luo of Surface Time
Stephanie, we look forward to you getting familiar with our marketing suite! From social media promotion to dynamic content insertion to trackable shortlinks, we have an amazing range of tools at your disposal when you're ready to dive in.
If you use Descript, we have a pretty cool integration with them, that you should definitely check out. If you're not familiar with Descript, they make it so easy to record and edit, audio and video. Plus they're always releasing new and innovative features.
"Audacity. A free audio recording tool which is fully featured, easy to use and something I've been using since starting podcasting in 2005."

Phil Coyne of BlueDeck
Phil goes to show that great doesn't always mean expensive. Loads of Captivate podcasters use audacity to edit their shows – its easy UI makes it super simple to use, and there's a lot to be said for a free editing platform in an industry with a plethora of premium paid tools.
"My biggest asset is my editor who also happens to be my wife/best friend."

Mike Horner of Living an Ultra Life
Some nice wholesome thoughts from Mike on this International Podcast Day. Having a skilled and supportive team behind you is so important – everyone can get disheartened, and having someone with you to get you back on track is invaluable.
"Padded recording box."

Dani DiPrima of Talk Farm to Me
Short and sweet, but Dani hits the nail on the head – priming your space to record high quality audio is absolutely paramount for creating a show that's actually listenable and enjoyable.
Favourite podcast logo & artwork you've seen out in the wild?
First impressions count, especially when it comes to your podcast logo and artwork. You need to stand out, especially when potential listeners are scrolling through shows on podcast apps. Need some inspiration for your podcast? Check out podcasters favourite logos and artwork they've seen out in the wild.
"Unsolved Mysteries Podcast because it is a true throwback to the old Robert Stack shows of the 80s and 90s."

Brent Hinson from Crossing The Streams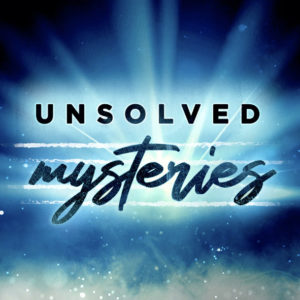 Being clever with your podcast artwork is great and including hidden messages or meanings will really grab people's attention. They will also take time to look at your logo, meaning you'll be more memorable.
"Smartless because it's eye catching, easy to spot and full of color."

Michael R Herst from One More Thing Before You Go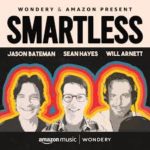 "American Hysteria…it really pops and tells you with the show is about without saying it, its dark but kind of fun. it makes you curious."

Lauren Passell from Podcast the Newsletter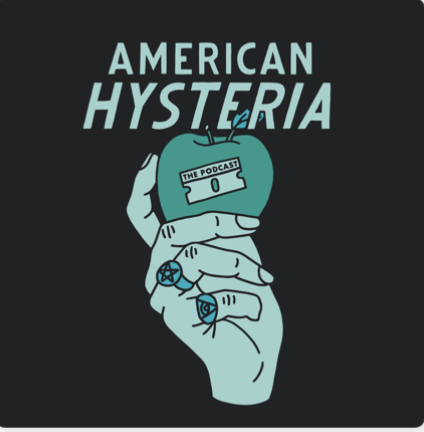 "This American Life. Simple, clean, easy to recognize."

Mark Miller from The Untold Stories of Open Source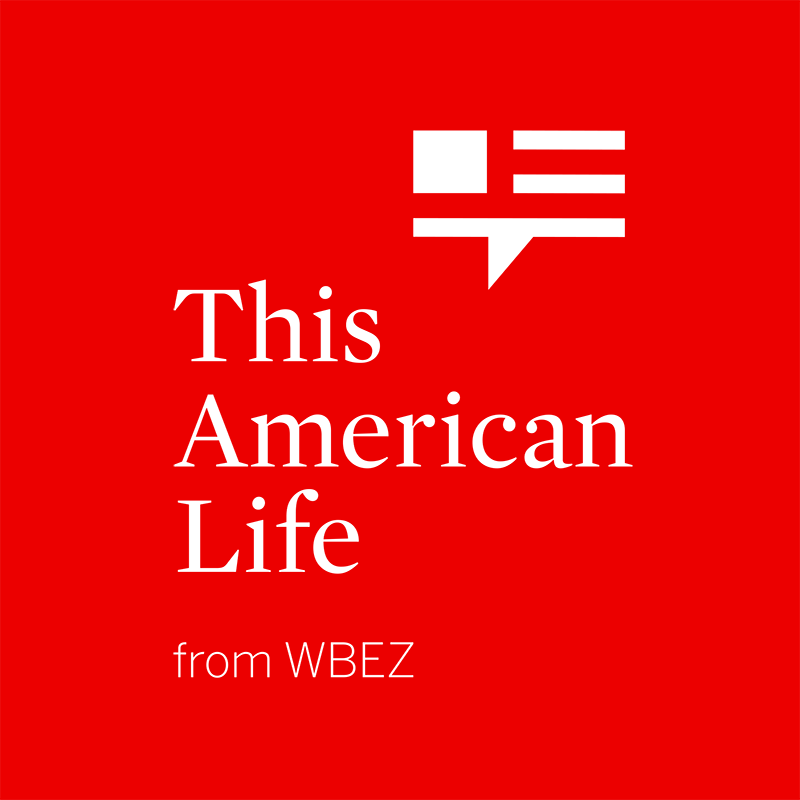 Simplicity is key! You have to think, that your logo needs to be recognizable even when it's small, depending on where potential listeners come across it.
"Planet Money Podcast – the npr network is clear, but not dominant, it has instant recognition in amongst all the podcast cover art in my app, and it leaves room for the imagination. They have embodied "Less is more," plus it's green! What a beautiful color!"

Nicole Warner from German With Nicole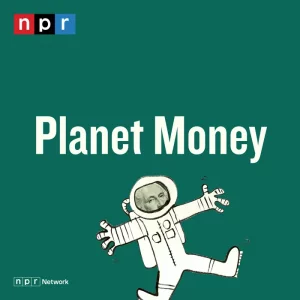 "Video Archives with Quentin Tarantino & Roger Avary – this artwork captures the moment perfectly – a show about B grade movies from the 70s and 80s. It's not complicated and is easily identifiable."

Stephen Creagh from Don't Call Me Shirley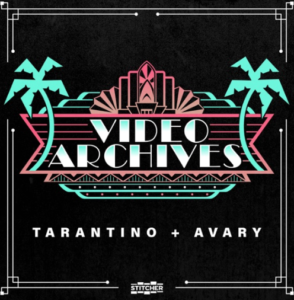 "The Ron Burgundy Podcast logo and artwork is fantastic. Look at that face and quality hairstyle."

Beck Becker from The St. Louis Chat Show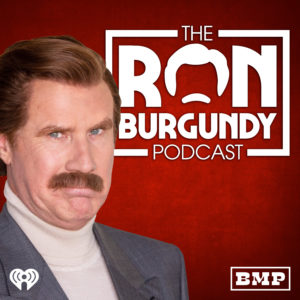 Someone is clearly a Ron Burgundy fan, and I agree, top notch hairstyle! This logo is definitely in keeping with the brand.
Favourite individual shownotes or overall podcast description you've seen?
Just as important as your logo and artwork, you need to spend time putting together a great podcast description and individual shownotes that will entice people to want to check you out. Carrying on reading to find out what shownotes and overall descriptions stand out to other podcasters.
"Fly On The Wall with Dana Carvey and David Spade because it instantly got my attention by indicating the hosts and guests would go behind-the-scenes of the various aspects of Saturday Night Live over the years."

Brent Hinson from Crossing the Streams
Podcast show descriptions that are clear will help to encourage people to listen, as they know what to expect from listening to an episode.
"The Ezra Klein Show. The description is full of questions and, well, you want to hear the answers."

Valerie Lucchesi from Perfect Strangers
"Ground Zero Continuum Podcast They do an amazing job of repurposing previous content so people can cosume it again later."

Eric Goranson from Around the House with Eric G
Love this! Repurposing content is a great shout. Give people more types of content to consume and love your podcast!
"Chatter Squadron – their description is to the point and says who they are being just vague enough. Two Star Wars friends."

Brent Evans from Text, Lives & Videotapes
"Kenny Beats on Rick Rubin (March 2021) on [X] on [Y] podcast, the description is my favorite because it doesn't remotely convey how excited Kenny Beats is to talk about Rubin. He sounds enthused the entire episode and is clearly fanboying!"

Ashley Griffin from An Album a Day
What is your proudest podcast moment so far?
All podcasters should be proud of what they have achieved so far, no matter where they are on their journey. Time for our podcasters who have taken part in our Q+A for #internationalpodcastday to shout about their proudest podcast moments so far!
"I am really proud that I haven't quit after a few episodes despite big moments of doubts and demotivation (24 episodes so far and I have created a new podcast: 5th Switzerland, 7 episodes so far)"

Valerie Lucchesi from Perfect Strangers
"Having Pod Chat sponsored by Podnews. To have your show about the podcasting industry sponsored by one of the leading names in the space is validation for what Pod Chat looks to bring to listeners."

Captivate's Head of Support Danny Brown from Pod Chat
"The campaign I created around the overturning of Roe vs. Wade in the U.S. that inspired hundreds of podcasters to advocate for sharing resources and stories."

Arielle Nissenblatt from Feedback with Earbuds
"Building Captivate with the amazing team."

Captivate's MD Mark Asquith from The Podcast Accelerator
"Growing to where we are at times the number one home improvement podcast in the US depending on the day of the charts."

Eric Goranson from Around the House with Eric G
"Reaching the 21st episode because I heard that 99% of podcasters don't make it past 20 episodes."

Amin Ahmed from Be Well, Do Well
"When I won the Podcast Award for Best Technology Podcast in 2012 by People's Choice."

Daniel J. Lewis from The Audacity to Podcast
"My proudest moment was being a keynote speaker on Podcasting for Podfest Global."

Michael R Herst from One More Thing Before You Go
Such a great reminder and proof that having a podcast opens you up to other exciting opportunities, such as speaking gigs. Well done Michael, being a keynote speaker is a big deal!
"Launching a media company (podcast growth) and finding the most excellent and talented women to support it, and hopefully providing them with work that can help them thrive and feel good about what they do."

Lauren Passell from Podcast the Newsletter
"Definitely has to be the moment when Trying to Product showed up in search results on a streaming platform. Being able to see our podcast out in the wild was beautiful."

Parv Sondhi from Trying to Product
"The absolute joy garner when we receive personal comments like 'thank you' or 'you made me laugh during a tough time'. Just too many to write about. All of it makes it worthwhile for us because we just want to help the world smile and laugh."

Charlie Ponger from The Official Seenagers
"After wrapping up the episode with one of our high profile guests, and before I could end meeting from our end I heard him say in the background "I like 'em" to most of you this means nothing, for us at that moment it meant everything, but it is tied on the first place with when we were the first to hear a voice message from Wladimir Klitschko to Jacob Stitch Duran, when he was our guest."

Petar Dzakovic from Ikuzo Unscripted
"I was a participant in the initial Guinness World Record, the largest attendance for a virtual podcasting conference in one week, for Podfest Expo from March 1-5, 2021. I received a participant certificate and I've always wanted to be a Record holder (and had no idea I could get in there by way of participating!), so I've counted this as a life accomplishment."

Ashley Griffin from An Album a Day
Final Thoughts
Reflecting on your achievements and sharing advice is amazing – podcasting is an extremely friendly and collaborative space, and we're sure any podcaster would be delighted to share their lessons with you if you'd just ask!
Hopefully, some of the thoughts and experiences shared here within this article have inspired or educated you in some way and you'll apply this new information to your own show and podcasting journey.
We're also always open for a chat on anything to do with podcasting, whether you're a Captivate user or not. Find us on social such as Twitter or use the chat feature on our website and we'd be happy to help you out or share some tips.
Happy International Podcast Day 2022!