Your workflow is our priority; our platform is your playground.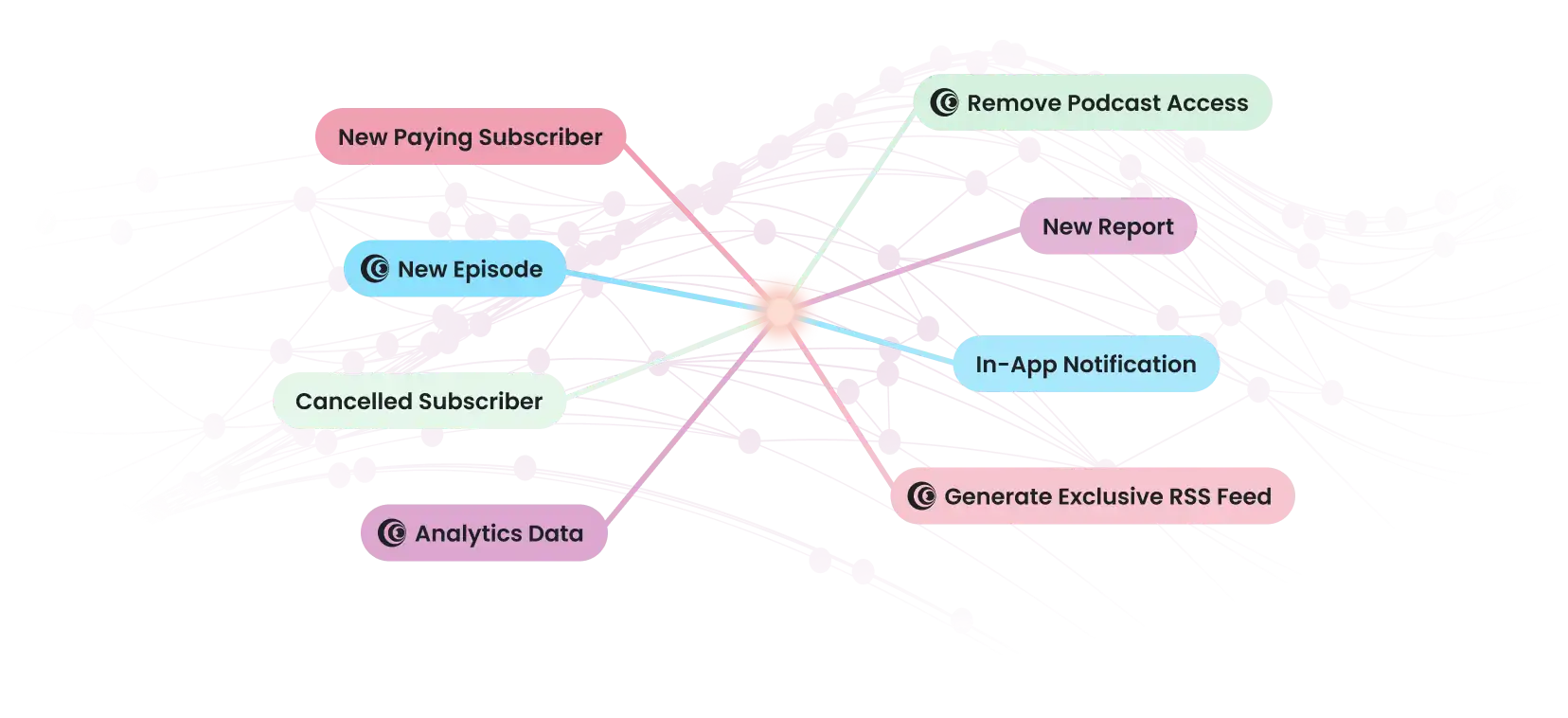 Automate your entire company's public and subscriber-only podcasting workflows with Captivate's event-based capabilities.
Create new exclusive podcast access when a new subscriber buys from your website or app; build your own data dashboards using Captivate's IAB-certified podcast analytics; seamlessly manage subscriber cancelations and offboarding and so much more.
If your engineering team can envisage it, Captivate can support it.
The most advanced podcast subscription capabilities with the highest levels of customisation.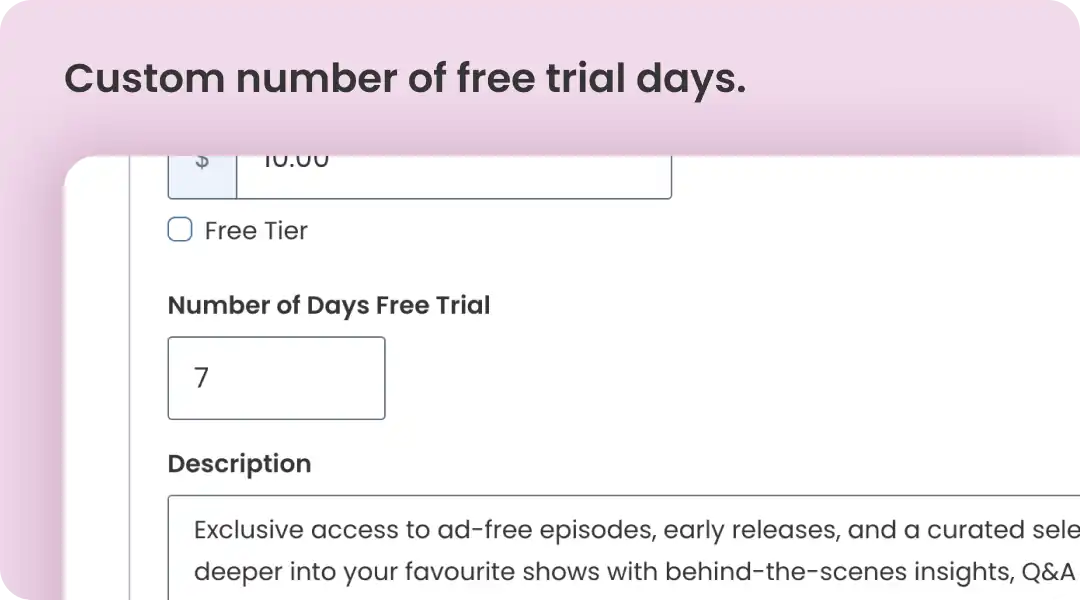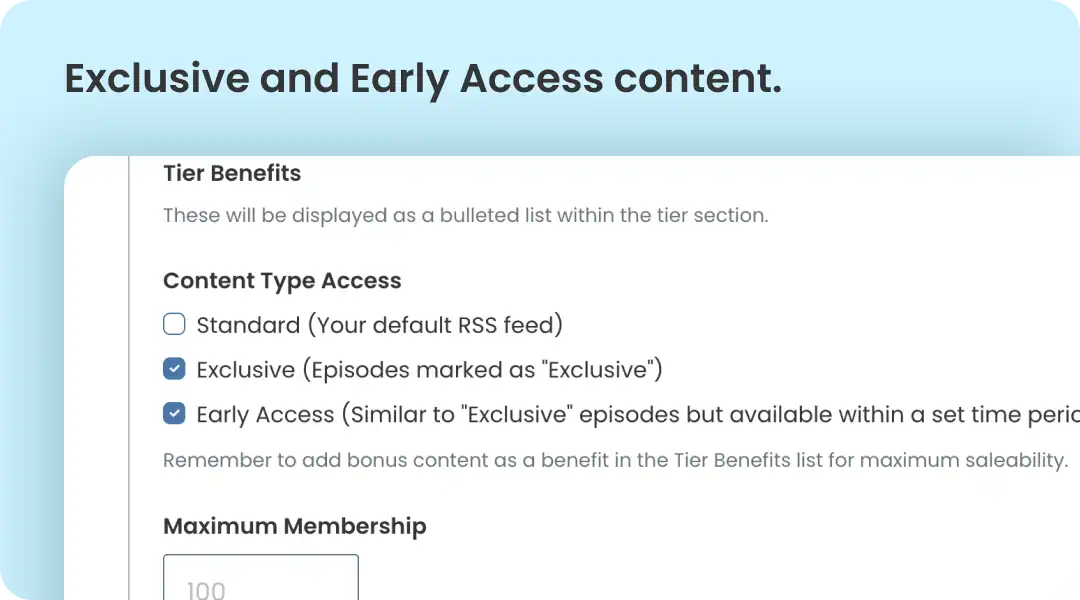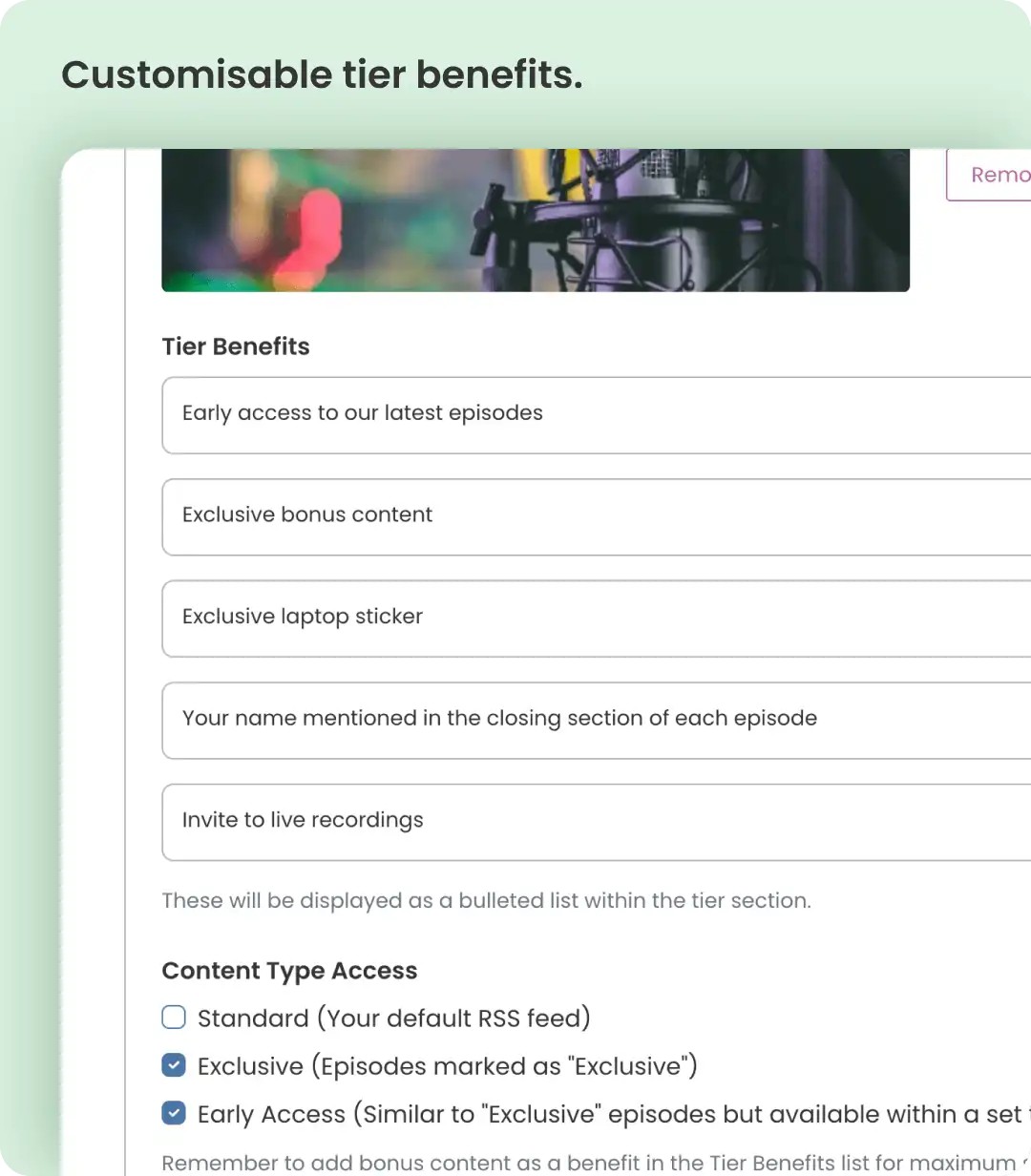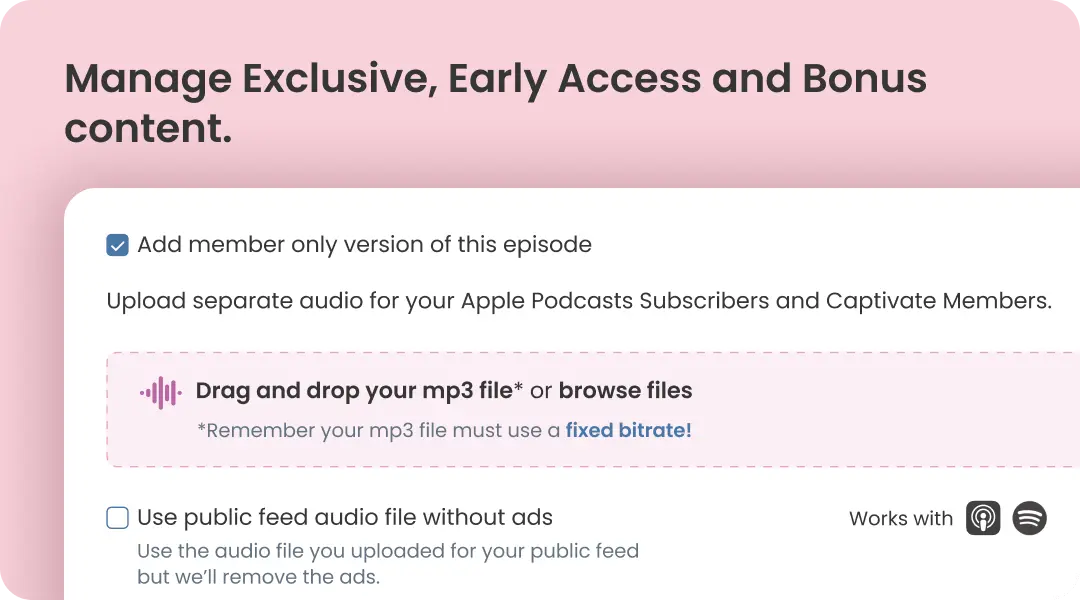 Create memorable listener experiences and scalable audio revenue using Captivate's subscription and tipping suite.
With subscription & tipping functionality built to be flexible and to suit your business, escape the rigidity of other platforms by designing and building a subscriber experience that is easily managed by non-techy team members and accessible by your engineers for deep integrations within your own existing platforms.
Your subscriber-only podcasts, directly accessible inside your own app, website or platform.
Running an existing, well-established paywall within your publishing business?
Captivate seamlessly integrates with your existing subscriber system and allows you to decide you your subscribers access your exclusive, early-access, or bonus content; via your own app, your own website, automated emails, and more - you choose.
Captivate silently powers your audio business and delivers an unrivaled listener experience and an invisible feeling of quality to your paying users.



Network analytics and
cross promotional tools.
Quite simply the most powerful network tools available to your publishing business.
Network unlimited podcasts together, compare performance, cross-promote, and delegate secure, granular access to the right team members at the right time.
Unique production tools, unavailable from any other podcast distribution platform.
Captivate is built to save podcaster's time and make your podcast business money.
We continue to develop a range of unique features that focus on both of those goals, giving you access to industry innovations that you simply won't find anywhere else.
Monetisation with Memberships and One-off Tips.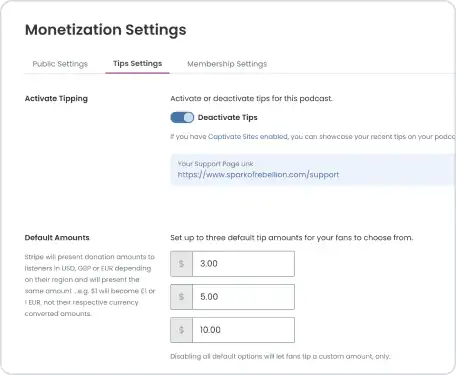 Dynamic ad solutions using
AMIE.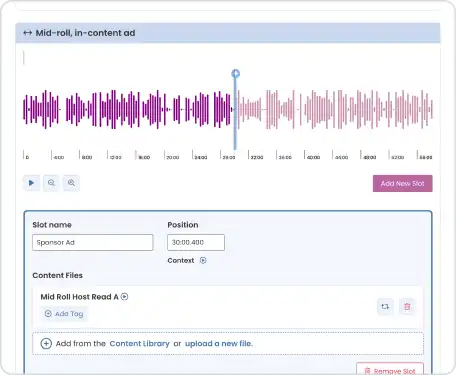 Production planning and research tools.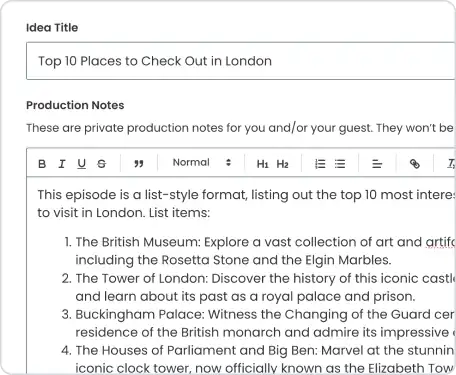 Dynamic show notes builder.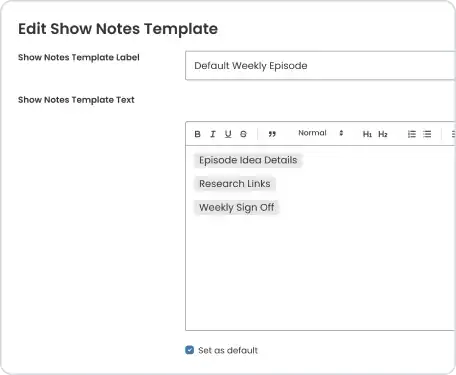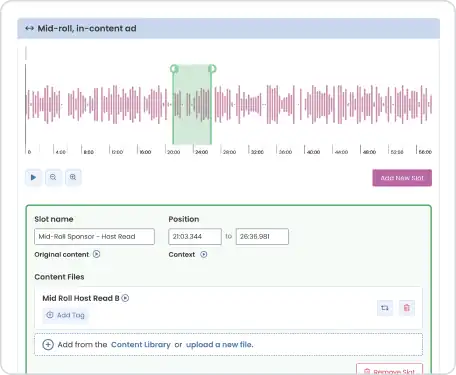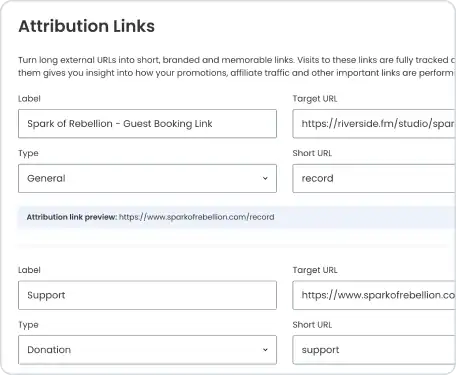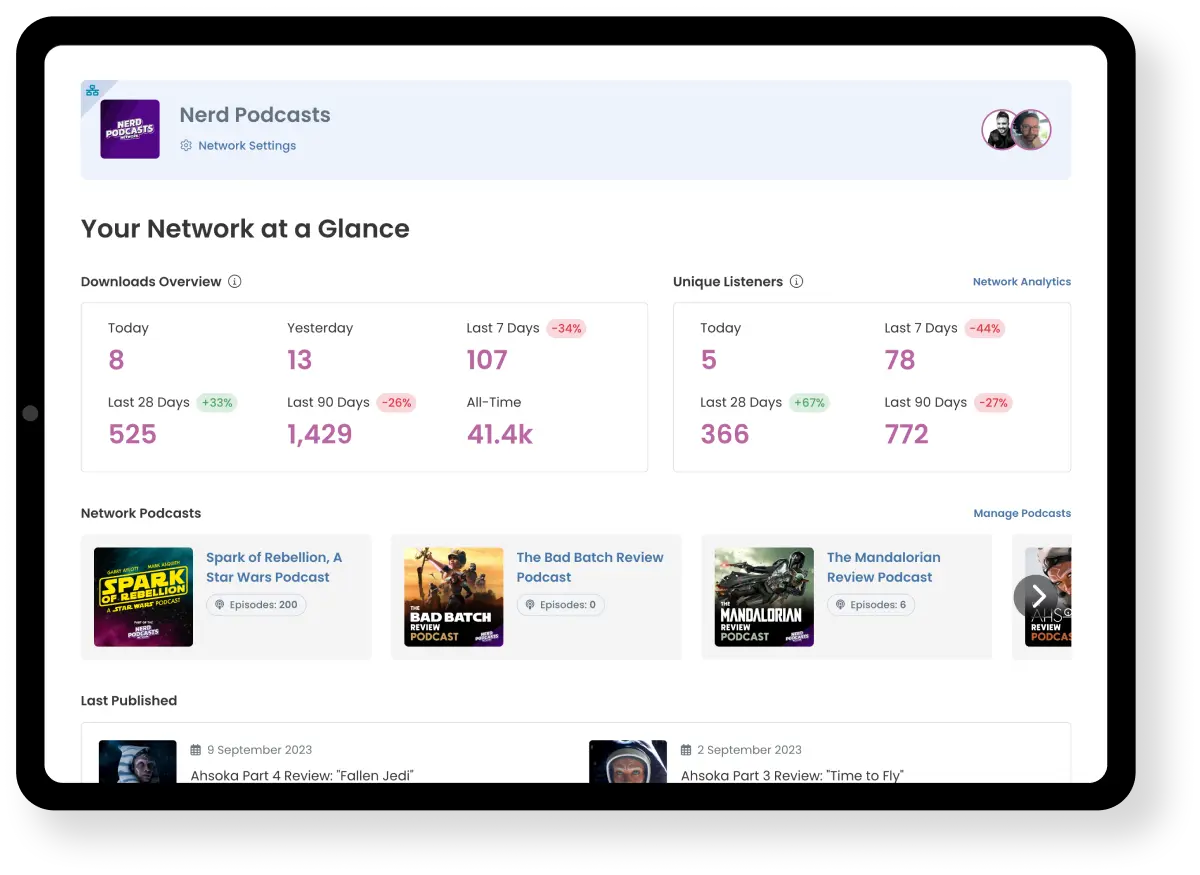 Captivate's analytics give you IAB-certified accuracy to make measuring the performance of your networked podcasts much easier.
Captivate has been designed to give you the most powerful, advanced insights into your download numbers to measure the success of your podcasts, individually, and across your entire network!
Cross-promote trailers, episodes & subscriber promotions across your networked podcasts easily with our industry-first Feed Drop feature.
Proven to increase awareness of new podcasts and new episodes, cross-promotional feed drops are used by the world's biggest and most successful podcasting companies.
Now you can use the very same tactics with just a fraction of the effort.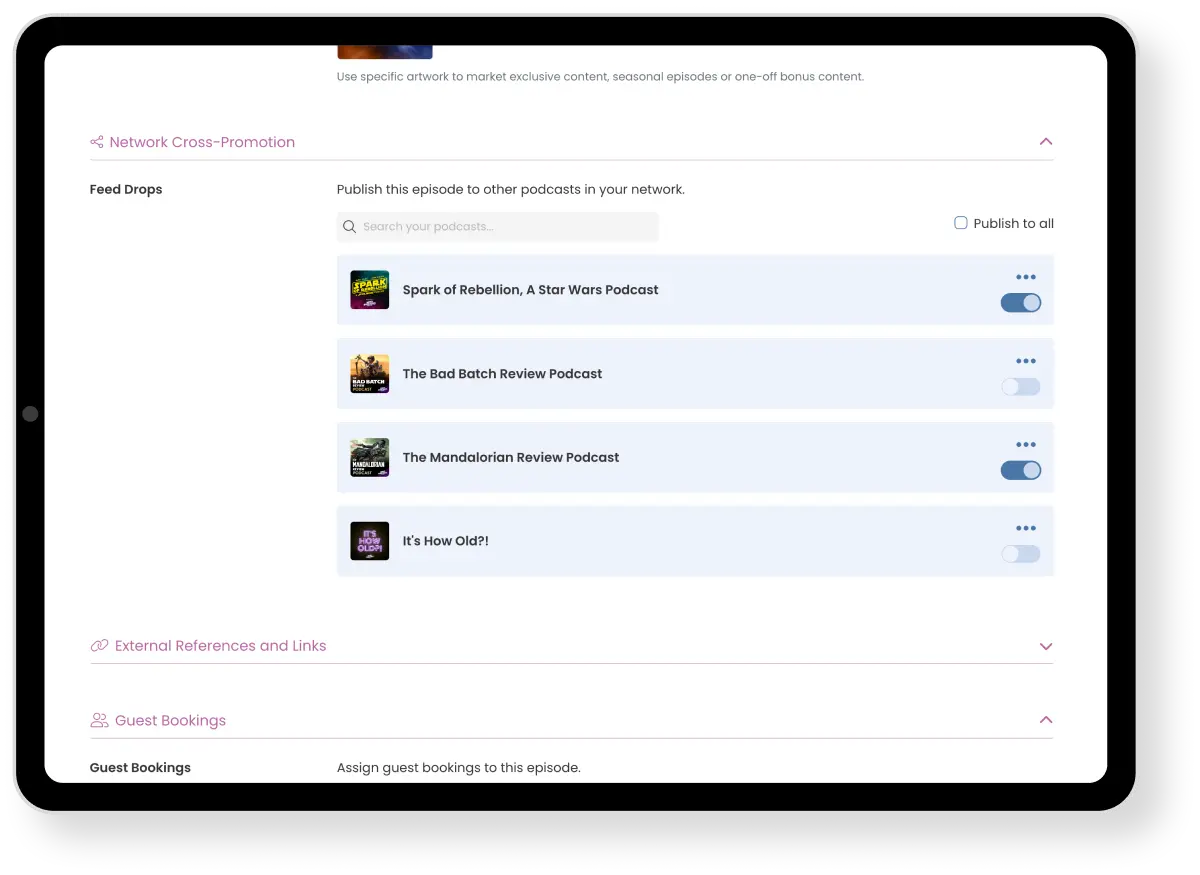 Content Fraud Protection.
Running a subscriber-based podcasting business that leans on exclusive or early-access content? Stop subscribers sharing their content with anyone who isn't paying you.
Captivate has a deep, built-in automatic content fraud protection system that actively monitors for subscriber-only content being shared and, if suspected, notifies you and your team whilst also seamlessly regenerating the subscriber's podcast access on the fly.
This gives you complete peace of mind and significantly less management time than some other platforms.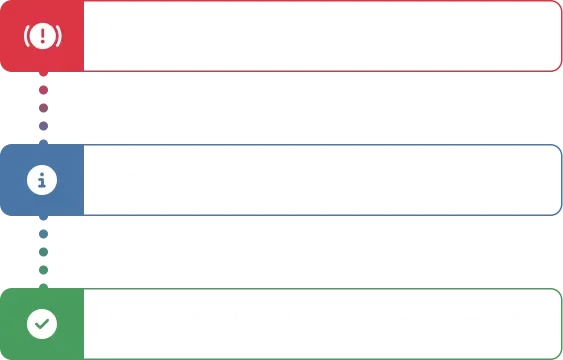 Everything you need to power your own podcast publishing platform.

If it can be done in Captivate, your engineers can do it via our API.
Build your own analytics dashboard
Tailor your reporting for a deep-dive or top level summary for the things that matter to your content.
Publish content bases on certain triggers
Refine your content delivery by publishing when certain criteria is met.
Get access to all of Captivate's features and toolkit so you can create a platform that suits your needs. Any and all of the industry-leading functionality that Captivate offers end users can be achieved by your engineers via our API.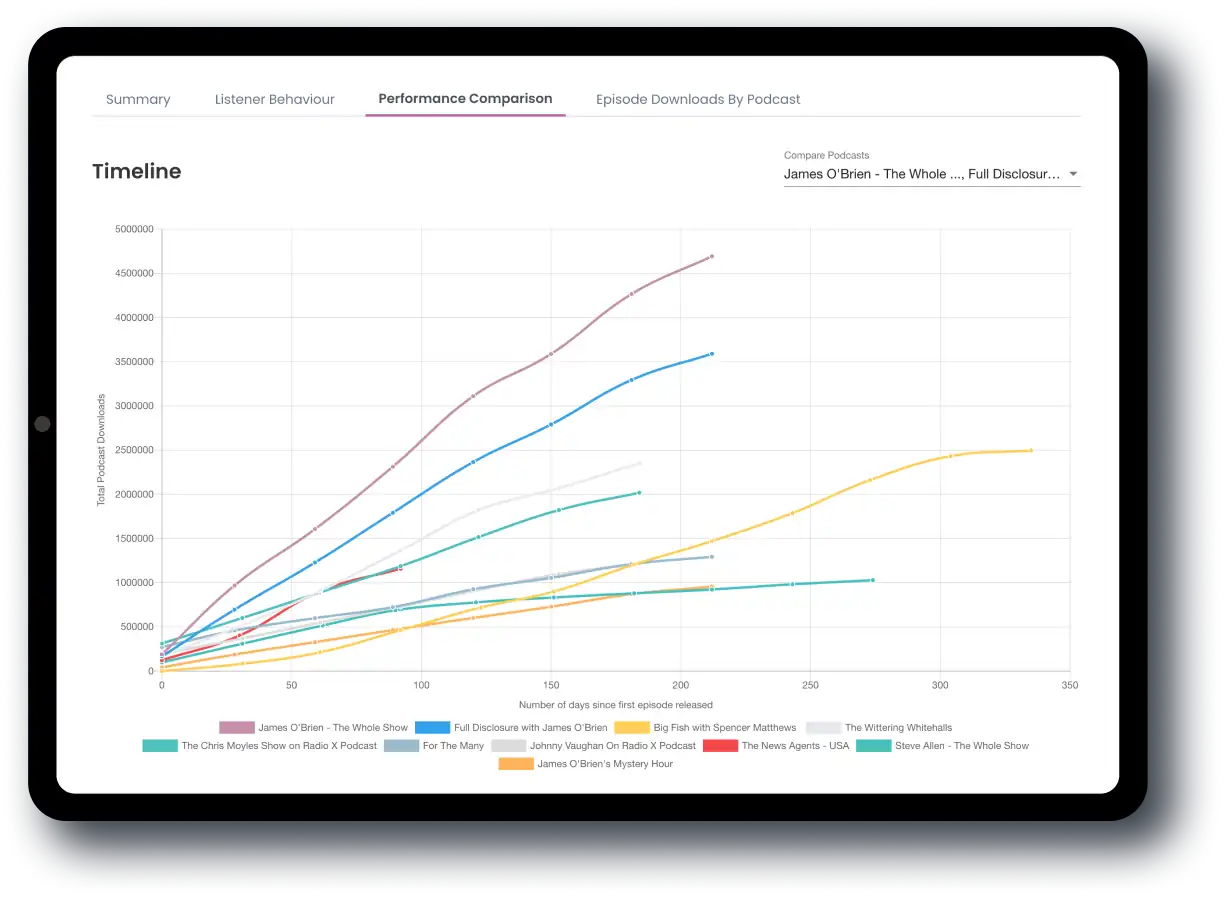 Network Performance Comparison
Which audiences should you be promoting paid content to? Where should you be placing your cross-promotional activities? 
Take the guesswork out of your network marketing efforts with our in-depth network performance comparison toolkit that allows you to dive deep into the shows that perform across your own specified timeframes.
Global's digital ad exchange platform.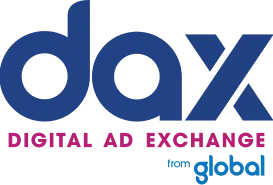 DAX is Global's powerful ad platform that helps you to monetise your podcast by connecting you with relevant advertisers. With access to a global network of brands, DAX helps you to maximise your revenue potential while maintaining control over the ads that appear on your show.
Plus, DAX's advanced targeting and measurement capabilities can help you deliver more effective ad campaigns and provide valuable insights into your audience.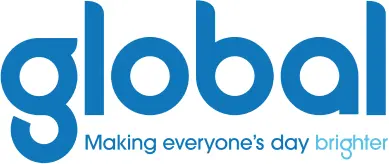 With unrivaled editorial knowledge and reach, Global provides podcasters with a unique place to grow their public shows and build profitable subscriber-based audio businesses.
Global is home to some of the UK's biggest shows including flagship news podcast The News Agents hosted by Emily Maitlis, Jon Sopel, and Lewis Goodall