Reading Time:
3
minutes
Amazon made podcasts available in 2020 through its Amazon Music and Audible platforms as well as across Alexa devices. Amazon Music is a rapidly growing platform across the globe and is the fifth-most popular listening app amongst US audiences behind Apple Music, iHeartRadio and Spotify.
The launch of Amazon Music's podcast catalogue will likely have a major impact on podcast listening numbers: with over 55 million active users across its free and paid tiers, podcasters who choose to list their shows on Amazon Music will now have access to another huge, global distribution channel and millions of potential listeners.
Currently, podcasts on Amazon Music are available in the UK, Europe, US, Japan, Brazil, Mexico, India and Canada, but more countries are rolling out all the time. So, to expand your reach to millions of listeners and give your show a huge platform, make sure to submit your podcast to Amazon Music!
How to Submit Your Podcast Instantly Using Captivate
If you've got a new podcast, getting listed in all the directories is your first step to a successful launch. Using Captivate's Submit to All button, you can submit to every one-click directory (including Amazon Music) simultaneously so you can get approved that much quicker.
Just head to Distribute and click Submit to All to get listed on Spotify, Amazon Music, The Podcast Index, Player FM, Deezer, Gaana and Jiosaavn in one click.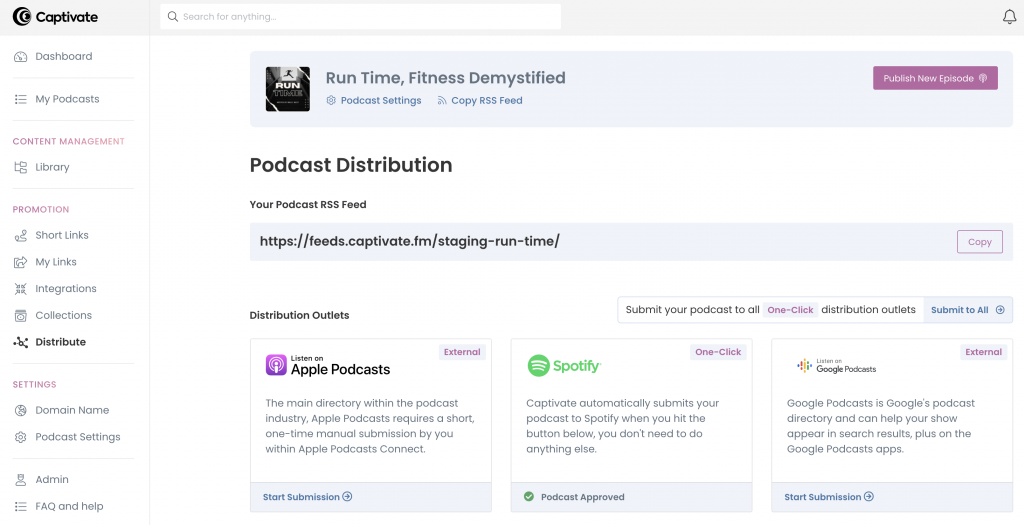 If you want to be more selective, here are the steps:
Log in to your Captivate dashboard
Hit Distribute on the left-side menu
Click the Start Submission button underneath Amazon Music
Tell Amazon your country and take a look through the Amazon Content License Agreement
Click I Agree, Please Submit
You're done! Amazon will ingest your podcast and should appear on Amazon Music, Audible and be searchable on Alexa devices within a couple of days.
How to Manually Submit Your Podcast to Amazon Music
If you prefer to submit your podcast to Amazon yourself, doing so is really simple.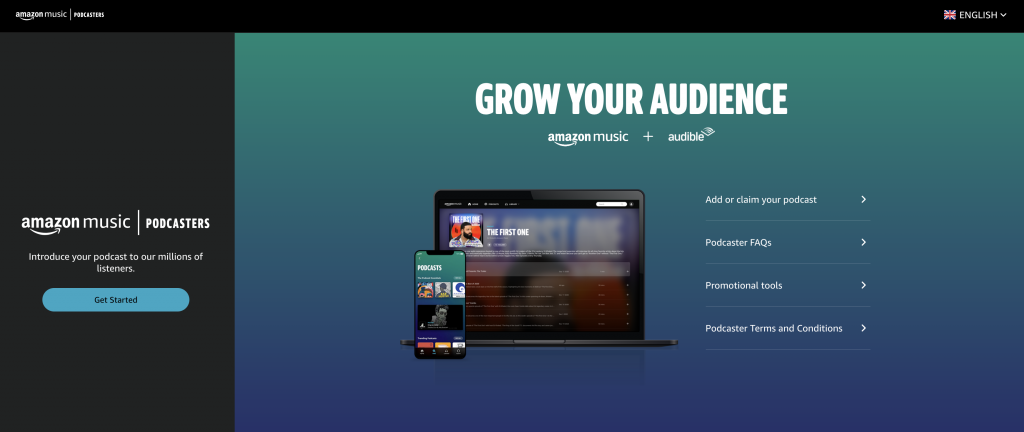 Go to the Amazon Music for Podcasters submission page and click Get Started
Sign in with your Amazon account or create an account for free
After you've logged in, the site will ask you for your RSS feed. Copy it from your Captivate dashboard and paste it into the box
Amazon Music will pull through your podcast's information from your RSS feed. Verify that the information is correct and hit Confirm Email
Amazon Music will send you a verification code to the email tied to your podcast. Enter the code on the next screen and you're done!
Amazon will ingest your podcast and it should appear within a couple of days.
Free Resources to Help Promote Your Podcast on Amazon Music, Audible and Alexa
Once your podcast has been submitted, you'll be able to add your listen link to your single-subscription page to give your audience an easy way to find your podcast on Amazon!
Amazon has also put together a free promotional package for podcasters, including badges for your website, calls to action and social media templates to help promote your podcast!
Here are some ways to help promote your podcast from Amazon:
Tag @AmazonMusic and use #PodcastsOnAmazonMusic, so Amazon can share or repost wherever possible.
Include the Listen on Amazon button on your site to drive traffic to your content and let your listeners know you're on Amazon Music.
If you're launching a new season or featuring an exciting new episode, we want to know about it! Podcasters with content they'd like to promote on Amazon Music can submit requests to [email protected]. Make sure to include at least two weeks notice and the following details in your email:


Publisher (or Podcast Network) name
What are you promoting: a new show or a specific episode?
Show name
Show description
Inclusion & Diversity notes
Promotion territory
Trailer release date
First episode release date
Release schedule
Desired promotion date
Episode download forecast
How will your marketing plan incorporate AM
Social media accounts used to promote shows


Let your listeners know what to say to easily find and play your podcast on Alexa. Here's what to say:


Play a podcast: "Alexa, play the podcast <podcast title>"
Play a followed podcast: "Alexa, play my followed podcasts"
Navigate between podcast episodes: "Alexa, next/previous (episode)"
Play the latest episode: "Alexa, play the latest", "Alexa, play the latest episode of <podcast title> "
Fast forward or rewind in an episode: "Alexa, fast forward / rewind", "Alexa, fast forward / rewind 2 minutes"
Continue with a podcast in progress: "Alexa, resume my podcast", "Alexa, resume the podcast"
What to Do Next