Most podcasters that we speak to share the same goal of wanting to increase the number of listeners and downloads that their episodes get each month.
If that sounds like you, you're certainly not alone! At the end of the day, a lot of time and effort goes into creating episodes. You want to make sure people are tuning in.
If this is your goal, we bet you've often pondered: "What's the difference between a podcast that gets hundreds of downloads a month to a podcast that gets thousands?"
Podcast marketing is the answer
Choosing the right subject and the quality of your podcast (including content and production) are both important. However, if you want to run a successful podcast, which gets thousands of listeners and downloads a month, you need to spend time marketing and promoting your episodes and really learning how to market your podcast.
In fact, marketing is just as important as planning, creating and publishing your podcast episodes – Mark, our CEO actually argues that it's probably more important! Apple recently reported they now feature over one million shows, meaning competition is fierce out there. You need to do everything you can to market your podcast and episodes, attracting as many listeners as possible.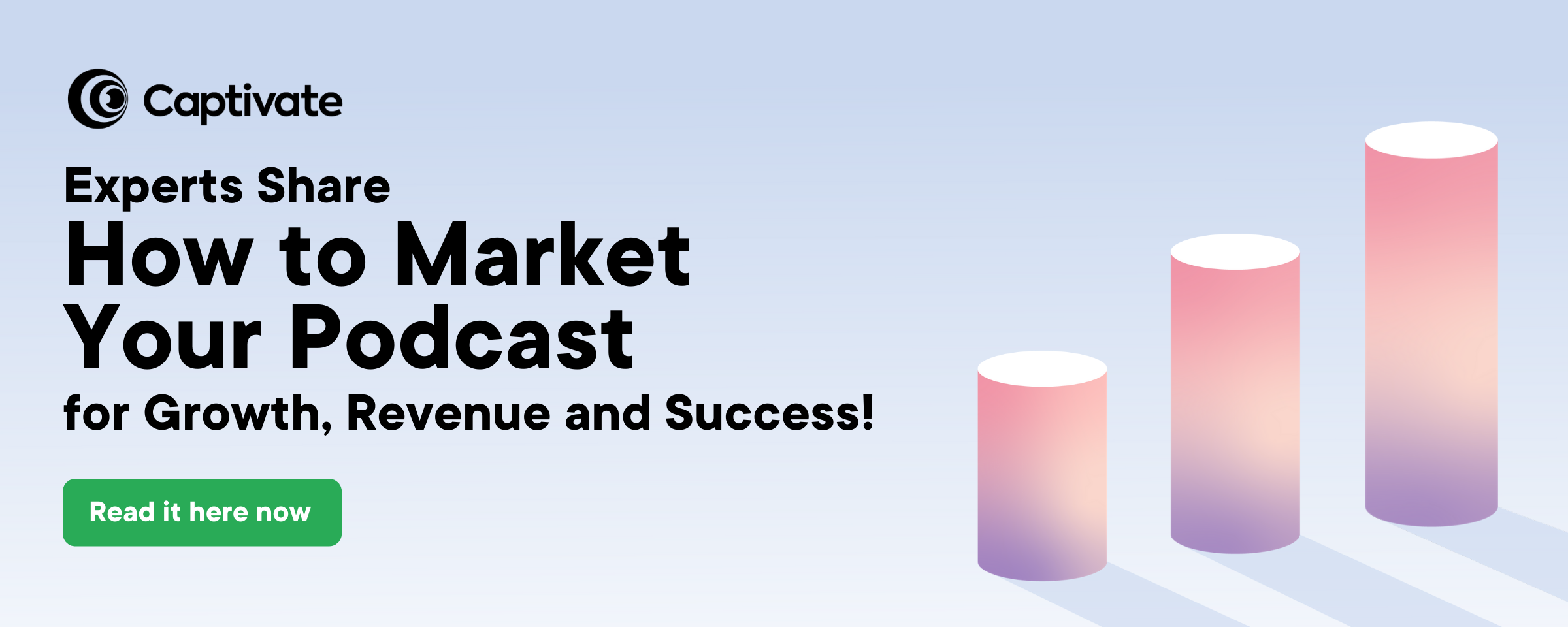 What is the best way to market a podcast?
A question we get asked a LOT is: "What is the best way to market a podcast?"
Is it on social media – should I be finding my audience and pushing episodes out there? Or do I need to be sharing video clip teasers of episodes? Maybe I need to think outside the box and try to come up with ways that are a little different?
The honest truth about marketing your podcast is that there is NO one way that works for everyone – sure, there are common themes such as a solid social media plan, but there is rarely one way that works for every single podcaster.
So, we decided to cut through the noise and spoke to six Captivate podcasters who work in podcasting every day to share their own tried-and-tested podcast marketing tricks.
Podcast marketing advice from successful podcasters
We reached out to our network of Captivate podcasters and asked them "How do you market a podcast?", and what they found to be the most successful method in attracting listeners.
Here's what these successful podcasters had to say about marketing your own podcast…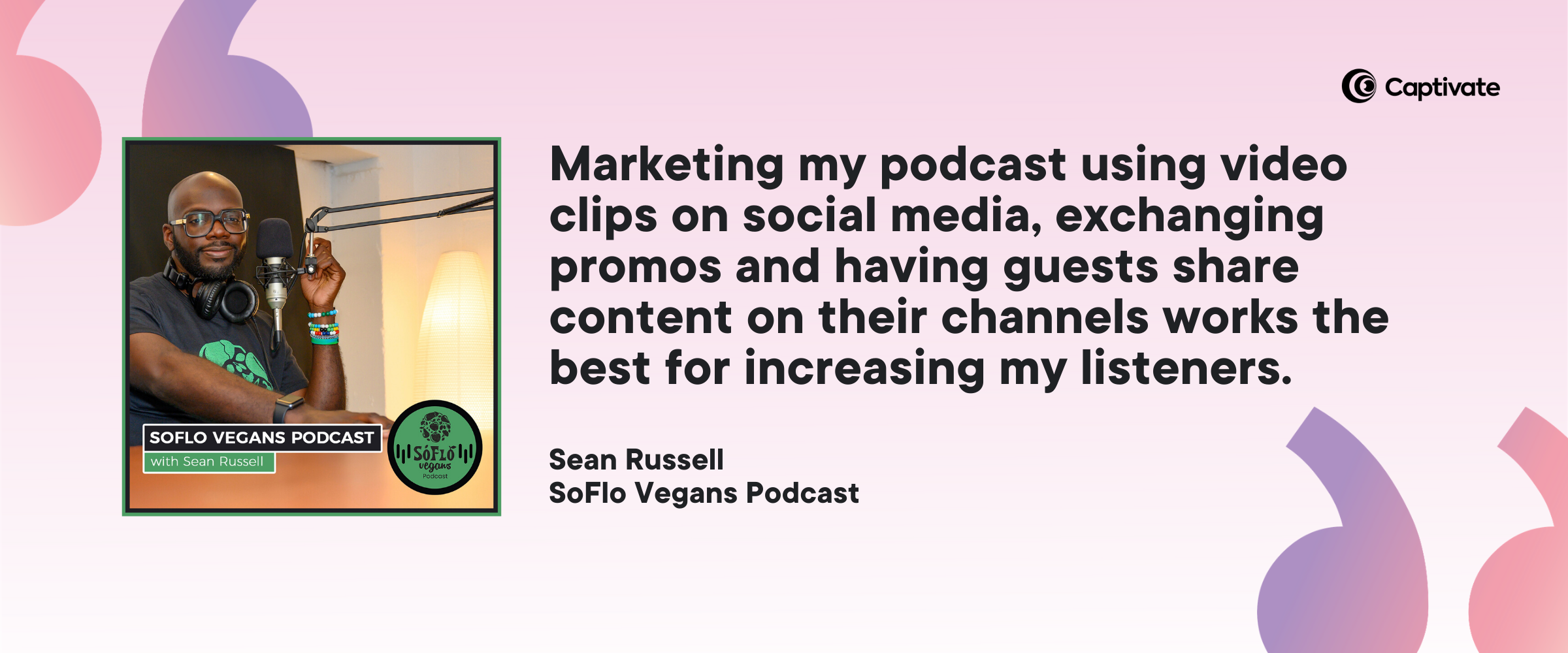 "I found that marketing my podcast using video clips on social media, exchanging promos and having guests share content on their channels works the best for increasing my listeners. I've been able to reach over 1 million downloads for my shows in the past using these strategies."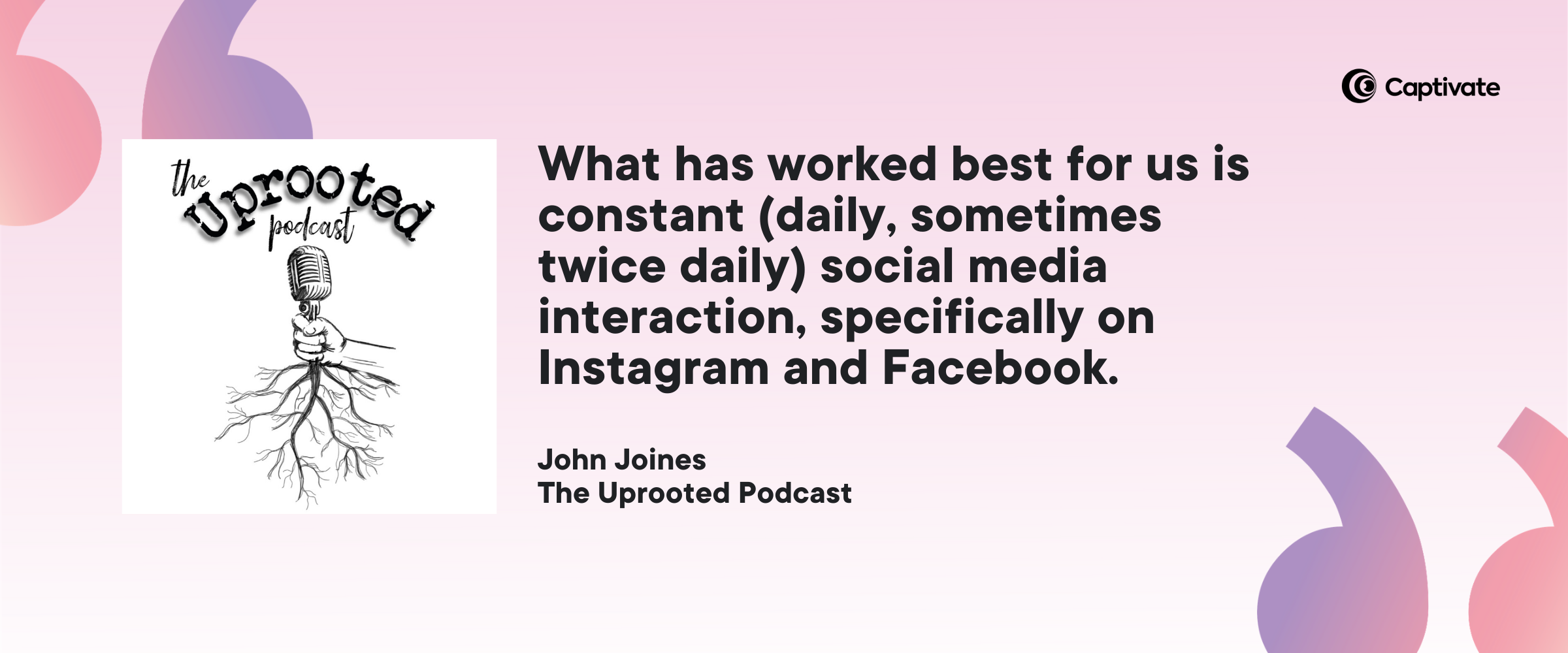 "What has worked best for us is constant (daily, sometimes twice daily) social media interaction, specifically on Instagram and Facebook. We have also paid to promote a few posts in the past, which really helps."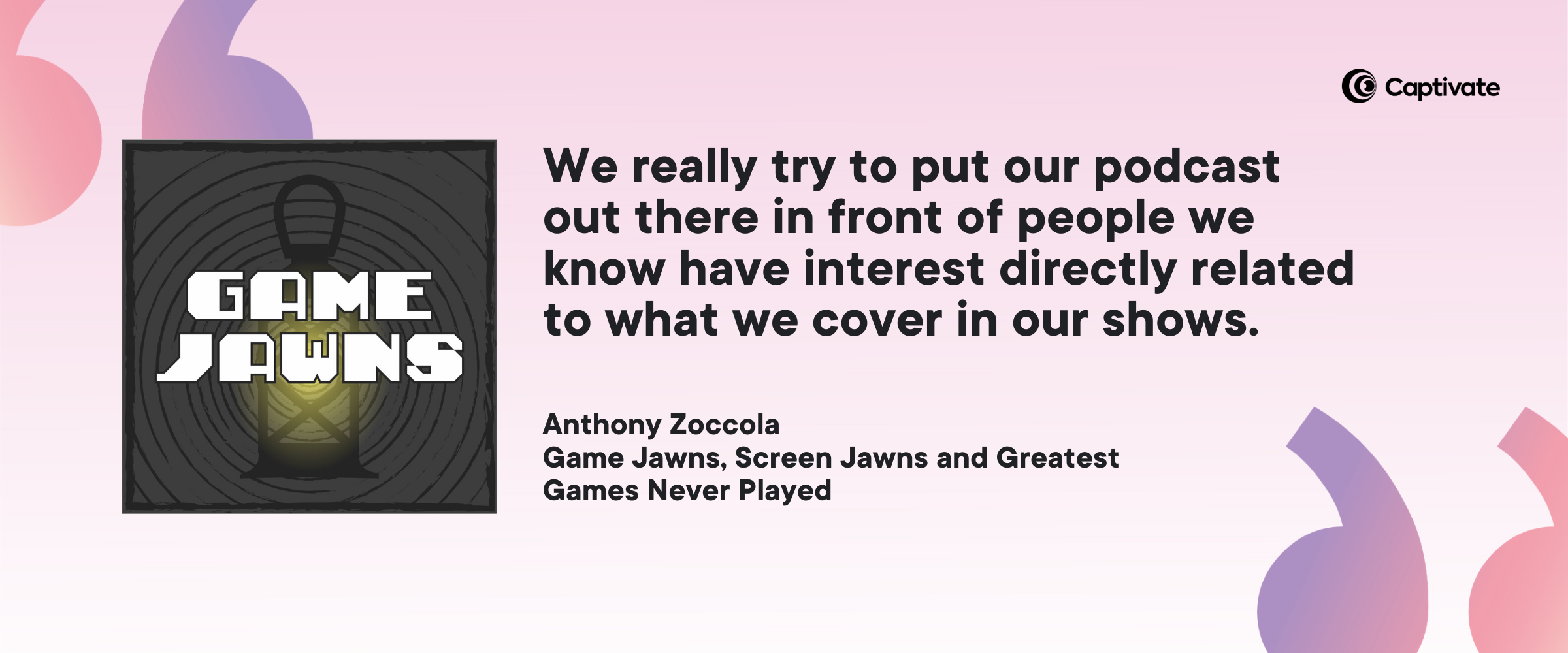 "We do a fair share of social media posting, (4-7 posts per week) across multiple platforms. On our current, longest-running show, Game Jawns, we talk with a lot of game developers, visit game websites and forums, and we really try to put our podcast out there in front of people we know have interest directly related to what we cover in our shows. This leads to a broader appeal, bringing in a lot of new listeners to adopt us as a place or network to find multiple outlets for information and entertainment."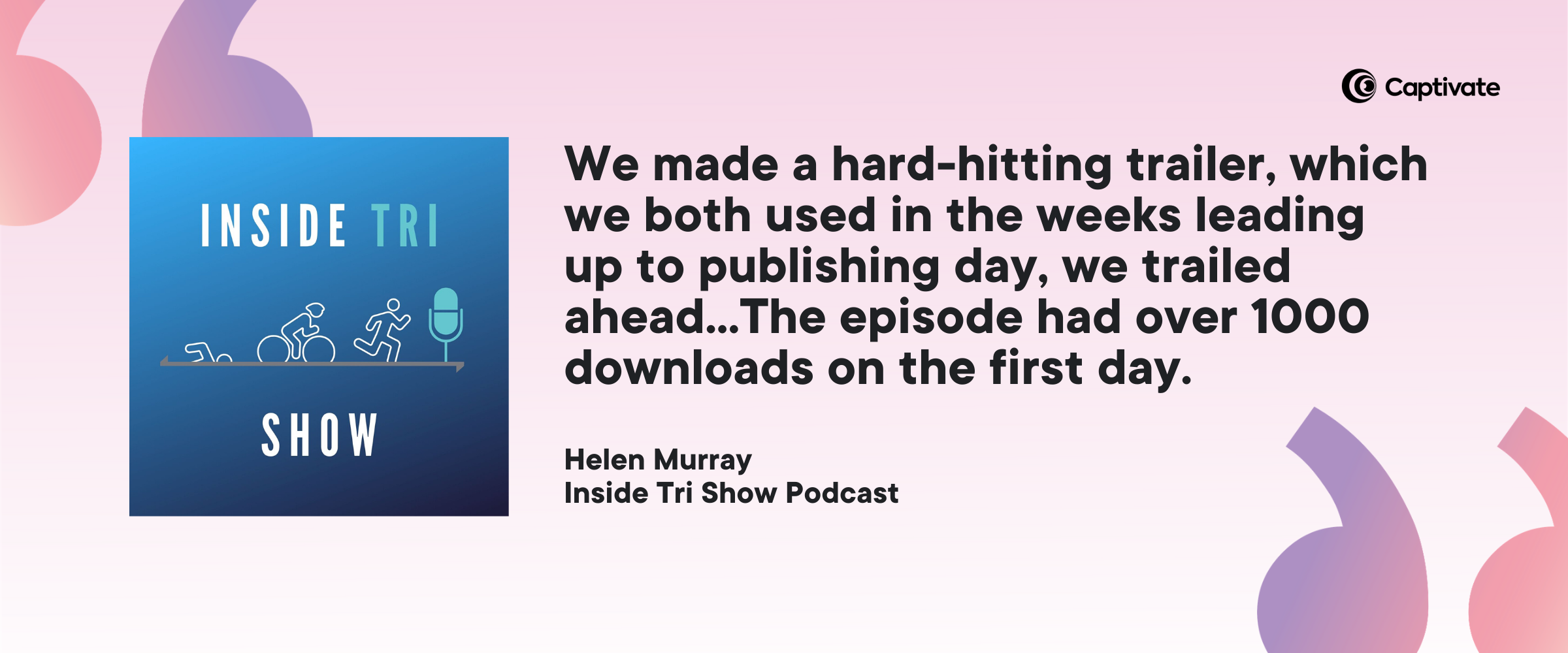 "The biggest thing so far has been thinking outside of the box, doing something completely different. This involved joining forces with another, more established podcast, for a special mini-series on body image and eating disorders in endurance sport. We made a hard-hitting trailer, which we both used in the weeks leading up to publishing day, we trailed ahead, we did Facebook Lives about it etc… The episode had over 1,000 downloads on the first day (normally it's more like 600 on day one.)
Good stories and good speakers also make a huge difference to download numbers. Guests who share the podcast or episode to their networks are also a massive help.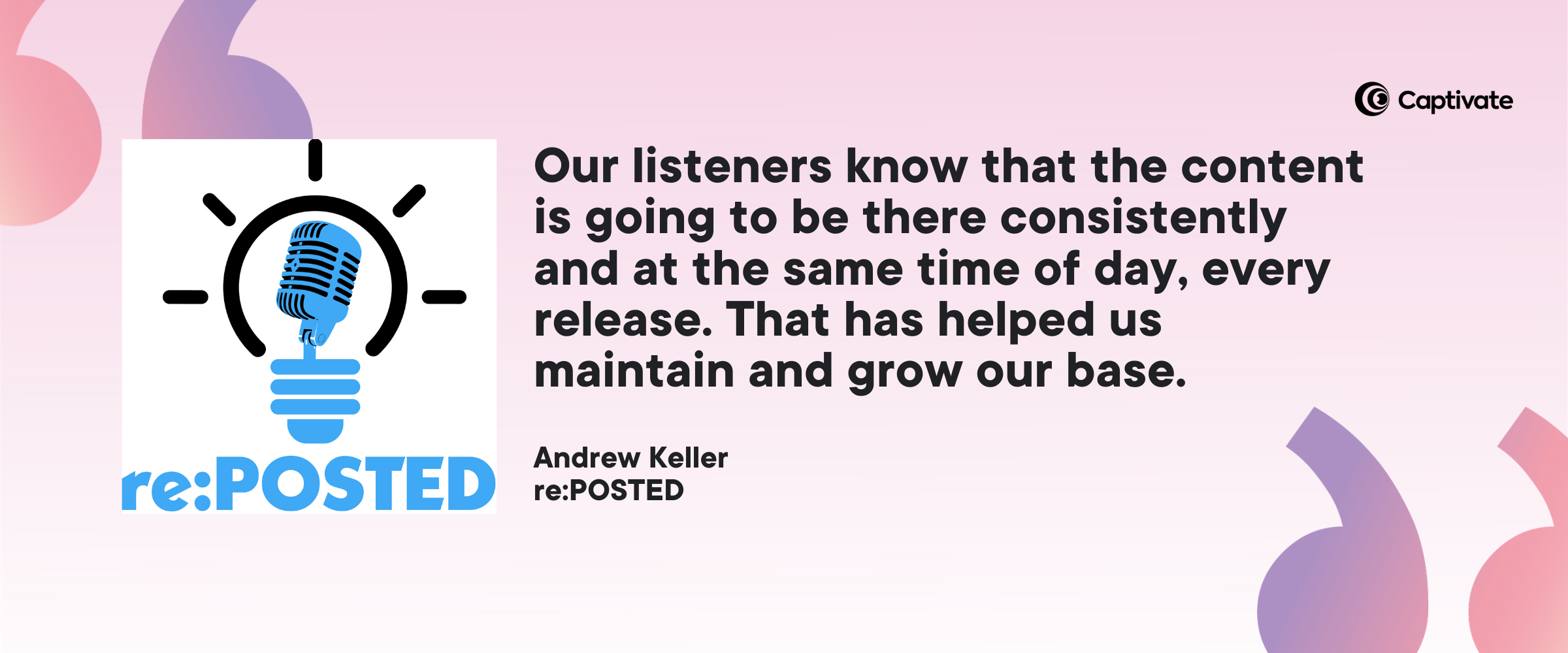 Andrew Keller, host of
re:POSTED
"When marketing our podcast, the most successful approach has been releasing consistent quality content. We put our show out every day, but even if it was once a week, our listeners know that the content is going to be there consistently and at the same time of day, every release. That has helped us maintain and grow our base. If your listeners never know if you are going to be there or not they'll stop checking. When we do cross-promoting by having guests on our show there is definitely an uptick in downloads, but consistent quality content is what we have based our model on."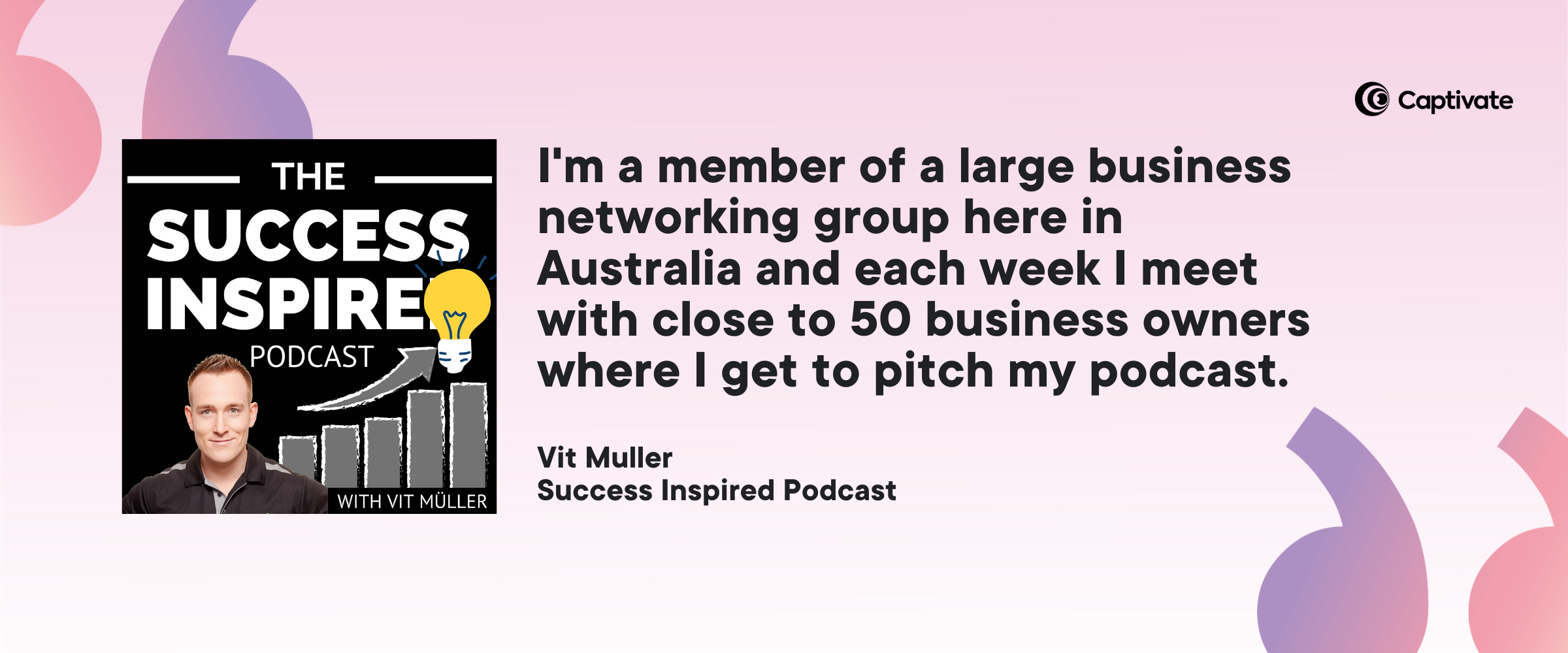 "The most successful strategy so far in increasing my listener base has been business networking. I'm a member of a large business networking group here in Australia and each week I meet with close to 50 business owners where I get to pitch my podcast. Feedback has been positive and a lot of people ask me after where they can listen in on my show and often I even pick a new interesting guest or two out of the business networking crowd."
Learn 9 Unconventional Ways To Grow Your Podcast
Download your FREE eBook showing you exactly how to grow your podcast, including how to leverage audience engagement and develop marketable segments for your show.
Here's exactly what to do next
This article is part of a wider series on podcast marketing that you can dive into right now!
Sign up for a risk-free, 7-day free trial of Captivate to join our podcasting community and access tons of podcast launch, growth and marketing tools from day one!
Learn How To Market Your Podcast from CEO Mark Asquith in just 45 minutes! Listen to our Curated Collection of Podcast Accelerator episodes relating specifically to this series.