Reading Time:
2
minutes
Spotify is one of the most used audio streaming services in the world, serving music, eBooks and podcasts to over 345 million monthly active users! In faleft-handct, it's the app podcast listeners turned to the most over the past year, followed closely by Pandora, Amazon Music, Apple Podcasts and iHeartRadio.
Not only that, but in 2021, Spotify overtook Apple Podcasts, with at least 28 million people listening to podcasts in the US every month, a figure that's predicted to increase to 37 million over the next two years.
With such a big chunk of the listening market under its belt, Spotify should undoubtedly be one of the key directories to submit any new podcast to. As well as being widely available to global audiences, you'll get access to Spotify for Podcasters, giving you access to marketing materials, native analytics and audience insights.
As part of Captivate's distribution centre, getting your podcast listed on Spotify has never been easier. Submission via Captivate takes only one click using our handy Submit to All button, or, if you're not hosting with Captivate, you can submit manually yourself in minutes!
In this guide, we'll show you all the steps for submitting your podcast to Spotify with and without Captivate!
How to Submit A Podcast to Spotify
1. Verify that your RSS feed meets Spotify's requirements
Spotify's specifications are identical to any other directory. You'll need to have published at least one episode as well as a valid RSS feed (run it by a feed validator if you're unsure.)
2. Create a Spotify for Podcasters account
To submit your podcast, you'll need a Spotify for Podcasters account. If you already use Spotify, you can use your usual login to skip this step.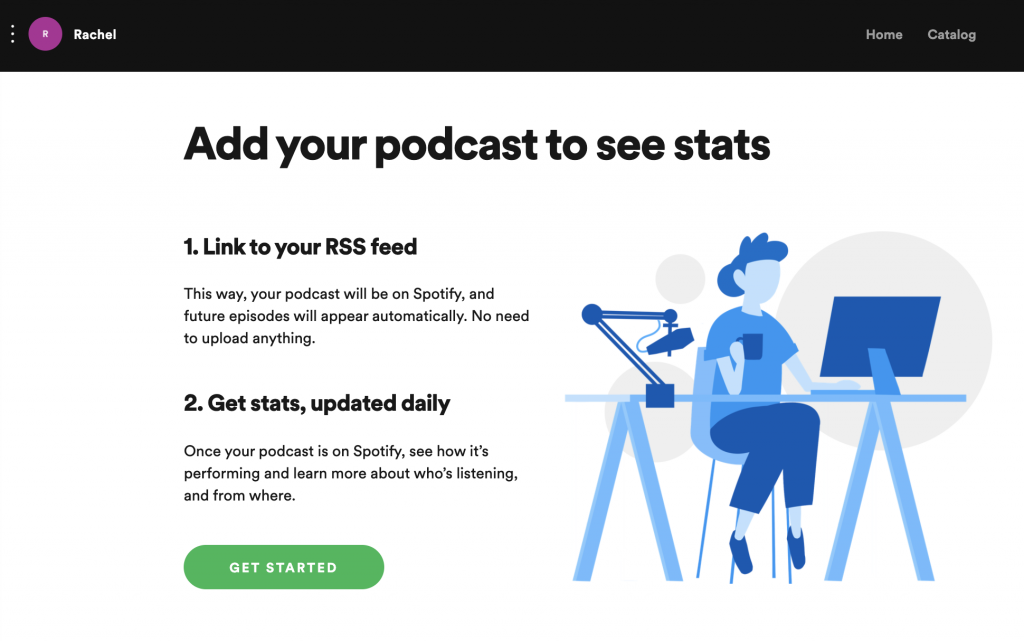 3. Verify your RSS feed
After you've logged in, click Get Started to start the submission process. Grab your RSS feed URL from Captivate or your podcast host, and paste it into the form when prompted.

Spotify will send a verification code to the email associated with your account. Enter the code when prompted, then fill in the additional information and choose your categories to make sure your show is served to the most relevant listeners.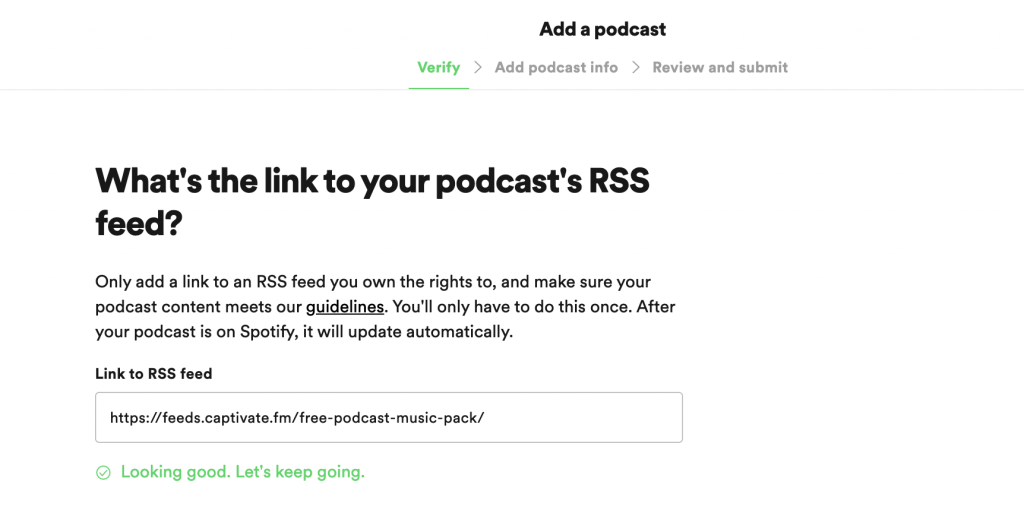 4. Review your submission
After you've filled out the quick form, Spotify will summarise your submission. Make sure you're happy with the settings on this page, as they can't be edited after you submit. Check that everything looks correct, then hit Submit.
That's it! It usually takes a few hours up to a day for new podcasts to appear on Spotify.
Submitting Your Podcast to Spotify Using Captivate
To get your podcast on Spotify using Captivate, simply:
1. Verify that your feed meets Spotify's requirements
Make sure you have your podcast cover art and show settings completed. You'll also need to have published at least one episode (or even your trailer.)
2. Head to your Distribute screen to start your submission
Click Distribute on the left hand menu, under the Promotion heading. If you like, you can submit to all single-click directories in one go using the Submit to All button.
Alternatively, under the Spotify section, click Start Submission. Your podcast will be automatically submitted to Spotify and you don't have to do anything else! Submissions take roughly 24 hours to be approved, and once successful, you should see Podcast Approved on your distribution screen.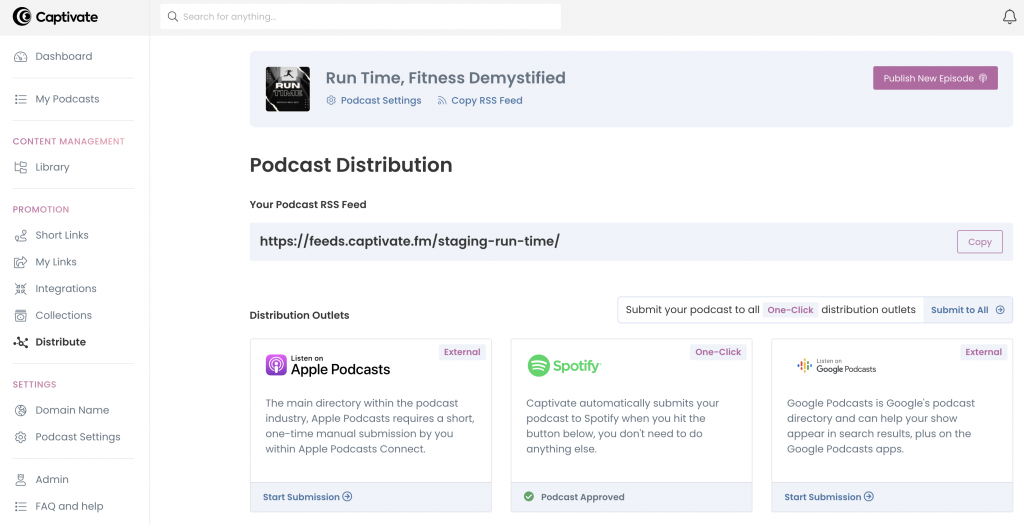 What to Do Next