Reading Time:
2
minutes
The first step in making your podcast accessible to as many listeners is to be everywhere. That means submitting to all the major podcast directories, including iHeartRadio!
Getting listed everywhere you can will ensure that new, diverse audiences across the globe have the opportunity to discover and tune into your podcast.
iHeartRadio is one of the most popular streaming platforms with 150+ million registered users tuning into its radio stations, music and podcast library every month. It's billed as the US' #1 listening platform, with 10% of the listening population opting to use the service. What's more, the app is available across multiple devices including wearables (like your Apple Watch), in-car stereos and smart speakers (like Alexa and Echo).
With all these big numbers behind it, it's safe to say that submitting your podcast to iHeartRadio will give your show the platform and the reach it deserves!
Luckily, submitting to the platform can be done in just a few steps, and from there, millions of listeners will be able to find, listen and subscribe to your podcast.
Two Things to Note Before You Start Your iHeartRadio Podcast Submission
Any podcaster can submit their show to iHeartRadio, however it is limited geographically. Currently, only podcasters within the United States, Canada, Mexico, Australia and New Zealand can submit. If you're outside of those regions, iHeartRadio is off limits for now; but don't worry, we add new distribution partners all the time to help expand your reach, so watch this space!
Before you start your submission, make sure your podcast meets iHeartRadio's requirements for inclusion. This is exactly the same as Apple Podcasts and is the industry standard for all directories:
Your RSS feed includes at least one episode (this could be your trailer)
If in doubt, use an RSS feed validator to check everything is in place before starting.
How to Submit Your Podcast to iHeartRadio in 3 Steps
Armed with your valid RSS feed, let's get your podcast listed on iHeartRadio!
1. Copy your RSS feed from Captivate
In your Captivate dashboard, click Copy RSS Feed at the top of the page to copy the link to your clipboard.

2. Fill out the short submission form
With your copied RSS feed, head to iHeartRadio's submission page. Sign up for a free account (or log in). Fill out the short form with your details, and paste in your RSS feed link. Agree to the terms and conditions, then click Submit.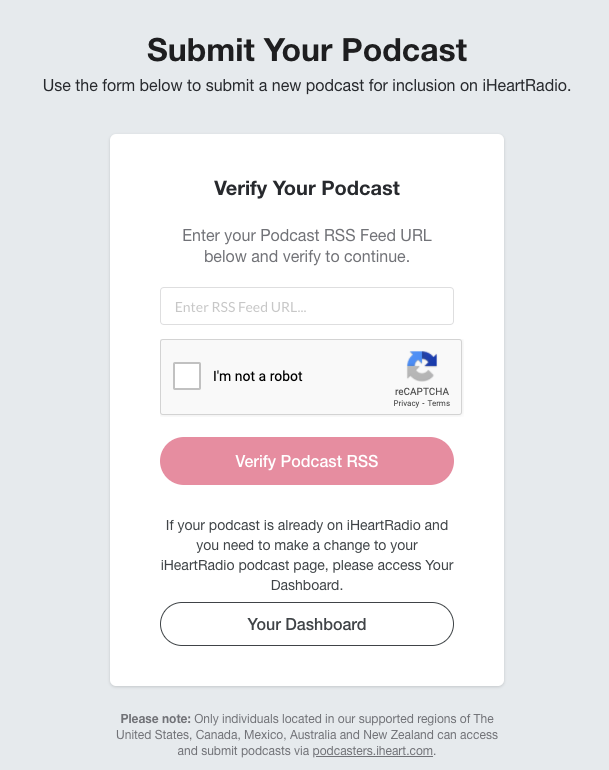 3. Wait for approval from iHeartRadio
That's your job done! Next, you'll need to wait a while for iHeartRadio to approve and index your feed. This could take anywhere from a day to a couple of weeks, so keep checking back regularly to see if your podcast shows up in search results.
Once your show is approved, you'll get a unique URL to your podcast on iHeartRadio's platform.
You can then add this to your Single Promotional Link, Captivate Website and within the share section on the Captivate Player by heading to My Links > Directory Links and choosing Custom. Copy and paste your iHeartRadio link in and job done.
That's it! Your episodes will now auto-publish to iHeartRadio and listeners will be able to find, listen and subscribe to your podcast.
What to Do Next