Reading Time:
2
minutes
Submitting your podcast to Deezer, as well as all the top directories is a crucial first step in getting your podcast discovered by new audiences (and search engines too!)
Captivate makes it easy to expand your reach and attract new listeners by offering direct, one-step submission to all the major streaming platforms and aggregators.
Deezer is one of the world's most popular audio streaming platforms, with 16 million active users across 180 countries. It offers listeners a library of 56 million songs, podcasts and audiobooks, as well as live radio stations. What's more, if you're looking to monetize your show, Deezer also gives you the opportunity to run ads and keep 100% of the revenue you generate. Magic!
Submitting your podcast to Deezer means that audiences around the world can discover your podcast wherever they are. Deezer's library of podcasts is carefully curated, helping to connect your show to listeners interested and actively searching in your categories!
How to Get Your Podcast on Deezer Using Captivate's Single-Click Submission
If you host with Captivate, you can easily submit your podcast to Deezer, as well as Spotify, Google Podcasts, The Podcast Index and other podcast players using our 1-click submission process.
Pro-tip: Get listed to all one-click directories instantly and effortlessly using Captivate's Submit to All button.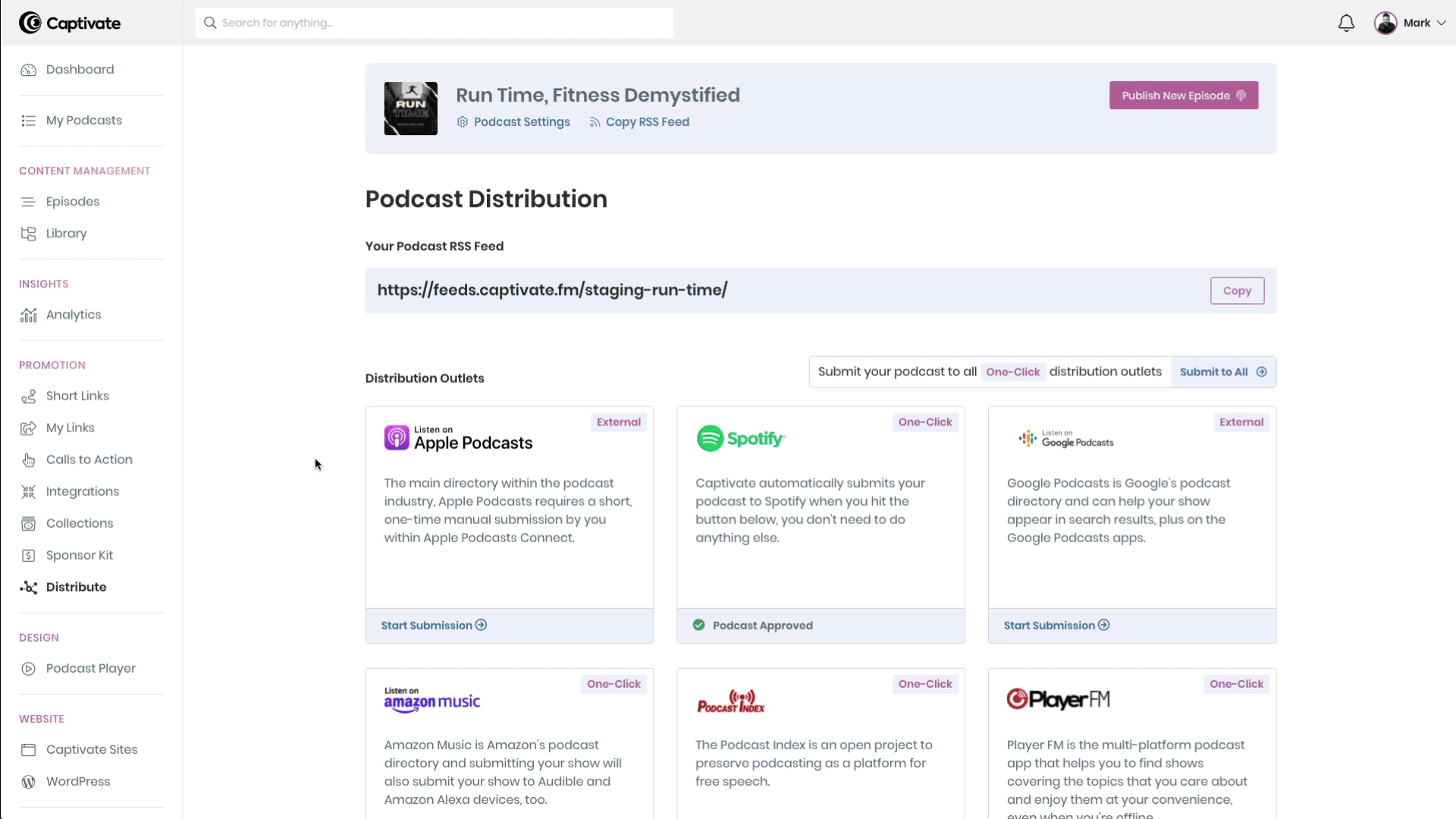 1. Head to the Distribute tab on the Captivate dashboard
Navigate to Deezer, hit Start Submission and follow the prompt. Once approved, you'll see a Podcast Approved message confirming your listing.

Approval takes roughly 24 hours, so check back next day to grab your Deezer link and add it to your Single Subscription Page so that listeners can find it!
How to Submit Your Podcast on Deezer Manually
If you're not hosting with Captivate, or prefer to submit your podcast manually, it only takes a few minutes!
Before submitting, you'll need to make sure that your RSS feed is valid and meets Deezer's industry-standard specifications, which is the same for any directory:
RSS feed address
Bitrate quality: 128 kbps (recommended)
File format: MP3, flac & wav (M4A is not recommended, if one episode has this format your podcast may be disabled)
Artwork: upload a square cover image, PNG, 1400×1400 pixels
At least one episode in the feed
1. Grab your RSS feed URL
In your Captivate or podcast hosting dashboard, click Copy RSS Feed at the top of the page to copy the link to your clipboard.

2. Fill out the submission form
Head to Deezer Podcasters and click Publish My Podcast to start the submission form. First, paste in your RSS feed URL to verify it. Check the feed over to make sure its correct and follow the rest of the prompts. At the end, hit Submit and you're done!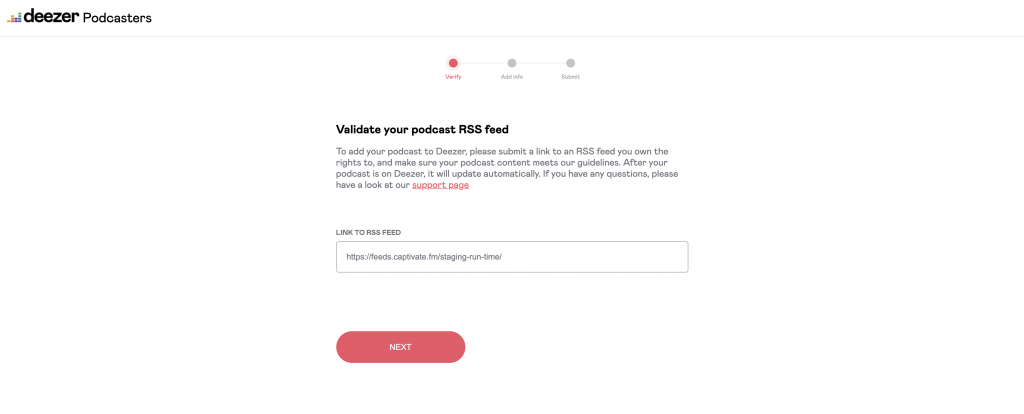 3. Wait for approval
All that's left to do is wait for Deezer to approve your podcast. This usually takes around 24 hours. Once approved, Deezer will check your feed every day for new updates and will serve them automatically to your listeners!
What to Do Next